Many of you have probably read about the surprising amount of snow in Rome we have had the past few days.
I was unsure about writing this post as some of you may even be tired of hearing and seeing photos of Rome covered with snow but waking up to snow outside your window is worth noting down.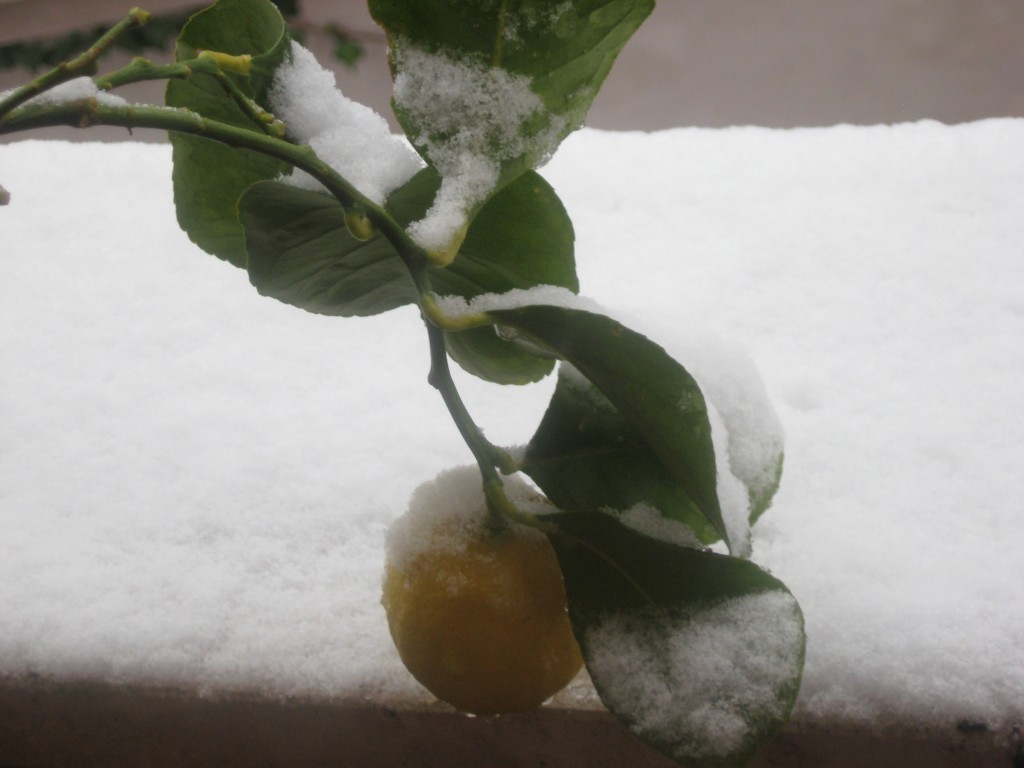 It has snowed before in Rome and the last time I remembered anything worth mentioning was in 2010 but that only lasted half a day.  In general, Rome experiences light snowfall and the last time it snowed this much was in 1986.
At the beginning of the week, the weather forecasts did say there was a possibility of snow in Rome.  There was some excitement about this news as well as apprehension as Rome is not a city that fares well in extreme weather conditions.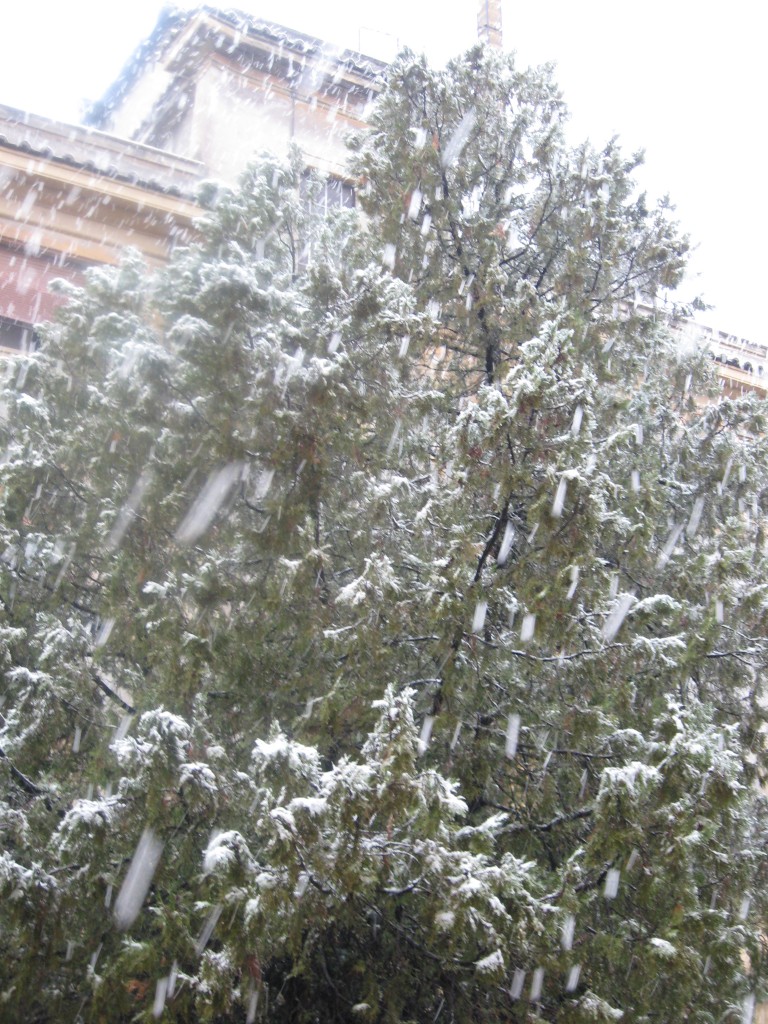 Friday morning as I was finishing up my post on castagnole, I happened to look out the window at about 11am and saw it was snowing! At the same time, Luca called to tell me the same!  As I have always lived in countries that are warmer than Italy, seeing snow is always fascinating.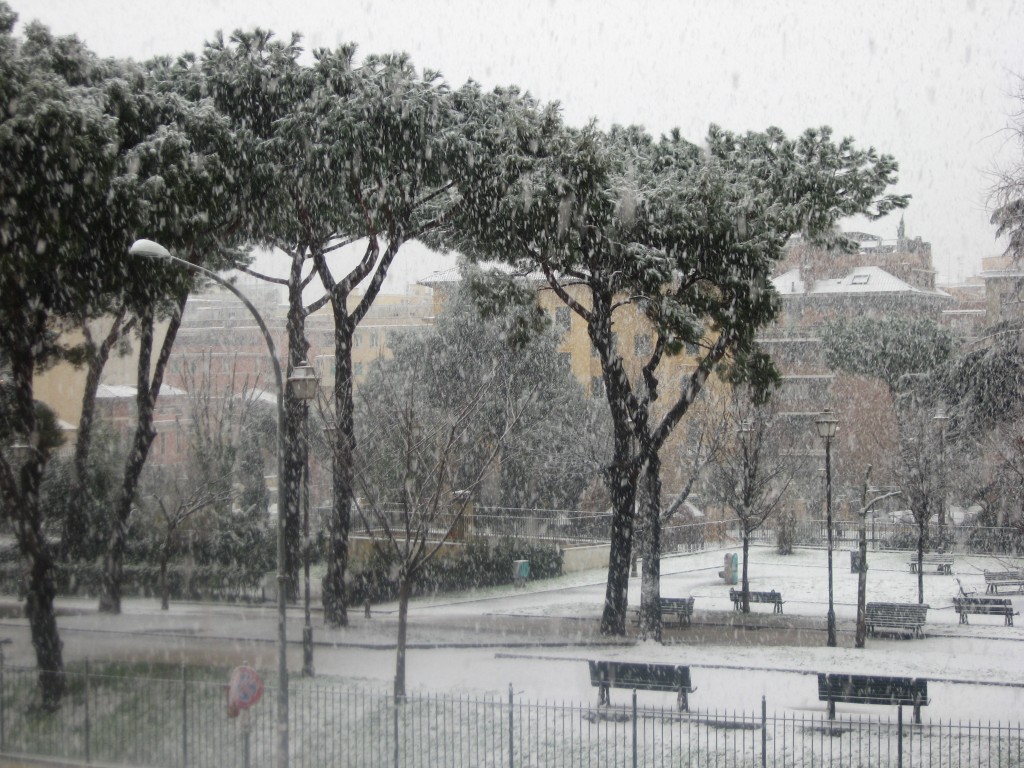 This time it snowed for real with huge snowflakes and at 2pm when I saw the park was starting to get a blanket of white, I started worrying about how Luca will get home.  It was still snowing and there was already traffic around the neighborhood as cars were not able to make the slight uphill drive.
Later that evening,  Luca drove as close as possible to the house but with traffic absolutely at a standstill, he managed to find parking and took a 10-minute walk.  It really could have been worst!
In the evening news, it was all about the excitement and chaos that the snow was causing but on days like this, getting around, except on foot, was always going to be a challenge.  Forecasts mentioned that we would wake up to a snow covered city and had warned that if you are planning to take the car from midnight to Sunday 12pm, snow chains or snow tires are mandatory.
Early this morning at 4am, I heard some activity going on outside which sounds like garbage trucks picking up trash but I thought it was probably more likely they were clearing the streets.
The first thing I asked Luca when he got up was "Did it snow?" He said yes and that made me jump out of bed to see what it looks like.  It sure was a beautiful sight and looked like a winter wonderland – silent and not a soul to be seen!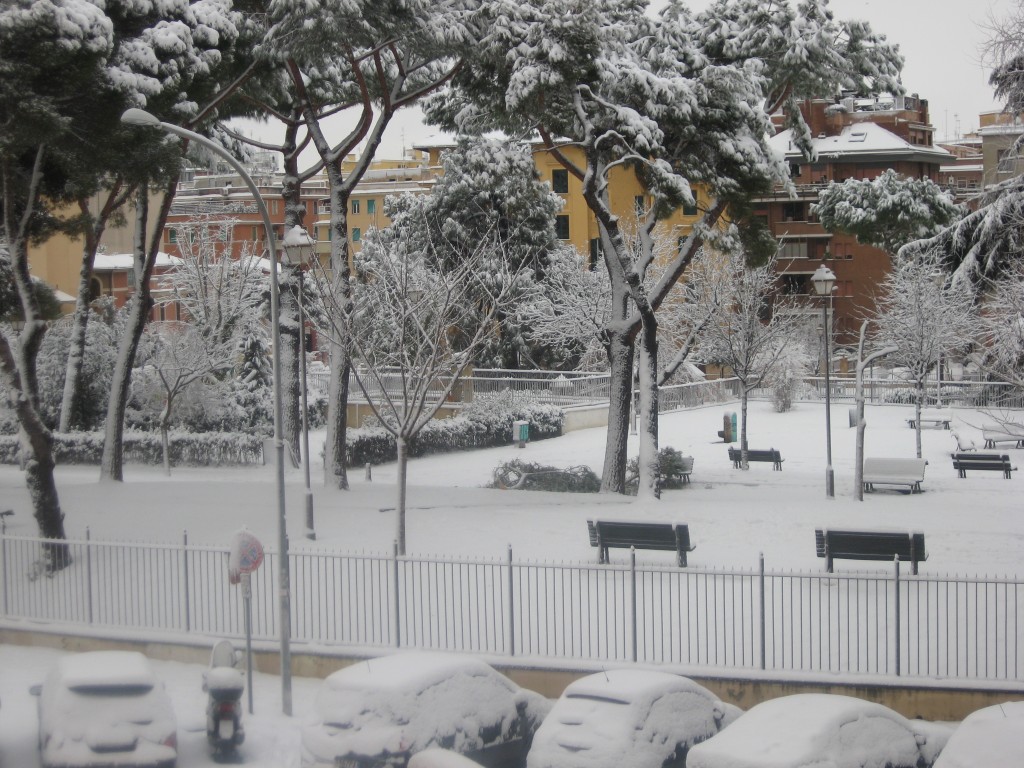 I had to beg to step out of the house as I have been home the past two weeks because of a fever, cold and laryngitis.  Luca thinks I am crazy to want to go out on one of the coldest days of the year but with a sight like this, it was just too tempting not too.  Anyway, I was also going to see my nieces whom I haven't seen for ages.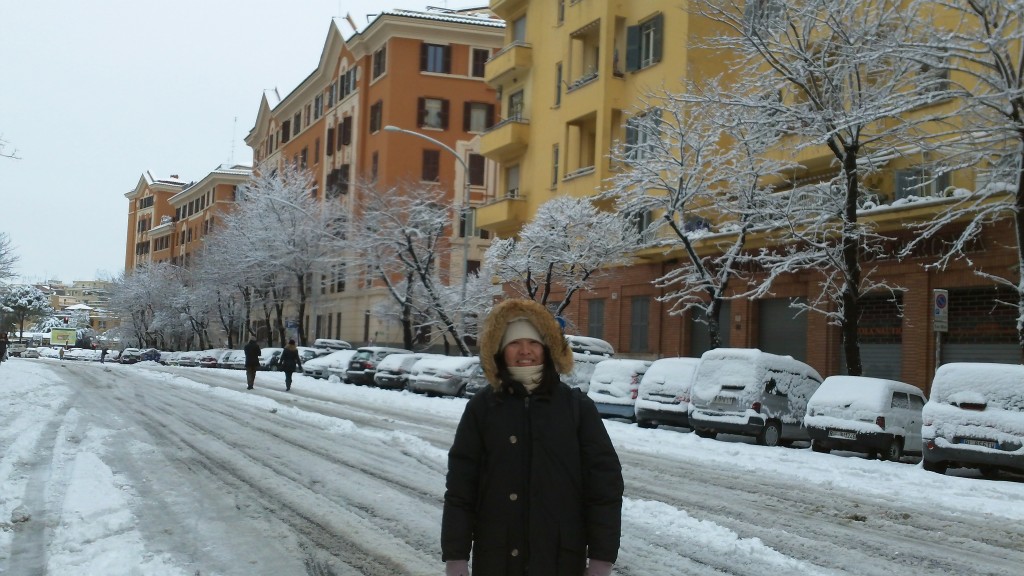 As we stepped out, it was clear that it would be impossible for us to go get the car.  Therefore, we went on foot to the supermarket.  It was crowded and some food items, such as eggs, were out of stock. This is probably because the trucks had a hard time getting to their destination.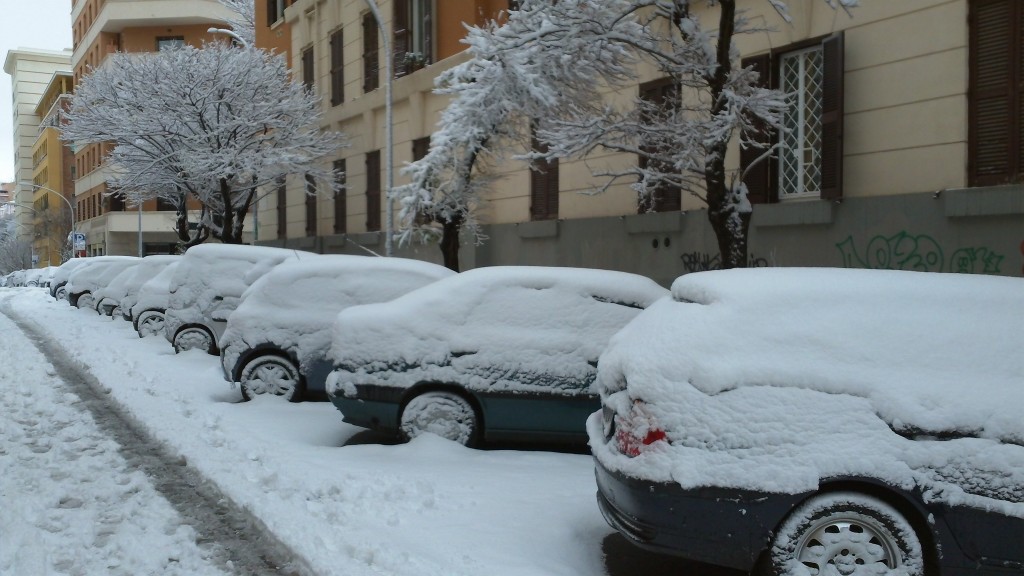 Walking around the neighborhood, there was a holiday-like atmosphere as people were outside taking pictures and in good spirits.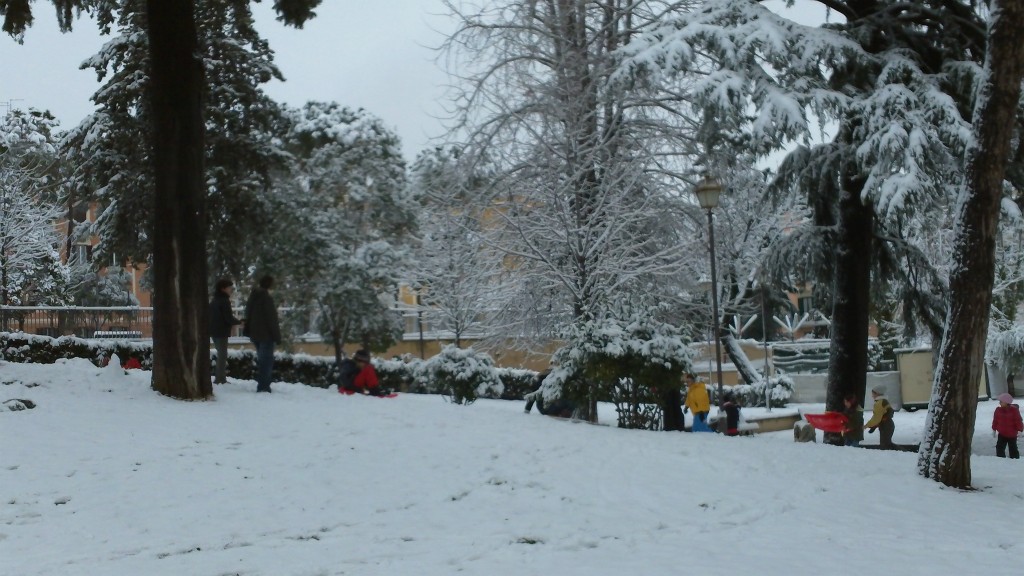 Children and adults alike were throwing snowballs and others tried sledging in the park. My nieces were eager to head out and were all dressed before their parents!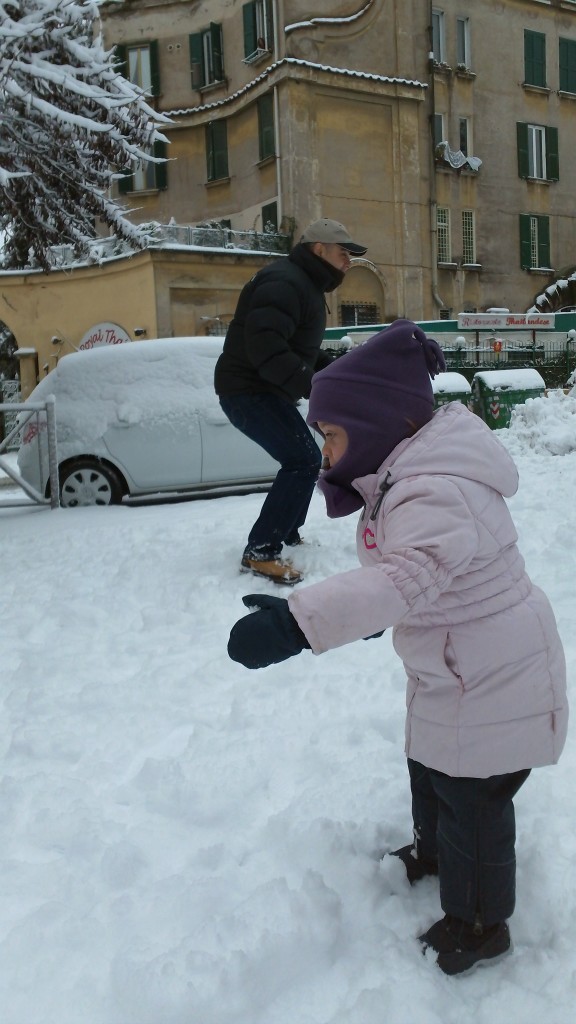 From some videos shared by others, people sure had fun in the snow!  Check out the video below of Circo Massimo – it was a ski day for many in Rome!
For those living in Rome – how was your day in the snow?