This past week has been excruciating hot in Rome and it came as no surprise when it was announced that this has been the hottest June in 230 years. This year, the weather in Rome has been radical, with snow in February and now with this heatwave we are experiencing.
It's expected to last until Sunday and while it's a challenge to step outside the house, life goes on! Here are some tips for visitors and residents to get through this sizzling month.
Survival Guide to the Hottest June in 230 years
1. Churches, Underground Attractions and Cellars
As a visitor in Rome, it is unlikely that you are going to let the hot temperatures stop you from exploring the city.  However, if you find that the Roman sun is just too much to bear, don't despair.  There are some excellent attractions in Rome where you can head indoors and underground to keep cool.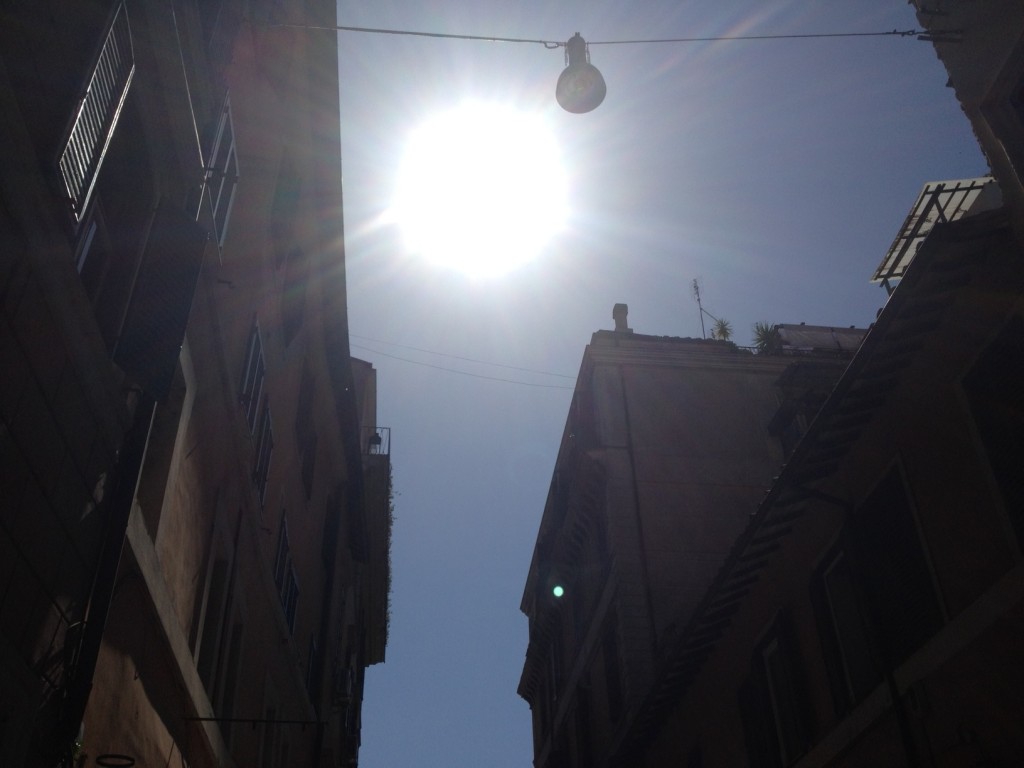 While many of Rome's attractions above ground are well-known, what's below the surface is equally fascinating. To get a sense of what this is like, Heart Rome shares her experience in visiting Catacombs and Crypts. Intriguing!
Other attractions off the beaten track that will keep you cool is Palazzo Valentini.  This "very cool" attraction uses modern technology that brings to life ancient villas discovered under this Palazzo.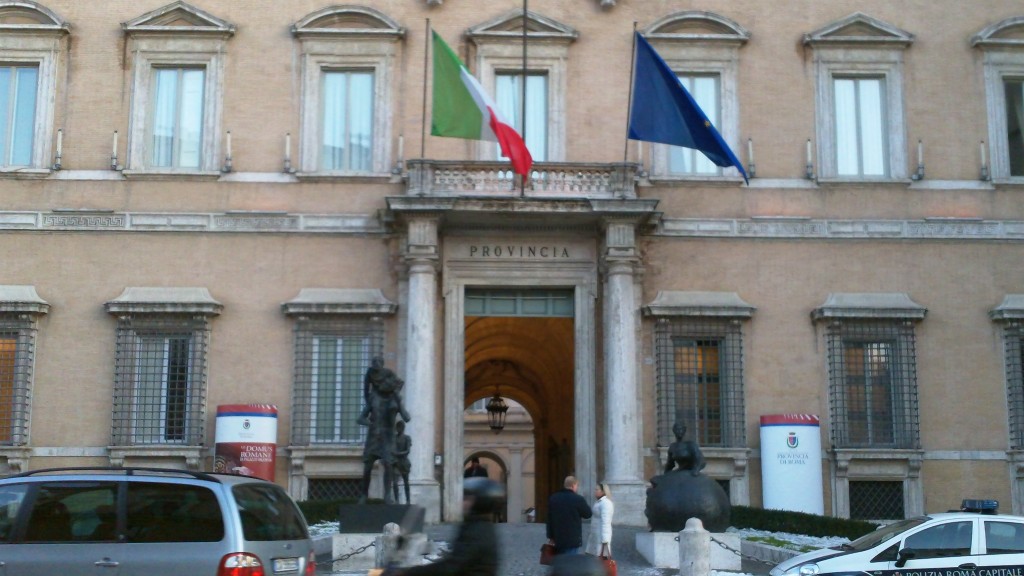 Visits to churches is another way get a reprieve from the Roman sun and often free (though a donation is sometimes requested).  Near the Colosseum, drop by Santi Quattro Coronati where you will be treated to some amazing frescoes and it's likely you will have the lovely cloister all to yourself.
If you want to get away from the center, how about a visit to a lesser known Basilica.  Easily reached by Metro B Line, San Paolo Outside-The-Walls is stunning and unlike the lines at the Vatican, it is a breeze to get in.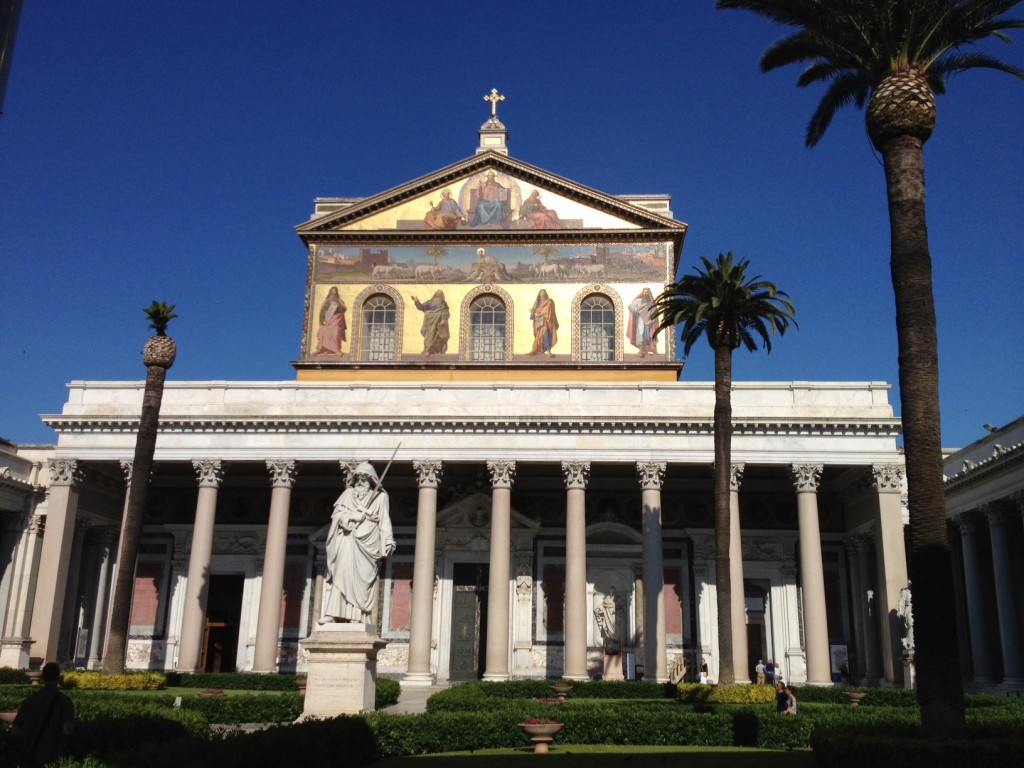 Another fun thing to do in Rome that will keep you cool and happy is a wine tasting experience.  Vino Roma offers various tastings in their studio with a thousand year old wine cellar.  If you are lucky enough, you may get the chance to visit the cellar and get a peek at their collection.
2. Parks
One of my favorite parks, most probably because it's close to where we live, is Villa Celimontana. Located close to the Colosseum, it is well-known among locals and though it can get crowded on the weekends, it is a haven during the week.
More well-known is Villa Borghese where locals and visitors go to take a break from the hustle of the city.  It's grounds are expansive and perfect for walks, jogs and on weekends, a popular place for picniks.  If you are an art-lover, don't miss the opportunity to visit Galleria Borghese.
3. The Three G's: Gelato, Granita, and Ghiaccioli
I am up for anything that cools me down.  While there are plenty of gelato shops to choose from not every gelateria is created equal.  My current favorite is Il Gelato di Claudio Torce as I love their wide range of selection from classic to unique flavors.  They have a branch that is centrally located and close to the Spanish Steps.
If you think I am exaggerating about how hot it is in Rome, may be the video below will convince you otherwise.  There is now even gelato for dogs to help them get through this insane heat.
As I write this, I realized I haven't had a granita nor a ghiacciolo (popsicle) yet and they are probably healthier options.  It's surprising as I often opt for a granita when we are at the beach.  If you are looking for
granita in Rome
, try this one out.
Though I am in no mood to bake or cook because it's unbearable, I think I may make some watermelon granita tomorrow.  Another granita flavor that I love is lemon and look forward to getting that the next time we are in Positano.
4. Pool and Beaches
Last weekend,  we were fortunate to be invited to a friend's place in Umbria that has a pool.  Though the pool was initially cold the first day, it was still refreshing to take the plunge.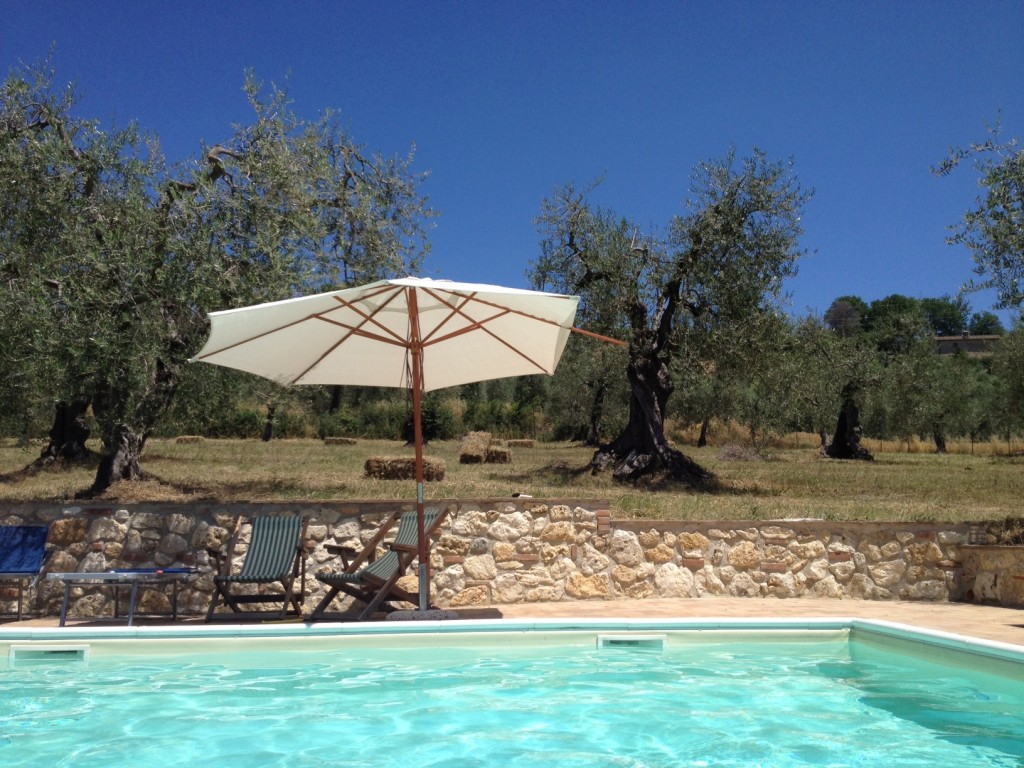 Living in an apartment in Rome, we don't have this luxury but just recently, I discovered a pool near the Colosseum thanks to my friend Gillian who has recently written a piece on pools in Rome. We will be headed to one of them soon.
Beaches are also a great option.  There are some decent beaches around Rome and this is a great post by Lazio Explorer that covers the majority of them.
5. Water Fountains 
When you are out and about, stay hydrated by bringing along a bottle of water.  What's wonderful about Rome is that there are water fountains (nasoni) every where for you to fill up the bottle.
Nasone (singular form) literally translates to "Big Nose".  Can you see the resemblance to a nose?  Here is a useful map that locates the nasoni in the center of Rome.
Tip: If you prefer buying bottled water, it would be much cheaper buying them at supermarkets rather than at places close to attractions.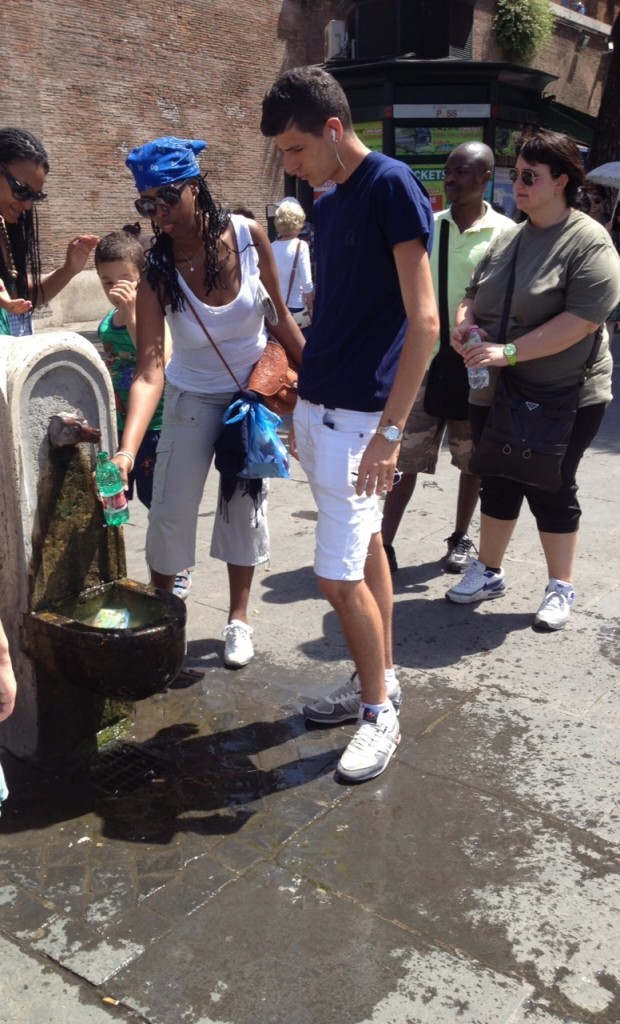 What tips do you have for surviving this hot June in Rome?