The Campidoglio (Capitoline Hill) is the smallest of Rome's seven hills and it was the religious and political center of the city since its inception 2500 years ago. The lovely Piazza Del Campidoglio was primarily the design of Michelangelo and dates back to the Renaissance.
It sits majestically above the nearby Forum and was once the location of the important Temple of Jupiter Optimus Maximus Capitolinus. The ancient Tabularium, which was the office of records and archives built in 78BC stands nearby in what is now called the Palazzo Senatorio. It still houses the city records of the local government.
Pope Paul III Farnese commissioned the remodeling of the original space in celebration of the visit of the Holy Roman Emperor, Charles V, which was scheduled for 1538. His plan included the reworking of the grand stairs and piazza to showcase the equestrian statue of Marcus Aurelius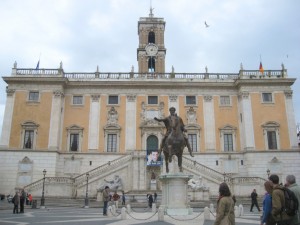 from 80AD while Michelangelo's plan turned the government buildings away from the Forum to face the Vatican.
The intriguing ground pattern which remains was the design of Michelangelo and he also redesigned the Palazzo Senatorio, a new façade for the Palazzo dei Conservatori and a new building, Palazzo Nuovo was built. Unfortunately only the monumental staircase at the entrance to the Palazzo Senatorio was completed in 1564 when Michelangelo died. The project was not completed until the 17th century, but most of Michelangelo's designs were  implemented.
Note the two palaces on either side of the piazza which house important collections of the Musei Capitolini. The Capitol Museum is on the southwest side of the Piazza del Campidoglio in the Palazzo dei Conservatori. It is considered the oldest public sculpture collection in the world and was founded in 1471 by Pope Sixtus IV who also commissioned the building of the Sistine Chapel. In the first floor galleries are some of Rome's most famous treasures including the sculpture of the she-wolf suckling Romulus and Remus and other classic works of art.