I've passed by the Colosseum countless number of times, been inside a handful of times during the day but never had the chance to visit the Colosseum at night. Not until recently.
My husband, who's from Rome, seldom joins me in being a "tourist" in Rome but when we were invited by Walks of Italy to join this tour, it was too unique of an experience even for him to pass up on. The evening started nonchalantly at Piazza Venezia, where we meet our guide, Guido, before moving on to our first stop at Campidoglio, where we took in the impressive Roman Forum.
As we proceeded to the Colosseum, walking along Via dei Fori Imperiali, Guido continued to astound us with fascinating anecdotes and stories from Ancient Rome.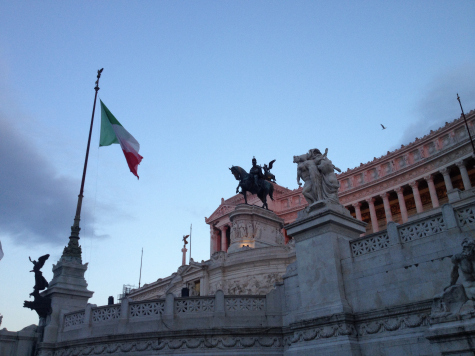 Guido was a walking encyclopedia, and you could tell he was excited about sharing his knowledge of the history of Rome. With over 2000 years of history, you can never have too much of Ancient Rome.
Even after having lived in Rome for close to a decade, Guido was pointing out details that I pass by everyday without realizing their significance. While you do see many sights dating back to Roman times, Guido noted that today, most of Ancient Rome is beneath the Eternal City.
He brought our attention to a ruin of what would be today's equivalent of a "condominium" complex, and shared that the higher the "condominium" was, the cheaper it would be, contrary to today's pricing structure. Why was that?
Well, in those days, fire was an issue and without emergency exits and safety plans in place, it'd be easier for you to safely get out from a lower floor. Makes sense, right?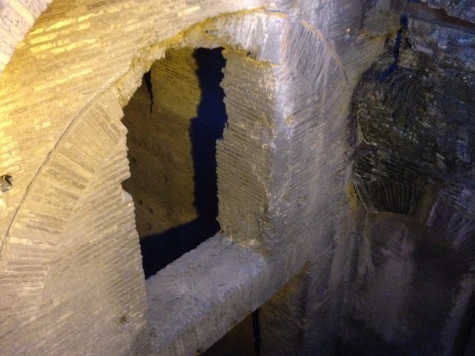 While it's impossible to share all the intriguing facts I learned, one that stuck with me was that in the 4th century, Ancient Rome already had 28 libraries. Amazing fact considering that there were no printing machines at that time and so everything was handwritten.
Finally, we got to the Colosseum. What we had all been waiting for – all of us were eager to see a different side to this iconic site in Rome. Eventually our the group was called in and led by Guido and a Colosseum staff, we found ourselves in front of the gate leading to the Arena floor.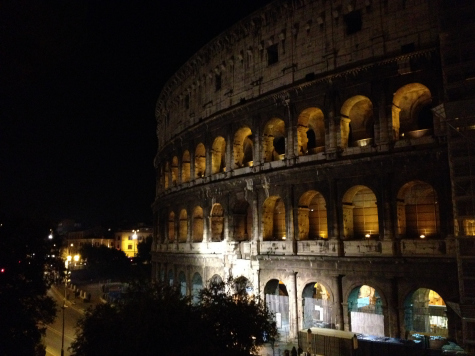 Barely able to contain our excitement, we enthusiastically stepped in and boldly made our way to the Arena floor to the thundering roar of the crowds.
Ya ok, I got carried away there – there was no thundering roar, but instead a spine-chilling silence. Standing on the Arena, with no crowds around, and with blazing spotlights that lit the place up, I could sense the drama that took place here. And that instantly gave me goosebumps.
And the visit didn't end there. After leaving the Arena floor, we went to underground area which, though much less lit, you could still see how incredible and complex this structure was. However, there was still more to see.
We were led up to the higher tier, and it was then that I fully realized the grandeur of this structure. The view was jaw-dropping amazing and this experience of the Colosseum at night, without the crowds and scorching heat, took things to an entirely different level.
Here's a short video to give you an idea of what it's like to see the Colosseum at night. An experience not to miss when in Rome! If you are visiting in summer, I would strongly recommend this tour as the heat can be unbearable and Colosseum would likely be packed.
Disclaimer: Some links in this article are affiliate links, meaning we get a small commission if you end up buying something from the links on this page. It doesn't cost you anything extra and we really appreciate the support!