Before revealing the mouth-watering tastings we had while exploring the Trionfale market and the impressive new food outlets in Prati, a big thank you to Tavole Romane for the kind invitation to join them on this exciting food tour.
I was eagerly looking forward to it as there were many firsts for me which I will explain in more details.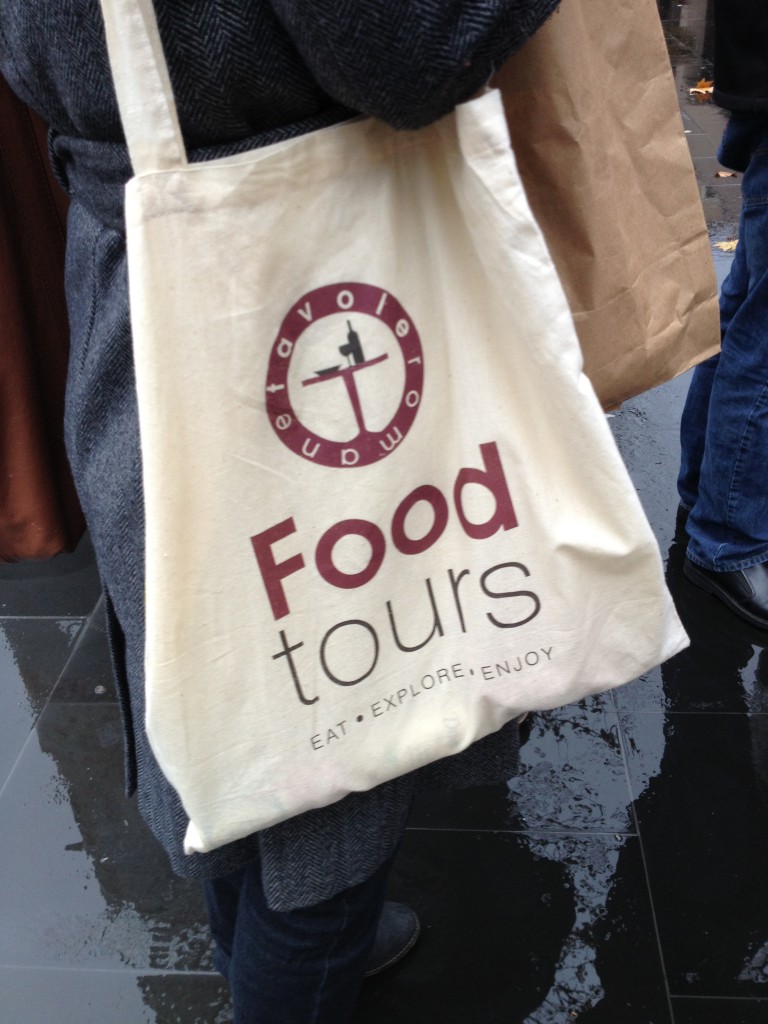 Also, after a month away from Rome and missing pizza al taglio (pizza by the slice) as well as dishes such as carbonara, this food tour with Tavole Romane was the perfect homecoming feast! Equally exciting was the opportunity to check out Romeo and Panificio Bonci which have recently opened in the Prati district.
Struggling with jetlag and faced with an unusually cold and rainy day, I was thankful that the tour started at a reasonable hour of 10.30am. I slowly made my way to our meeting place and was met by the enthusiastic and vivacious Giovanna (a.k.a. Burro e Alici) whose energy and enthusiasm fired us up!
Trionfale Market
Our meeting place as well as our first stop was the Trionfale market.  Though I work in the vicinity and have heard positive things about the market, I've never ventured here as I often buy  groceries in my own neighborhood on the other side of town.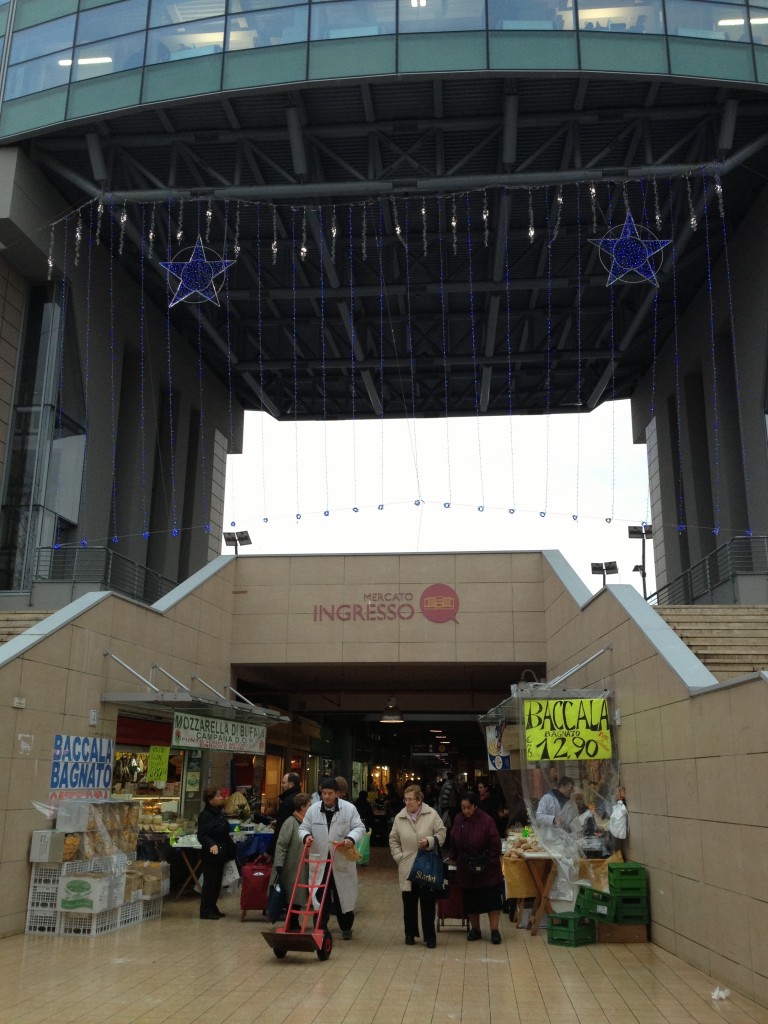 The Trionfale market is impressive and offers a wide selection of produce including ethnic ingredients which are often hard to find in Rome.  In addition to that, you can also find seafood, fresh eggs, honey and even a stall where you bring your own bottles to fill them up with wine.
One first tasting was porchetta, a flavorful spit-roasted pork stuffed with a generous amount of herbs and if you are tasting this for the first time, don't miss the crispy crackling skin – it's the best part!  In addition to that, we also tried two different types of olives and the fruit in season, clementine.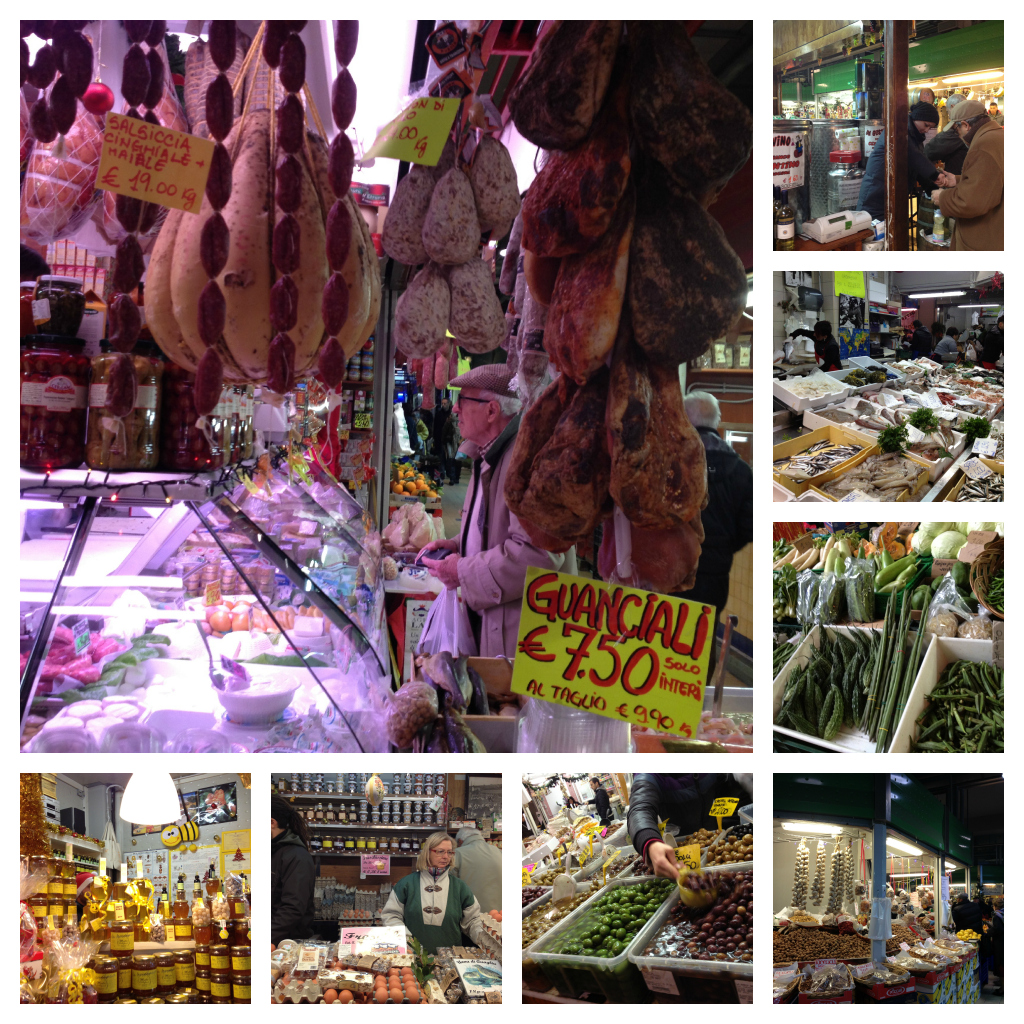 Guiding us through the market and stopping at some stalls, Giovanna pointed out and shared many interesting tips, anecdotes and insights.  Here's one on how to pick artichokes.  Looking at the artichokes below, which ones would you pick?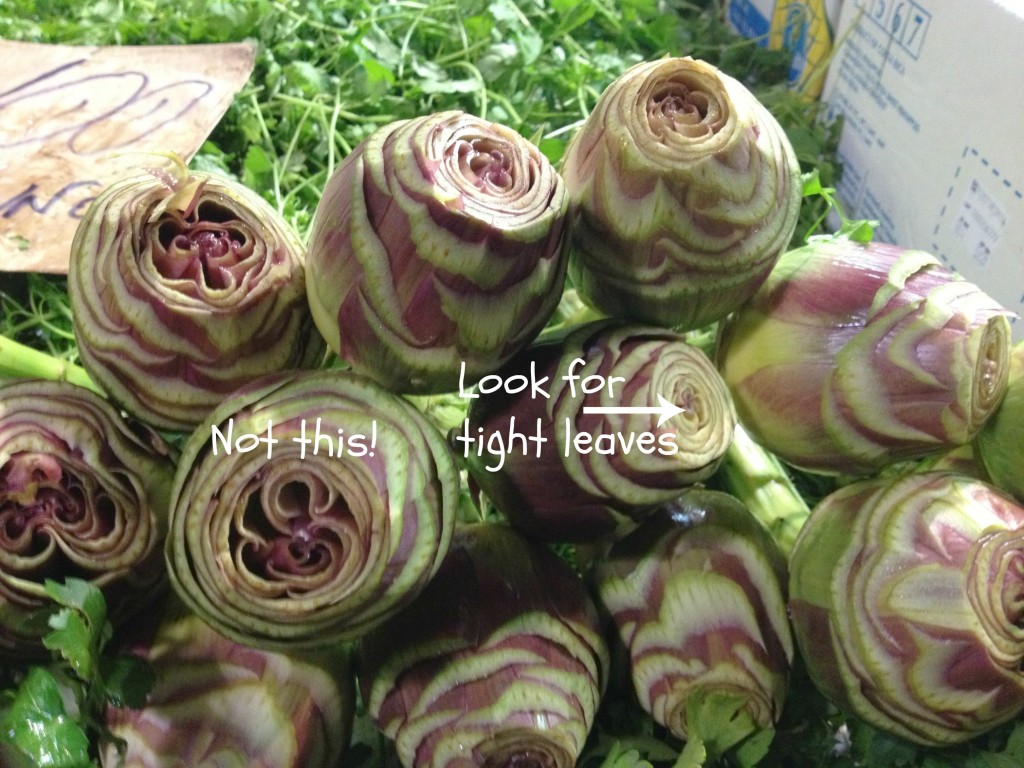 Panicificio Bonci
Braving the cold, we made our way to Panificio Bonci and inside, the smell of freshly made bread & pizza was divine.  We were all more than happy to help ourselves to warm slices of pizza bianca and rossa that we willingly devoured.
I plan to be back here soon as I'd love to check out the different breads they make.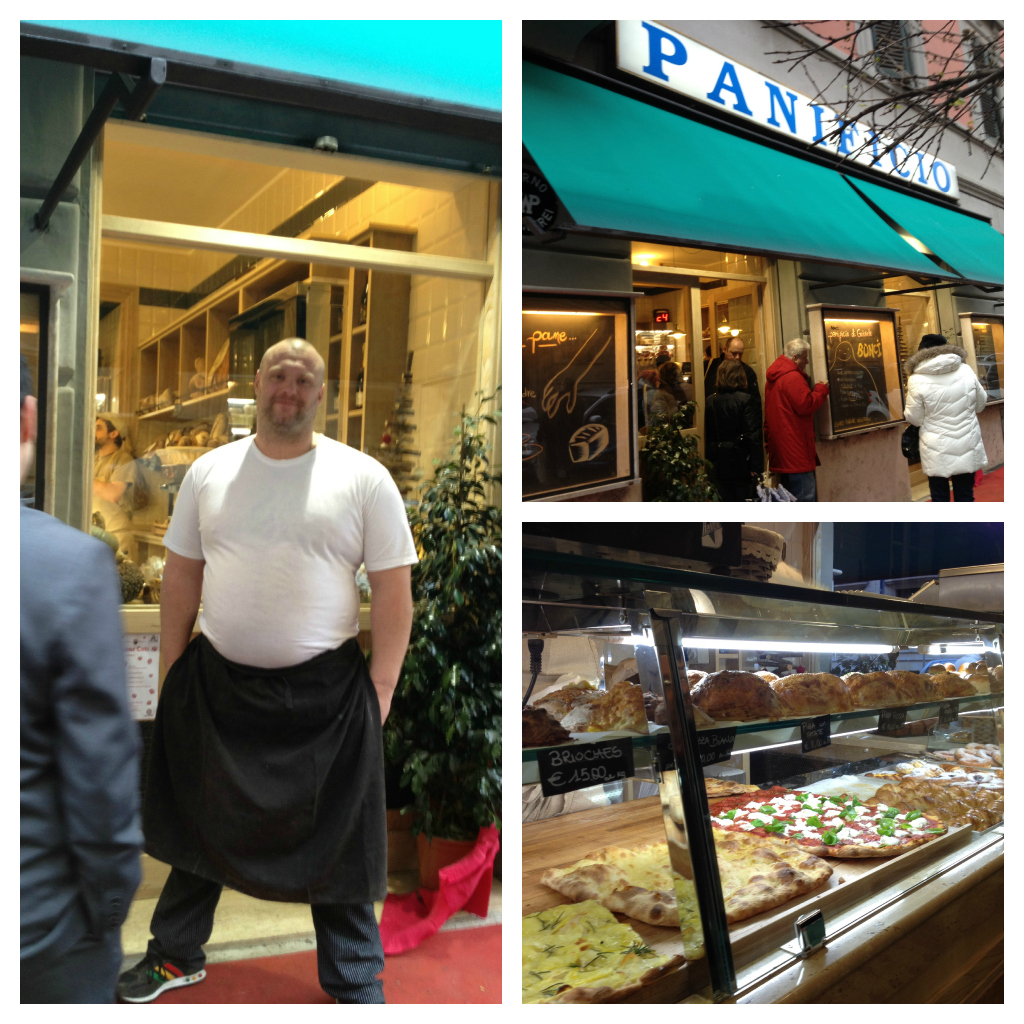 Romeo
In one word, this place is awesome! It's stunning and wowed me the second I walked in.  Its modern decor is striking and ravishing which gives it an exquisite feel.  Fittingly, we had a tasting of an "aperitivo" here just prior to lunch with a glass of Franciacorta and some cold cuts.

Finally a chance to sit, we had the opportunity to get acquainted with others in the group with Giovanna enlivening the conversation. She is simply a wonderful host more than a guide!
As time was spent with the group, I didn't get a chance to browse the deli area and also can't wait to return to Romeo to try a few of their intriguing dishes.
Flavio al Velavevodetto (Quiriti)
Next, we were off to lunch and this was a full-on Italian lunch.  If you are not sure what that is – it means we start with appetizers followed by a primo (pasta dish – in this case we two primi!), then secondo – usually meat or seafood with side sides and finally dessert.
Giovanna has somehow charmed Flavio which to our benefit meant we got VIP treatment which included generous servings. We all did our best to clean up every dish but after going all out on the phenomenal carbonara which I think is better than the one at Da Danilo, I knew I'd made a huge mistake.  I was full even before we were half through!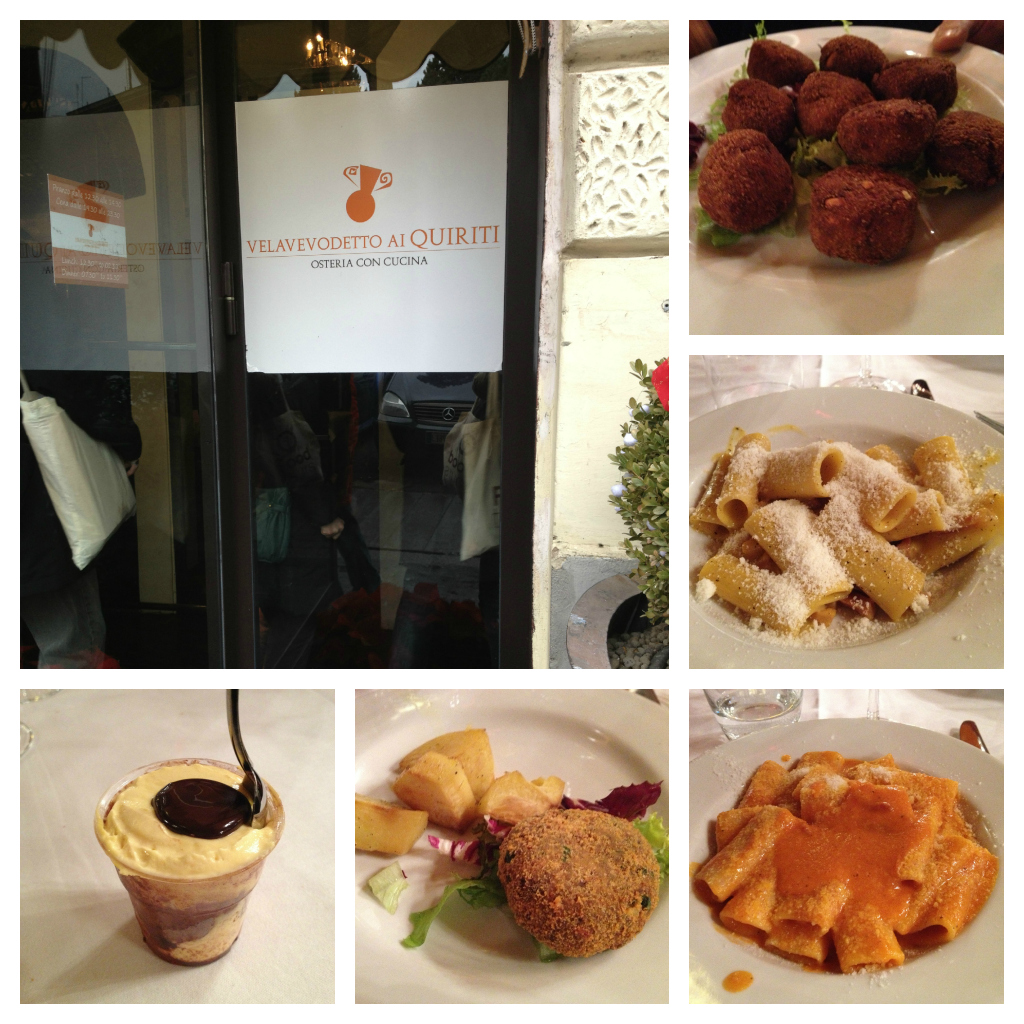 Even the most well-intentioned among us weren't able to finish everything on their plate.  I can safely say that we all walked out way beyond satisfied.
What I enjoyed about this food tour?
As I had mentioned earlier, there were a lot of firsts for me and that was what made it even more fascinating. What I appreciated the most about this food tour with Tavole Romane is that it covers an area in Rome that takes you slightly off the beaten path.
An elegant neighborhood to explore, the delightful Giovanna and of course, the fantastic tastings at impressive places make this a fun food tour in Rome to join. Again, my sincere thanks to Tavole Romane for the invite and this is a food tour that I would happily recommend to family and friends.