After my sister had sent me the details of her flight itinerary to Rome, the next email I got was an itinerary of new of places she would like to check out from the 17 places I had suggested.
With slightly more than a week in Rome, it was a tight schedule especially as dinners were mainly at home with the family.  These were the places we ate at and yes, I passed the test with flying colors – approved of all of them.
Day 1
Romeo
Given that she had just arrived after a 16-hour flight and was eager to start the week off with the right bite, Romeo was the perfect choice.  It was a win-win as Romeo is located in the Prati area, close to where I work and was high on her list, this was an excellent venue to start a week of eating out.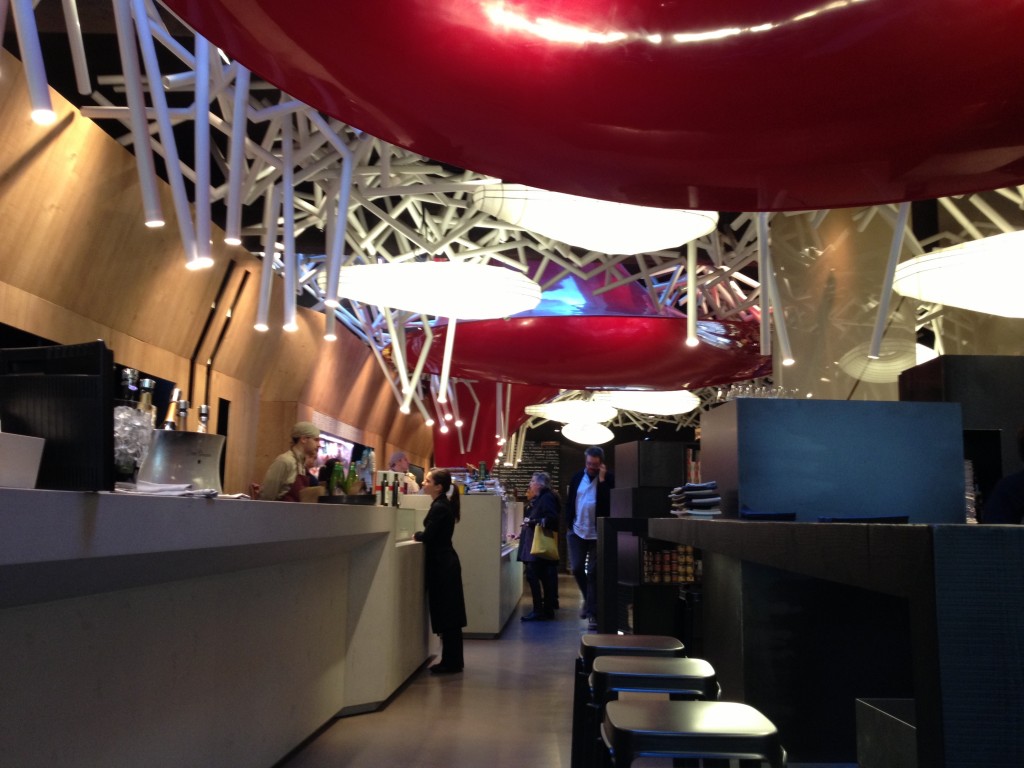 Once we got there, she was spell bounded by the décor and love the atmosphere where you had the deli area with displays of cold cuts, cheeses and sandwiches to take away and the quieter restaurant section towards the back where you can order from a menu . Next to the deli, there are also bar counters and stools where you can enjoy an aperitivo or a quick bite.
Studying the menu , my sister had no doubt what she was going to order – the foie gras burger which was browned to perfection yet buttery and velvety when you bit into it.
Half way through the meal when was struggling to finish the burger, she removed the bread and savored the foie gras. That's not to say the bread wasn't good.  Quite the opposite – actually. The variety of bread they bring to your table in a brown paper bag is superb!
And of course we got dessert.  After a rather heavy lunch we opted for fresh fruits served with crumbles of shortbread. The light tanginess was refreshing and helped awaken us as the sleepiness after lunch was starting to slowly set in.
Tip:  My sister mentioned that if she had come alone, she would have easily walked past the place as the entrance seems a bit obscured. Keep an eye out for the place.
Address:
Via Silla 26/a
00192, Rome
Tel: 06 32 110 120
Website
Average Price:  €35-€40 per person for appetizers, main course (secondo) and dessert
How to Get There
Take Metro A to Ottaviano and it's a short 5 minutes walk from there.
Venchi
The closest thing to souvenirs my sister buys when she visits are chocolates and Venchi is apparently a favorite for many.  She has never been to this location and as there was also gelato, she didn't hesitant – the problem was deciding which flavors to get.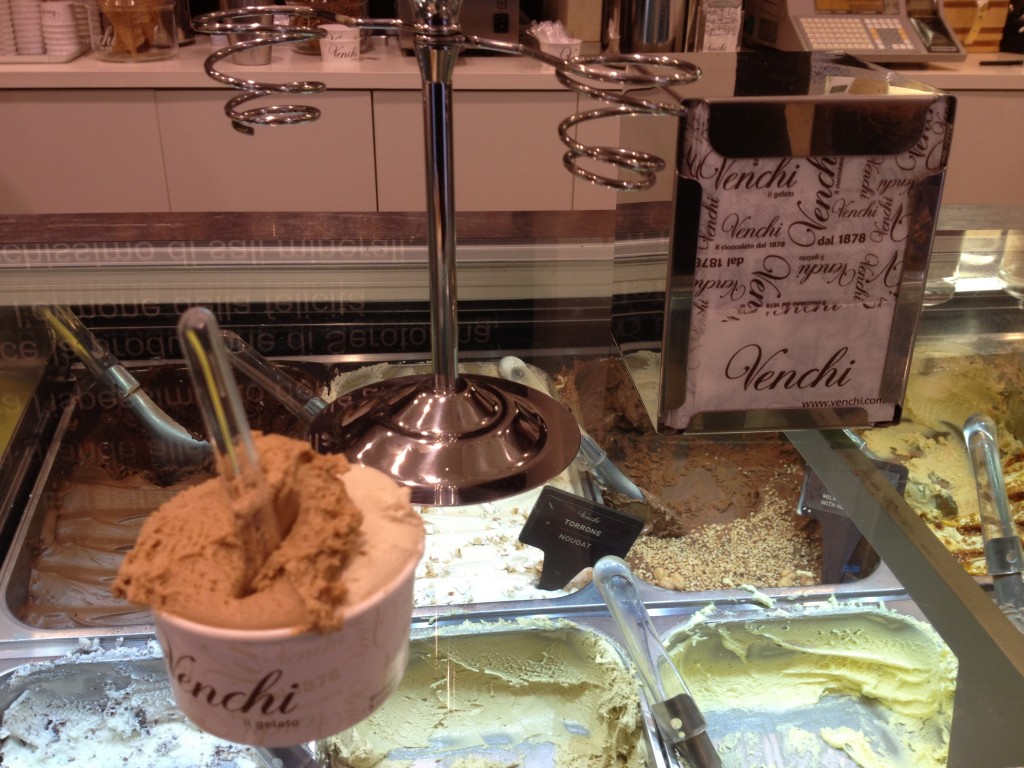 Address:
Via Croce 25/26
00187 Rome
Tel: 06 69797790
Website
Day 2
Osteria Fernanda
A mistake I made worked in our favor.  The plan was to head to Da Cesare for lunch but I had completely forgotten they were closed on Wednesdays.  Realizing this mistake while about to catch the tram at Largo Argentina, I searched frantically in my head for an alternative.
Two options came up – Hamburgeseria or Osteria Fernanda.  My sister opted for Osteria Fernanda and that meant getting on the tram.  Caught up in this mess was my friend Maria who was a saint and still agreed to meet up despite the constant change in venue!
The food we had here was one of the best we had that week and service was courteous.  I had been here before with another friend Kathy a while back and knew that the portions were very generous.  I had asked if they could split the bucatini all'amatriciana into two plates and there were more than happy to do so.
As you can see, that's half a portion and the dish was close to perfect. The crunchy bits of guanciale on the top and the rich sauce has me longing to go back again for this hearty dish.  The only flaw would be that it was just a touch to salty for me and the others agreed.
The bucatini all'amatriciana alone was filling but I had my eyes on the calamari the moment I looked saw it on the menu.  The last time I had a calamari dish here, it was cooked to perfection – tender and succulent!  This time around, it was even more impressive.
The presentation was so striking that I almost didn't want to eat it.  We dug in, nonetheless and it was exquisite. The distinctive flavor of the pappa pomodoro and the tender calamaro was an impeccable combination.
We could have stopped there but dessert was calling.  They had a limited and simple selection and we went with tiramisu which was made to order. After the exceptional calamari dish, the dessert was a bit of a letdown.  Fortunately, the amatriciana and calamari dishes were phenomenal that I am longing  to be back again.
Tip: Their lunch menu is limited with 4-5 choices per course  and while the amatriciana is a permanent fixture on their menu, the other dishes may vary.
Average price: €18-€20 per person appetizers, pasta (primo), main course (secondo), dessert
Address:
Via Ettore Rolli, 1  00153 Rome, Italy
Tel: 06 589 4333
Website
How to Get There
Take Tram 8 from Largo Argentina and get off at the Trastevere/Pascarella stop ( 8 stops from Largo Argentina) then about a 5-10 minute walk.
Regoli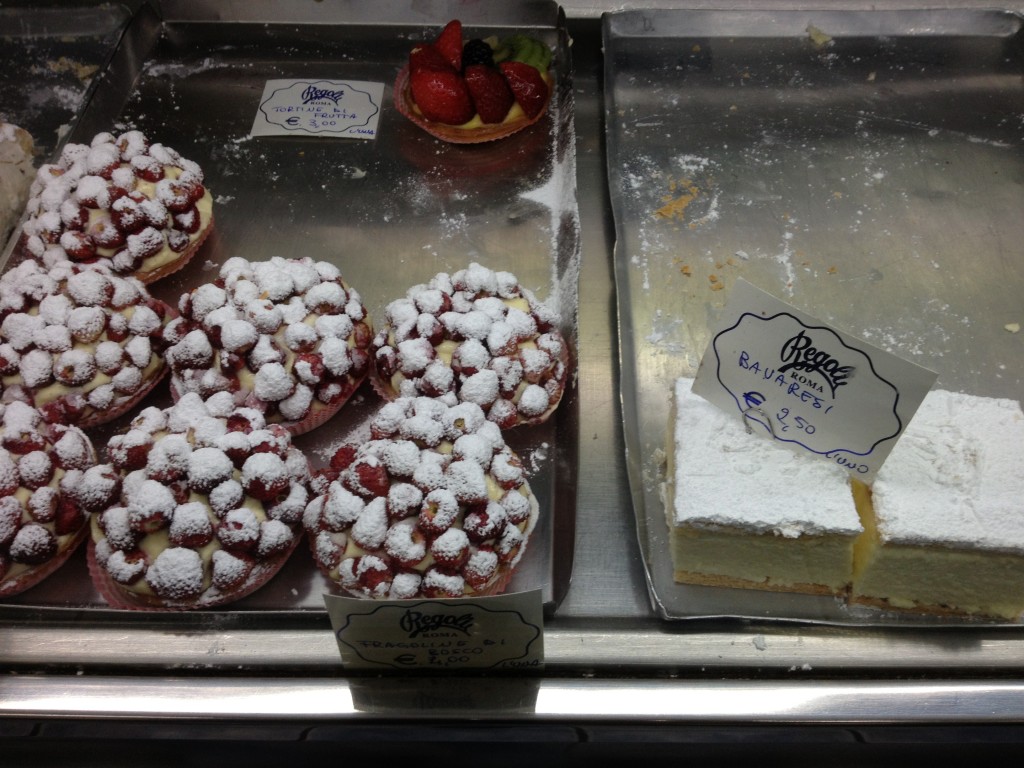 A visit to Rome would be incomplete for my sister without at least stopping by Regoli once to get a bavarese and the tart with wild strawberries. One of the best pastry shops in Rome, it is one of those place where you can't judge a book by its cover. The exterior is unremarkable but inside it's a completely different world.
Tip: Closed on Tuesdays
Address: 
Via dello Statuto, 60
00185 Roma
Tel:06 4872812
Website
How to Get There
Take Metro A and get off at Vittorio Emanuele then a short walk.
Day 3
Coromandel
When I proposed breakfast at Coromandel, my sister was puzzled as Italian breakfast is usually a cappuccino and cornetto.  When I told her they have eggs and guanciale (similar to bacon but tastier) she was even more doubtful – eggs in Italy?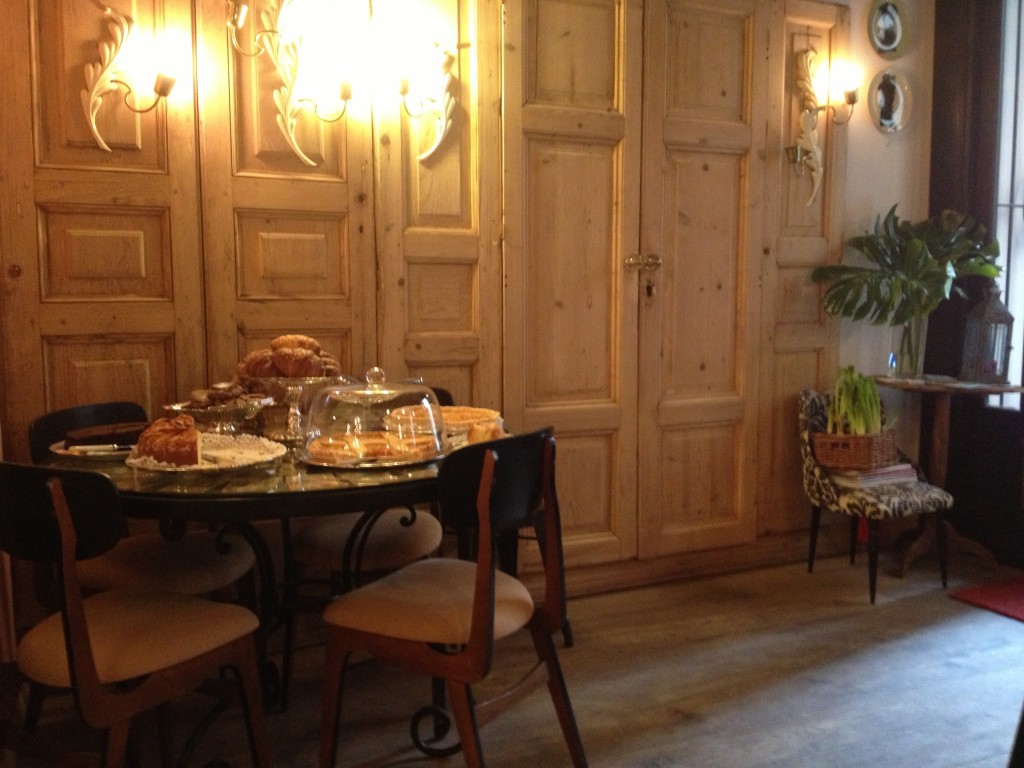 I know, I know but guess what – my sister loves this place – the atmosphere and the food, obviously. The elegant, refined and cozy setting is one where we often meet for ladies who breakfast.
I have a sweet tooth and often opt for either pancakes and french toasts. My sister, on the other hand chose the scrambled eggs with guanciale along with and order of croissant as advised by Gillian.
Tip: While service can be slow, they are courteous and very gracious to allow us to spend the entire morning here.
Average price: €10 per person
Address:
Via di Monte Giordano, 60
Tel: 06 6880 2461
Website
How to get there:
From Termini you can take the 64 or 40 and get off at Chiesa Nuova.  These buses also pass by Piazza Venezia. From Chiesa Nuova it is about a 5 -10 minute walk
Ginger
After an enjoyable breakfast, it was time for some shopping.  Making our way to Via del Corso and to Piazza di Spagna, I thought it would be nice to meet my sister-in-law for a quick lunch. Ginger immediately popped into my head.  If there was one place to get a healthy bite, this would be it.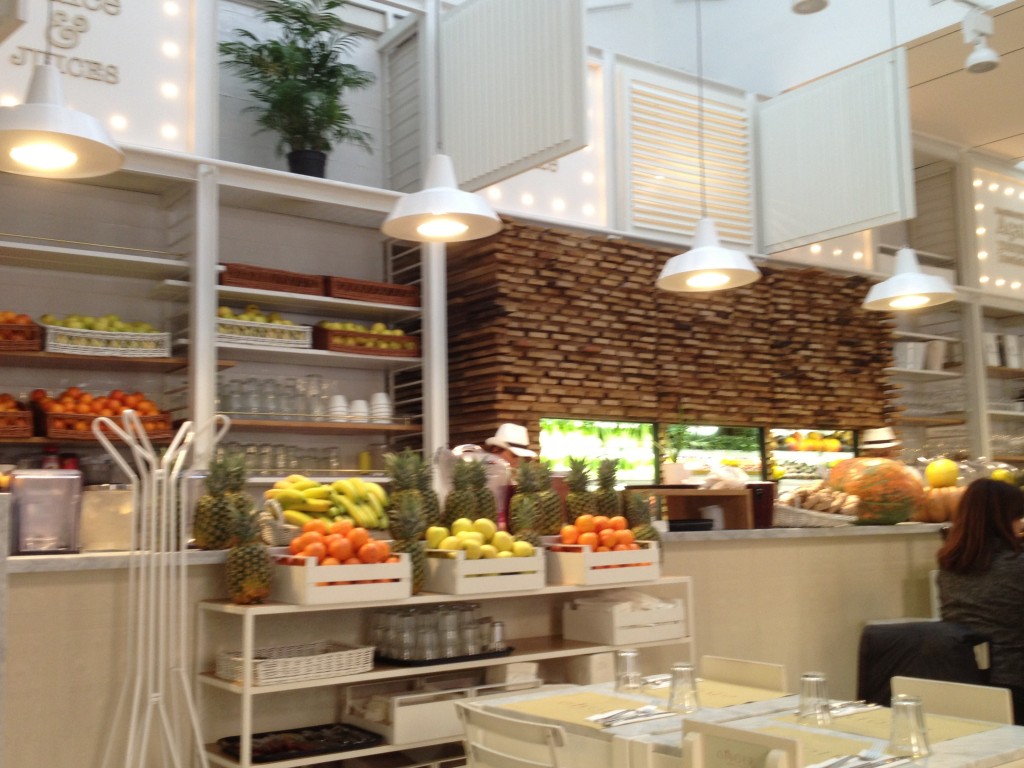 As I have said before, just my stepping in here with the sight of the white-washed walls and display of fruits and vegetables at the counter –I never fail to feel healthier!  I ordered a hearty vegetable soup while my sister got a quinoa salad with apple and cinnamon (and my sister-in-law couldn't get out of the office!)
Tip:  Very crowded at lunch so get there before 1pm.  They have an extensive menu and can be pricey.
Average price: €15-€18 per person  for a main course and a drink
Address:
Via Borgognona, 44
00187 Rome
Tel: 06 9603 6390
Website
How to get there:
Take any bus that stops at Largo Chigi (62, 160, 85, 492, 175) or the Metro to Spagna then a short walk.
Ladurée
Just a stone's throw away from Ginger (on the same street) we couldn't just walk pass without getting some macaroons to go.
Address:
Via Borgognona 4C
Roma – Italy
Tel: 06 6994 1625
Day 4
Dar Bruttone
Trying to manage work and spend time with my sister was a juggling act.  We had been good in keeping to the itinerary but today meant a change in the schedule. Due to time constraints, I suggested having lunch at Dar Bruttone which is in the neighborhood.  I have never been here but have wanted to for a while. I walk by daily and see that it is popular with the locals.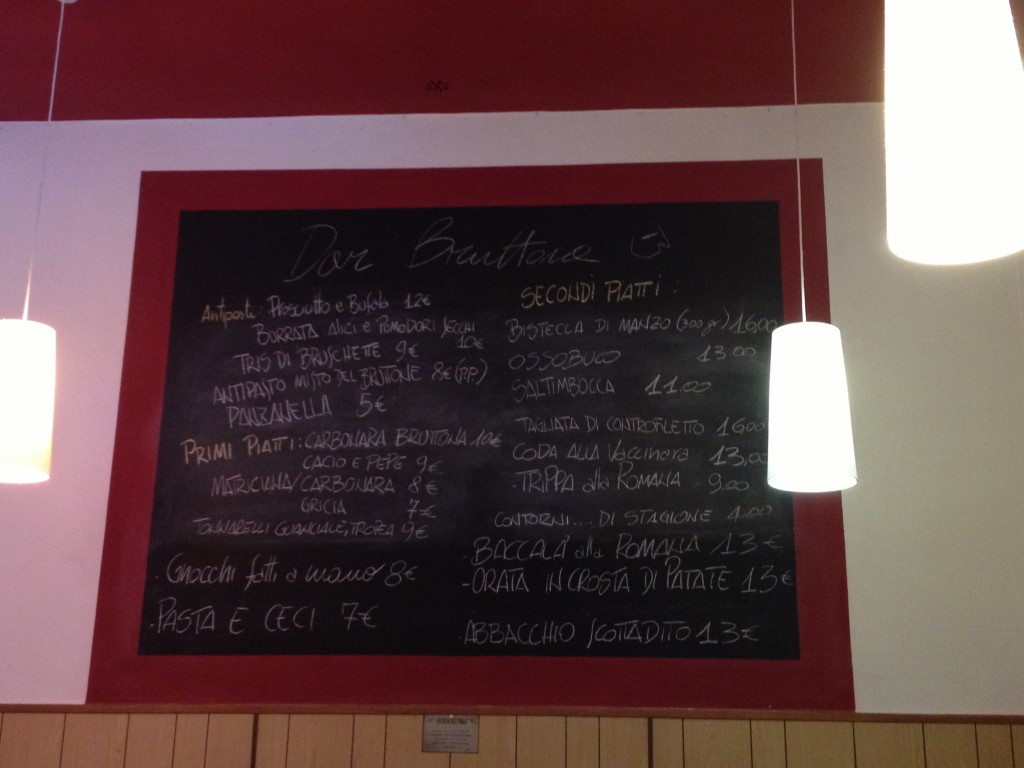 Located on Via Taranto, the exterior with red curtains was far from appealing – so much so that my sister was questioning my choice.  The only thing that made her go with me was that so far, the choices of places we have been to were spot on.
Once we were in, she gave a quick look around and finally let her guard down as the casual setting was actually pleasant.  We were here before the lunch crowd came but there were already a few tables taken.  It is not a spacious place and as we didn't make reservations, we were lucky to get a table.  The staff was friendly and even spoke English to explain a few dishes on the huge menu board.
We ordered pasta with guanciale and tropea onions which sounded simple but was packed with flavors, good ol' steak and carciofi alla romana.  The dessert here looked fascinating as we were eyeing the various choices brought out to the other tables.  Shockingly, we didn't order dessert and while walking out, I was already regretting that decision.
Address
Via Taranto, 118
00182 Rome, Italy
Tel: 06 8902 4870
Average price: €25 per person pasta dish (primo), main course (secondo), side dish (contorno) & drinks
How to get there:
From the Colosseum, take the 85 bus  in the direction of Rocca di Pappa and get off at Taranto/Casalmaggiore. It's basically right in front of the bus stop.  Alternatively, take Metro A to Re di Roma and it's about a 5-minute walk.
Day 5
Eataly
The first and last time I was in Eataly was last September.  I didn't understand the enormity of this place, once a former railway station built for the 1990 soccer World Cup, until I stepped in.
It didn't feel like Italy or anything Italian but rather, I felt like I was transported to a modern city like Tokyo or New York.  It's a place where you could easily spend an entire day there and I would if it was not out of the way.
My sister was curious to see  Eataly and though I was not sure which was worst – crowds on Saturday or the hassle of getting there on a weekday as it's not well-connected, I chose the former.  We drove there on Saturday with my husband, and I can safely say my sister did some major gift shopping here.  From pastas to torrone to lunch boxes, she did the rounds and more.
Address:
Air Terminal Ostiense
Piazzale XII Ottobre 1492
Tel. +39 06 90279201
Website
How to get there:  Details from their website
Day 6
Lazio countryside
The week my sister was here, she was fortunate that the sun was out and we had lovely spring weather.  My brother-in-law suggested getting out of Rome for lunch in the Sabine region in Lazio.
He is familiar with the area and chose a restaurant that's perfect for families with young children as has a small playground on site. Having Sunday lunch in the countryside and outdoors with great company is always a pleasure.  We didn't hold back and orders appetizers, primi, secondi and dessert.
Luca ordered the pappardelle al ragù di cinghiale and we chose a dish typical of this area which is stringozzi ai funghi porcini.  I had a taste of both and they were equally good.
The portions were huge but probably not that huge as we didn't have problems finishing up the mixed grill with sausages, pork chops and lamb.  We could have skipped desserts – nothing outstanding and even the crème brulee, if you can call it that – had barely a burnt layer of caramel.
Lo Chalet Della Sabina
Via Ternana, 52
Cantalupo in Sabina, Province of Rieti, Italy
Tel: +39 0765 514312
How to get there:
An hour's drive from Rome by car. Details here
Day 7
Da Cesare
There were two new places that were a must for my sister – Romeo and Da Cesare.  As my sister had two days left in Rome, she decided that we had to go to Da Cesare and if there were close for whatever reason, we still had the next day to go there.  It isn't difficult to get there but it's quite a way from the historic center.
I had made reservations this time to not be disappointed and when we got there,  only 3-4 tables were taken. My sister knew what she wanted to order for appetizers and we got the fritti.
As a matter of fact, we got everything fried that meal and like Luca would say, anything fried tastes good.  Fried gnocchi with cacio e pepe was my sister's pick but it was the meatballs that stood out for me. Service was indifferent and I was disappointed about this. We didn't order dessert as we plan to get a gelato at Il Gelato.
After the meal, my sister did comment that she enjoyed the meal but it's distance from the center wasn't ideal. I agree with her but would like to be back to try their pasta dishes.
Tip: They are closed on Wednesdays and best to make reservations.
Average price: €25 appetizers, main course (second) and wine
Address
Via del Casaletto, 45  00151 Rome, Italy
Tel: 06 536015
How to get there:
Take Tram 8 from Largo Argentina until the end of the line.  When you get off the tram go right and cross the traffic light. It's only a couple of minutes walk.
Ciampini
To walk off the meal, at least that's what we hope to do, my sister still had an afternoon of shopping. I wasn't keen but the deal was after the shopping was done, Il Gelato would be our next destination. Imagine our disappointment when we got there to find it closed.
I am not sure but it looks like a permanent closure rather than being just closed for renovations.  There were no notices and whatever the reason they were closed, we were disheartened but not for long.
Ciampini to the rescue.  Only a few minutes' walk from Il Gelato, my sister had no problems figuring out which flavors she was getting and soon enough the disappointment of Il Gelato was a past memory.
Tip: Pay the cashier first before getting your gelato.
Address:
Piazza di San Lorenzo in Lucina, 29
00186 Rome, Italy
Tel: 06 687 6606
Website: http://www.ciampini.com/
Day 8
Sweety Roma
We made our way to Monti as my sister wanted to dine again at L'Asino d'Oro.  On her last visit, she was extremely impressed with this place that she absolutely had to be back and so we did.
We were early and since Sweety Roma was in the vicinity, we went to buy some muffins and I got myself some blondies which were nice and chewy.
Even after enjoying a cup of coffee and some small treats, we still found we had some time to roam around and since we were in lively neighborhood of Monti, there is no shortage of things to do here.  My sister, who still had shopping to do, frequently stopped to peep into the many artisanal shops.
Address:
Via Milano, 48  00184 Rome, Italy
Tel: 06 4891 3713
Website
How to get there:
Take the 70 bus in either direction and get off at the Nazionale/Palazzo Esposizioni
Gaudeo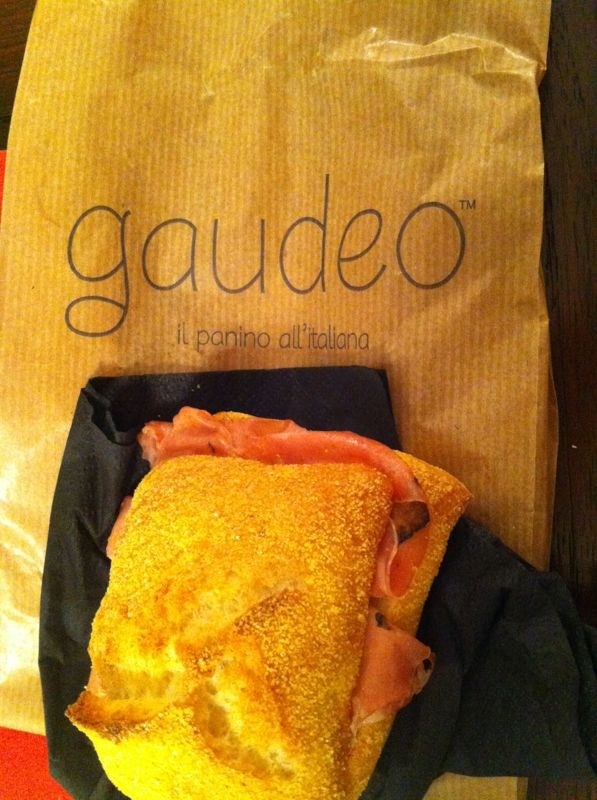 Making our way down Via del Boschetto, I realized that Gaudeo was on this stretch.  Despite my sister's reluctance, as she wanted to safe her appetite for L'Asino D'Oro, I dragged her in.
We were promptly greeted and were given a detailed explanation on every sandwich/panini that they had for that day.  We weren't talking about 3-4 different choices but more like 7-8.
My sister who is a frequent visitor in Rmme has never seen service like this before and was close to speechless.  At the end, she managed to give her sounding approval and walked away buying not one but two panini to go.
Tip: Love that they have two different sizes of the same sandwich, classico (regular size) or mignon. This mean can sample two or three mignon-sized panini.
Address:
Via Del Boschetto, 112 Roma 00184 . Tel/Fax: + 06 9818 3689
Website
How to get there:
Metro B and get off at Cavour stop then a short walk.
L'Asino d'Oro
Finally, we made it to L'Asino d'Oro.  Though the price for lunch has gone up to €13 (was €12 on her last visit), it's still an extremely good deal for a three-course fix menu including water and wine.  There are always fast, friendly and efficient.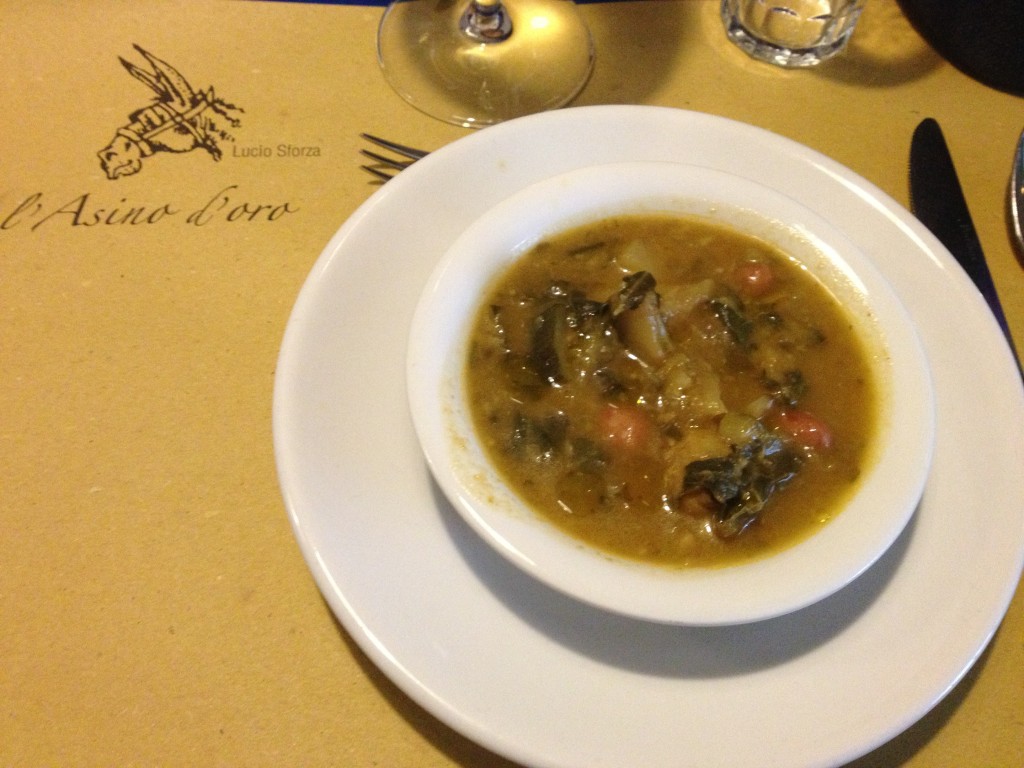 Tip: They accept payment by cash only for lunch. For March – Lunch only from Tuesdays to Saturdays.  Call to make reservations.
Address:
Via del Boschetto, 73  00184 Rome, Italy
Tel: 06 4891 3832
How to get there:
Metro B and get off at Cavour stop and then a short walk.
Come il Latte
It had already been a long day and we weren't sure about going to Come il Latte. Somehow it worked out and we found ourselves walking there. My sister got salted caramel (caramello al sale) and mascarpone with cookies (mascarpone e biscotti gentilini) and I had a taste of hers.  The verdict is that she will be back here.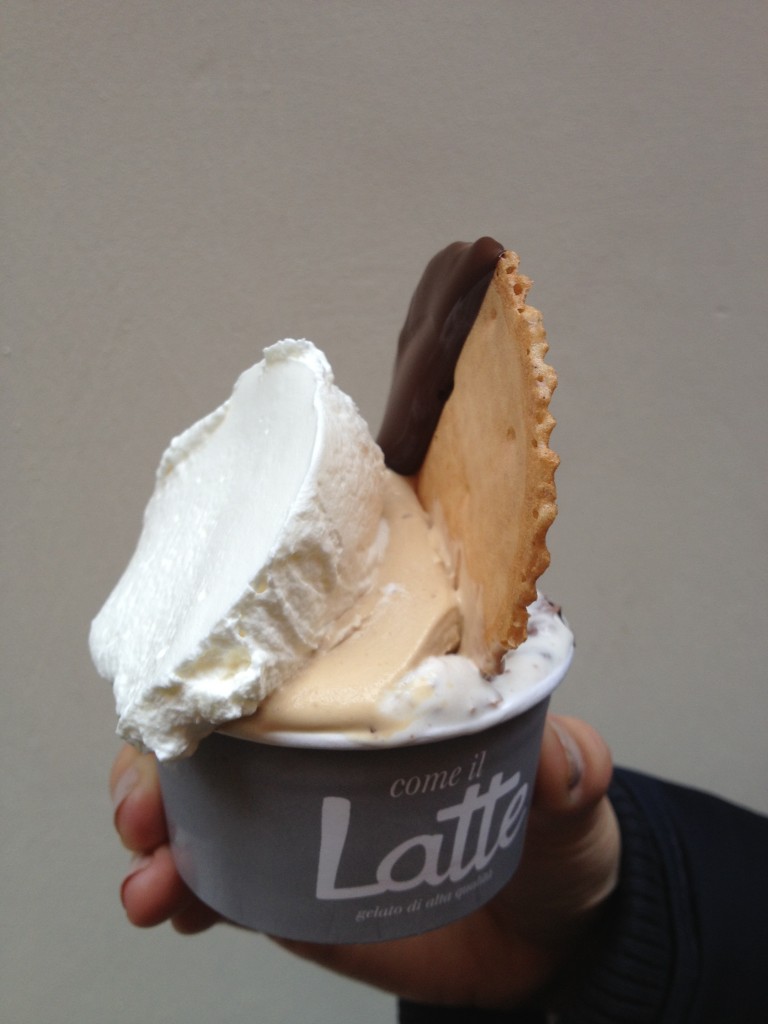 Address:
Via Silvio Spaventa, 24/26
Tel: 06 4290 3882
Website
How to get there:
Take Metro A and get off at Repubblica or Barberini. I usually get off at Repubblica and then it's about a 10-minute walk.
Next Visit
There were few places we didn't manage to get to which means they would be a must on the next trip, Metamorfosi which will be phenomenal and Panificio Bonci where there's no pizza quite like this in town.
For her next visit, what other places to eat in Rome should she add to this list?