Researching the best places to eat in Rome? We've done the work for you! We know that not all restaurants in Rome are created equal, so we reached out to local and Rome-based experts who have generously shared some of their favorite places to eat in the city.
From street food to Michelin-starred restaurant, there's just about everything for everyone. An essential list, which is in no particular order, you'll want to have with you when traveling to Rome, especially if you're all about having memorable dining experiences. Also don't forget to check out their websites as they also provide invaluable resources on the city. Buon appetito!
Note: Please call ahead or visit the respective websites to check on their opening hours.
As this is an extensive list, you can also download a pdf of the 30 Places to Eat in Rome for your easy reference.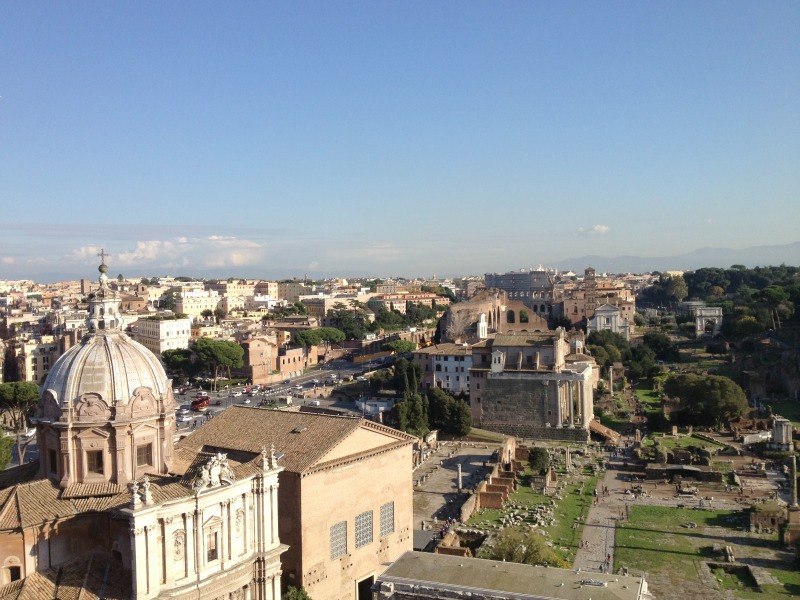 27 Places to Eat in Rome 
1. Da Cesare al Casaletto
Off the beaten track Da Cesare is one Rome's best restaurants. Meals here should definitely open with the stellar fried appetizers (polpette di bollito, fried moscardini, battered zucchini flowers when in season), and continue with well-executed classic Roman pasta dishes and outstanding second courses of meat and fish. The wine list is highly regarded by connoisseurs, and pairs well with the menu listings. Tables outside under the vines are a summer must.
Via del Casaletto 45 (Monteverde) | Tel: +39 06 536015 | Closed Wednesday | Website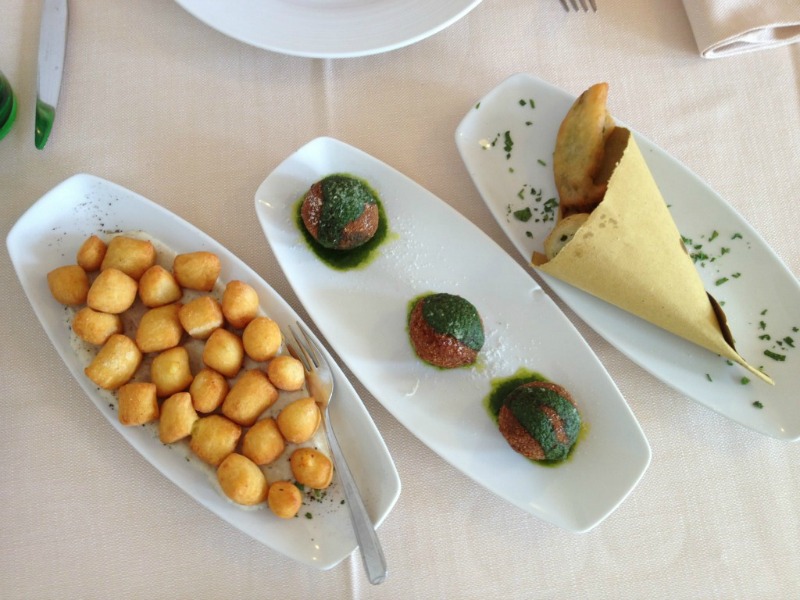 2. Armando al Pantheon
Despite its location near the Pantheon, Armando al Pantheon is not a tourist restaurant. Chef and owner Claudio Gargioli and his family gracefully serve reliable cucina romana and personal twists on that theme at moderate prices. With product as their main concern, the menu features sensational dishes like pasta 'alla gricia' or 'con la pajata', the always very good stewed oxtail, and delicious desserts, like 'torta antica Roma' which is made with sheep's milk ricotta and dark chocolate.
Salita dei Crescenzi, 31 (Pantheon) | Tel: +39 06 68803034 | Closed Saturday and Sunday | Website
3. Sora Maria e Arcangelo
At only a 1-hour drive out of Rome in the charming town of Olevano Romano, deep in the heart of Cesanese wine land, is the delightful restaurant Sora Maria e Arcangelo. Run by the shy and talented chef Giovanni Milana, this is where I come to enjoy delicious Lazio homestyle cuisine in a romantic setting.
Rustic and elegant at the same time, Giovanni's dishes draw inspiration from his family heritage (his mother still makes the best cannelloni in the universe) and from local tradition. Classic pastas as well as whimsical twists, magnificent entrées of local meat or game, and droolworthy desserts come paired with excellent (often natural) wines from the area.
Via Roma, 42, Olevano Romano | Tel: +39 06 9564043 | Closed Monday and Wednesday | Website
4. Trattoria Monti 
Run by the amiable and charming Camerucci brothers, Enrico and Daniele, with their mom Sandra in the kitchen, Trattoria Monti consistently stays in my top 5 places to eat in Rome. One thing I love about it is the relaxing ambiance, and friendly service that allows you to choose the pace of your meal.
The other is of course the food: You will find some Roman dishes, such as lamb, artichokes (when in season) and occasionally, skate and broccoli soup, but they also specialize in dishes from Le Marche where they are from. I particularly love their mixed antipasto dish, featuring fried cream and a spreadable sausage. Everything is fantastic here, especially my favorite pasta: the giant tortellone with egg yolk. But save room for dessert: they are all homemade and worth coming here for, all by themselves.
Via di S. Vito, 13/A | Tel:+39 06 4466573 | Tue-Sat open for lunch and dinner. Sunday lunch only. Closed Monday. Closed the entire month of August 
5. Osteria Del Sostegno
I love that the food in this tiny trattoria hiding near the Pantheon is so amazing and yet they don't seem to be on all the foodie blogs and in all the guidebooks. So, often when I come, I am surrounded by Italian businessmen and politicians, or families chattering happily away. I recommend everything, from their superb pasta dishes to their simple bean salads to their eggplant parmigiana to their beef straccetti and chicken cacciatora. All this plus a good wine selection and very fair prices make this one of my go-to restaurants in Rome.
Via delle Colonnelle 5 | Tel:+39 06 6793842. Tue-Sat open for lunch and dinner. Sunday lunch only. Closed Monday. Closed the last 3 weeks of August | Website 
6. Baccano  
I find myself lately recommending this restaurant near the Trevi Fountain over and over, and coming myself more and more. Originally, it was because its location is so great, and because they are open 365 days a year, all day long every day. But the main reason to love it is the food.
The menu reflects the care that goes into ingredient selection, and everything I've ever eaten here, from the perfect carbonara to their tuna tartare, has been exceptionally prepared and delicious. Excellent service and a spacious, airy, comfortable space all help make this one of the most inviting places to eat in central Rome.
Via delle Muratte, 23 | Tel: +39 06 69941166 | Open every day, year-round, from 10am until 2am (kitchen closes at 12:15am.) | Website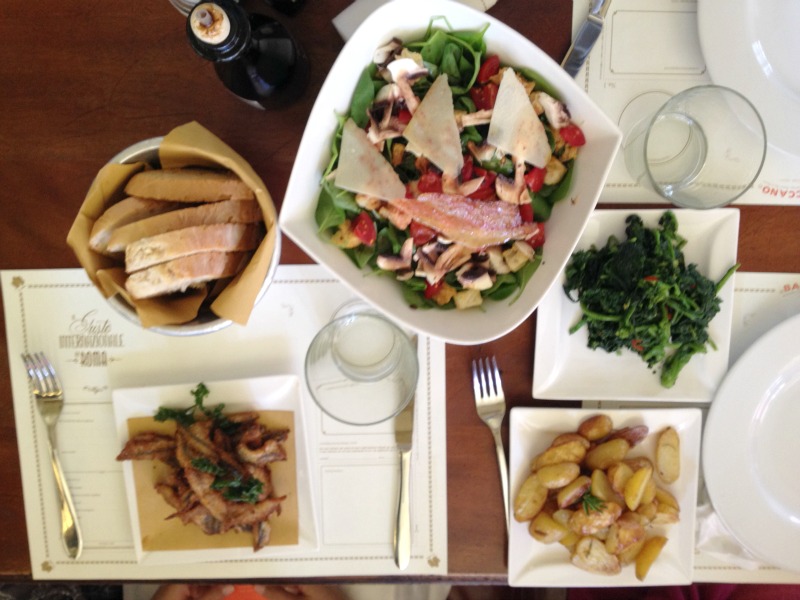 7. Caminetto
Located in the posh borough of Parioli, off the beaten track, this place offers Italian specialties, both traditional and creative, since 1959. Favorite dishes: meat balls and desserts. Reservation required.
Viale dei Parioli 89 | Phone: +39 06 808 3946 | Website
8. Dal Toscano
Near the Vatican, this restaurant has a unique blend of tourists and locals. Italian traditional cuisine with a Tuscan twist. Their meat is to die for and they have the best beef strips (straccetti) in town.  Outdoor tables available.
Via Germanico 58-60 | Tel: +39 06 3972 5717 | Website
9. Gina
Near the Spanish Steps. Perfect for a full meal, a quick one, a snack or a coffee, Gina's best dish is their pasta with rocket pesto. Their cuisine has a mix of international and creative Italian dishes. The American-style desserts are a must. Free wi-fi which works well).
 Via di San Sebastianello 7/a | Tel: +39 06 678 0251 | Closed dinner | Website
10. Zi'Umberto
Zi'Umberto is my go-to restaurant in Trastevere because this place has it all. It serves typical Roman dishes but it also has a long list of creative specials which change daily. The prices are extremely affordable for high-quality food and the location can't be beat – the restaurant lies in a small piazza behind Piazza Trilussa and has lovely outdoor seating in the summer.
Piazza di San Giovanni della Malva 14b | Tel: +39 06 5816646 | Open lunch and dinner daily
11. Il Sorpasso
Il Sorpasso is one of the best restaurants in Prati – and in spite of lying just a 10-minute walk from the Vatican, it is refreshingly hip and local. It is a bright, rustic restaurant with an extensive, creative menu and a chic clientele. It is also a great spot to people-watch during aperitivo hour when the well-heeled (and suited) Romans come to mingle after working hours.
Via Properzio 31 | Tel: +39 06 89024554 | Closed Sunday | Website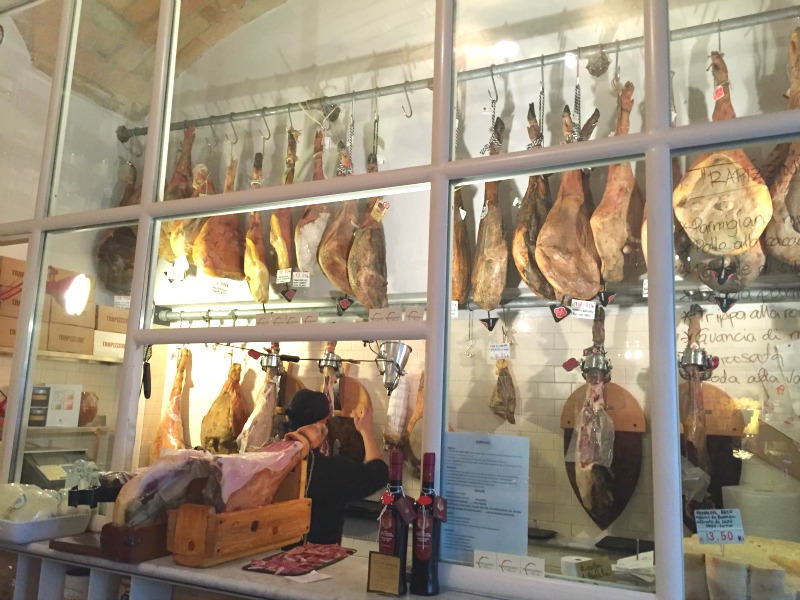 12. Osteria degli Amici
Testaccio has so many wonderful restaurants but Osteria degli Amici is one of my favorites. It serves Roman specialties in a minimalist but cozy space. The waiters are hip, the food is delicious and the whole atmosphere is appealing, with romantic lighting in the evening.
Via Nicola Zabaglia 25 | Tel: +39 06 5781466 | Open for lunch and dinner daily
13. Trapizzino 
This is Rome's ultimate comfort food: crispy pizza bianca stuffed with slow cooked goodness. For just €3.50 you can pick out your favorite filling and indulge in a snack sized sandwich brimming with pollo alla cacciatora (slow cooked seasoned chicken), polpette (meatballs),  or misticanza romana (mixed greens), as well as seasonal specialities. Add a supplì and a Birra del Borgo craft beer and you have yourself the best casual meal in Rome. 
Via Giovanni Branca 88 (Testaccio) and Piazzale Ponte Milvio 13 (Ponte Milvio) | Tel: +39 06 43419624 (Testaccio) +39 06 3322 1964 | Closed Monday (Testaccio)
14. Litro :  Litro is a great place to eat because it is a fantastic place to drink.  The quality of the ingredients shines through in small plates and gourmet sandwiches. The bruschetta pomodoro piennolo del Vesuvio is simple but delicious, as is the insalata Greco-Romana. But the wine list is where Litro really shines, with one of the best selections of natural wines in Rome as well as great cocktails to have with your tagliere. 
Via Fratelli Bonnet 5 | Tel: +39 06 45447639 | Closed Sunday | Website
15. Roscioli 
Located just steps from Campo de' Fiori, Roscioli is one of my favorite places to eat in the centro storico. Start with a bottle of Silene, a Lazio red wine from Damiano Ciolli. Order the burrata pugliese con pomodorini, and move on to the best carbonara in Rome. Be sure to book ahead because Rocioli's is well known for all the right reasons.
Via dei Giubbonari 21/22 | Tel: +39 6875287 | Closed Sunday | Website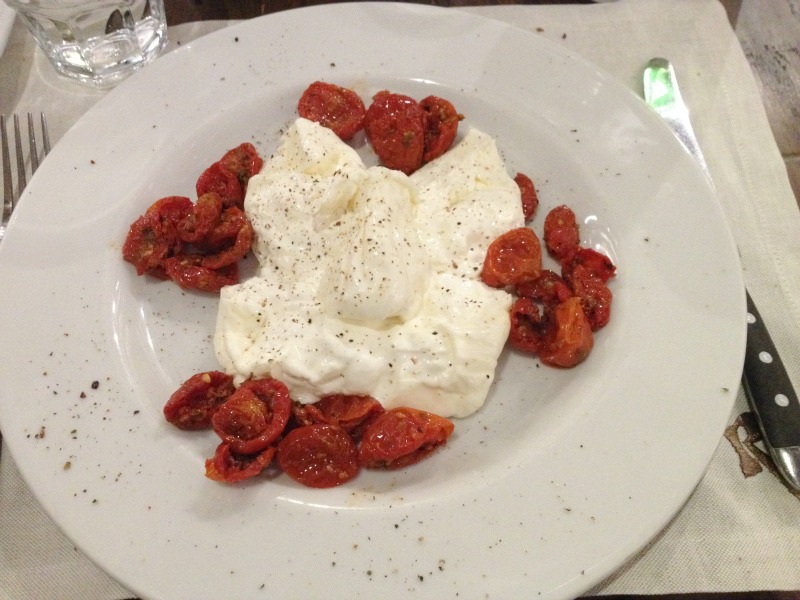 16. Da Emilio
Nothing fancy here – a family run trattoria with homestyle cooking.  At lunchtime it's filled with the same local office workers who have been going here for years.  When in season, try the fettucine with carciofi (artichokes) or the parmigiana di melanzane (eggplant parmesan).  Definitely have the macedonia (fruit salad) for dessert – simple, but so delicious.
Via Alessandria, 189 | Tel: +39 06 8558977 | Open lunch & dinner Monday-Friday
17. Pizzeria Emma
Excellent pizza and they also make an incredible supplì as a starter.  High quality ingredients and the service is professional and friendly.  Also conveniently located across the street from my favorite wine bar, il Vinaietto.  
Via del Monte della Farina, 28 |  Tel: +39 06 64760475 | Open for lunch & dinner | Website
18. Flavio al Velavevodetto
You'll find classic Roman cuisine at this much loved trattoria situated in the side of Monte Testaccio – a "mountain" made centuries ago from the shards of ancient terracotta amphorae.  Signature pasta dishes are their cacio & pepe and amatriciana for first course and second course includes Roman dishes known as quinto quarto which are the organs and entrails of butchered animals.  If you choose to skip the quinto quarto dishes, go for their delicious tiramisú for dessert instead. 
Via di Monte Testaccio 97 | Tel: +39 06 5744194 | Open lunch & dinner daily | Website
19. Da Nazzareno
Da Nazzareno is a classic Roman trattoria just a few steps from Rome's Termini station. The large dining room is filled with regulars and the old fashioned antipasto and dessert bar is one of Rome's best. Come here for comforting classic pastas like carbonara and amatriciana and main dishes of roast suckling pig or grilled lamb chops.
Via Magenta 35 | Tel: +39 06 4957782 or +39 06 4959211 | Closed Wednesday | Website
20. Ai Marmi
Roman style pizza is a dinnertime only thing. The crust is crisp and thin and the toppings are traditional. Make sure you order a few fried things while you wait for your pizza.
Viale di Trastevere, 53 | Tel: +39 06 5800919 | Closed Wednesday
21. Broccoletti
Located on the via Urbana in the Monti, his relative newcomer to Rome's first neighborhood serves up dishes made with local and seasonal ingredients that are fresh takes on beloved classics. 
Via Urbana 104 | Tel: +39 06 474 772 | Closed Monday
22. Da Enzo
If I had to have one last meal in Rome it would most likely be here! I'd start with burrata, carbonara comes next and the closing act is mascarpone mousse with wild strawberries! Family run, this is hole-in-the-wall Trastevere at its very best! 
Via dei Vascellari 29 | Tel: +39 06 5812260 | Open for lunch and dinner. Closed Sunday | Website
23. Pepper Restaurant
When I need a dose of real Roman comfort food, only Pepper will do. Friendly service, local Lazio produce only and a great list of regional Italian wines. Think Roman cuisine with a few cheeky twists. 
Via Nuoro 17 | Tel: +39 392 6360647 | Dinner only. Closed Wednesday | Website
24. Da Remo
For real deal Roman pizza – the thin crust, just about chat burnt one – Da Remo is not to be missed. The classic margherita is one of the best in Rome and all the fried starter treats are fantastic. 
Piazza di Santa Maria in Liberatrice 44 | Tel: +39 5746270 | Dinner only. Closed Sunday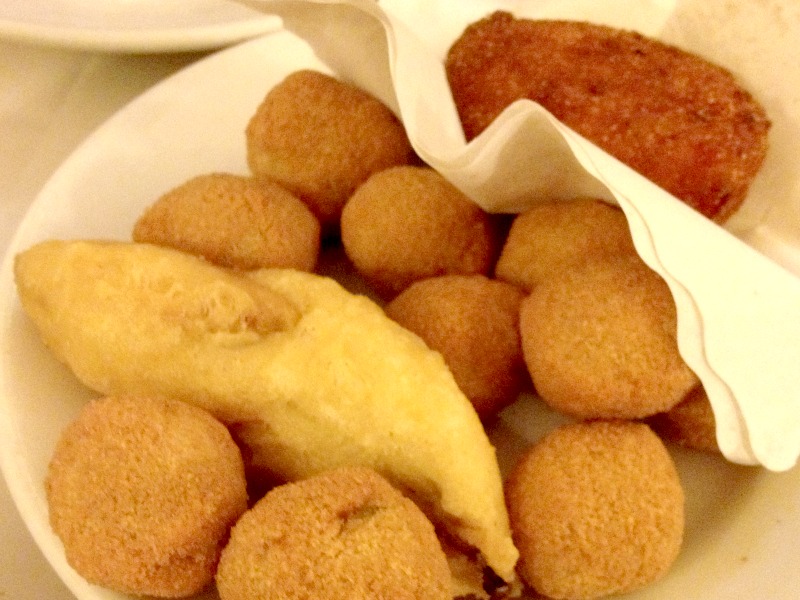 25. Mordi e Vai
Fortunately recognition and reviews haven't changed a thing, ex–butcher Sergio Esposito's sandwiches filled with roman classics are still some of Rome's best (and best value) things to eat. The classic, Panino con l' allesso, (3 euros) a soft roll dipped in rich meat both, filled with meltingly tender boiled beef. Unmistakably Roman, delicious, visceral food.
Nuovo Mercato Testaccio, Via A. Volta – Side of Via B. Franklin 12E – Box 15
Tel: +39 339 1343344 | http://www.mordievai.it
26. Metamorfosi
A high-end restaurant located in the Parioli district with 1 Michelin star. When budget allows we choose Metamorfosi to enjoy more than a meal – it's a complete dining experience across tastes, smells and colors. Chef Roy Caceres is creative and innovative, revising traditions and using mainly seasonal ingredients. The Nordic sous chef John Regefalk stands out among the great restaurant team and bakes fantastic bread too!
The location was renovated last summer: natural colors and wood warm the minimal-style space. Tasting menus have also been revised too, a sequence of free-hand creations available in 6 or 10 dishes.
A preview for readers: they are thinking about introducing "shared dishes" for a more convivial and emotional experience.
Via Giovanni Antonelli, 30 | Tel: +39 06.8076839 | Closed Saturday at lunch, and all day Sunday
Tasting menu 100€ or 130€ plus wine and other drinks | Website
27. Marzapane
Located near Porta Pia, just outside most central areas, Marzapane, in our opinion, is at the level of Michelin-starred restaurants and we bet it will be awarded one in the 2016 red guide.

In the open-plan kitchen you'll find Alba Esteve Ruiz, a young Spanish chef with a Roman heart! Therefore, it is not a surprise that her carbonara pasta is among the best in the city. Advance booking is strongly recommended since the cute informal room is small and it is much loved by locals. 
Recently we tried the full tasting menu called "il girone dei golosi" and loved, in particular, linguine with reduction of beef broth, spring onion and pork pop corn, and deer, figs and anchovies. Starters are all tempting.
Via Velletri, 39 | Tel: +39 06 64781692 | Closed on Wednesday | Tasting menu 39€, 59€ or 69€ plus wine and other drinks | Website
28. Osteria Fernanda
It recently moved to a new more spacious and comfortable location, only few streets away from the old venue in Porta Portese. Keep an eye out when looking at the map since it is hidden by the high-rises surrounding viale Trastevere. However, it is very easy to get there from the most central areas in Rome by taking the No. 8 tram. A non touristy place, it represents what we would define a Roman "bistrot". The young chef Davide Del Duca feels at ease both with traditional and more creative dishes. His amatriciana pasta is memorable and on our  last visit we were impressed by spaghetti con melanzana bruciata, scampi e pistacchi (smoked eggplant, scampi and pistachios). Be sure to save room for dessert! 
Via Crescenzo del Monte 18/24 | Tel: +39 3474459593 | Closed Saturday for lunch, and all day Sunday | Tasting menu 38€, 45€ or 59€ plus wine and other drinks | Website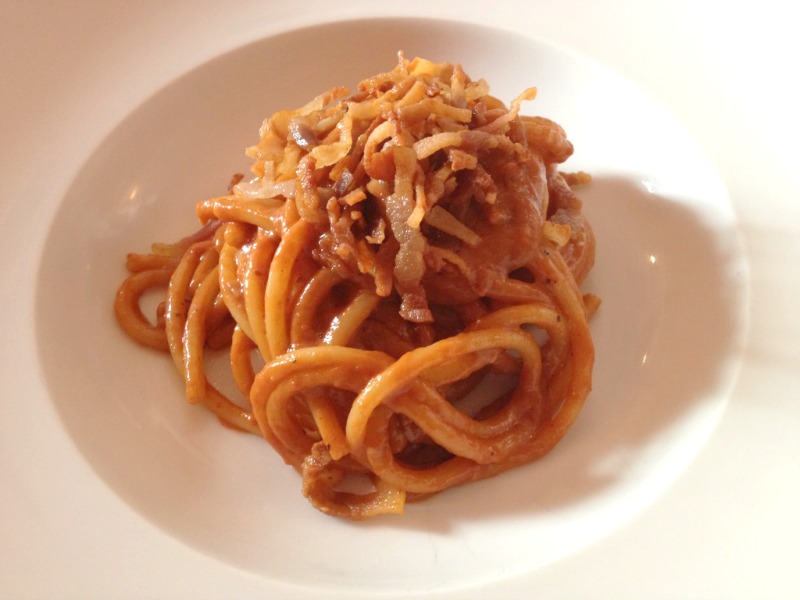 BrowsingRome.com
29. Pinsere
Here you'll find pinsa, an ancient Roman recipe where the dough is given at least 48 hours to rise. It could be described as a "one-serving size" pizza, with a nice crispy crust yet light and fluffy inside. With a wide variety of toppings, often reflecting seasonal produce, you are spoilt for choice.  It certainly makes for an afforable and delicious lunch.
Via Flavia 98 | Tel:+39 06 42020924 | Open Monday to Friday from 9.00am to 4.00pm
30. Pizzarium 
Done with a visit to the Vatican and looking for a quick bite? Pizzarium, situated just a short walk from the Cipro metro station, offers one of the best pizza al taglio (pizza by the slice) in Rome – though it comes at a price and a wait.
Order directly at the counter as you'll have to tell them how big of a slice you would like as it is sold by weight. There are a few bar tables where you could eat while standing up as well as a few benches. While they offer some creative toppings, you'll also find classics like pizza margherita and pizza rossa. Their suppli (fried rice balls with different fillings) are also worth trying.
Via della Meloria 43 | Tel: +39 06 3974 5416 | Open daily from 11.00am to 10.00pm
If we have missed any of your favorites, share them with us in the comments below.
And if you are traveling beyond Rome, you might like this handy post on places to eat in Italy covering Florence, Milan, Naples, Turin, Bologna and Venice.