Well, I actually have a few Italian dessert recipes that are my favorites but this one is a dessert I always offer to make because it's not commonly found in Rome.  Because of this, it's always appreciated!
So what's it? Well, those who know me well will for sure know it's the Caprese.  When I say Caprese, most people in Rome will say, you mean the appetizer with mozzarella, tomatoes and basil?  Yes, that's a Caprese too but the Caprese I am talking about is a dessert from Capri (I think…).
The reason I said "I think…" is that I first came across this Italian dessert in Positano. My sister-in-law got this recipe from a lady there and I am glad she shared it with me!  It's a flourless chocolate cake and extremely moist.
I often make this cake when there's a special occasion such as my nieces' baptisms and birthdays.  Once I was told that the caprese I made was so good that it had to be made by someone from that area. And this was coming from a person who lives near Positano. Yes, I am bragging just a touch but it's a huge compliment for me.
So enough talk! Let's get to the recipe and the pictures.
Torta Caprese – Preparation time: 45 minutes / Baking time: 35-45 minutes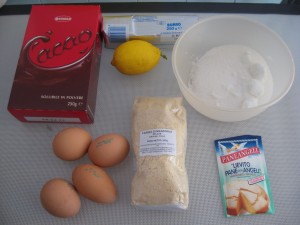 Ingredients
200grams butter
200grams sugar
300grams ground almonds
4 eggs
1/2 cup of unsweetened cocoa powder
lemon grind (from one lemon)
1/2 tablespoon of baking powder*
*Note: This is a rough estimate because I usually use 1/4 packet of what they call 'lievito' here in Italy. You can see this on the picture with all the ingredients used in this recipe.
Directions
1. Mix butter and sugar until creamy.
2. Separate the egg yolks and egg whites.  Then add egg yolks one at a time into the butter and sugar mixture.
3. Once all the egg yolks have been added and well mixed, then add cocoa.
4. Then add ground almonds and make sure that it's all well mixed.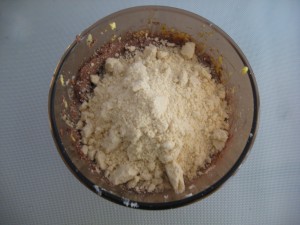 5.  Grate the lemon grind.  I use this ceramic grater which makes it super easy and less messy!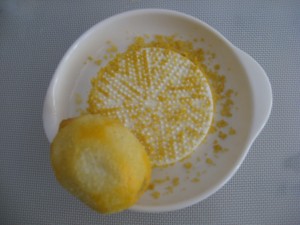 6. Add the grated lemon grind and lievito (or baking powder) to the mixture. Mix well.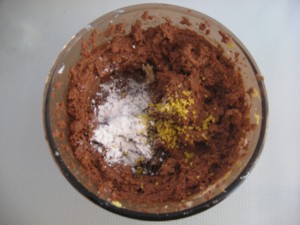 7.  Beat the egg whites until firm.
8.  Add egg whites to mixture and mix well. You will see that once the egg whites are added, the mixture has a lighter chocolate color.
9.  Flour and butter a cake pan.  Then pour mixture into the cake pan.  Spread the mixture evenly.
10.   Bake at 180C (350F) for 35-45 minutes.  After 35 minutes, you need to keep a constant eye on the cake to make sure you don't burn it. Use the toothpick test by sticking it into the middle of the cake and if it comes out clean it's ready.  Let it cool below flipping it over onto a serving tray
11.  Before serving, sprinkle powdered sugar on top using a sieve.  Buon Appetito!!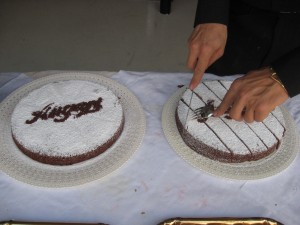 This Italian dessert recipe is not difficult to make and it's super delicious.  You will definitely get compliments!