I don't often take taxis in Rome as I get around with public transportation but when I do, it's usually because I absolutely need to.
Even going to the airport, it is easier and cheaper to take the Leonardo Express and on top of that you don't have to worry about traffic. Last week a friend was stuck in traffic on her way to the airport and missed her flight.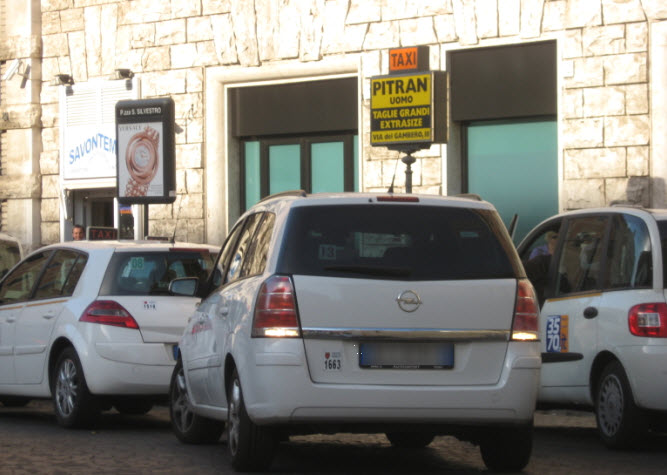 Taxis in Rome – Quick Facts
1. When taking the taxi, make sure you head to the official taxi stand as you can be assured of taking a legitimate taxi.  Official taxi stands either at the airport, Termini train station or around the city is indicated by the orange taxi sign.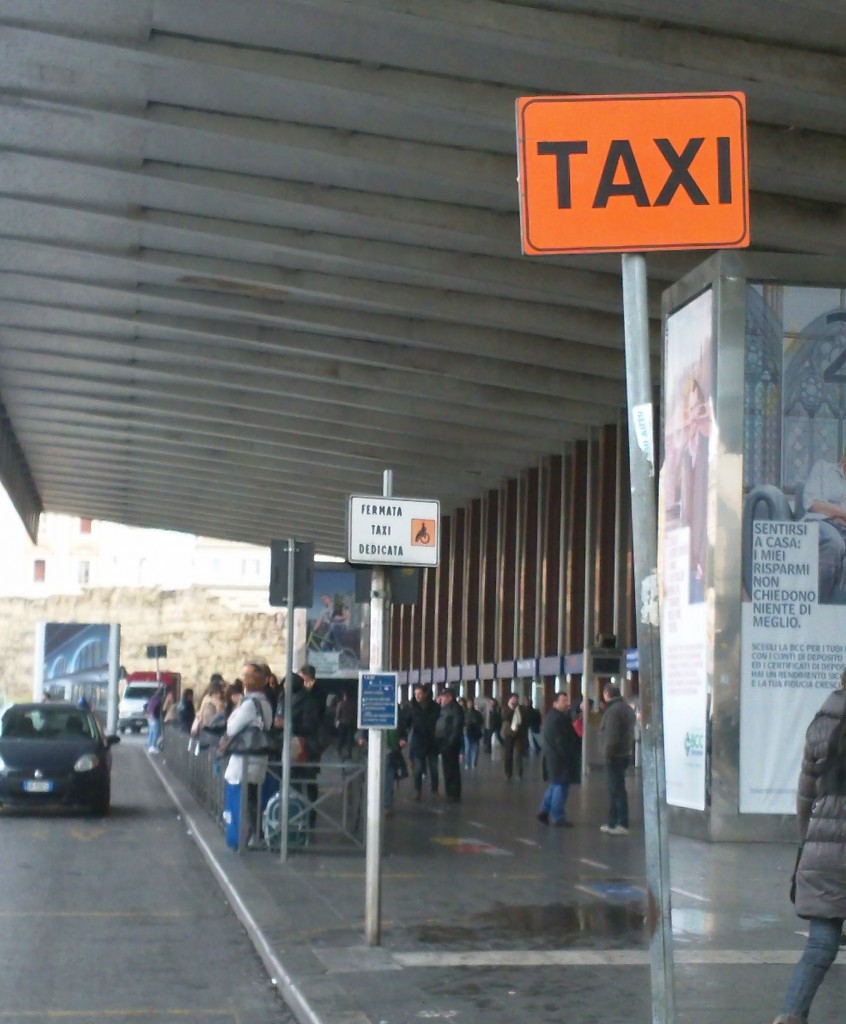 Official taxi are white and have a "Comune di Roma" sign on the taxi. You will be approached by many who offer your taxi service. DO NOT take up their offer.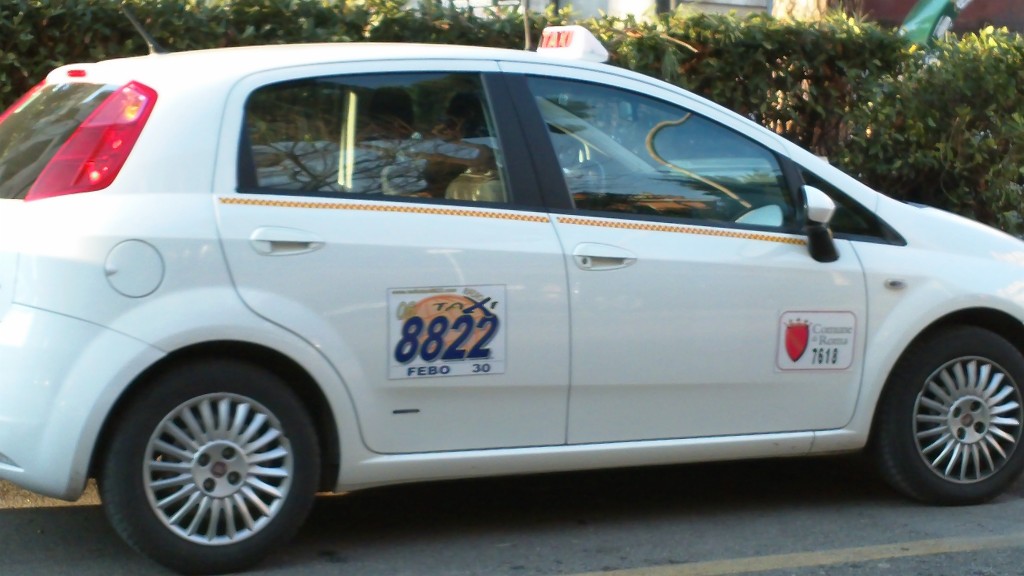 2. Updated:  New Taxi Fares in Rome effective May 23rd, 2012.  There is now a change in the taxi fare structure from the airports, Fiumicino and Ciampino to the city centre.  Instead of a fixed rate to just within Mura Aureliane, they are now three different fixed rates depending on your destination. According to the Comune di Roma's website, here are the new rates:
From Fiumicino to
Stazione Ostiense 45 euro
Mura Aureliane 48 euro
Stazione Tiburtina 55 euro
Porto di Civitavecchia 120 euro
From Ciampino to
Mura Aureliane 30 euro (no change)
Stazione Ostiense 30 euro
Stazione Tiburtina 35 euro
If you are staying in a hotel close to the main attractions, it is usually within the Mura Aureliane. If your destination doesn't fall within the fixed fare structure, the trip will be metered. This new fare structure should also be valid from the destinations to the airports.
As for my case, we are just right outside the Mura Aureliane and depending on the taxi we take, it is sometimes considered within and other times outside (go figure!).
From our experience, it is actually cheaper for us to use the meter. One case in point was just last weekend when we took a taxi from Ciampino to our house. The taxi driver didn't use the meter as he said it's within the Mura Aureliane but we said no it is outside and asked him to use the meter.  When we got home, the taxi fare came out to less than €20.
The fare from Fiumicino is €40 while from Ciampino it is €30. The first luggage is free and after that it is €1 each.  Here are more details from the Comune di Roma. Note: At the moment the English site is blank – clearly it hasn't been updated yet to reflect the new fare structure!
I had friends pay up to €80 for a taxi ride from the airport but they didn't want to argue with the taxi driver.  There should be a list of the fares in the taxi cab which clear states this so don't get ripped off.
3.  If you are taking a taxi from Termini, be careful as they are out to rip tourists.  This also includes official ones who when you get in, ask you where you are going and then offer you a rate.
This happened to my cousin and as he has been here before, he refused, and went into the next taxi and made sure they used the meter.  Insist that they use the meter. The only exception is when going to and from the airport.
When taking the taxi, upon entry the charge is €2.80. Click here to check on other additional charges that maybe incurred.
4.  Although you could flag down a taxi, it best to go to official taxi stands which can often be found near popular attractions in Rome. Here is a list of where taxi stands located in the city.  I will, however, confess I have flagged down a taxi on several occasions, usually when there is a transport strike or it is pouring.
Calling Taxis in Rome
Calling a taxi in Rome can be challenging if you don't speak Italian. When you call the taxi company, wait for an operator to answer the call.  They will request for the address of where to pick you up.
At that point, it may seem like they have hung up on you. But stay on the line as you will get an automated message as to when your taxi will get there and the taxi ID.  What's the taxi ID?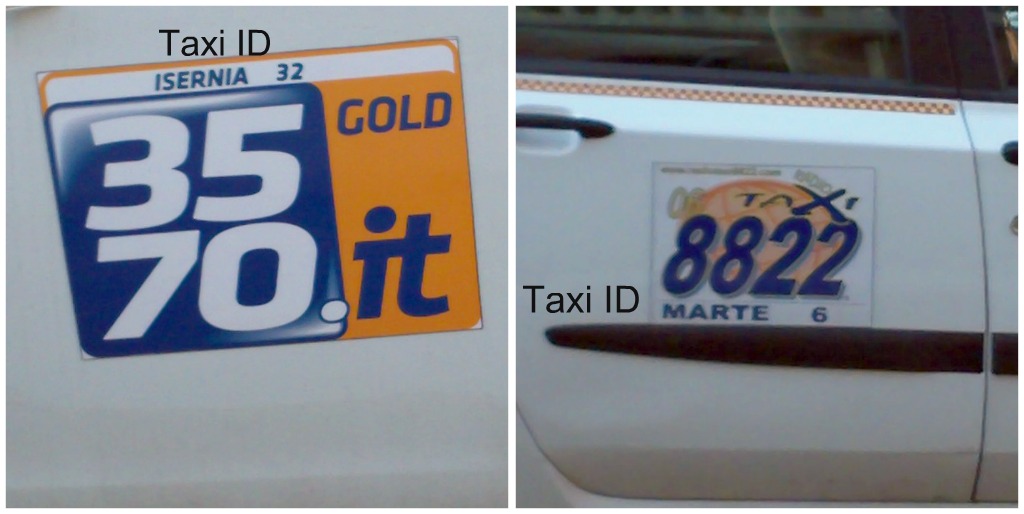 On the doors of every official taxi, there is a sticker with the name of the taxi company and on the same sticker, you get the taxi ID. For example, from the photos above, the taxi ID is Isernia 32 and Marte 6. This will enable you to look out for the taxi that has been dispatched to you.
Keep in mind that the fare starts when the taxi is dispatched and you pray they weren't too far from your pick up address.  Once when I called for a taxi, it cost me  €8 even before I started the ride.
If you are calling for a taxi to go to the airport, the fare is still based on the fixed fare of either €30 or €40 depending on the airport. When they get to you and you tell them that you are going to the airport, they would usually switch off the meter.
Also, you can call the night before to book a taxi if you need to leave early in the morning and want to be sure you have a ride.  My husband has done this before and fortunately, he hasn't had any problems.  We usually call Radio Taxi 06 3570 and here is a list of other taxis in Rome.
Hopefully this post will give you some information on how to best take taxis in Rome and if you have any other tips, please feel free to share.