It's given that you can get some really good pizza in Rome.  What Rome is well-known for is pizza al taglio or pizza by the slice. It's not a slice of a round pizza but rather these pizza are rectangular and you can decide how big or small of a slice you want.  You would then pay based on the weight of the slice.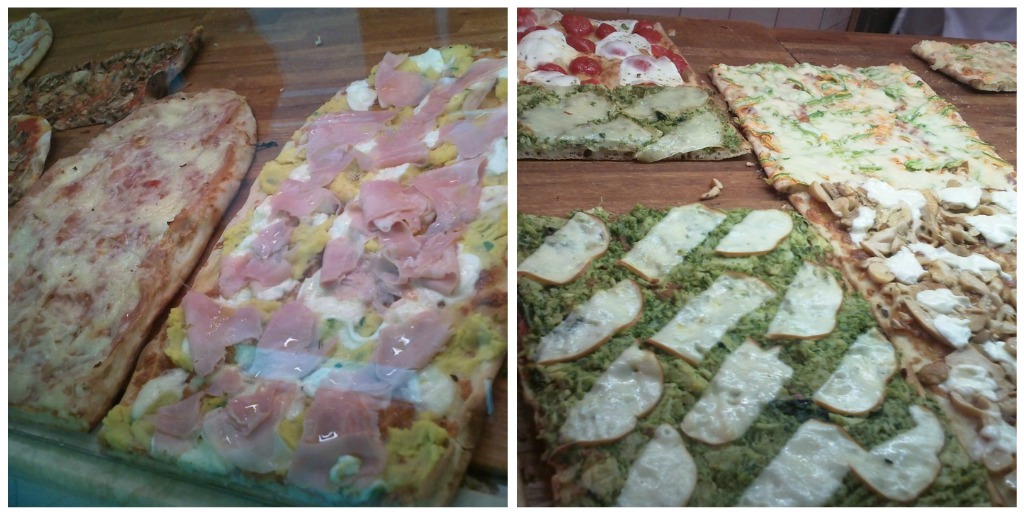 As you can see from the above photos, there are many varieties of pizza to choose from and you could actually get a small slice of several different types of pizza.
Pizza in Rome: Pizzeria da Simone
Not surprisingly, there are plenty of pizzerias in Rome however, some claim that Pizzeria da Simone is one of the best.  It is not located in a touristy area but instead in Monteverde near the American University in Rome.  Although off the radar for tourist, this place is often crowded!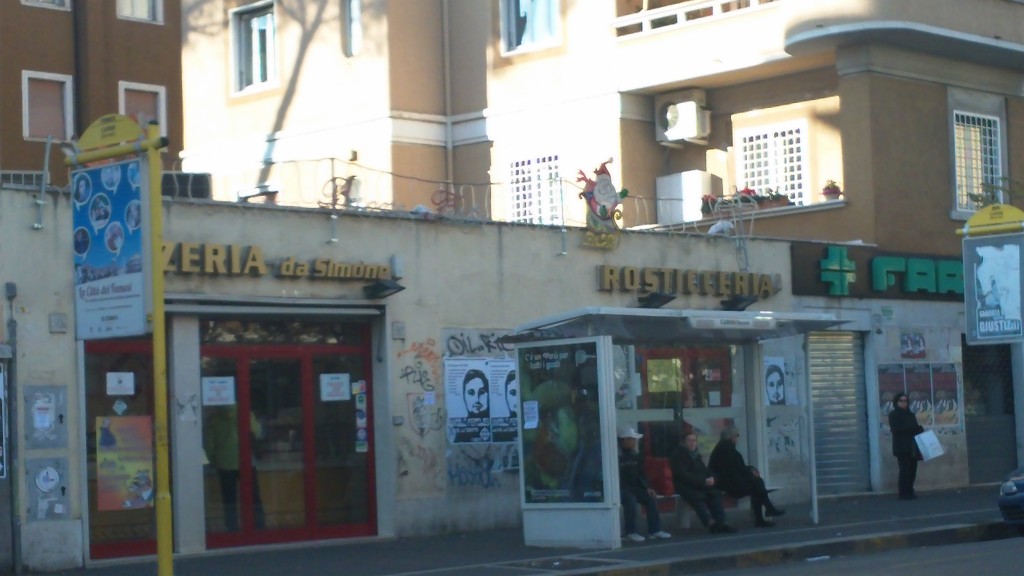 Since it's not along the Metro routes, you will need to get there by bus which drops you right in front of the pizzeria.  You could take bus 44 from Piazza Venezia (Montalcini) or 75 from the Colosseum in the direction of Poerio/Marino (Note: Take the bus from the same side as the Colosseum).  For both buses, you would get off at the Carini/Bonnet stop.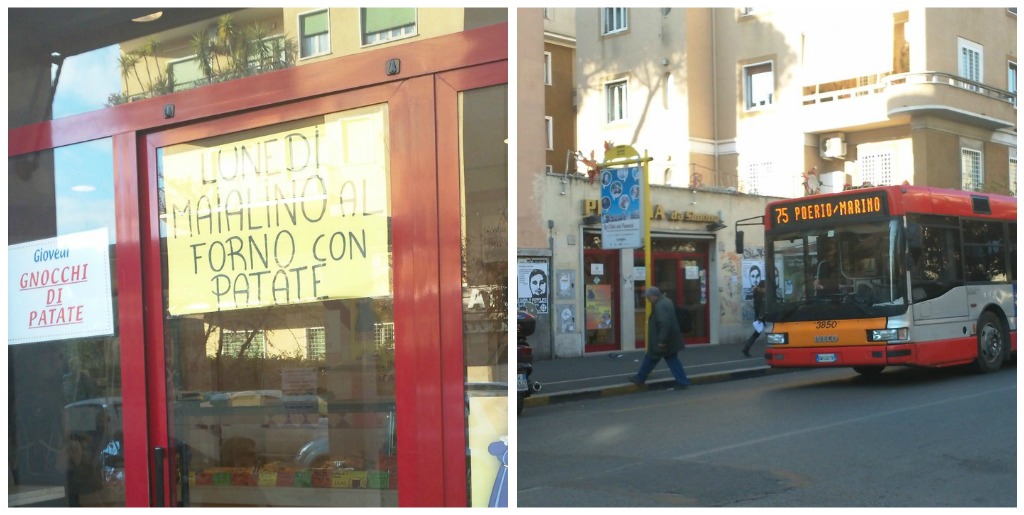 Fortunately (or unfortunately) for me, I discovered this pizzeria by chance as I am here for work once a week.  Every time  I get off at this stop, I often have to force myself to not enter this pizza haven.  What I love about this place is that they offer more than just pizza.  They also have hot food and on certain days of they week they have specials.

The downside to this place is that there don't have tables for you to sit and enjoy lunch.  Inside, it is rather narrow and they have a counter where you could have your lunch standing up.  However, food-wise, you won't be disappointed.
While it can be troublesome to take the bus to Pizzeria da Simone, let me give you another reason to do so.  Last November, the same owner opened a pastry shop just a few shops from Pizzeria da Simone called Gelateria – Pasticceria da Nonna Nani.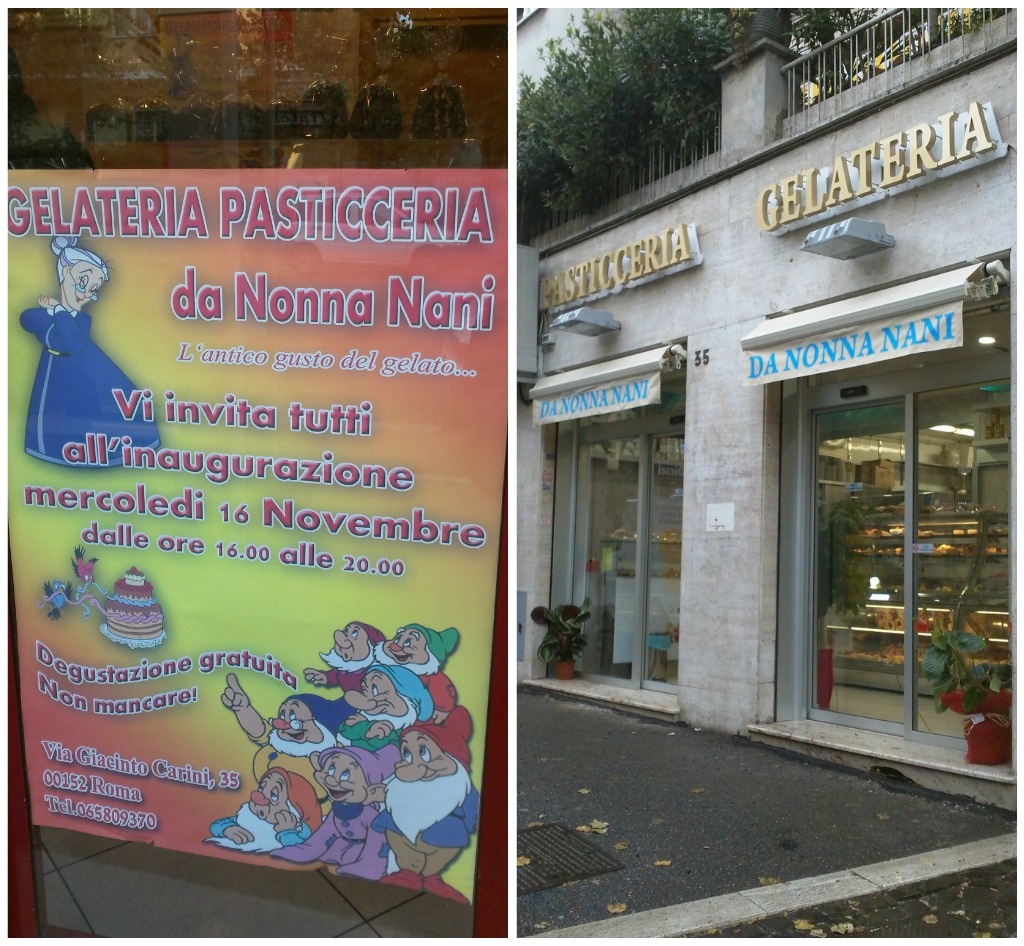 Their pistacchio gelato and pastries deserve a mention.  The pistacchio gelato was very tasty and creamy but I am not sure about the other flavors.  When I tried their nocciole, it was just average for me and haven't had the opportunity to try others.  As for their pastries, they have a good variety and those that I have tried were good!

They offer the usual pastries but also offer specialties depending on the festivity.  At Christmas they advertised that they make their own panettone and last week, they were already selling castagnole and frappe for Carnevale.

Another plus is that the people at this pasticceria are friendly.  In Rome, don't expect the service that you would usually get in the US – just be thankful that you get a smile!  As you can see, the bakers here are playful and asked if I could take their photo.
Pizzeria da Simone
Via Giacinto Carini, 50
00182 Rome
Tel: 06 5814980
Gelateria/ Pasticceria da Nonna Nani
Via Giacinto Carini, 35
00182 Rome, Italy
Tel:06 5809370
These two places to eat allow you to kill two birds with one stone. It's definitely worth that bus ride! You can get great pizza in Rome and have an equally good gelato and pastries just right next door.