September was an extremely busy month and I apologize for the lack of updates.  While I had to put a lot of things on hold (including writing posts), eating fortunately (or unfortunately), wasn't one of them. Though time was limited, I was still able to sneak in breakfast with my wonderful friends Gillian and Heather as well as check out a gelateria in the neighborhood.
However, the ultimate find, thanks to Rubina and the Cibando team, was pinsa! More about Cibando and pinsa in a second.
Breakfast with the ladies
I love breakfast at Coromandel and though this place is not new per se, the "new" discovery here was that they offer french toast and more recently pancakes.  Prices here are very reasonable considering I paid less than €10 for one of their set breakfast menu where I got french toast, tea and a fruit juice.
I haven't tried their pancakes yet but I have already heard raving reviews from Rubina who was there this past weekend.  I am ready to head back to try them…anyone else willing to come along?
Gelateria Riva Reno
One afternoon while I was waiting for the bus, I decided to make a quick dash to this gelateria. I knew there was a gelateria within the vicinity but didn't know much about it.  As there was a line here, I figured it mustn't be too bad and it was actually nice to see the creative flavors they have along with the classics.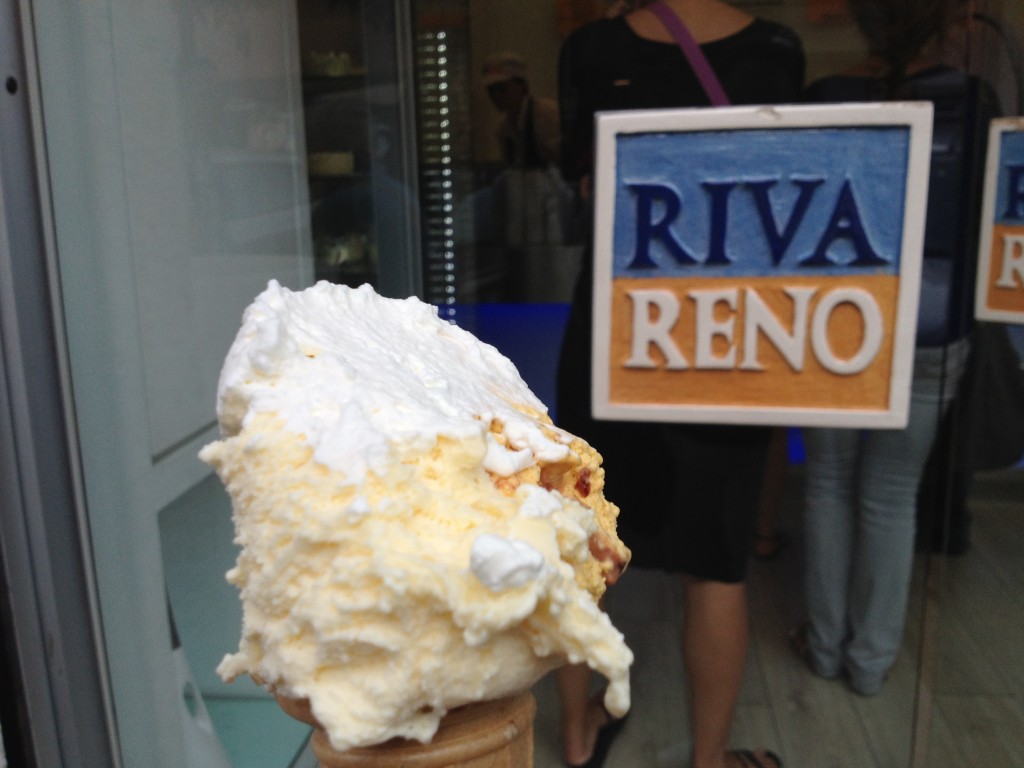 I chose to be adventurous and got the "Contessa" with bits of amaretti and "Alice" which has a mascarpone base.  Here, they also fill the cone with melted dark chocolate but nothing as dramatic as the fountain at Come il Latte! I loved the "Contessa" flavor with the amaretti which gave it a crunch and while it's not Il Gelato, it'll be sufficient to satisfy my gelato cravings.
There are branches all throughout Italy and I've only listed the details for the one in Rome below.
Riva Reno
Via Magna Grecia, 25
00183 Rome
Tel: 0677590302
Pinsa and Cibando
Before sharing what I know about pinsa (plural=pinse), let me share an extremely useful resource if you are planning a trip to Rome. The free Cibando app!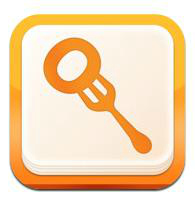 With this app, you'll get a listing of restaurants when you circle an area on the map but it's not just any listing directory! In addition to the usual information, it also provides details as to the nearest Metro stop, recommended dishes and some listings even have the complete menu. And on top of that, the photos are gorgeous!!
You can also get valuable dining information from the Cibando website which is at present only in Italian but hopefully an English version will be out soon.  Don't say I didn't warn you – they have stunning photos which can be challenging to look at when you are hungry!
Go download the Cibando app and did I say it was free?
Now back to pinsa.
After a quick meet up with the lovely Rubina who is in town, she invited us to the Cibando office as I still haven't meet Eleonora and it was also a great opportunity to grab lunch at Pinsere followed by gelato at Come il Latte.
First things first. What's pinsa? As a person who enjoys food but not an expert, the best description I can offer is that it's oval in shape and similar to foccacia. I will let the photo below do the talking!
Eleonora from Cibando mentioned that it's an ancient Roman recipe and that the dough is given at least 48 hours to rise.  With the varied toppings on display at Pinsere, it was more like a "one-serving size" pizza and after one bite, I am surprised this is not more popular than pizza. It has a nice crispy crust and the inside is light and fluffy!
The generous team at Cibando chose a few different pinse (plural for pinsa) for us to try and everything I tried was delicious. It's a great place to get a quick lunch and if you download the Cibando app, you'll see the listing for Pinsere with the menu and prices. This is an awesome place and I am getting hungry just looking at these photos!! I can't wait to take my sister there the next time she is in town but before that, I am going to be back with my husband real soon!
Pinsere
Via Flavia 98,
00187 Rome
Huge thanks go out to Rubina and the Cibando team for a wonderful lunch and lovely company!
Disclosure: I was invited by Rubina to visit the Cibando office and to grab lunch together. Except for a wonderful lunch and chat, I didn't receive any compensation for writing about their app nor was I asked to. It's an app I would happily recommend my sister to download and feel others would also find it useful.