This is the name of a new bakery in Rome which features American desserts. My sister is in Rome and she was craving for carrot cake. As we were in the Prati area, I remember a friend telling me that there's a new American bakery around there.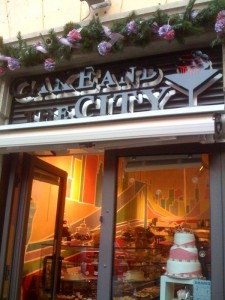 The last time I stopped by there were only open in the afternoon and believe that was a Monday. This time around we found it open and took a few pictures to share them with you. They had carrot and red velvet cupcakes and since my sister was just there for carrot cake, she bought a slice. A slice costs €3 while cupcakes I believe at €2.50.
I had a small bite of the carrot cake which I have to admit is decent.  I say decent because it's moist and not too sweet – a big plus for me.  I haven't had the chance to try the other desserts but it's a nice small shop which has enough variety to fulfill your cravings for American desserts.
Here are their details:
Via Orazio, 15 – Roma
Tel: 06 32 32 607