What is fascinating about this attraction in Rome is not the Palazzo itself but what lies beneath and how with the use of technology, these ruins are brought to life.
I had heard about Palazzo Valentini from my sister-in-law who was arranging a trip for my niece and her classmates. She had mentioned that with visual and sound effects, the children would find this attraction entertaining.  Instead, she got me intrigued and I added it to my list of lesser known attractions to visit.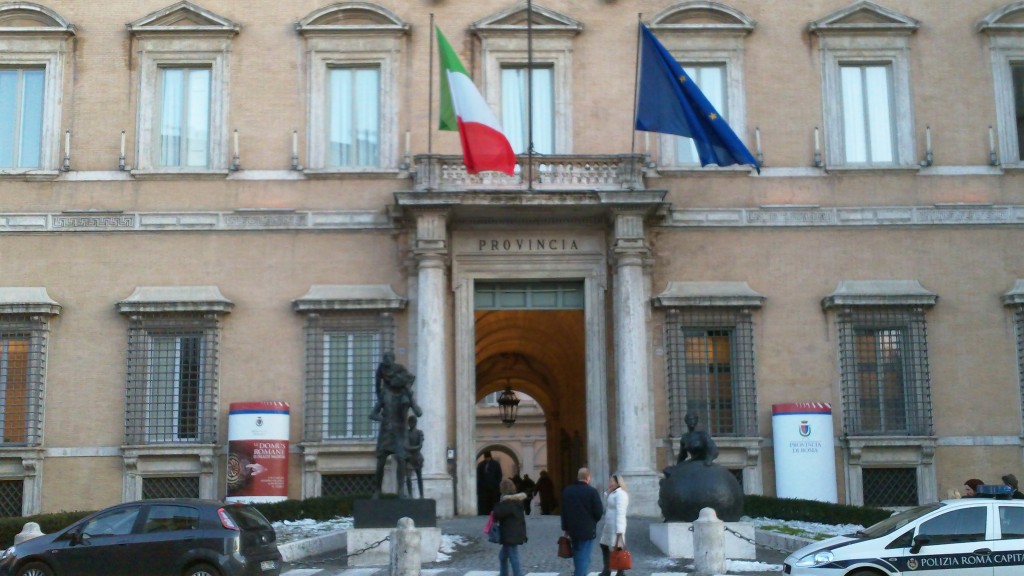 Palazzo Valentini is actually the headquarters of the Province of Rome and got its name from a banker, General-Consul Vincenzo Valentini who bought this building in 1827.  Details about the history of this Palazzo and the Ancient Roman villas found beneath this Palazzo is best described on its website Le Domus Romane di Palazzo Valentini.
In my opinion, it is by far the coolest attraction I have seen in Rome.  The Colosseum and the major attractions in Rome are spell-bounding but with the state of art technology used together with this archaeological finding, it is in a league of its own.
You get to see with your own eyes the reconstruction of how these ancient Roman houses would look like and the sound effects just added to the excitement of it all.  For example, you see the ruins of a bath but with use of lasers and effects, it transports you to that particular time giving you a feel of life then.
While your imagination will serve you well when visiting many of the outdoors attractions in Rome, here at Le Domus Romane, you can leave it outside as every detail has been carved out for you.  I think this attraction is so outrageously cool that I would recommend you to put it on top of your list of must-see attractions in Rome.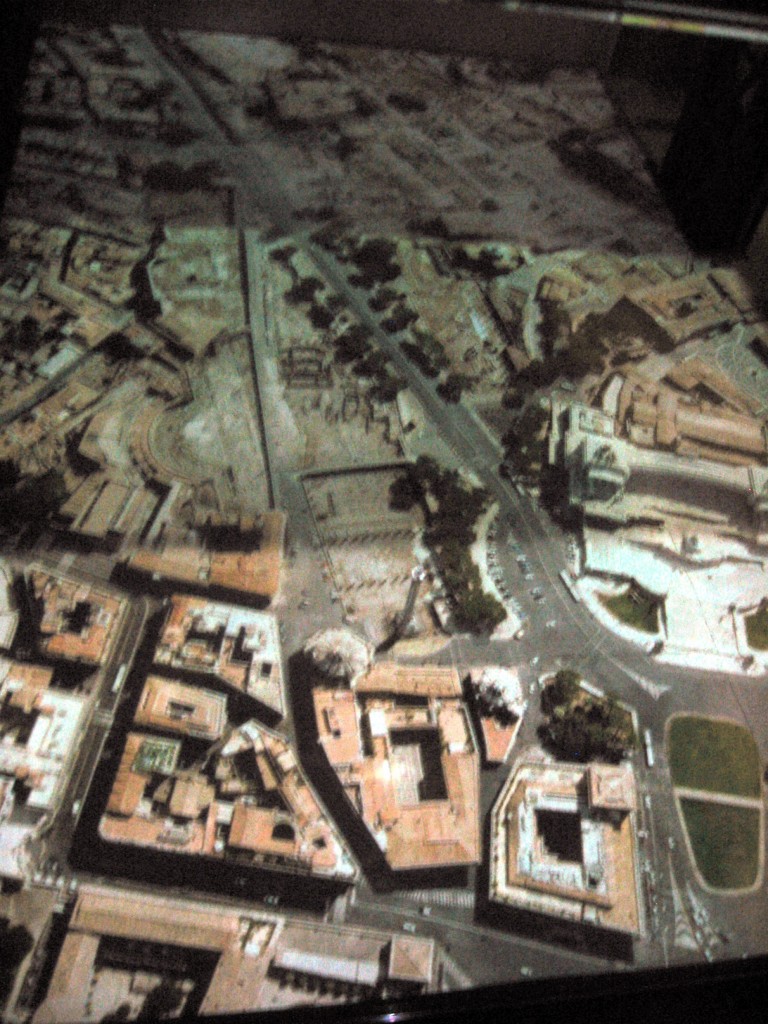 The reason for making such a bold statement is that in a part of this tour, there is a 3D bird's eye view of Rome with some general information about Palazzo Valentini and the surrounding areas, such as the Roman Forums and Via dei Fori Imperiali.  It will help you get an idea of the layout of this area before heading out to visit these outdoor attractions.
While I wouldn't want to give it all away, one other fascinating discovery was that of a first century road next to a 2nd century wall and on other side of the left wall, you had beautiful decorations from the 4th century. All within this enclosed space.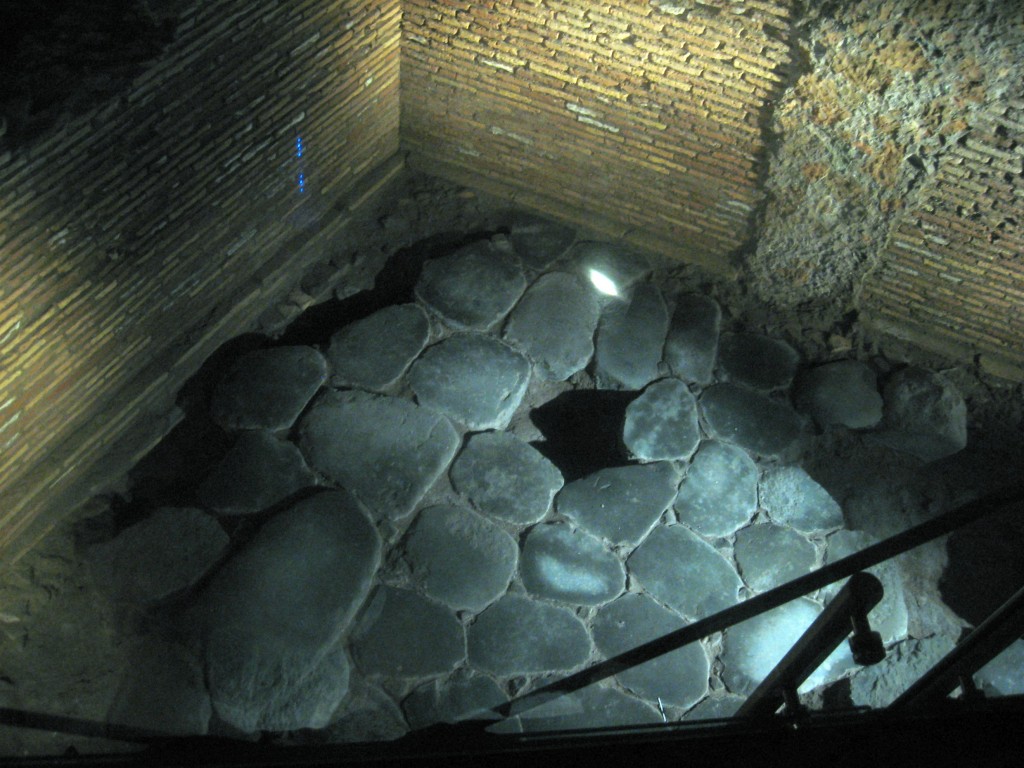 The cost of the full price ticket is €7.50 and reduced/discounted price is €5.50 (visitors between 6-25 years old and over 65 years old).  The information page is a bit confusing as they mentioned the entry cost of €1.50 and ticket prices of €6.00.  I really don't know what you get for the entry cost of €1.50 so just consider that the full price ticket is €7.50.
Although they say is it a English guided tour, the guide just directs you from one room to another as there is a recorded audio that gives you all the explanation and information.
Attraction in Rome: Palazzo Valentini – General Information
Website: http://www.palazzovalentini.it/index.php?lang=eng
Opening Hours:
Open daily from 9.30am to 5.00pm except on Tuesdays when they are closed. They are also closed on 25th December, 1st January and 1st of May.
For safety reasons, they limit each tour to 15 people and the tour lasts 45 minutes.
Booking and information: +39 06 32810
Ticket Prices: Full – €7.50, Reduced – €5.50 (age 6-25 years old and over 65 years old.
Palazzo Valentini – Bookings

On the official website for Le Domus Romane di Palazzo Valentini, you could book the tickets online through the TicketOne.it sales network.  However, as I was near the Palazzo, I decided to drop in to book my tickets in person.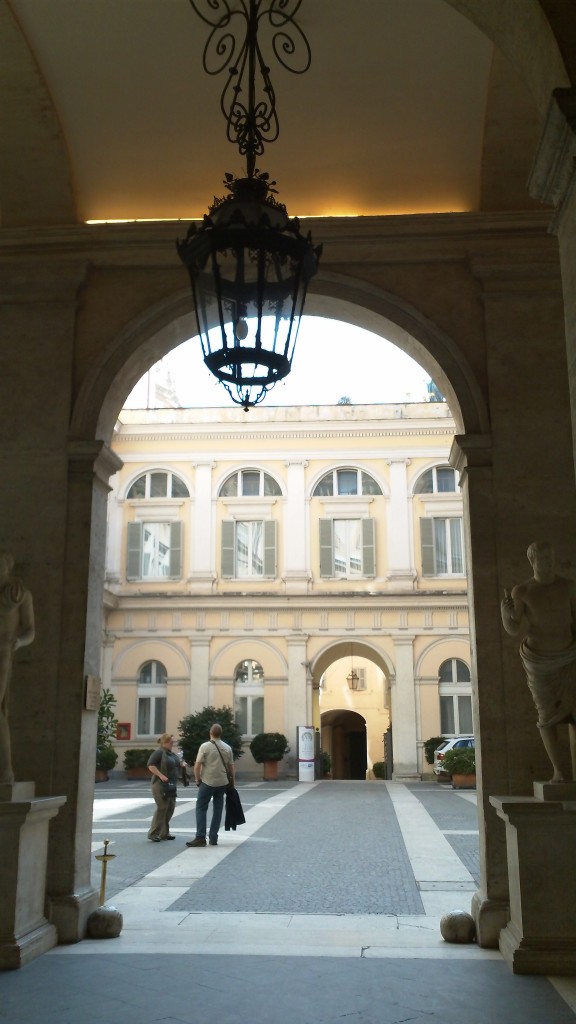 As it was a week day, there were security personnels outside who asked where I was headed. I told them I was going to the Domus Romane and they in turned asked if I had reservations. I replied saying I was going there to make reservations. They allowed me to enter and told me to go to the courtyard and the entrance to Le Domus Romane is on the left.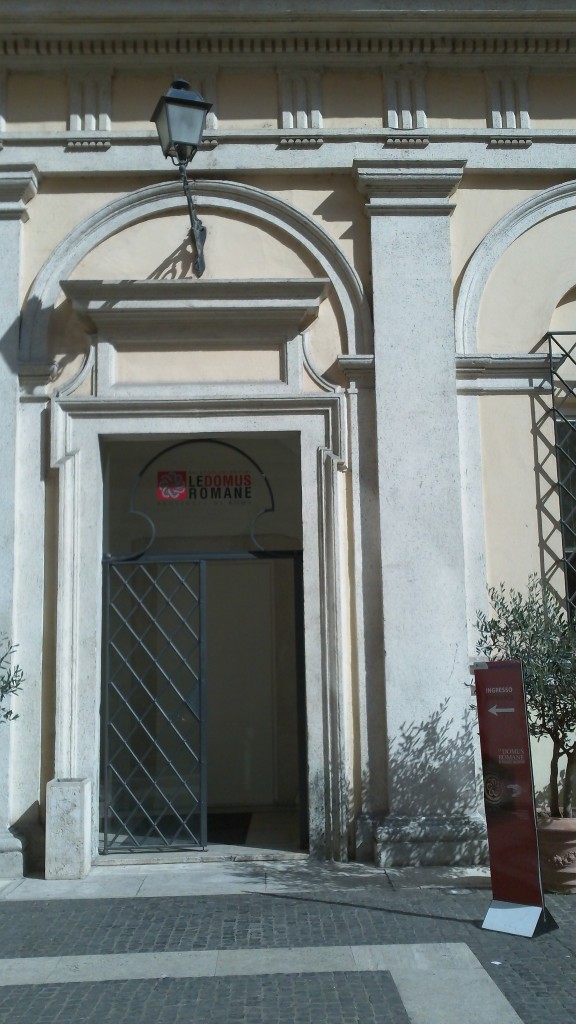 When I entered, there was a small reception desk and I mentioned that I wanted to make reservations. In turn, they gave me a brochure and showed me the information in there where I can make the reservations online or by phone. I don't know why they don't accept reservations in person but I knew asking that question wouldn't get me anywhere.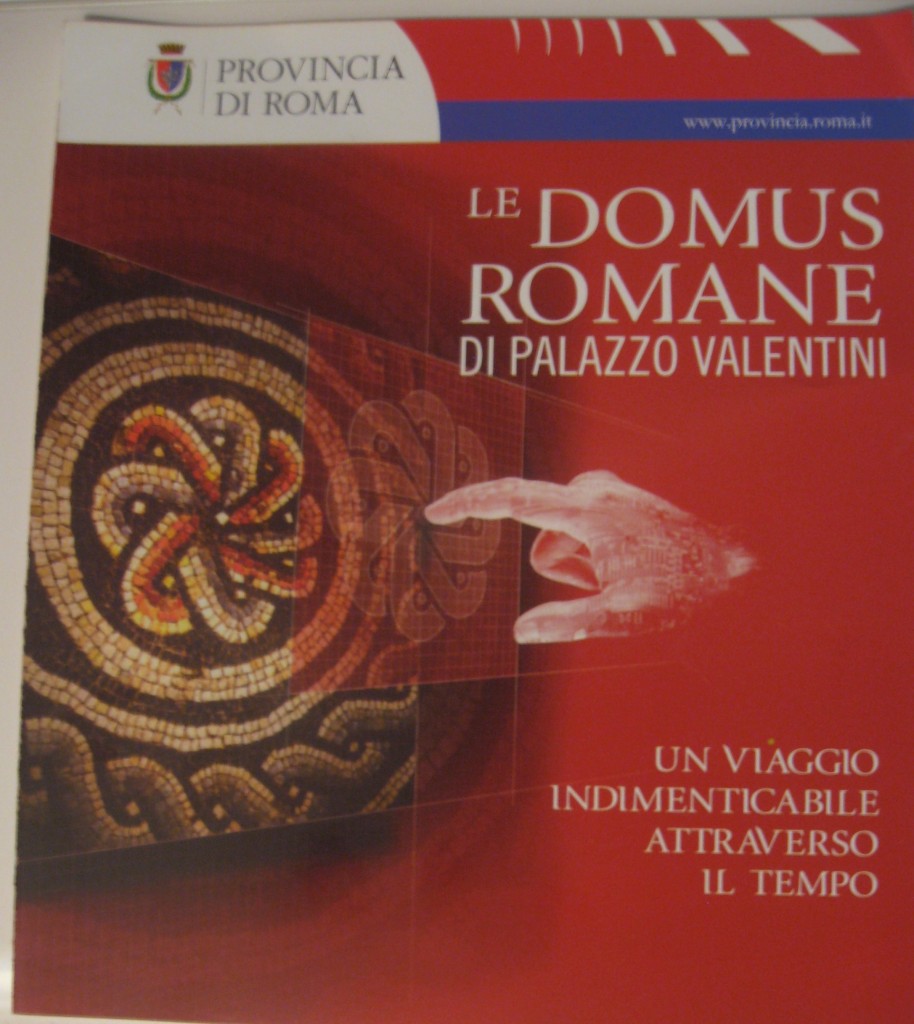 Following their advice, we went online to make the reservations. After going through the booking and then registration process to create an account, we were utterly disappointed when we got an error page.
We checked and the transaction nor the booking went through. Luca contacted the booking company and they said they would look into it (yeah right!). At the end, the only option left was to call them.
I called them and there was an automated machine which asked you to press 1 for Italian and 2 for English.  I waited for less than a minute before an operator assisted me with making the reservations. It was flawless and super efficient.
Make sure you have your credit card ready, they only accept Mastercard or Visa, as full payment has to be made at this time. They will give you a confirmation number that you will need to provide when picking up the tickets 15 minutes before the tour.
Step by Step: Online booking
If you are not in Rome, the best way to book is online and hopefully, they would have resolved the problem at their end.  I am sharing some screenshots of the online booking process as it is not as straightforward as you would think.
After you have clicked on the link "Booking your visit", you will be sent to TicketOne's booking system in Italian.  However, there are language options for you to choose from on the top right corner.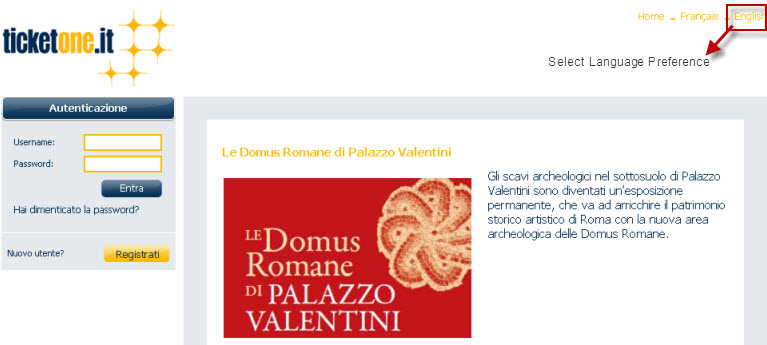 When I selected English, it then brings me to another page with a listing of different attractions that they do bookings for so you have to look for Le Domus Romane and click on it again.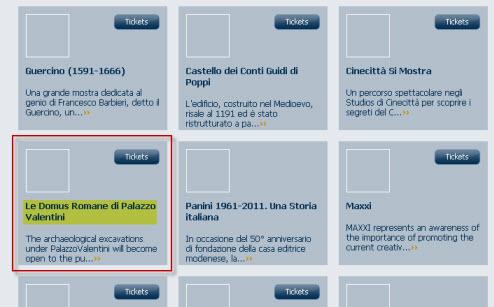 Once you have clicked on that you are brought to a information page for Le Domus Romane.  To book, click on the "Tickets" tab.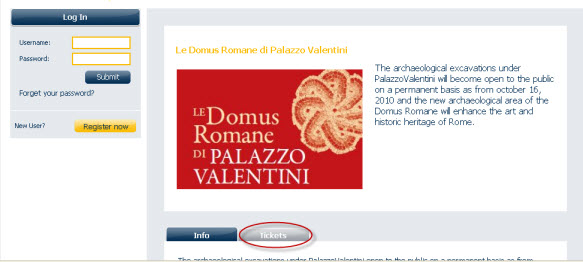 And here's where you actually start the booking process! Choose the date you would like to visit this attraction in Rome and then click on "Buy Now".  The page will reload and provide you with information about picking up the tickets and asking you to select the seat.
There is only one English tour a day (at the time of writing) at 1.15pm and it's indicated in red.
If you are booking for more than one person, don't worry about seat selections.  If you see that the red squares are not to each other, you can click on any red square that is available.
There is only one part of the tour where you actually take a seat and it's free seating so I am not sure how this seating chart is applicable.  For example, when I booked over the telephone no seating preference was asked.
To look at the different time options, you can't scroll up or down but have to move the rectangular box above the pricing options to see the section you desire.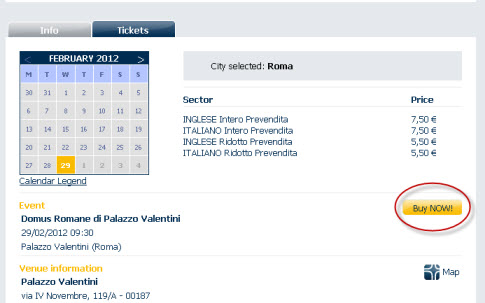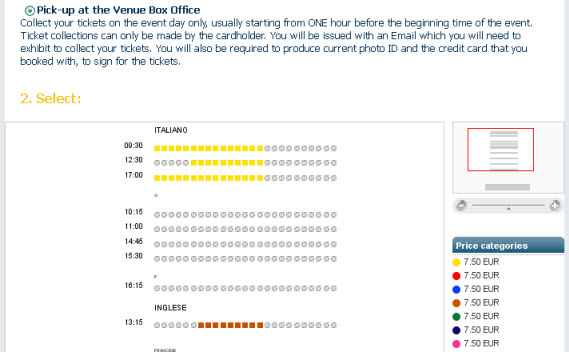 Click on the red squares which indicates availability and you will get the pop up screen to select the type of ticket, full (adults)  or discounted ticket (from 6-25yrs old).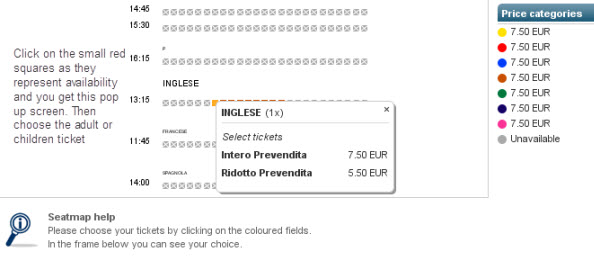 When you have selected the tickets, you will see the details below.  If you need to book another ticket, click on another red square and select the type of ticket.  Once you are done, click on "Add Tickets to Cart".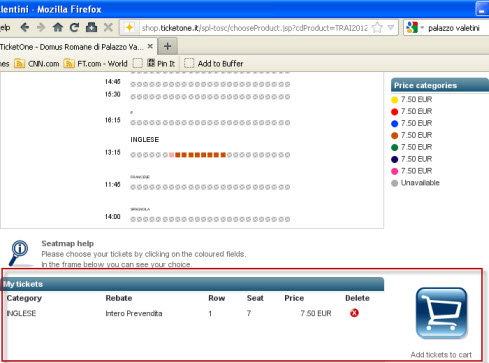 You will be shown the details of your booking and if everything is in order, click on the "Buy" button.  If you think you are done, think again!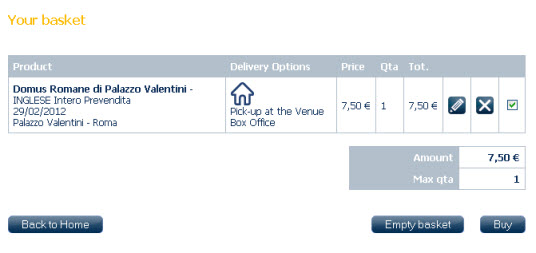 Now's the fun part. After clicking on "Buy", it's time to complete the registration form.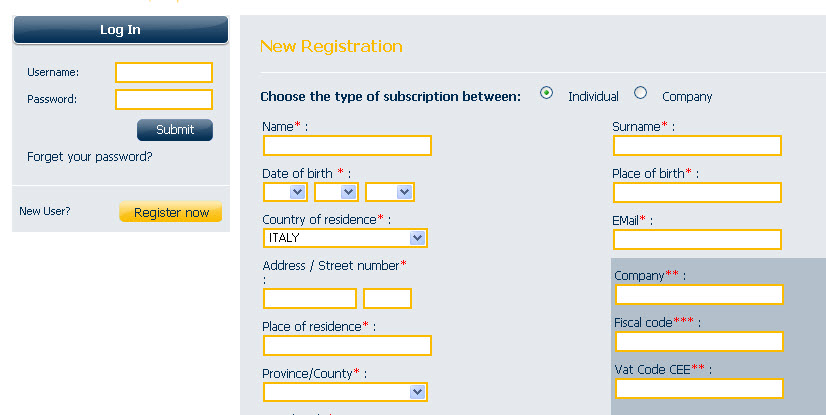 But the good news is you are almost done.  Just agree to the terms and conditions in Italian!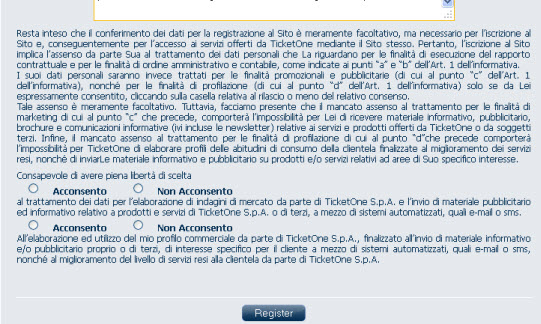 Hopefully, you can understand how disappointed we were when we went through this whole process and the transaction didn't go through.  On the other hand, booking over the telephone took less than 5 minutes in total.
Booking online may look challenging and that's why I have shown the screen shots to assist as much as possible because I think, for only the price of €7.50, this attraction in Rome is worth the visit.