This year for Christmas, I finally decided to learn how to make tortellini.  With many months of practice in making fresh pasta, I figured I am ready to make tortellini for Christmas day.
Another reason is because the usual pasta shop where we order tortellini has closed and also, since Christmas lunch will just be my husband and I, if it doesn't work out, it will just be us going hungry.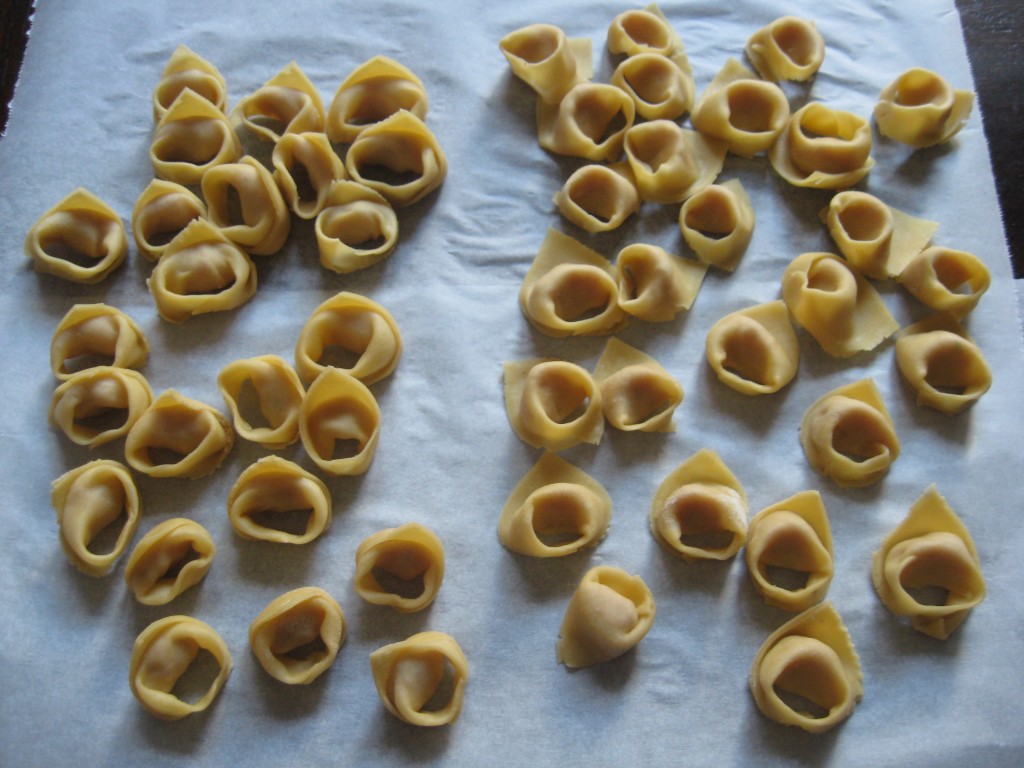 However, I was keen to learn how to make tortellini and last weekend, as the weather suddenly turned cold, I stayed indoors, checked out a few recipes and chose to do a trial run.  By chance, I also had made chicken broth the day before and what could be more perfect in the broth than fresh tortellini.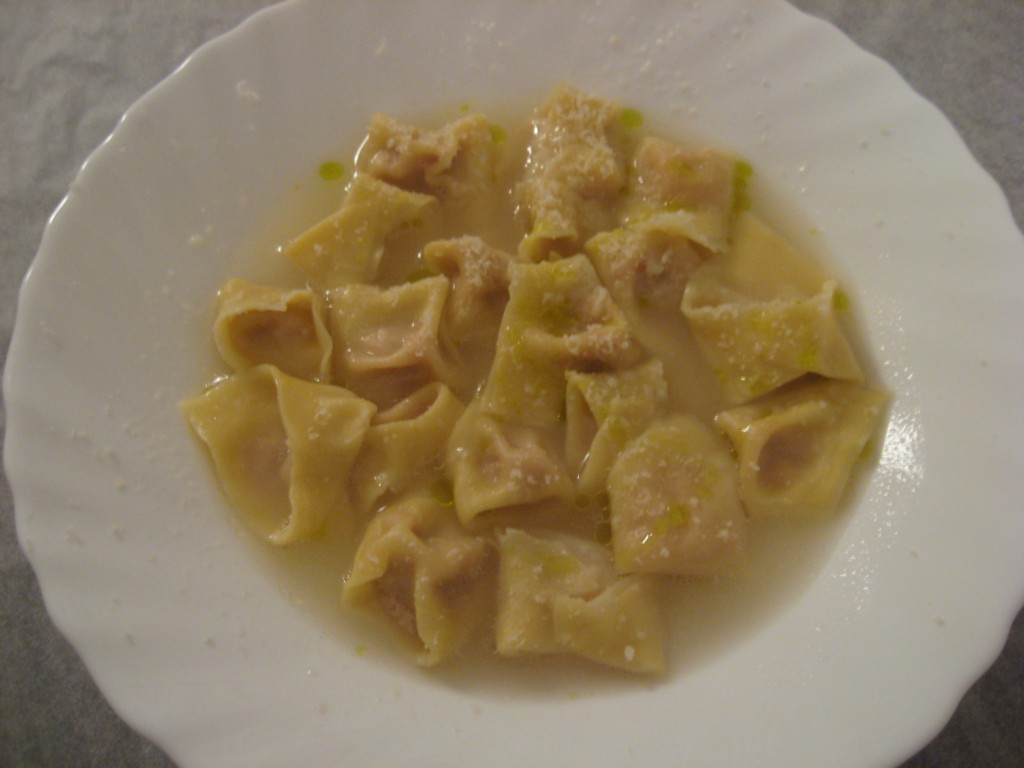 The first time I had tortellini in broth was one Christmas many years ago with my sister-in-law's in-laws (I hope that made sense).  Her mother-in-law, who is from Emilia Romagna, single-handedly spent Christmas Eve making tortellini for more than 10 poeple for Christmas Day lunch.  I was impressed!
This year it's my turn to make tortellini from scratch.  As always, I have come to realized that Italian recipes are not at all difficult and the ingredients are simple.  That said, it does take time but as it's cold outside, turn on some Christmas music, roll up your sleeves and let's learn how to make tortellini.
How To Make Tortellini
Adapted from Ricetta Per Cucinare and Giallo Zafferano – Serves 4 people
Filling
100 grams of ground veal or pork
100 grams prosciutto
100 grams mortadella
200 grams parmigiano
1 egg
20 grams butter
nutmeg, salt and pepper to taste
1. Heat the butter in a pan and cook the ground meat for about 10-15 minutes.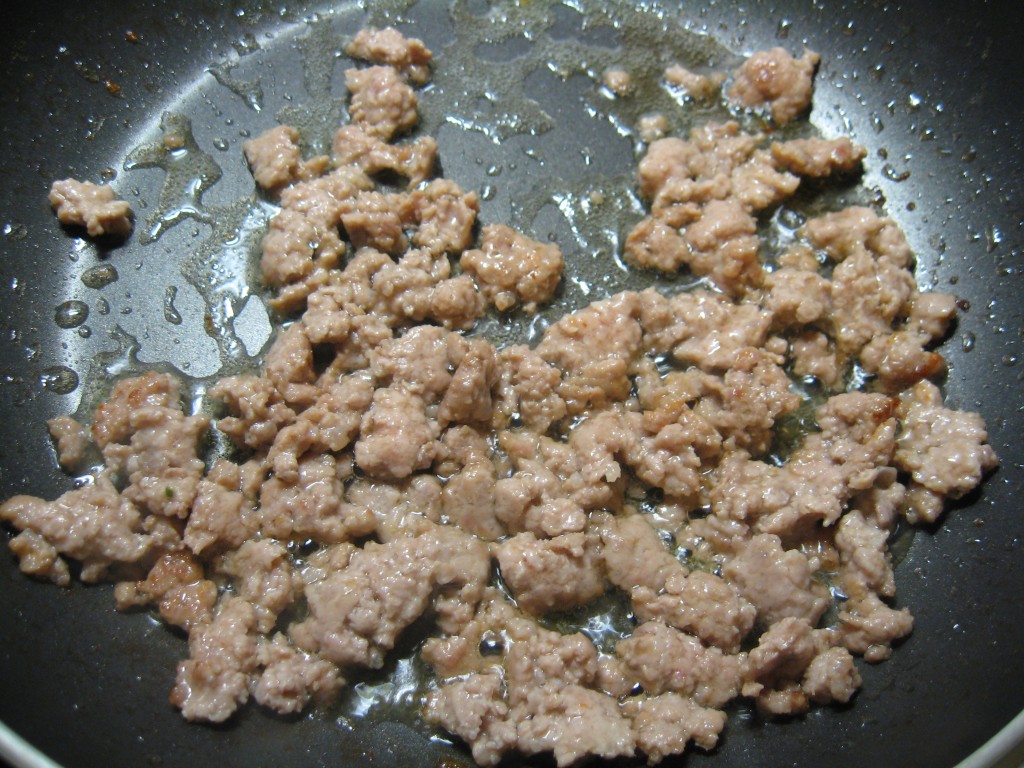 2. In the meantime, chop up the prosciutto and mortadella.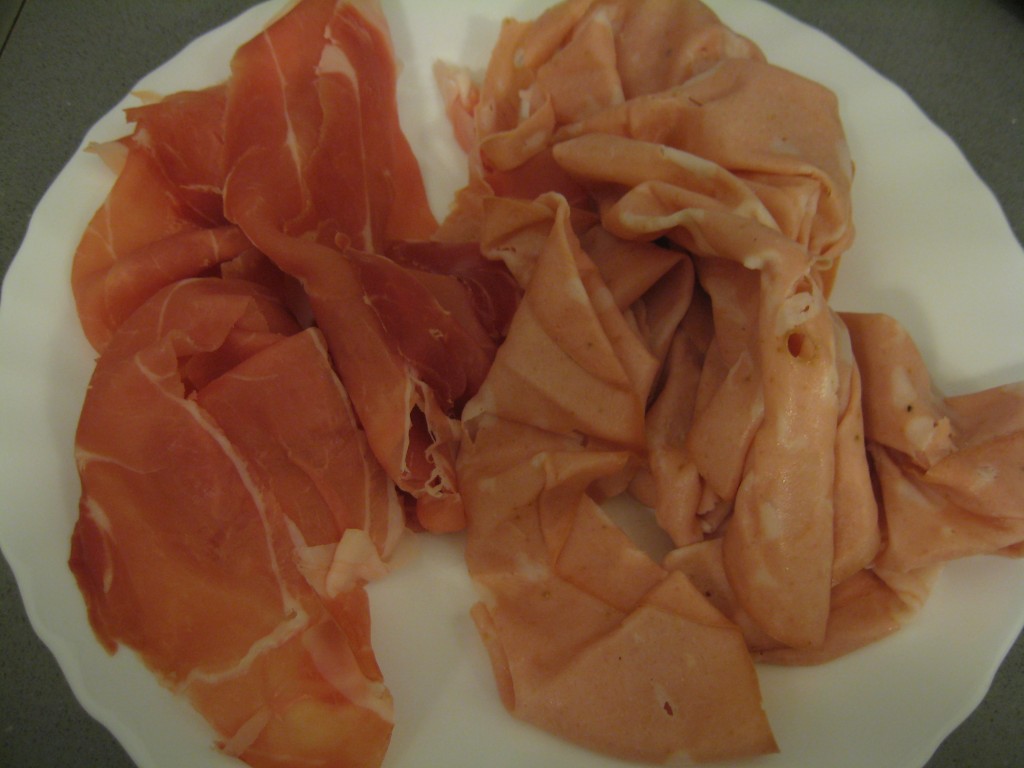 3. In a food processor, add the cooked ground meat, prosciutto and mortadella until well mixed.
4. Then add grated nutmeg, salt, pepper and parmigiano. Since there is already prosciutto and parmigiano in the mixture, I added very little salt.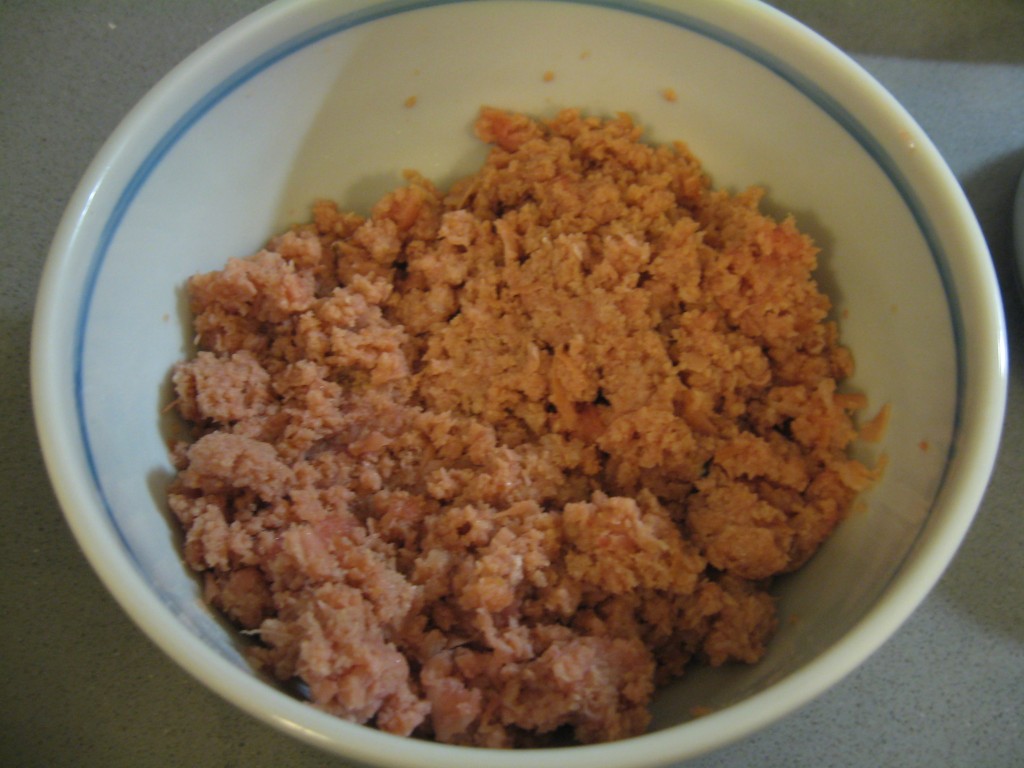 5.  Add the egg to bind the ingredients.
Ingredients for Fresh Pasta
4 eggs
400 grams flour
Directions
1. Mix all the ingredients together and knead to obtain a homogenous dough.
2. Roll out the dough and while most recipes tell you to roll it to a certain thickness, I go by feel when doing it manually because seriously, how do you gauge if your pasta sheet is 0.6mm.
Recently, I started using a pasta machine which makes it easier to roll out the pasta dough.  I rolled the pasta to the narrowest setting on my machine.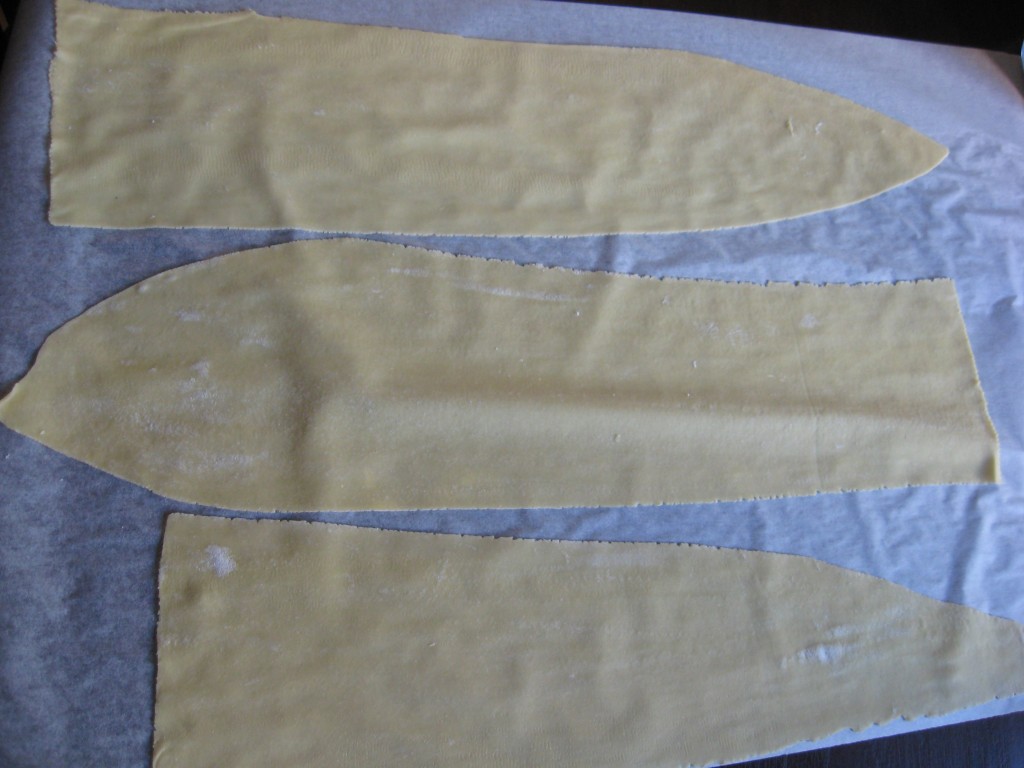 3. When the sheets are rolled out, keep them covered with a damp cloth to make sure they don't dry out.
4. Cut the sheets into 4cm squares but as you can see, my so-called "squares" are in different sizes.  (Note: I am not a trained chef and tend to use the "guess-timate" method more often than not.) As you will see later, it didn't really make that much of a difference.
How to Make Tortellini – Shapes
For me the most challenging part of how to make tortellini is in shaping it.  There are two ways that I have read and decided to try both.  Place some filling in the center of the cut pasta square and fold over to form a triangle.

The first method is to push the center of the triangle base up.  What I did was just push the filling up creating a dent and then bring the corners together.

The second method is once the triangle shape is formed, make one fold from the base upwards and bring the corners together.

Which method is best?
Well, there is a slight difference in the shape it forms but once they are all done, can you really see the difference between the shapes? I doubt it, so use the method that you prefer.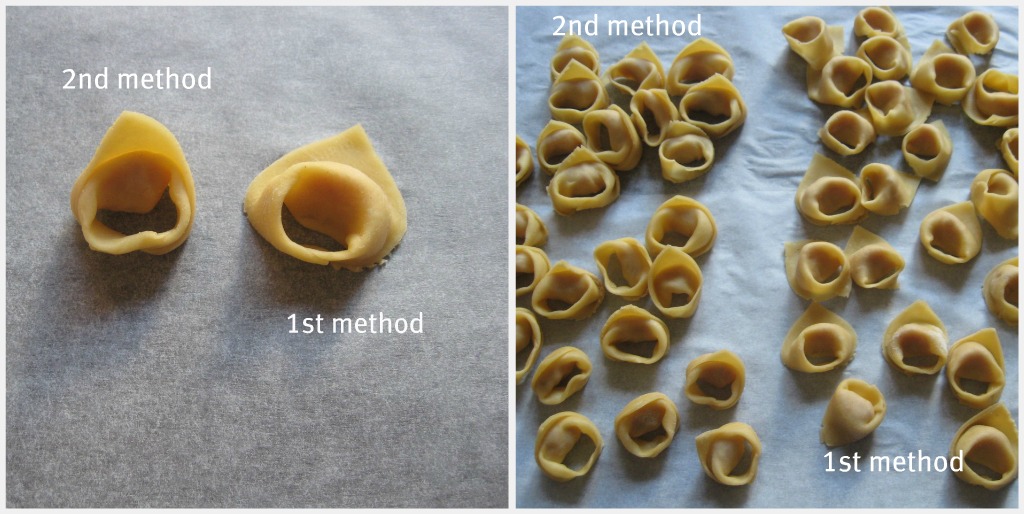 As for myself, I preferred the first method and was able to get the tortellini done faster this way but switched them up just for the fun of it.  Note: Lightly flour the surface where you will keep the tortellini while making the rest to keep them from sticking.
It did take some time but I enjoyed the repetitive motions which felt therapeutic.  I am glad I have learned how to make tortellini and now that am able to do it at a much faster pace, I think it will not only be found at my table during Christmas but throughout the year.
What goes with tortellini?
On Christmas Day, it's common to find tortellini in brodo (tortellini with broth) on many Italian households.  The broth is often made from capon (or cappone in Italian) but to keep things simple, I use chicken thighs or drumsticks together with some carrots and celery. ( Note: I also add sea salt to my broth)
I would recommend making the broth the day before and reheating it again before adding the tortellini.  It is usually more flavorful. Once you have added the tortellini, they usually cook in less than 5 minutes.
Alternatively, I love the combination of butter and sage.  In a boiling pot of water, add salt and cook the tortellini.  In a pan, add butter and some fresh sage.  When the tortellini are cooked, drain and then add to the pan with butter and sage sauce.  Transfer them to a plate, sprinkle with parmigiano and you have a dish fit for a king.
Will you make tortellini for Christmas?
With a glimpse at how to make tortellini, will you make it for your Christmas Day menu?  Hope this step by step visual of how to make tortellini at home will encourage you to do so!