I have been wanting to make this homemade ravioli recipe for a while and when it rained this weekend, I decided to go for it.
I love pumpkin and with autumn in its prime, pumkins are easily found in markets. After doing some research, I decided on this ravioli recipe by semplicementeinsieme.  It's a simple recipe and since I am usually cooking for two, I halved the recipe and made very minor changes.
Allocate ample time to try out this recipe especially if you don't have a pasta machine. At least 45 minutes to an hour.
Ravioli Recipe: Pumpkin Filled
Fresh Pasta
2 eggs
200 grams of flour
Instructions for fresh pasta

1. Prepare the pasta by pouring the flour into a bowl.
2. Create a well and add the eggs into the well.
3. Using a fork, beat the eggs and slowly incorporate the flour.  When it gets too difficult to be mixed, take it out and knead the dough on well-floured working surface.
4. Knead it for about 10 minutes until smooth. (This was one the most laborious part!)
5. Cover with cling wrap and let it rest for 30 minutes.
6. Using a pasta maker, roll out the dough from the thickest to the narrowest setting to get rectangular pasta sheets.

On my machine, there are 6 settings.  (Note: I discovered I had a pasta machine that I had never used before. It's requires less effort and time compared to the previous time I made homemade pasta!)
7. If you are not using the pasta sheets immediately, cover with a damp cloth.
Pumpkin Filling (Made this the day before)
500 grams of pumpkin cleaned with skin removed
50 grams of grated parmesan
salt, black pepper and grated nutmeg to taste
half an egg (note: I beat an entire egg and just used half in the recipe)
Instructions for pumpkin filling
1. Cut the pumpkin in cubes and cook in the oven at 180C for an hour.
2. When cooked and the pumpkin has cooled down, mash it up in a bowl.
3.  Then add all the other ingredients and mix well.  If the mixture looks runny, add more parmesan.
4.  Let the mixture rest in the fridge for a couple of hours.
Making the Ravioli
1. Using a ravioli mold, make sure it's generously floured. (Note: If you don't have a ravioli mold, here's a post that shows you how ravioli is made the traditional way. I have the same pasta machine as in this post. )
2. Place a sheet of pasta over the well-floured mold.
3. Add the filling in the indented squares.  Don't over fill it as you will find pumpkin filling coming out of the ravioli when you roll the top sheet!
4. Place another pasta sheet over the filling.

5. Using a rolling pin. Roll over the mold several times and then turn it over onto a plate.
6. Separate each one and make sure they are well-floured so they don't stick together.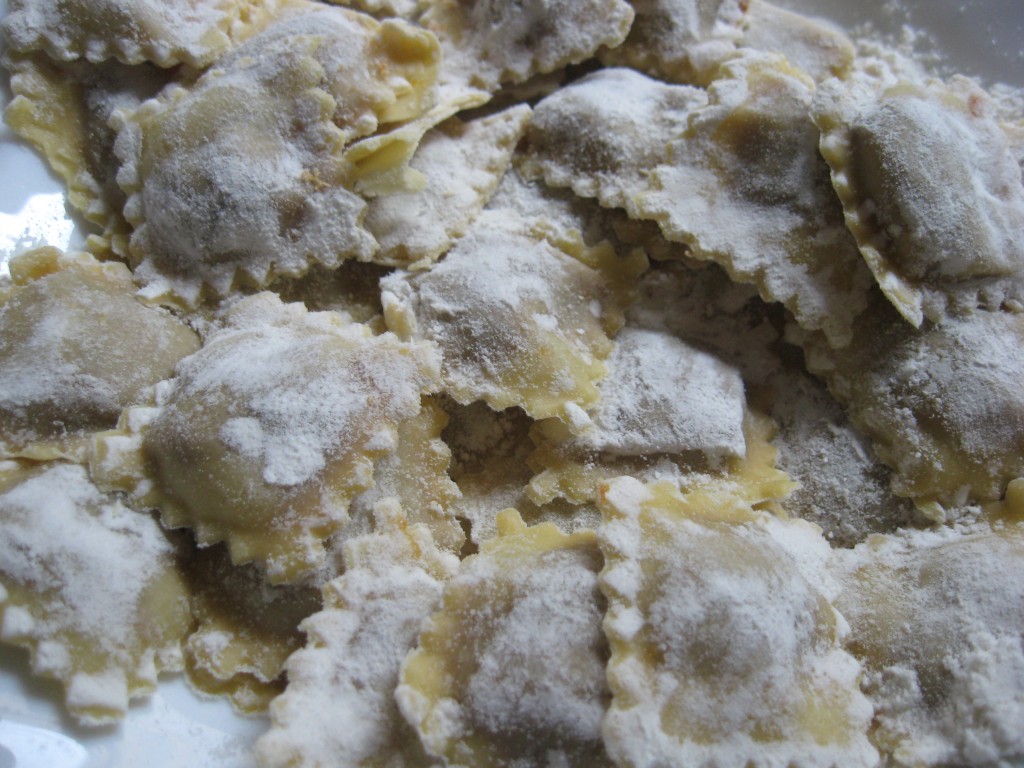 Cooking the Ravioli
Boil a pot of water and when it's boiling, add some sea salt.
Put in the ravioli and cook between 3-4 minutes. Test to make sure they are ready before draining.
Making the Sauce
While you are waiting for the water to boil, you can start preparing the sauce.
With this ravioli recipe, I used a simple sauce of butter (30 grams) and 3-4 sage leaves, similar to what was used by semplicementeinsieme.  In a pan heat the butter with low heat until melted and add the sage leaves.
Putting the Ravioli Dish Together
When the ravioli is cooked, add them to the pan with the butter and sage.  Make sure they well mixed with the butter.  Put them onto a plate and add a sprinkle of parmesan. Eat while still warm.
Buon Appetito!
Have you ever tried making a ravioli recipe from scratch and what filling do you like best?