My sister is still writing some posts to recount her very short two-week trip here as a tourist in Rome.  She managed to pack a lot in a relatively short period and has several more interesting posts to share over the next few weeks.
Whenever I can manage to get BrowsingRome to cook or bake for me it's an ultimate treat. Typically I can manage to negotiate only two to three items so I have to be weigh my choices carefully and prioritize. Also, BrowsingRome doesn't always approve of my selection and so it requires a lot of negotiating skills to get her to agree.
Here are the homemade meals and baked treats that I managed to get BrowsingRome to prepare.  What a treat indeed!
1. Apple Dumplings
I remembered how she had written up a post on the Apple Dumplings. I figured it just simply looks good and didn't have high expectations of it tasting good.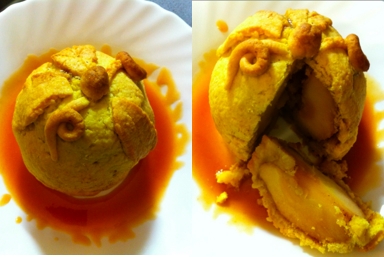 So imagine my surprise when it actually tastes even better than it looks! The caramel sauce is delish,  and the combination of cinnamon and sugar oozing from inside the apple is magical. The best thing is the pasta frolla – just the right amount of crumble, crunch and butter.
Note: I'm not being biased either. As her younger sibling I would be brutally honest.
2. Fresh Fettucine and 3. Ravioli Pumpkin in Butter & Sage sauce.
Nothing beats fresh pasta! It just taste so so (for a lack of a better word) – FRESH!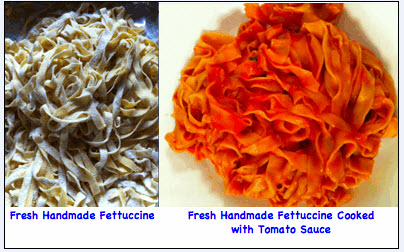 The only thing was this wasn't cooked al dente otherwise it would have been perfect. However, BrowsingRome redeemed herself and the next day, she cooked another batch just right.
The Ravioli Pumpkin was scrumptious and hearty in that the pasta was on the thicker side.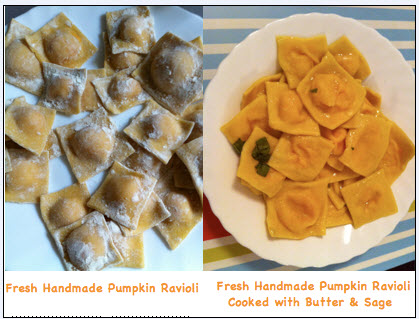 4. Breakfast Crepe with Fresh Ricotta & Caramel Sauce
Let's just say waking up to this was perfect way to start the day! To top it off, we went overboard and used the Caramel Sauce (that was also used on the Apple Dumpling), which I wish I could have bottled up and brought back with me.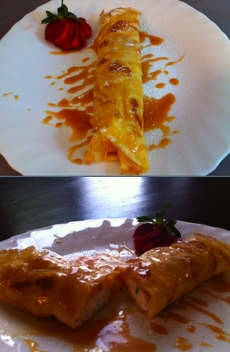 A not too sweet, buttery goodness! Then the fresh ricotta filling, with ricotta bought at the Sunday Market, tasted so light yet rich and delightful.
Words of Advice
My advice is, if you are fortunate enough to get an invitation from BrowsingRome for a homemade meal, don't turn it down.  She usually goes all out by preparing several courses regardless of whether it's an Asian or Italian meal.
Her husband would say, she prepares food for an army and it's no wonder she requires a long recovery period before sending out another invitation.