I was surprised when I read how easy it was to make this fresh pasta recipe.  So instead of cleaning the house, I decided to make it.  It has been a while since I made fresh pasta and the reason is because now that I am living in Italy, it's easier to buy them.
However, when I saw this fresh pasta recipe for pici, I felt I could make it without making too much of a mess.  The ingredients were so simple, I didn't have to go out and buy anything.  If you are wondering what is pici, it is a pasta from the Tuscan region and usually made without the use of eggs (actually eggs are optional). I come across pici when we were in Tuscany in May. For more information on pici, here is a brief description from Wikipedia
Fresh Pasta Recipe: How To Make Pici
I used the pasta recipe on Experience Tuscany but made a few changes which I will share here.  I wasn't sure how many servings the recipe was for and decided to just half it.  The ingredients below serve 2.
Ingredients
Flour – 200grams
Olive Oil – 1 teaspoon
A pinch of salt
Water – roughly 1/2 a cup
Additional flour once the pici is made to make sure they don't stick together (I didn't have semolina!)
1.  Pour the flour and make a well where you add the olive oil, pinch of salt and add water a bit at a time until you are able get all the flour incorporated.  You don't have to use all the water.  Make sure it's not too sticky.
2. Knead the dough for about 10 minutes until it becomes smooth.
3. Form a ball and oil it lightly with olive oil.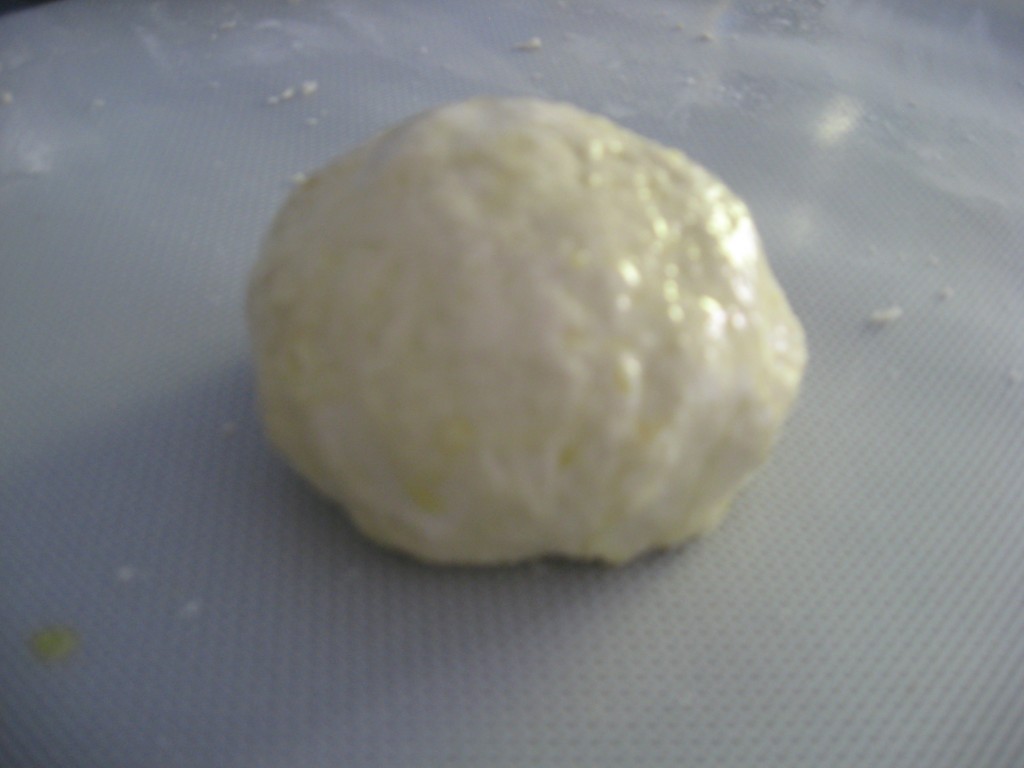 4. Let it rest for 30 minutes covered with a tablecloth.  The original recipe says 2 hours but after checking a few other websites, I felt 30 minutes were sufficient. It looked pretty smooth and I was actually pleased with how it turned out as I am not a professional chef.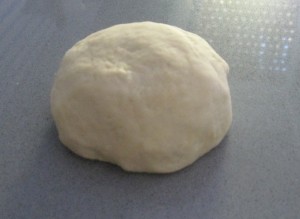 5. Roll it out with a with a rolling pin about 2cm thick and then cut it about 1cm wide.  To be honest, don't worry about cutting them perfectly.  It's homemade remember.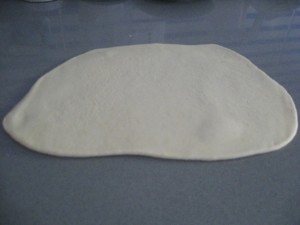 6. I used a knife to cut the strips and as you can see there are not all the same size.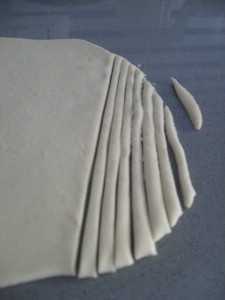 7. For each strip, roll them between your palms or on the surface.  I found it easier to roll them between my palms and the rolled strips drape over.  I wish I could have taken a photo but I needed two hands to do this and there was no one to take the photo!
8. Here's how they turned out.  My first attempt at making pici!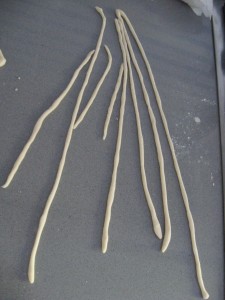 9.  Here's my stack and I added more flour to make sure they don't stick together. How long did it take me to roll out all the strips?  Less than 30 minutes.  It was faster than I expected.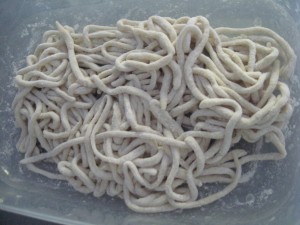 Fresh Pasta Recipe: How to Cook Pici and Simple Tomato Sauce
Bring a pot of water to boil and add sea salt.  The original recipe says to cook the pici for 10 minutes but I cooked mine for just over 2 1/2 minutes.  It was just right.
As for the sauce, you could use the ingredients and instructions given on Experience Tuscany, since it's half the pasta, make sure you have the ingredients for the sauce.
For myself, I just used tomatoes, basil from my own plant, some olive oil and a sprinkle of parmesan.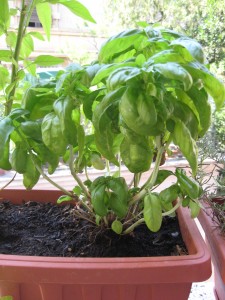 I wanted something simple.  Delicious and simple.  That's what I love about Italian food. Buon Appetito!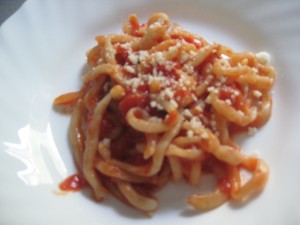 I hope you see that this fresh pasta recipe for the pici is not difficult although it may take some time.
Will I make it again?  For sure and this time, I am going to make it with alici (anchioves).  Look out for that recipe soon. This week, I also plan to test out another fresh pasta recipe and this time with eggs.