A couple of weekends ago, thanks to the kind invitation by Hotel Bramante Todi, we spent a few amazing days in Todi.  Adding to this incredible experience was the opportunity to discover Todi together with Elisa, a.k.a. the TodiGuide.
Although I had mentioned that I could explore Todi on my own, she insisted on showing me her town. I am grateful for her time and got great insights into main attractions and exclusive visits to hidden gems. A huge thanks again Elisa!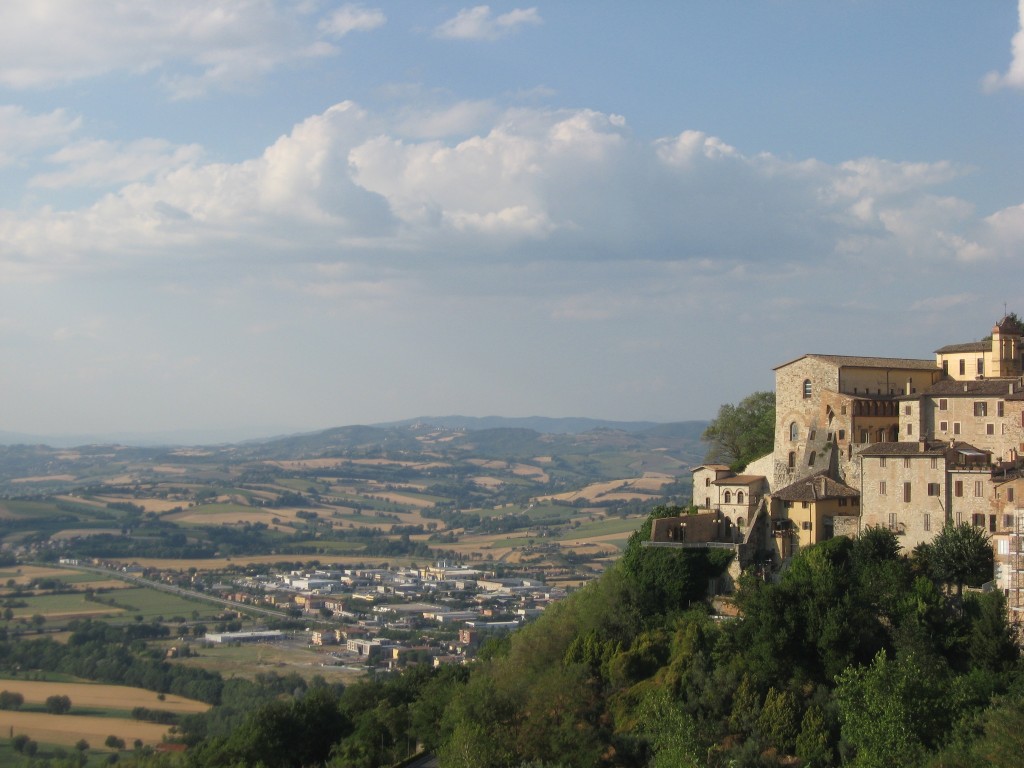 Before sharing some of my favorite attractions in Todi, here is some brief information on Todi.
Where is Todi, Italy?
You may know that Todi is in Umbria but may not be sure of its exact location. Todi is situated in southern Umbria and due to it's strategic location, it is the perfect base from which to explore other Umbrian towns such as Perugia, Spoleto, Assisi, and Orvieto.
After a chat with Elisa and Alessandra from Discovering Umbria, I realized that you could also take a day-trip to Todi from Rome. You would take the train from Rome Termini to Terni which takes about an hour and then a 40-minute transfer from Terni to Todi, can be arranged. If you are interested in this option, please contact Elisa or Alessandra for more details.
Attractions in Todi
Todi has its share of  fascinating  sights and as it is impossible to cover all that we saw, I will share some of my favorites.  This first part covers three main sights while the second part (look out for this tomorrow) will be on few hidden gems which are only possible thanks to Elisa.
1. Tempio di Santa Maria della Consolazione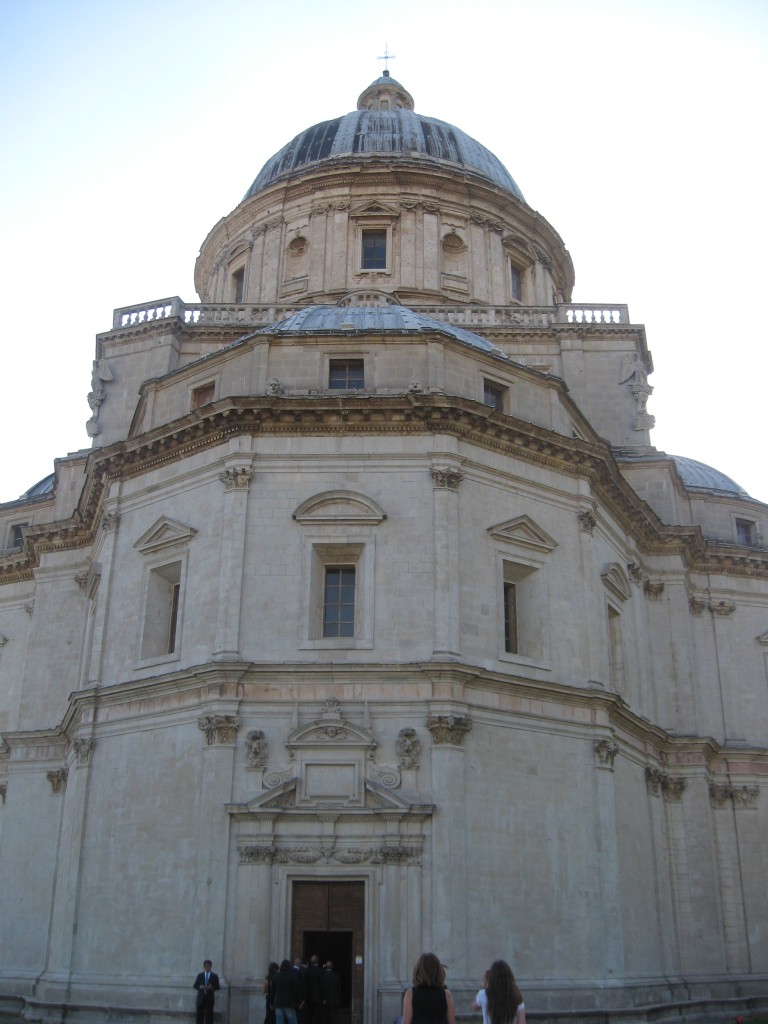 This Church is one of the best example of Renaissance architecture in Umbria and unlike most of the attractions which are in the historic center, it is located on the edge of the town. Construction work started in 1508 on the location where miraculous events took place and was completed a century later.
When we were there, a wedding ceremony was taking place and discreetly walking along the side, Elisa brought my attention to the features of this Church.
Distinguished by four apses, and a central dome, there is an entrance at each apse except for the one that is in the photo above. She had also mentioned that the Church has been attributed to Bramante and although there are no documents to support this, the fact that the structure and the decorations bear resemblance to other projects by Bramante, it is highly likely that Bramante had been involved. This in turn, sheds light as to how Hotel Bramante got its name.
The interior includes the altar of the Madonna holding the infant Jesus which was accredited for the miracles, the statues of the Twelve Apostles and Pope Martin from Todi.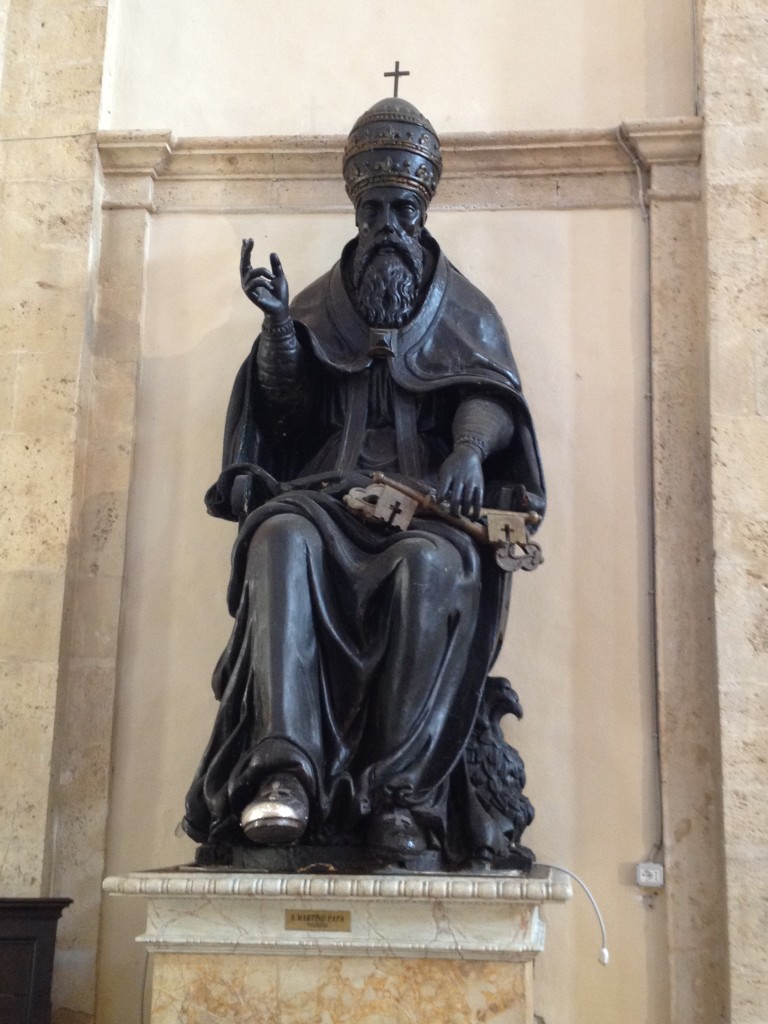 2. Chiesa di San Fortunato
This was the first attraction we came across while making our way on Via Ciuffelli, the main route to the historic center. You couldn't miss it as the charming houses and stores that lined the streets were eventually interrupted on the right by a spacious open space.
Instinctively, your eyes follow the stairs leading up to this remarkable structure, an intriguing unfinished Gothic church dedicated to San Fortunato, the Patron Saint and first Bishop of Todi in the 6th century.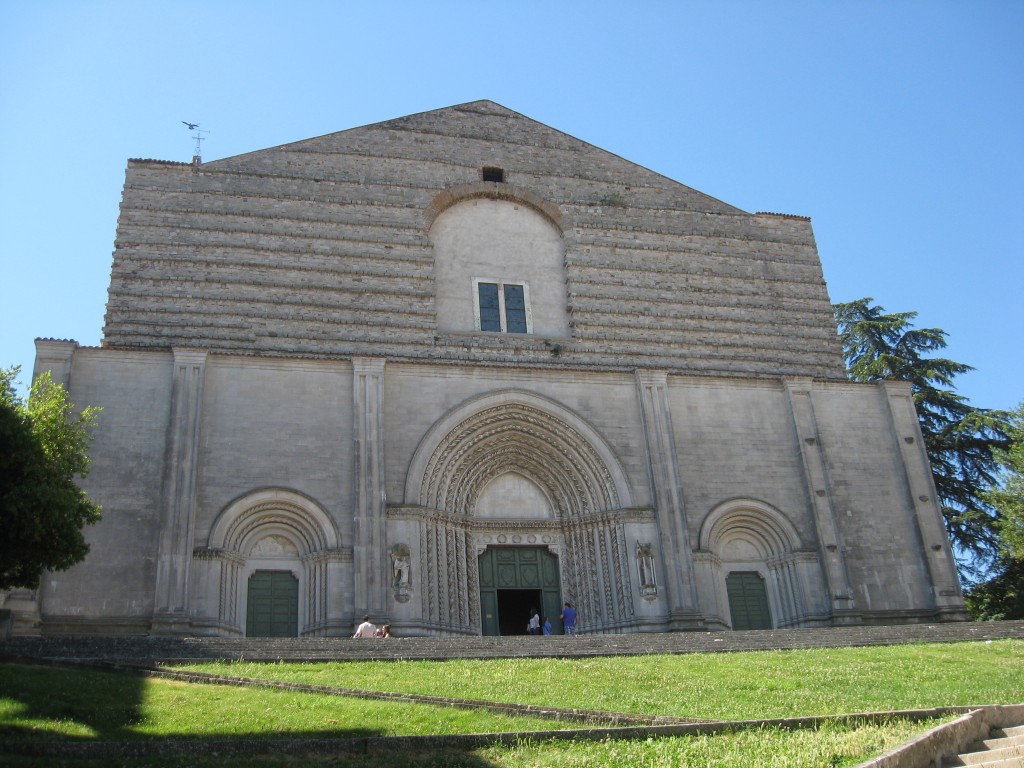 In order not to be outdone by the Cathedral in Orvieto, construction on this Church started in 1292 but unfortunately, due to funding issues and the plague of 1348, work had to be halted. While the lower part of the facade was completed in the 15th century, you will need your imagination to fill in the upper half.
Inside, it is characterized by a nave and two aisles all of equal height in a Gothic style that is known as Hallenkirche or Hall Church. It is surprisingly bright and at its main altar, there is the statue of Saint Fortunato blessing the residents of Todi.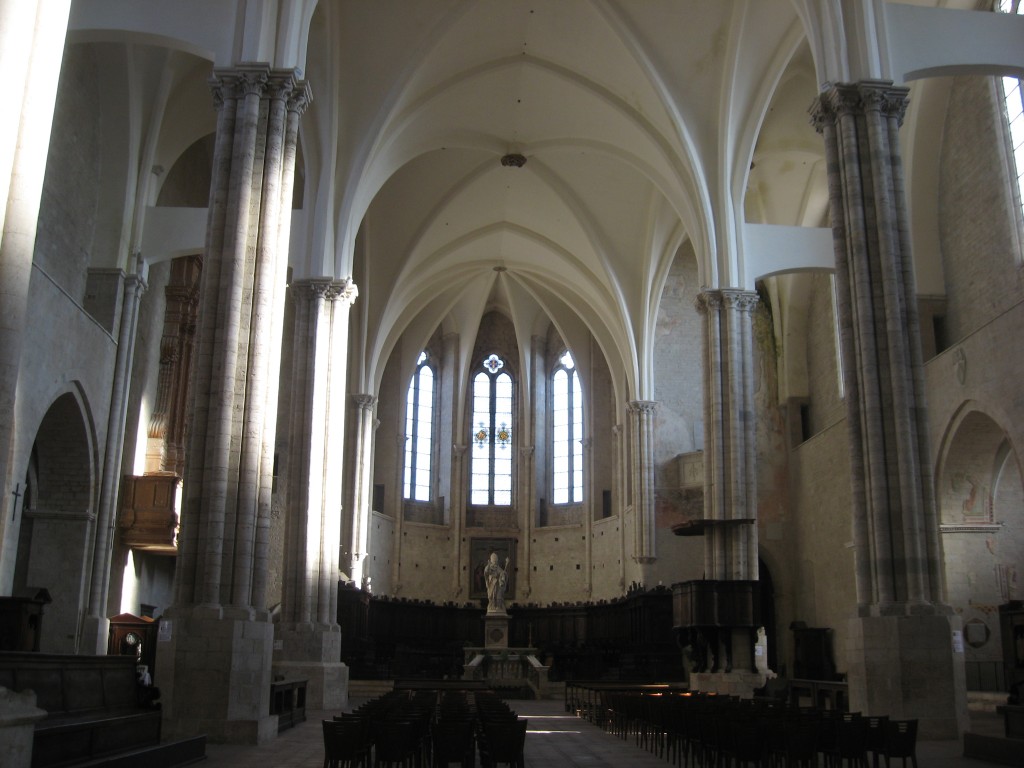 Elisa also led the way to the crypt where Jacopone da Todi, one the most renown Italian poets of the Middle Ages is buried. With a similar background to St. Francis of Assisi, Jacopone da Todi was born to a noble family of Todi but had chosen to live a life of poverty.
His poetic words, often in praises to God and biblical themes were written in "volgare" which was used in the literary scenario and spoken language. Using this form of language instead of Latin, this meant that he was able to share his religious sentiments with the common people, most of whom were illiterate.
The hymn Stabat Mater Dolorosa, although there have been disputes, is attributed to Japacone da Todi. More information on Jacopone da Todi is available in Italian on Todiguide.com.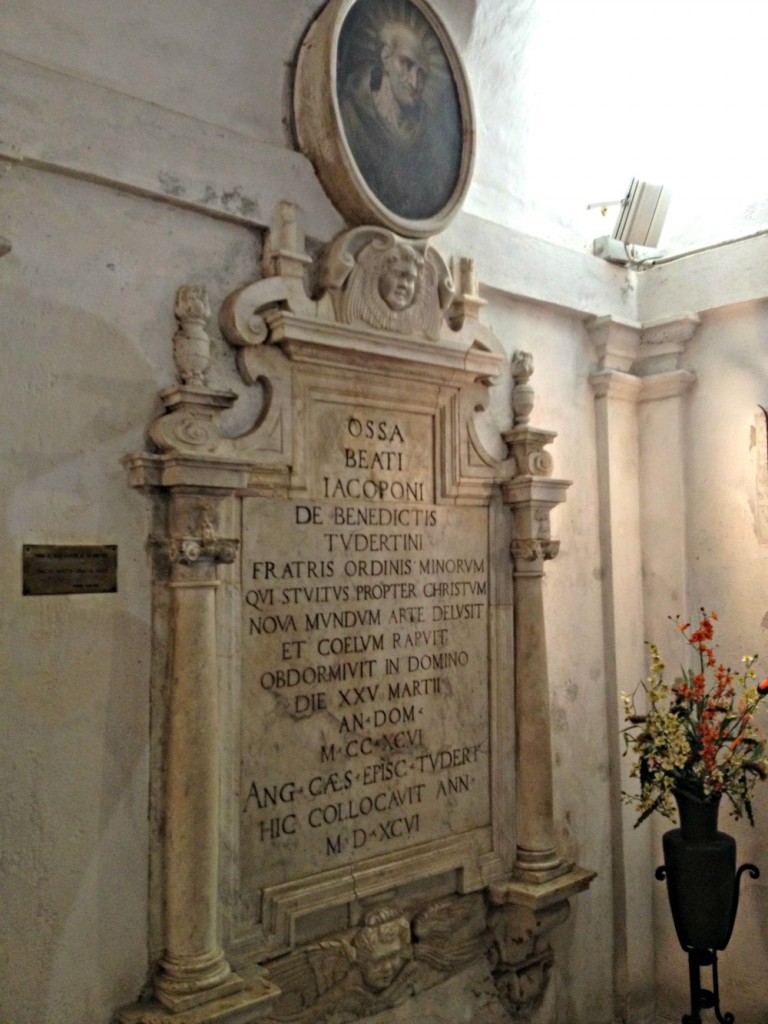 Before making our way to Piazza del Popolo, Elisa pointed out the bell tower which for a small fee, you could make your way to the top and be rewarded with what I believe would be magnificent views.  I will definitely make sure I don't miss this on our next visit to Todi.
3. Piazza del Popolo
Piazza del Popolo is easily the heart of Todi which is surrounded by several prominent buildings such as the Cathedral and other notable palazzi. As the Cathedral is only open for Mass on Sunday, we didn't get the opportunity to see the interior – another good reason to pay Todi another visit.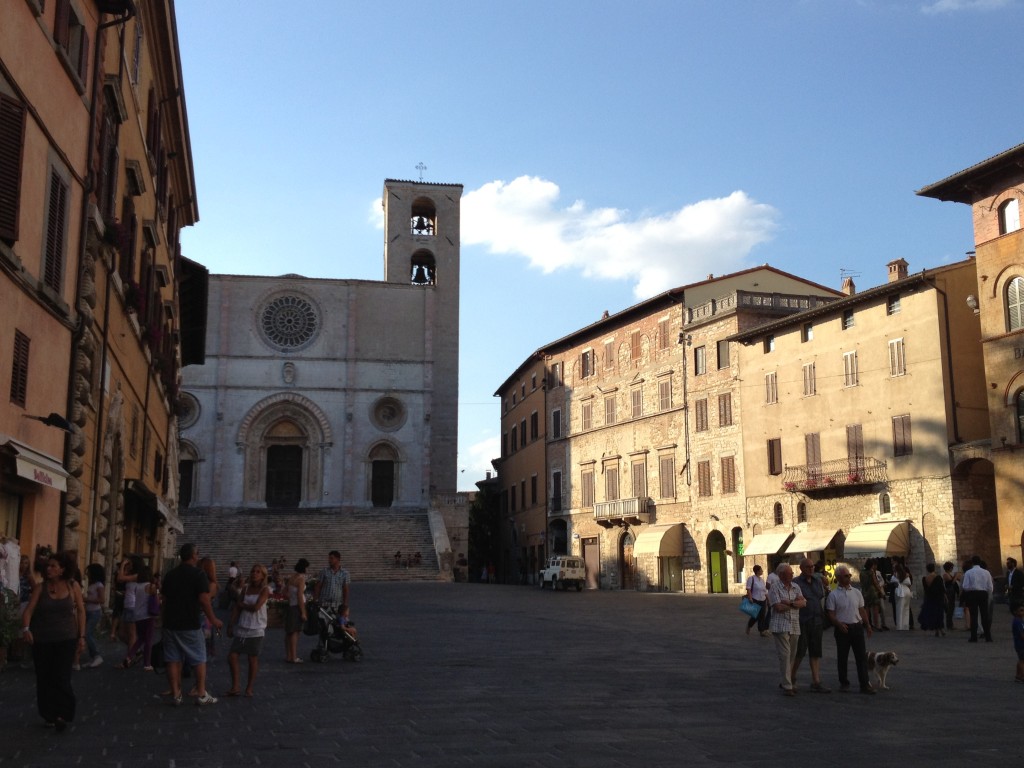 I actually remember this Piazza on our only visit prior for a friend's wedding a few years ago. At that time, it was a whirlwind stop in Todi to attend their civil wedding ceremony held in the Comune (City Hall) and left without even knowing the name of the Piazza.
One of the most unique buildings in the Piazza has to the Palazzo dei Priori located on the southern side which  faces the Cathedral. Looking at the photo below, can you see a vertical line dividing the Palazzo in two.
The original structure is the one on the right (the smaller of the two sections) followed by the addition of the left section and finally the prison tower. From this angle, you can see that it is a trapezoidal-tower but standing right next to the Palazzo it could easily have been mistaken for a rectangular one.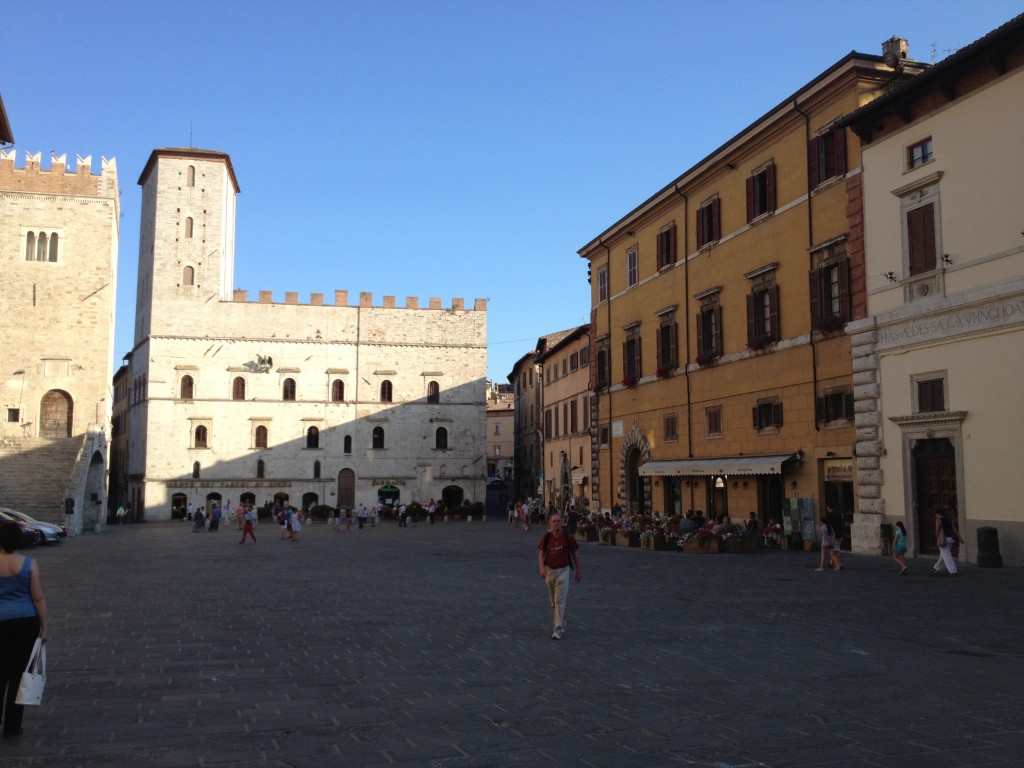 Todi may be much smaller compared to other more popular Umbrian towns such as Perugia or Assisi but I assure you that with Elisa as your guide,  you will amazed at what Todi has to offer.
Look out for the next post on the hidden gems in Todi.
Elisa is a licensed guide for Umbria and you can connect with her on Twitter and Facebook. Not only is she knowledgeable about Todi but is proud and passionate about this town she calls home.