No availability, nothing available, all full.
Those were the replies I was getting from hotels, B&Bs, holiday rentals in San Vito Lo Capo.  I didn't get it especially when the news constantly remind us that there is a crisis in Italy and more people are staying home for their summer vacation.  The rest, it seemed, had plans to be in San Vito Lo Capo – including us.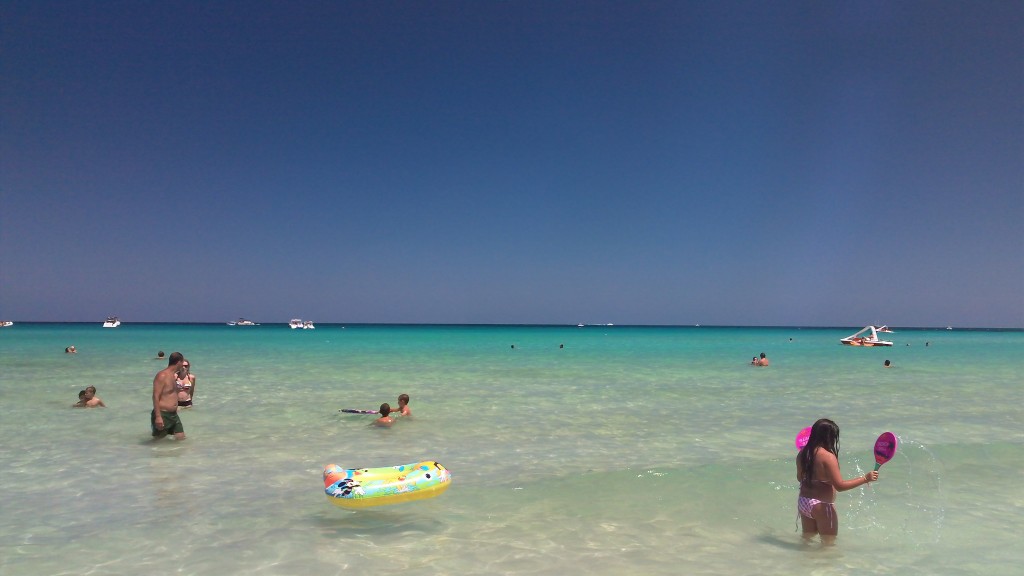 We had planned on going to San Vito Lo Capo in July as we enjoy the quiet of August in Rome. Due to work commitments (not mine), we rescheduled our plans to August together with the mass exodus to the beaches.
Summer in San Vito Lo Capo
Apartment Rentals
Our intention was a week in San Vito Lo Capo which worked out as we discovered that apartment rentals only go by the week, from one Saturday to the next. And they won't budge on this – I kid you not.
Our flight got into Palermo on a Friday which meant we had to plan a night stay in Palermo before going to San Vito Lo Capo. It was a blessing in disguise as Palermo, though chaotic, has an abundance of attractions that are stunners.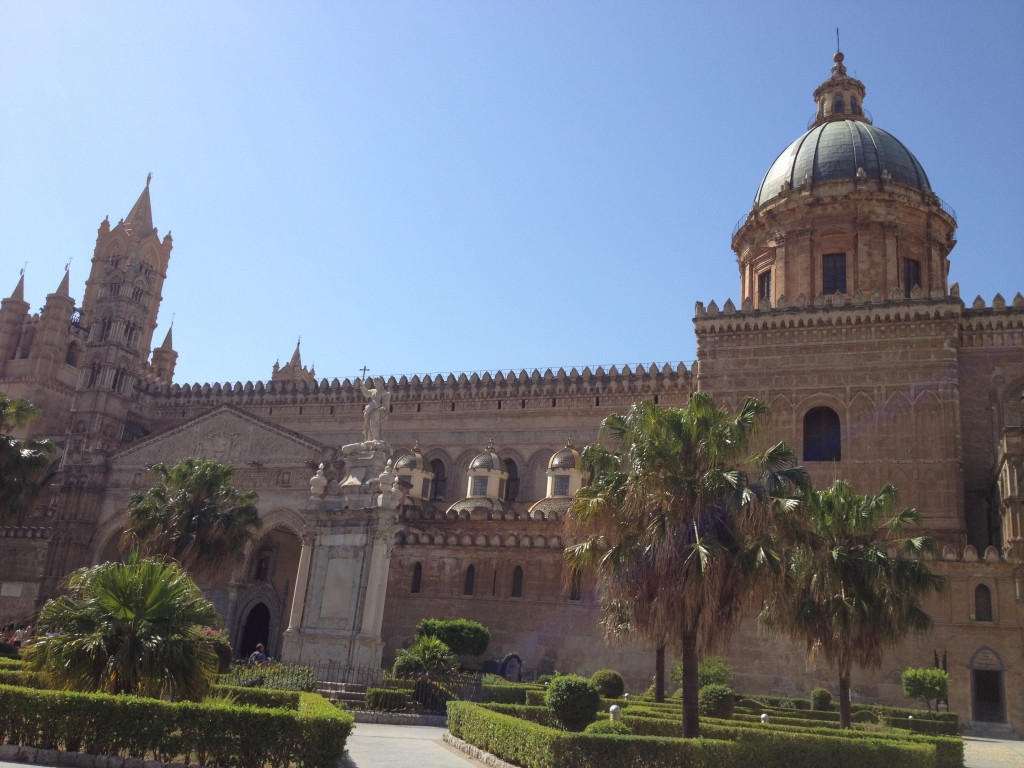 We finally found an apartment through an Italian holiday rental agency and though they weren't the most efficient people to deal with, we decided to go with them out of desperation.  We had called them and they told us they would email a couple of places which were still available.
We wrote back to confirm we wanted to rent one of the apartments but after a few days, got no response. Another email and still nothing. It almost felt like they weren't interested in business. Eventually we called and things got sorted out.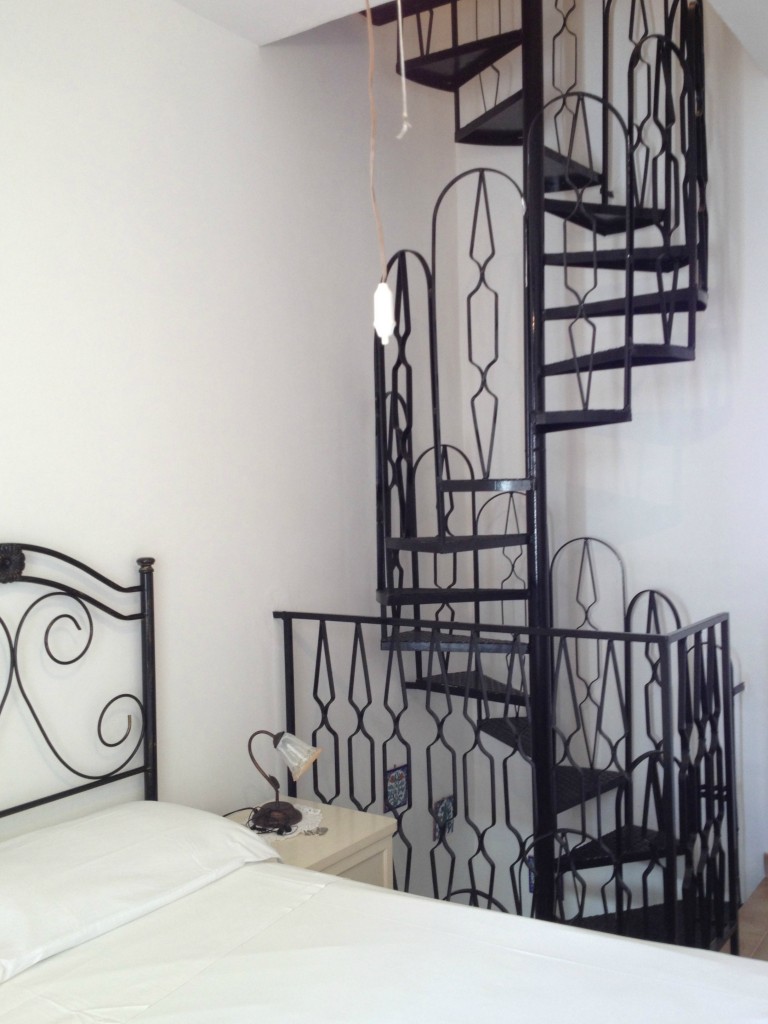 Did I mention we were desperate?  So much so that we didn't even check if the apartment had airconditioning or washing machine. And of course it didn't.
The 60 sqm apartment was also on three floors:  the bathroom and kitchen on the ground floor, bedroom on the first floor and terrace with another make-shift kitchen on the 2nd floor.  Far from comfortable but I was able to cook – a big plus for me.
Tips
Visit San Vito Lo Capo during shoulder seasons.
If you are planning to stay for an extended period, it's worth considering holiday rentals.
Check how far the apartment is from the beach. This was one thing we did.
Request for linens and towels – don't take for granted they are provided. Basic amenities such as shampoo, shower gel, toilet paper etc are often not provided.    Neither are beach towels.
If you would like to cook, you will need to buy oil, salt, dishwashing soap etc.
In summer, air conditioning makes a world of difference.  Also ask if parking is provided and if they have a washing machine.
For shorter periods, hotels and B&Bs are probably better options.
Beach
Many have raved about the beach and crystal clear water in San Vito Lo Capo and they weren't wrong.  The town itself is nothing to brag about and they are fortunate to have this marvellous stretch of white sand beach with calm waters.
After settling into the apartment and buying the basic amenities, we walked to the beach area to checkout where we will plant ourselves for the next week.  We didn't know if they had an area in what is commonly known in Italy as the "free beach" and if it was at all decent.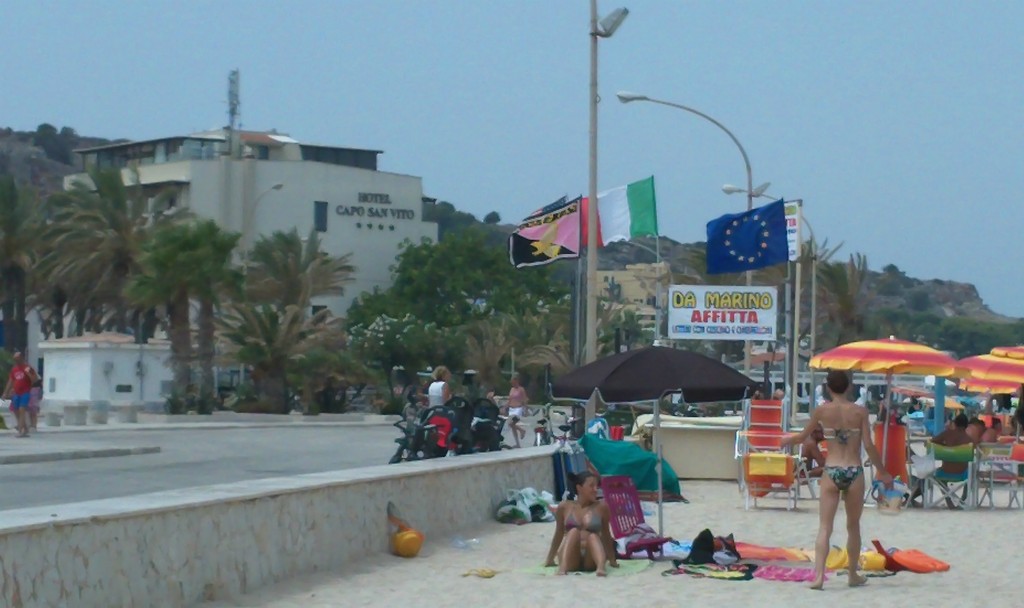 In San Vito Lo Capo, they don't have beach concessions. They have umbrella and sunbed rentals and don't provide showers or bathrooms.  Showers cost €1 but it lasts long enough for two people to have a quick shower.  At least in our case.  Bathrooms are plastic portal ones which I dare not even consider.
There are several places on the beach to rent these items and they set it up for you.  The cost is €15 per day for an umbrella and two beds but you could get it discounted as some have agreements with various accommodations. We checked and when we mentioned the agency, our price was €12.
Let me back track for a second.  When we got to the beach, it was packed. One-on-top-of-the-other-packed and not really our kind of thing.  We also discovered there is a  free beach area and it is basically a first-come first-serve place rather than being confined to the worst part of the beach.
We thought that was at least a decent move and we had no qualms about laying down the beach towels. All we needed was a umbrella and that was easily resolved.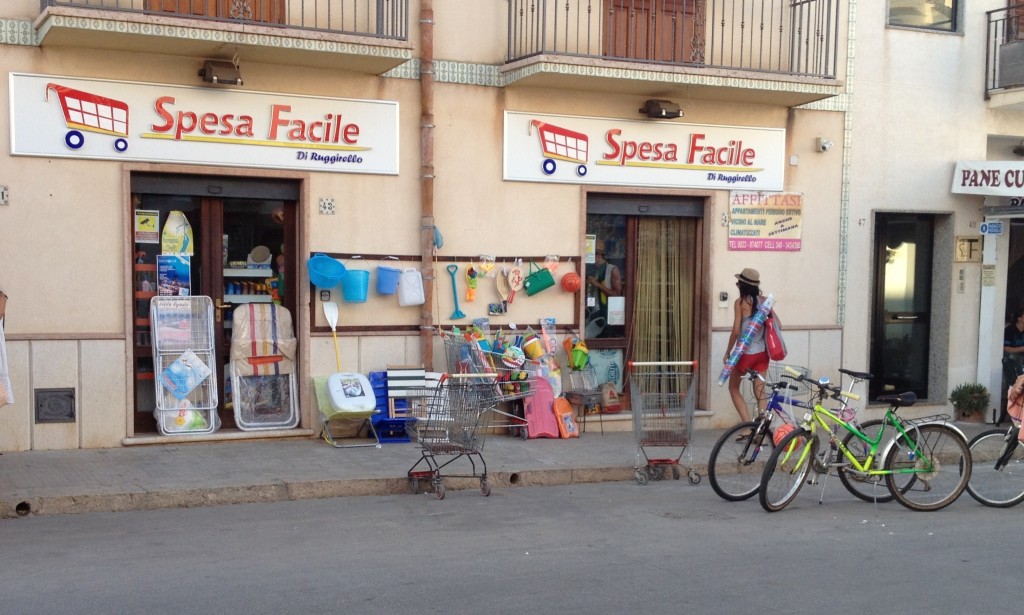 While buying items for the apartment in the store, we also saw beach umbrellas for sale at €12.  We bought one thinking we wouldn't need to rent an umbrella – bright move!
All set (at least we thought so). We went to the beach the following day with everything we needed.  Towels, umbrella, water, lunch, reading materials and the whole lot.
When we got there, the beach was shockingly packed and we somehow found a spot to lay down the towels and place the umbrella.  Closer to the road than to the beach but it wasn't an issue unlike the noise.
The noise from the simultaneous chatter was a deafening hum and the first thing that crosed my mine was "This isn't a destination for some rest and relaxation."  Trying to keep things positive, there is still the spectacular clear water.
Tips
If you are coming here in August or Italy in general, be ready to pay the price.
It's going to be crowded – seriously crowded on the beaches especially the week of Ferragosto (August 15th).
After all, this is August
The next surprise was ready for us.  Eager to cool off in the water, we zig-zagged through the crowds to get there, only to be  stunned. Sunbeds and towels were setup right next to the edge of the water and there were as many people in the water as they were on the beach.
It didn't help that it was a weekend as I am sure local residents in nearby towns and cities were here too.
Basically, we couldn't jump in without bumming into another person.  The water was gorgeous but it's hard to enjoy it when it's this chaotic. We had to wade in and it was not until we got a bit further out that it got less crowded.
Both of us were just in shock. We have never seen a beach this crowded nor noisy in our lives and we are beach-goers.  Not in Hawaii, not in Positano, not in Southern California, not in Bali, not in Malaysia, not anywhere.
Not the vacation we had imagined it to be but it's August. We knew but hadn't expected it to be quite this bad.  On the "free" beach, as more people came, it got too close for comfort as people were stepping inches from your head as they tried their luck in finding a spot closer to the water.
It was then we decided maybe renting the lounge beds and umbrella would make this ordeal more bearable. There was more breathing space between one umbrella to the next.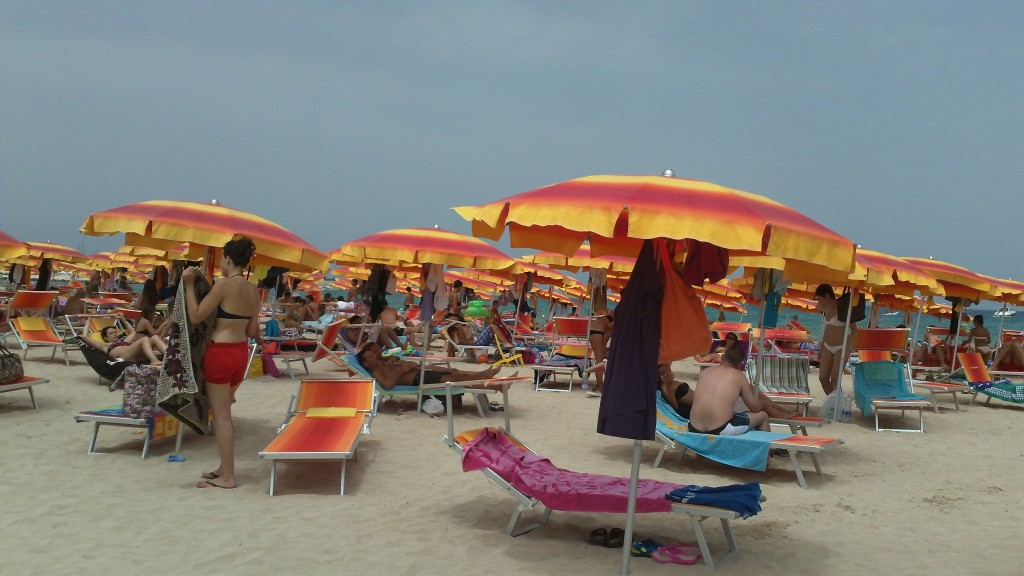 The following day, we did just that. An improvement but the noise was still an issue. Between the constant cries of "Cocco, cocco signori, cocco bello, bello fresco, un euro", Asian women offering "Massaggio?" and outbursts of "Prego!" from those  selling their merchandise, it was not the paradise I had imagined.
From this experience, we swore never again to plan a vacation in Italy in August.
Tips
Rent the lounge bed and umbrella – worth it.
If you rent it for a longer period, they sometimes offer you a discount.  There are many rentals along the beach so ask around.
Head to the beach early as it gets crowded after 10am. If not, you may find yourself on the first row next to the road.
Bring own lunch, water or refreshments. There is a bar across the road from the beach. Not too much of a hassle but you will still need to leave the beach unlike in Positano.
The water is less crowded during lunch – great time for a swim.
Ear plugs would be necessary unless you love cocco, cheap massages and shopping on the beach.
Scorching Summer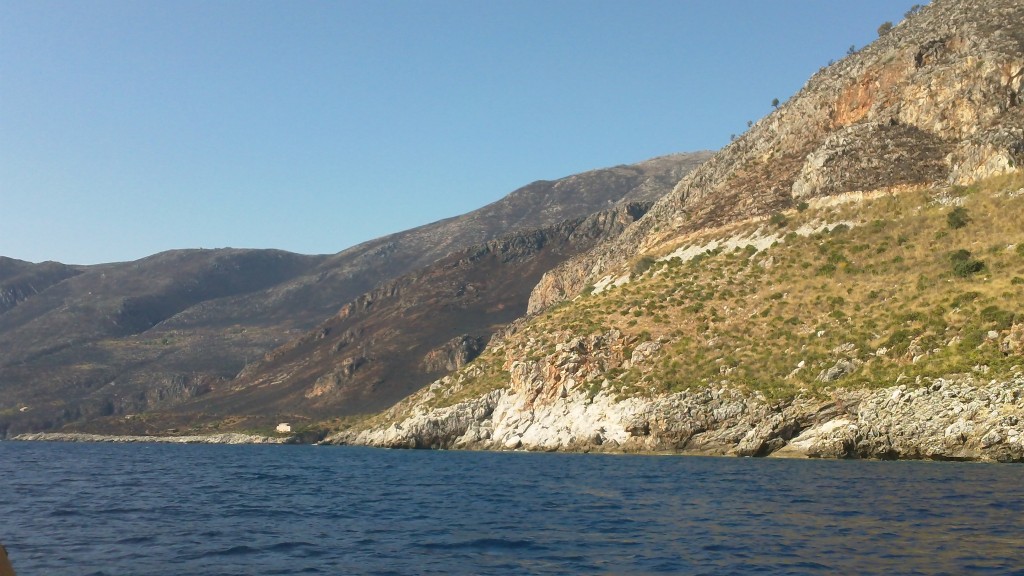 With the noise and crowd, it was closer to hell for us.  Literary because when we were there, it was also scorching!  There were wildfires nearby which caused all communication lines to be down in  San Vito Lo Capo, isolating us from the rest of the world.  What else could go wrong, right?
To be fair, the people of San Vito Lo Capo are amazingly friendly.  Every store that I frequented was always helpful and one store even offered to do our laundry as we asked her where we could find a laundry mat.  I won't even go there.
All I will say is this – I strongly advice you to make sure there is a washing machine in the apartment if you plan to be there for an extended period of time.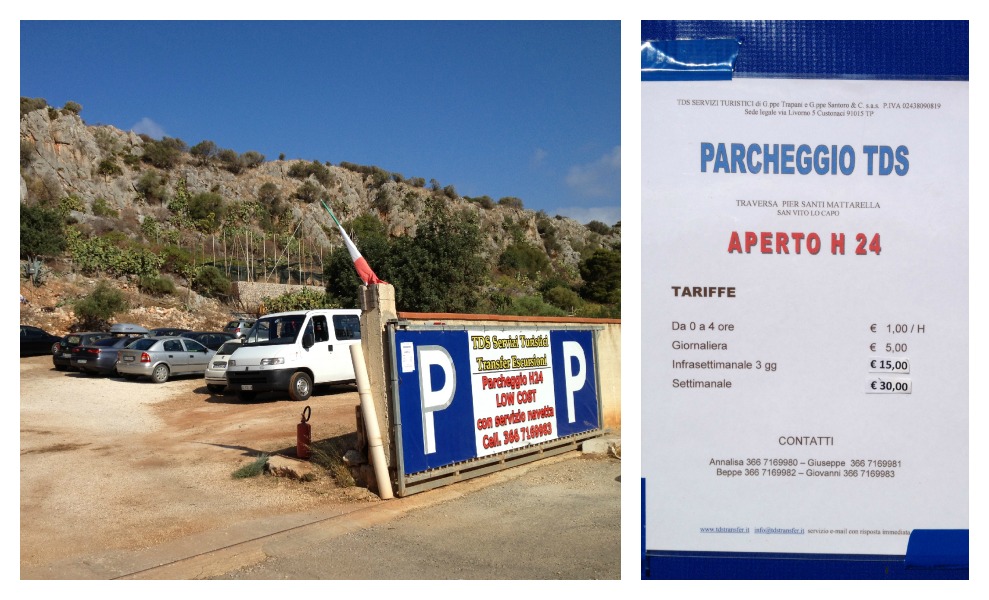 At the end, our holiday rental agency came through from us.  They helped us with the laundry for a fee which we were more than happy to pay and parking was included in the rental.
The beaches of San Vito Lo Capo are splendid and I am sure that if you plan to visit this town when the rest of Italy isn't, it would be an incredible experience.  That said, I wouldn't mind coming back to San Vito Lo Capo again, just not in August.