After a week in San Vito Lo Capo, it was time for our road trip where we'd drive from San Vito Lo Capo to Taormina in a span of a few days.  While plotting out the trip, it took a lot of convincing before Luca agreed to it as we would be on the road in soaring record temperatures.

Here's how the trip panned out and hopefully it gives you a peek at the beauty and diversity of this part of Sicily.
Erice
This was our first stop as it was only a short drive from San Vito Lo Capo.  As we got to Valderice, I spotted Erice and didn't realize it was going to be a real drive up.  Fortunately, we got there early and there was plenty of paid parking near the entrance to the city, Porta Trapani.  Nearby there was a booth which provided information on the town.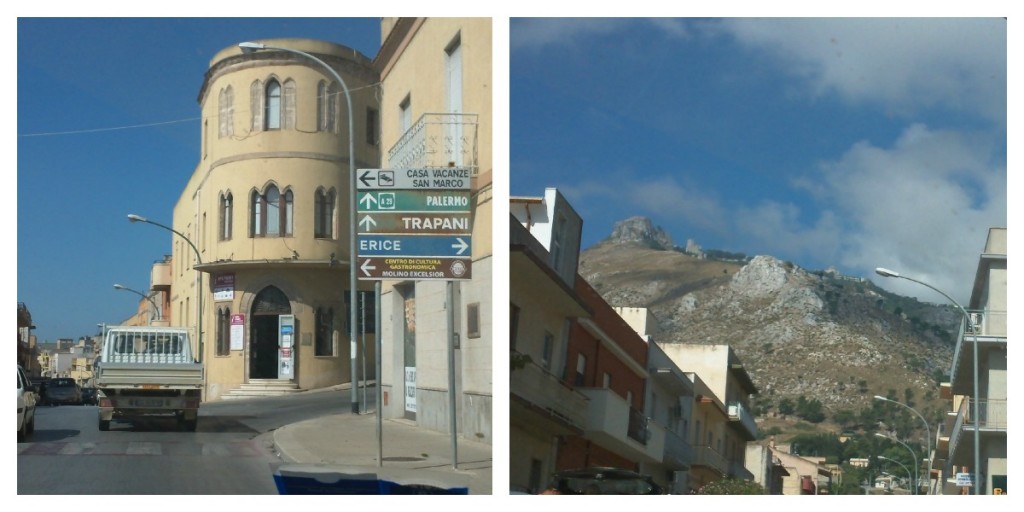 The staff there spoke excellent English and gave us details as to how to make the most of our visit.  As we walked around the town, we also saw there were these boards with walking itineraries of  Erice.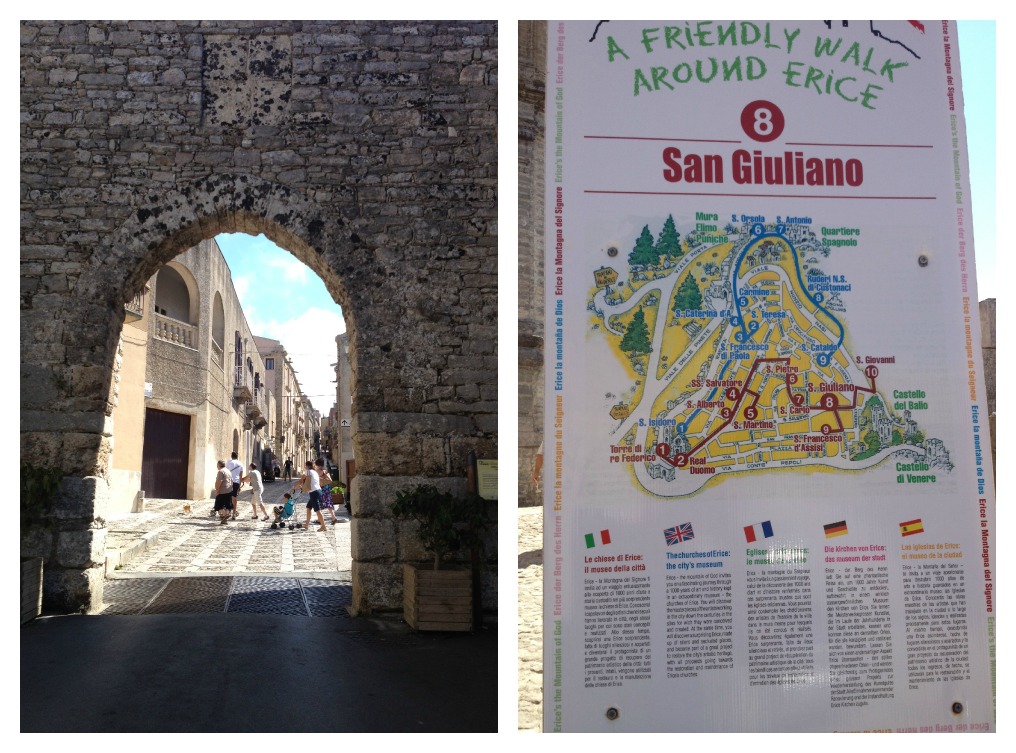 Located 750 meters above sea level, the views from Erice are breathtaking. You have sweeping views of Trapani from one spot and from another, you have impressive views of the coastline.
Allocate half a day here to ensure you have time to visit the churches and castles.  There is also a cable car ride that you can take from Erice to the outskirts of Trapani as we were told.  Due to time constraints, we didn't take it but I can imagine the views must be remarkable.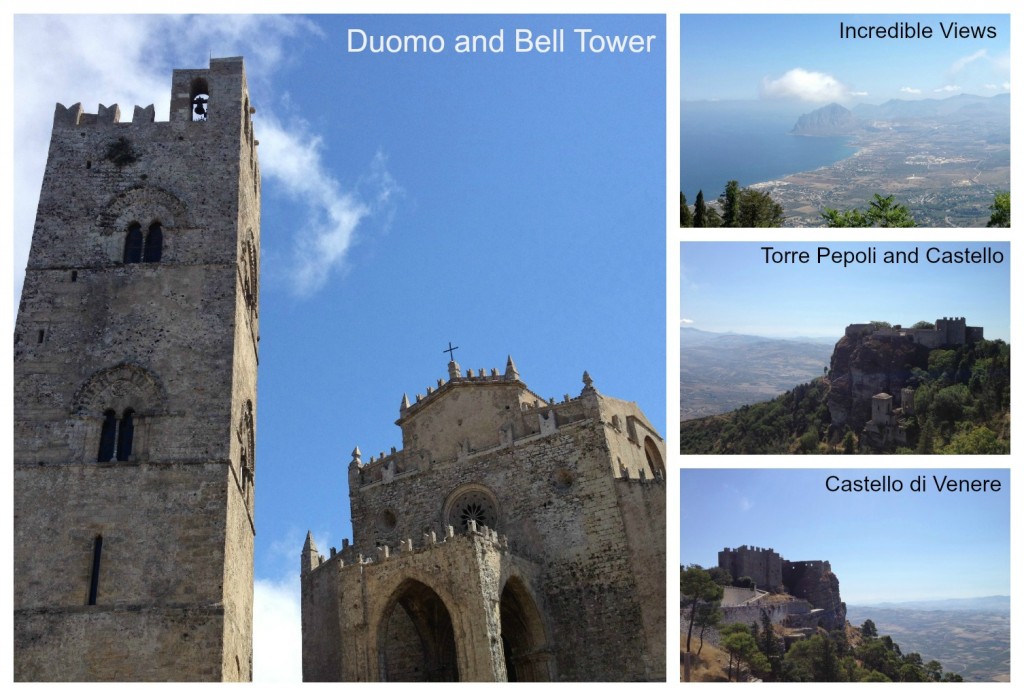 Tip:  To beat the crowds get there before 10am. When we left at 1pm, the parking lot was packed.
Salt Pans of Trapani
Driving from Trapani to Marsala, you will pass by the Salt Pans as you drive along SP 21 which is along the coast.  This place is fascinating and its origin goes all the way back to 2,500 years ago during the time of the Phoenicians when basins were built to extract salt from the sea water.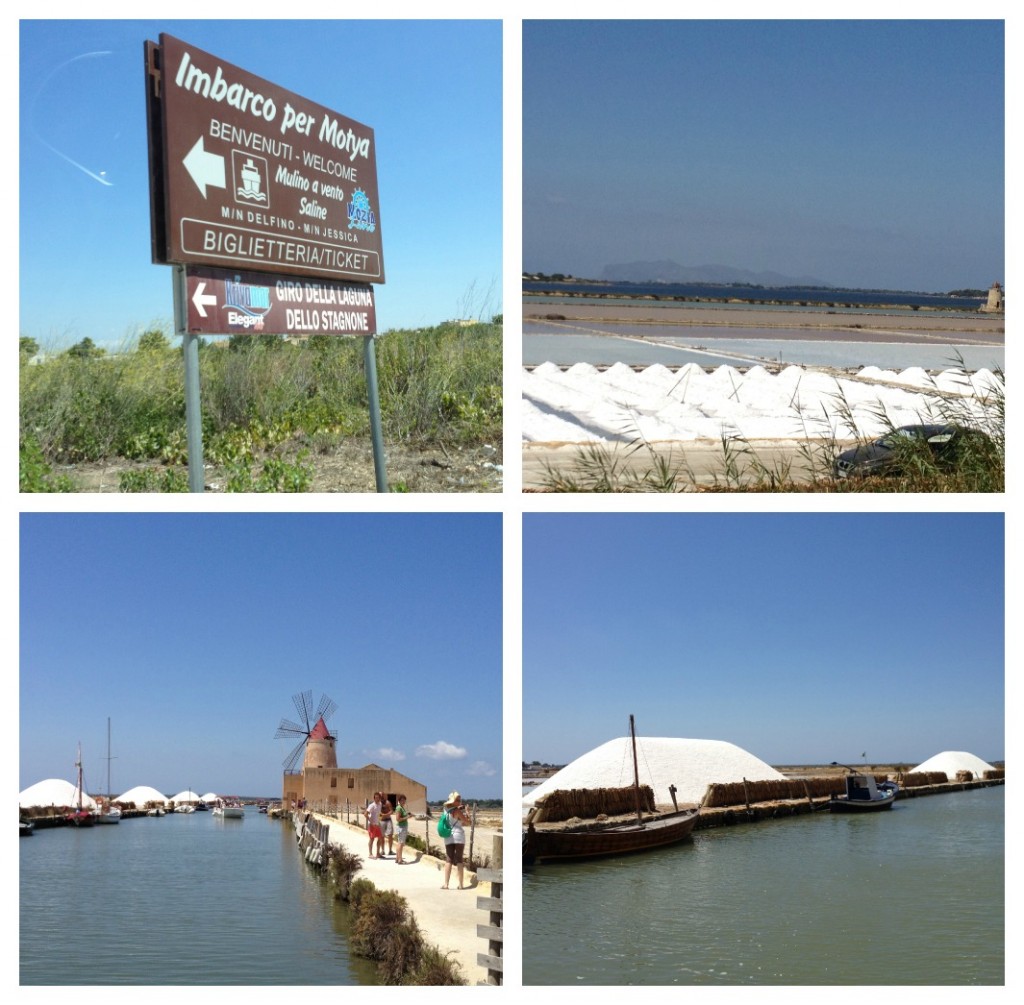 It was incredible to see the mounds of salt from the roadside and we had to stop to take a look at this close up. There were boats that took you to the islands around the lagoon which would have been a wonderful experience.
Tip: The parking lot is just a dirt area and it's suppose to be free but like a few places in Italy, there is a man there who thinks you are incapable of spotting a parking space.  The "service" he provides is to show you where there are.  Yes, he is expecting a tip and €1 is what we usually give to ensure the car is "safe".
Agrigento
So far, we have seen the quiant town of Erice with its amazing views, the fascinating Salt Pans and now we are headed to the Valley of the Temples in Agrigento.  I could barely contain my excitement when I saw the temples from the road and was just amazed.
Situated on a ridge rather than a valley, I was looking forward to our visit the next morning.  Since temperatures were close to 40C (104F), we knew the only way to survive the visit is to head there first thing in the morning when they open.  We had booked a private guided tour as roaming around without knowing what we are looking at would be pointless. It was definitely worth it.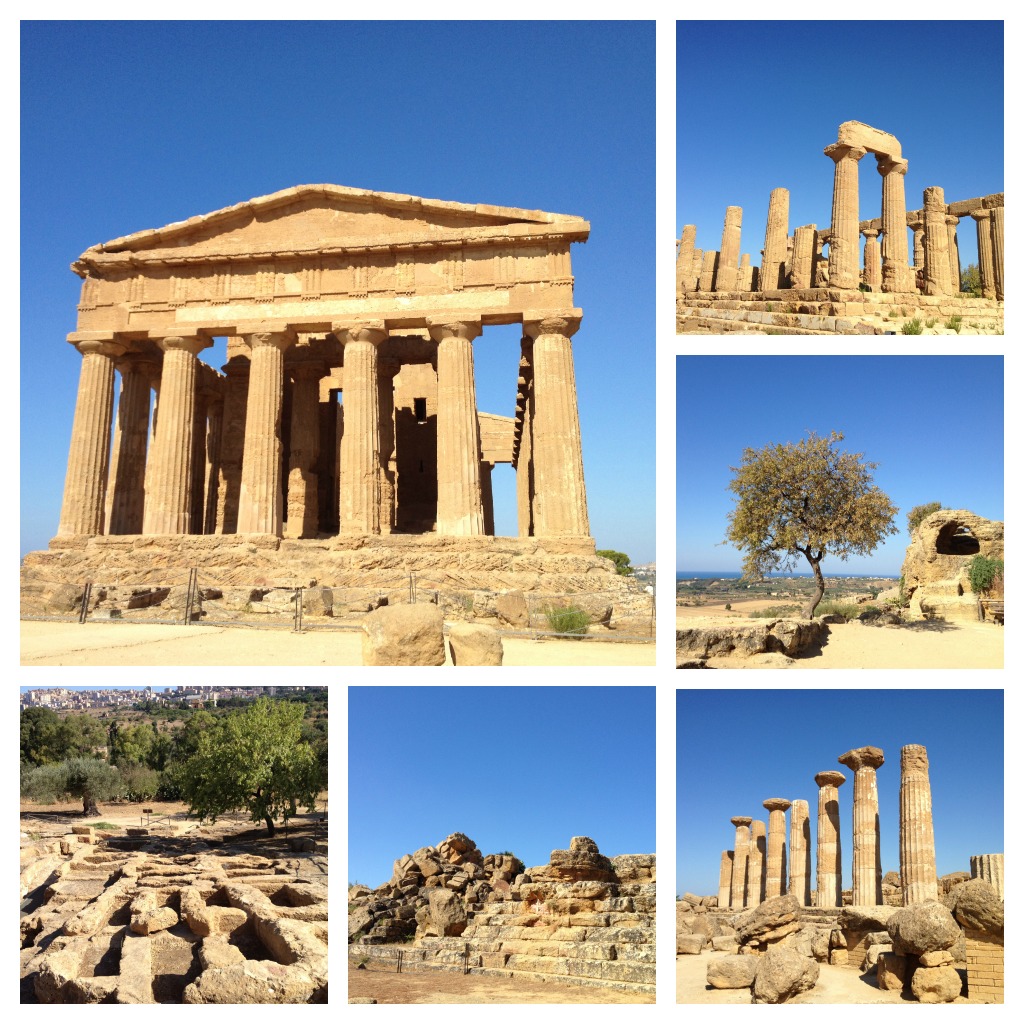 These temples were constructed between the 6th and 5th centuries BC and I was in awe.  How could you not be when you're looking at temples that are still standing and well preserved after 2,500 years.
Tip: Our tour took about 2 hours.  Let me reiterate that if you are visiting popular attractions in peak season, the only way to beat the crowds and the heat is to get there when they open. They also have wifi-guide but I am not sure of its quality. However, I would imagine it would be better than not having one.
For more details about the temples and tickets etc, visit the website of the Valley of Temples
Piazza Armerina
Our last stop before going to Taormina, was Piazza Armerina.  While we were here to visit the Villa Romana del Casale which is located on the outskirts of the town, I read about a few places in the historic center that I'd have liked to visit.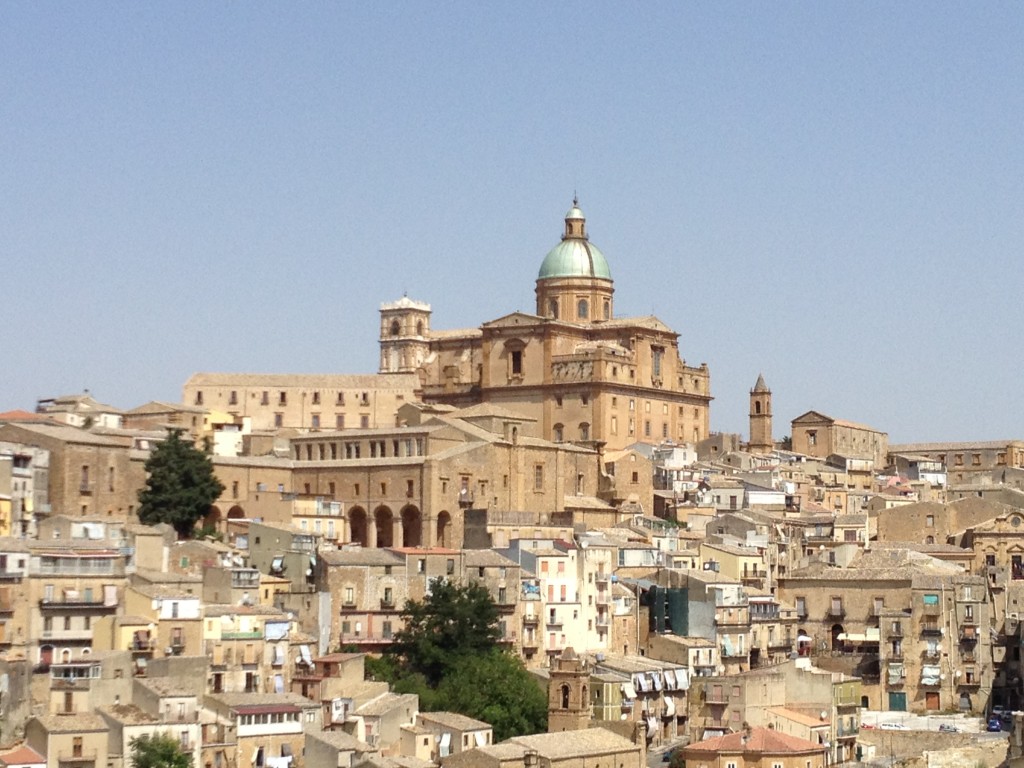 The evening we got there, we drove to the town of Piazza Armerina but that was also when the Palio dei Normanni was taking place. This involves a procession through town to re-enact the arrival of troops who would liberate them from Saracen.  As such, they had closed off certain areas which made it impossible to find parking and after trying for almost an hour, we gave up!
The next morning we made our way to the Villa Romana del Casale, built perhaps for a Roman governor in the 4th century over a 1st century villa. Not unheard of as you will see this in Rome too where going down a few stairs takes you back centuries in a matter of minutes.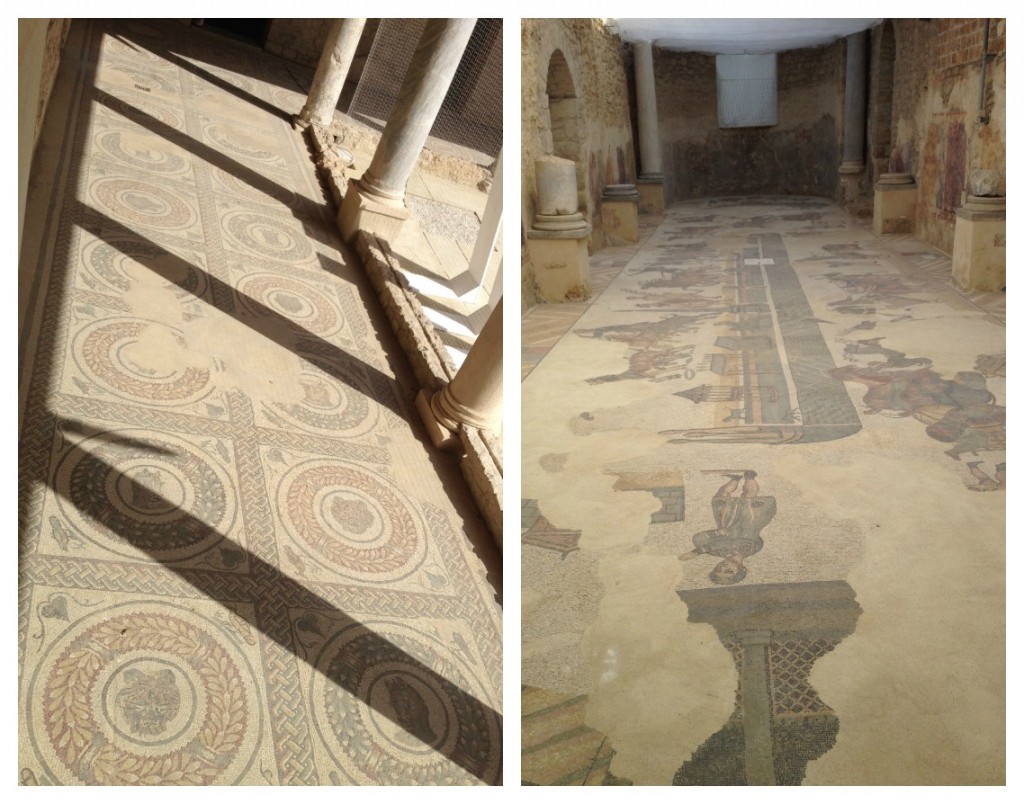 The mosaics here are spectacular and the details are remarkable.  Every room had a different mosaic pattern and if you took the time to look at the different scenes, you can only be impressed by the skills of those who laboured here.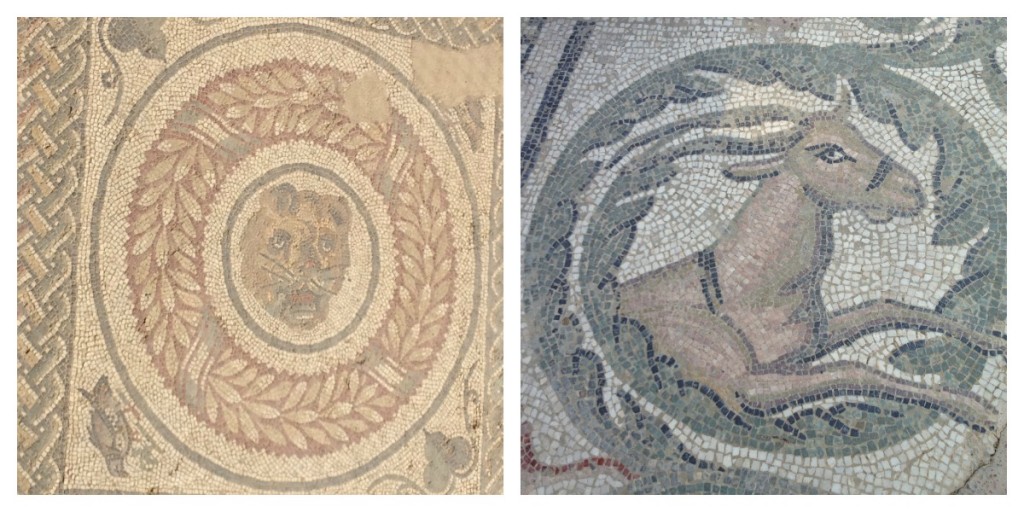 We got here early and though we were the first car in the parking lot, several tour buses got here before us.  Parking is €1 and there is no time limit.  There is a man there who collects this fee in advance as the automated machine seems to be out of order or not in used yet.
Tip: They do not have an audio guide but download the English guide they have on their website in pdf which gives you the floor plan of the villa, description of every room and mosaics.  An extremely useful resource.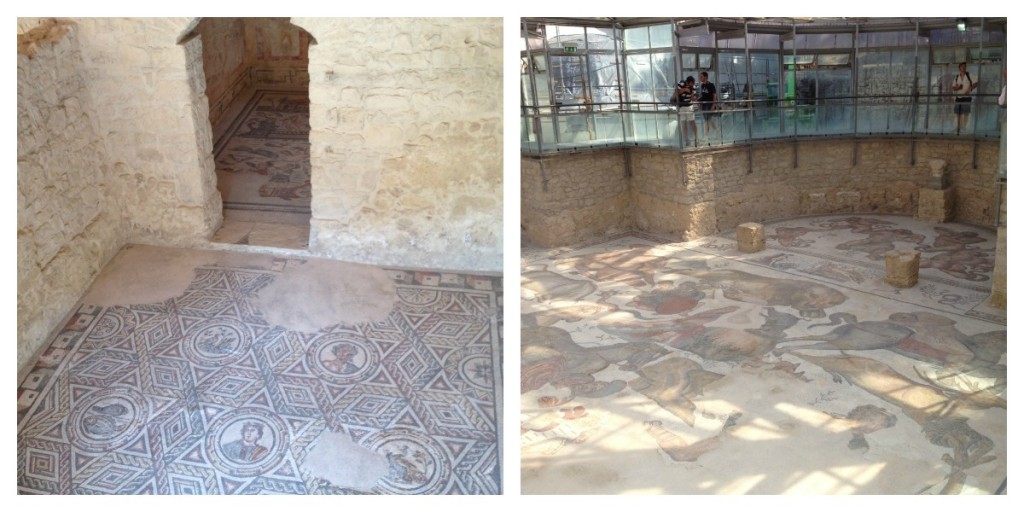 Hope you have enjoyed this "virtual" journey from Erice to Piazza Armerina and as we got to Taormina, we were treated to more brilliant attractions.  More of that in a future post and from what you have seen and read so far, isn't Sicily amazing?