Don't let Matera fool you.  This ancient town has done a fabulous job in bringing alive it's past that there are more things you can see here that can be covered in a day.
A visit to Matera is usually done as a day trip from Puglia and honestly, that was our initial plan too.  At the end, we decided to stay the night as we figured it would be less tiring to drive back to Puglia after a long day of sightseeing.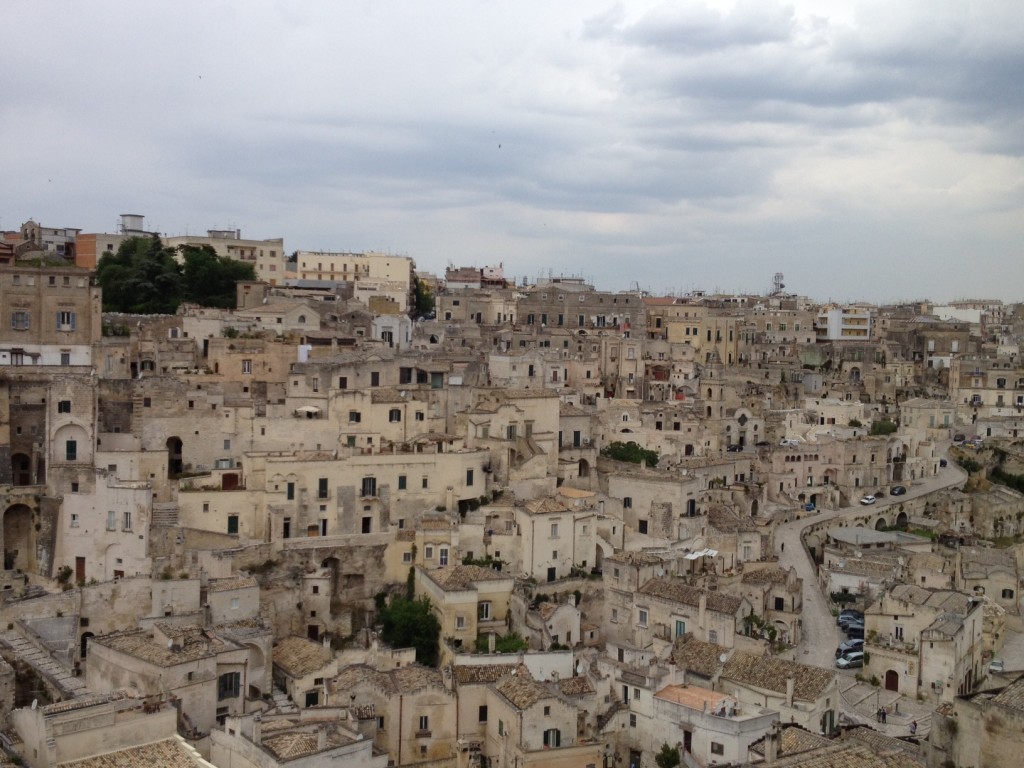 There is a wide range of accommodations for you to choose from and we opted for a simple B&B that is located near San Pietro Caveoso (free parking near by was also a plus).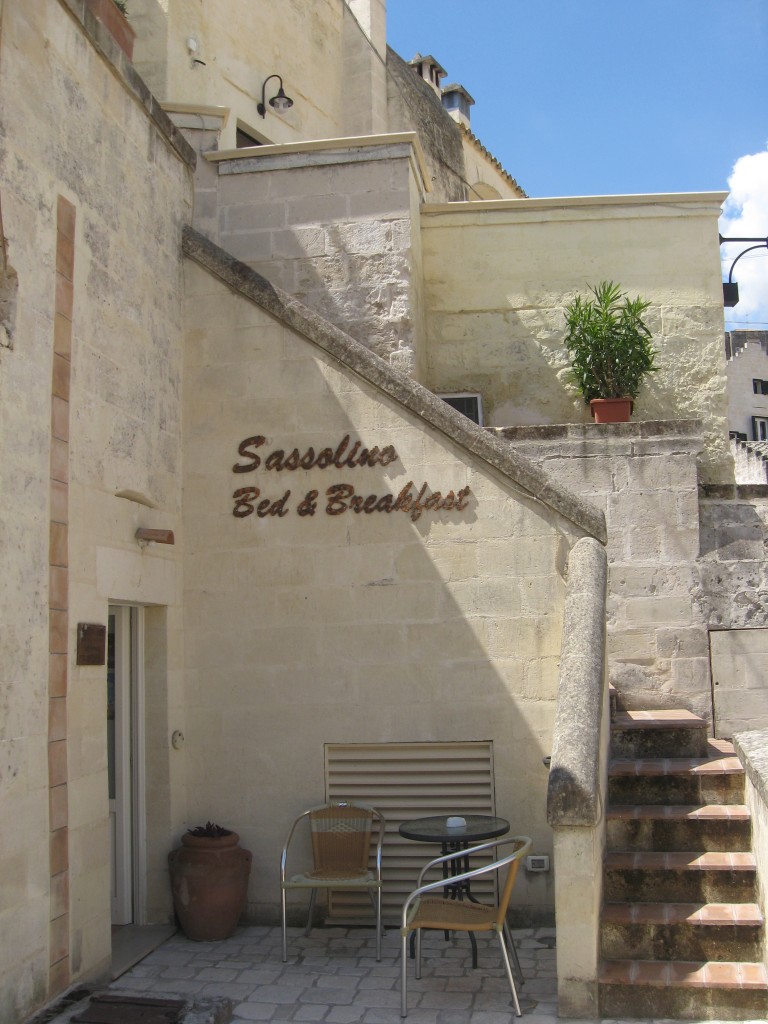 It's clean and also partially dug into the rocks so it's the budget travelers version of having stayed in a sasso!  The only downside is that the ceiling in the bathroom is low and my brother-in-law who is over 6-feet would probably hit his head.
I had thought our room looked pretty decent until we had the opportunity to take a look at Le Grotte Della Civita. Now this is a luxury cave accommodation! It was a stunner and I was in awe. If I had known earlier, I would have been seriously tempted but Luca would for sure have disagreed.
Although there is no price listed on their website, the guide had mentioned that you could get it at a discounted price if you book last minute and there is availability.  Discounted price would be a mere €200. It's luxury after all!
When restoration work began on Le Grotte della Civita, all efforts, according to their brochure, were done by "preserving the primeval stones and caves' essence with extreme accuracy while conserving the original site".
Everything in the Le Grotte della Civita is unconventional. A rock church has been converted to the breakfast room and look at the key to unlock your room.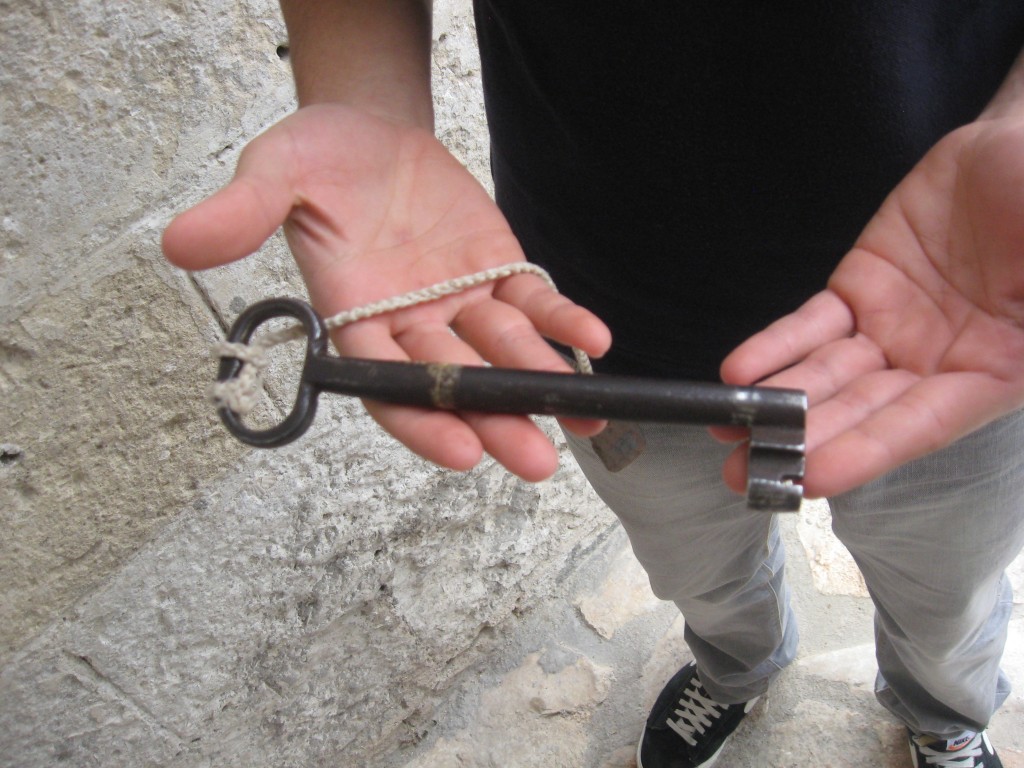 While a door in Matera may look ordinary, don't be deceived.  Once unlocked, you will amazed at what you will find behind it as many homes have been dug into the rock.
An example is the door below. Looks like any ordinary door right?  This is the door which leads to the room pictured above at Le Grotte della Civita and as you have seen, it is spectacular.
The fact that homes are dug into the rocks mean some streets are the rooftops of houses below. To be more precise, streets are more like paved slopes and in some ways, the stairs, though not as steep, reminded me of Positano.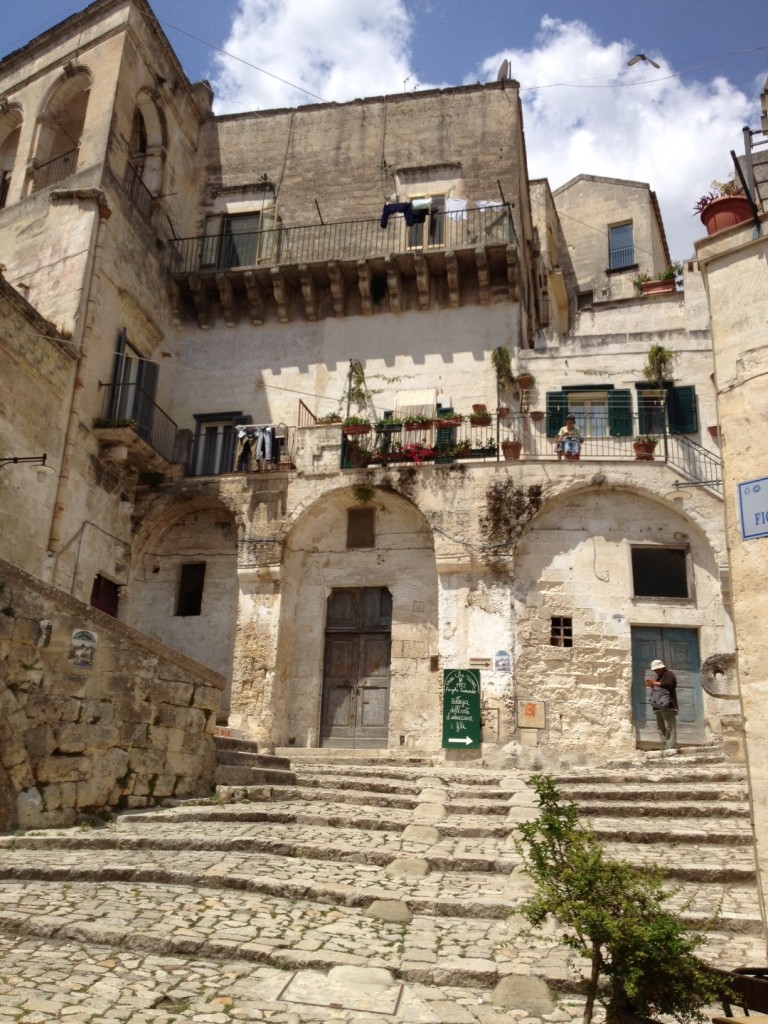 Making your way up Via Fiorentini, you will find yourself in main Piazza, Piazza Vittorio Veneto. Spacious and with the central fountain, it has a more modern feel.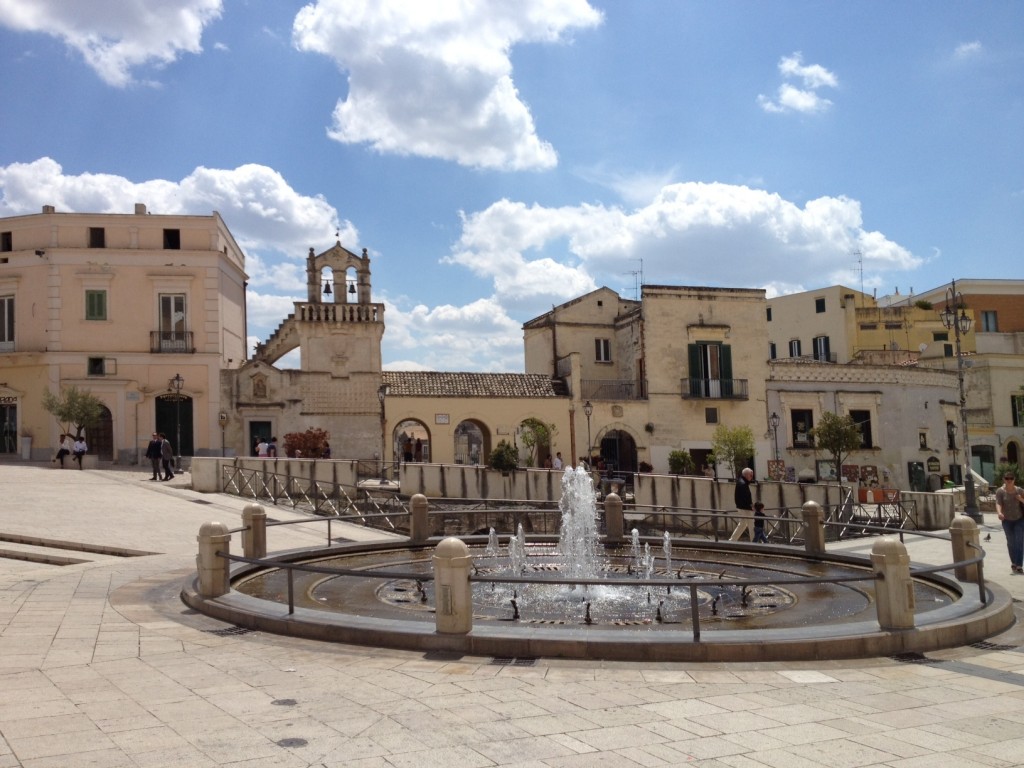 In Matera, what lies beneath is as interesting.  Below the Piazza, there is an massive underground chamber that covers an area of 5,000sqm that includes, cisterns, caves and cellars.
Besides the numerous cave attractions in Matera, we also visited a papier-mache shop that is responsible for making the float for the Festa della Madonna Bruna (Festival of Madonna della Bruna).  This festival, for the patron saint of Matera, is held on July 2nd.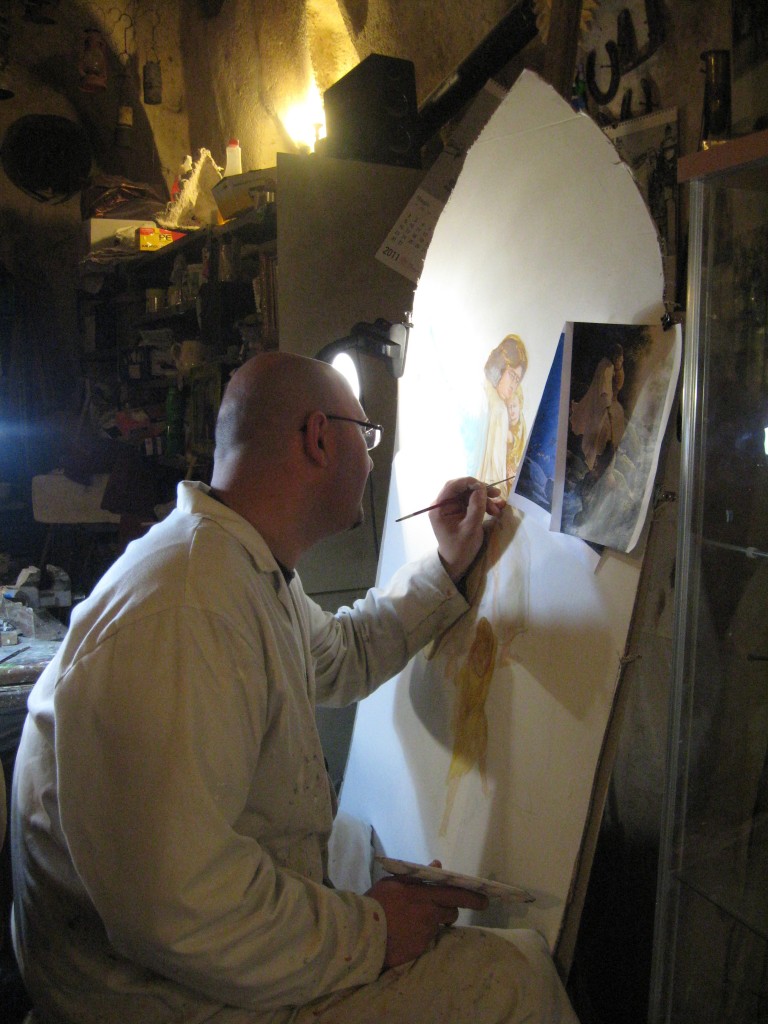 Following the procession, the crowd will make a dash for the float, hoping to get a piece of it for good luck.
From the paper designs of the float displayed in the papier-mache shop, we could see that they were elaborate floats that require many months of work.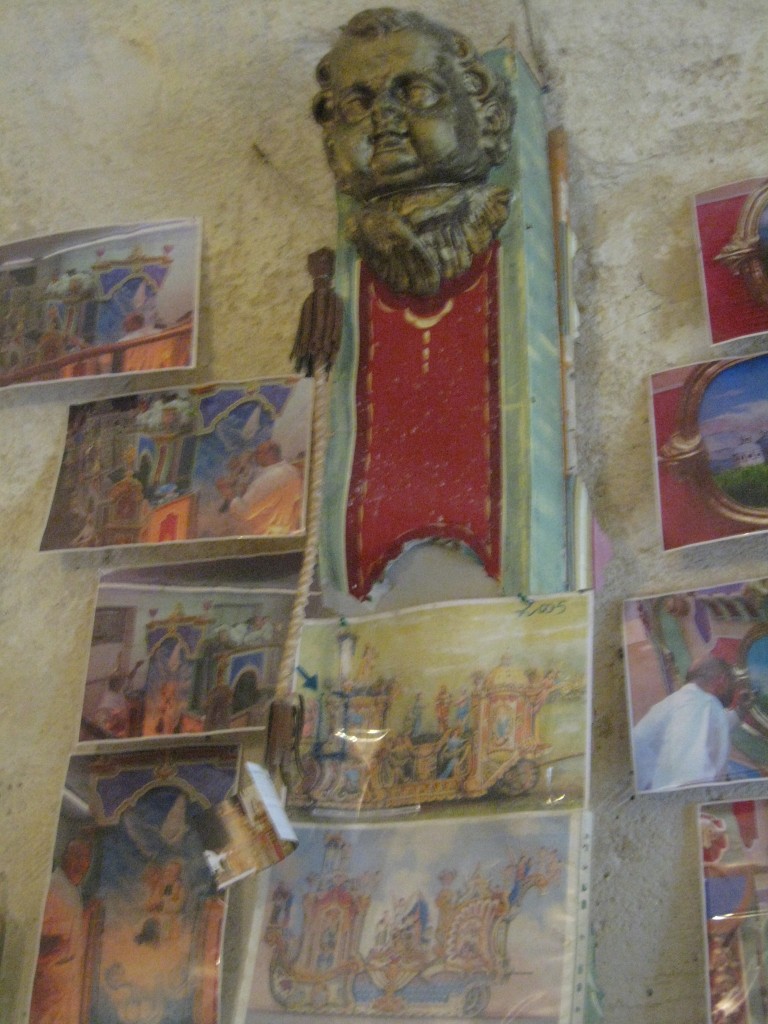 We literally saw everything in the Sassi but one of the most memorable and definitely unforgettable thing was an impromptu visit to see how shepherds made caciocavallo the old-fashion way.
This happened as it was raining and we didn't get the chance to visit the Murgia Materana Park.
The shepherds explained they are up at 5am to hand milk the sheep and the whole process would take about 3 hours.  Talk about stepping into the past, this experience with the shepherds felt unreal!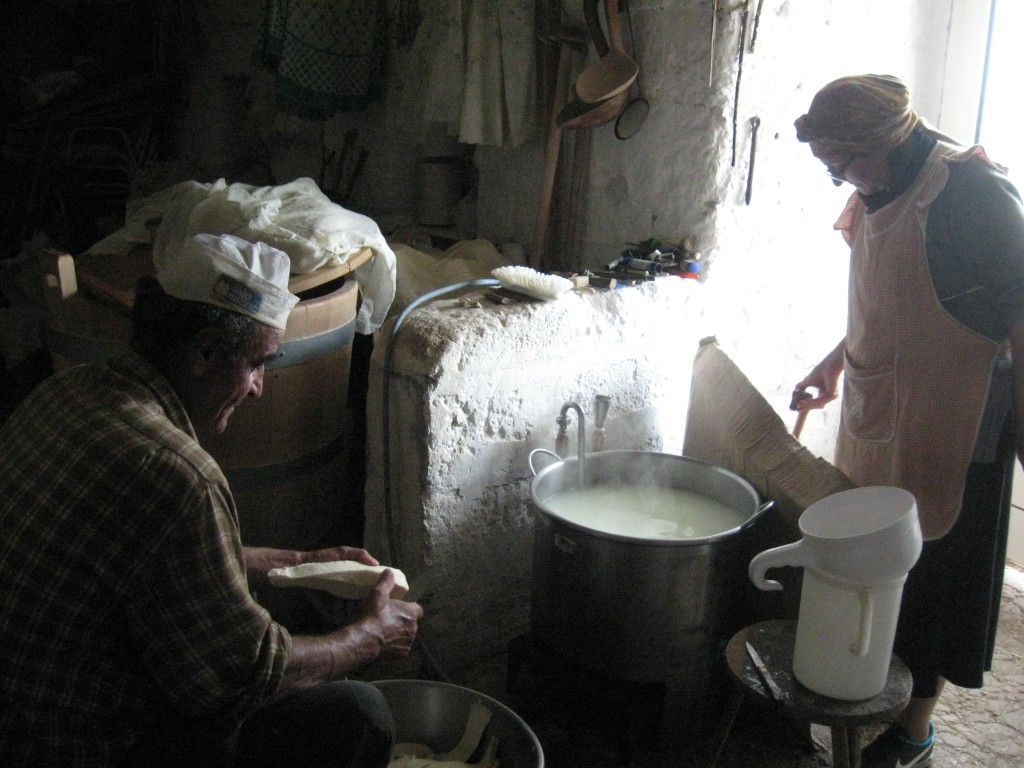 Here is a video of the shepherd making treccia and in the 2nd part, he was making a casing for butter which can then be brought with them during the transhumance where they move the sheep in summer and winter to different pastures. Fascinating!
After a remarkable day of sightseing, our stomachs were telling us it was time for dinner. The B & B had recommended Le Botteghe but when we went there at 7.30pm, there were still setting up and told us they would only be ready at 8pm.
Dead after a long day, we decided we didn't want to wait nor did we want to walk back here.  The other option was a restaurant called Francesca next to the B &B which was also another recommendation.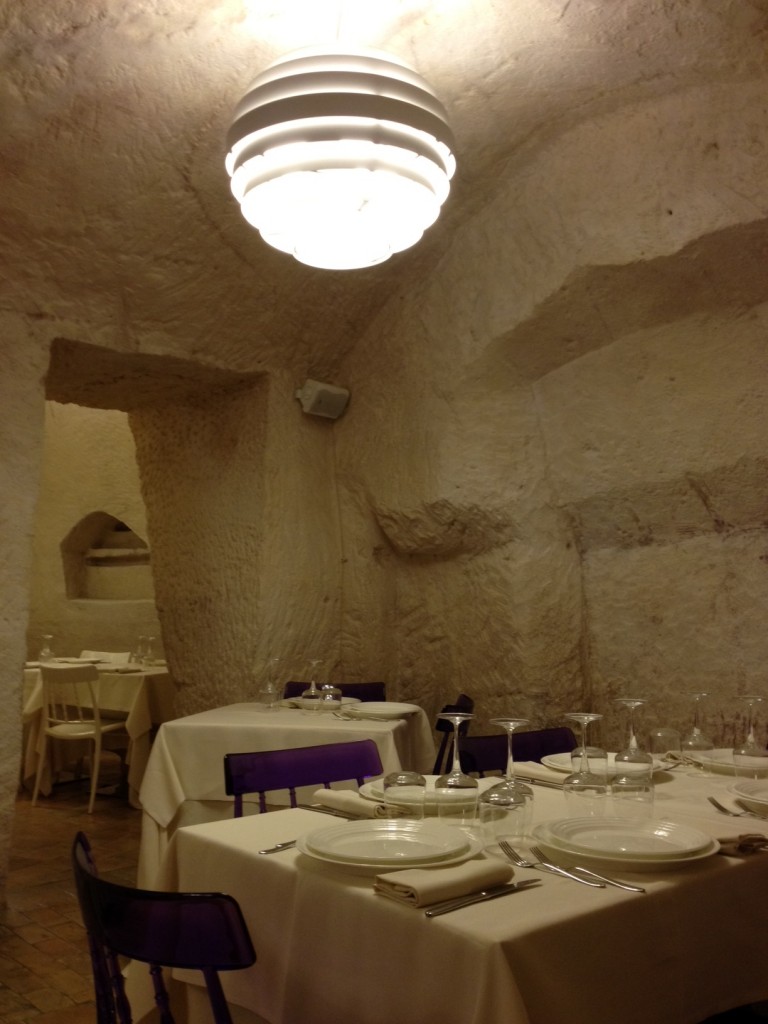 We didn't know what to expect but were pleasantly surprised to see if it was cave restaurant.  Again, this was another occasion where behind the door lies a hidden gem.
Food here was excellent.  We started with a tasting of  appetizers which consisted of 6-7 different appetizers and mid-way through, we were already full that we had to ask if we could cancel one order of our meat dish.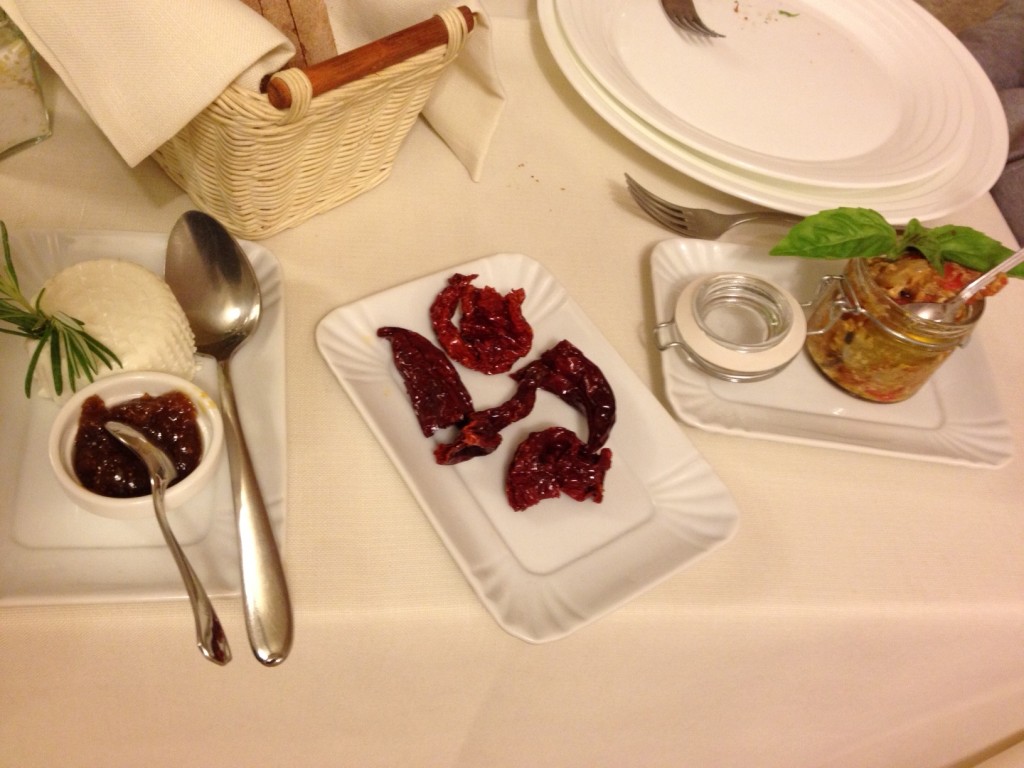 The appetizers were all superb and the highlight of the dinner.  We tasted the fried Senise peppers which were flavorful and not spicy at all.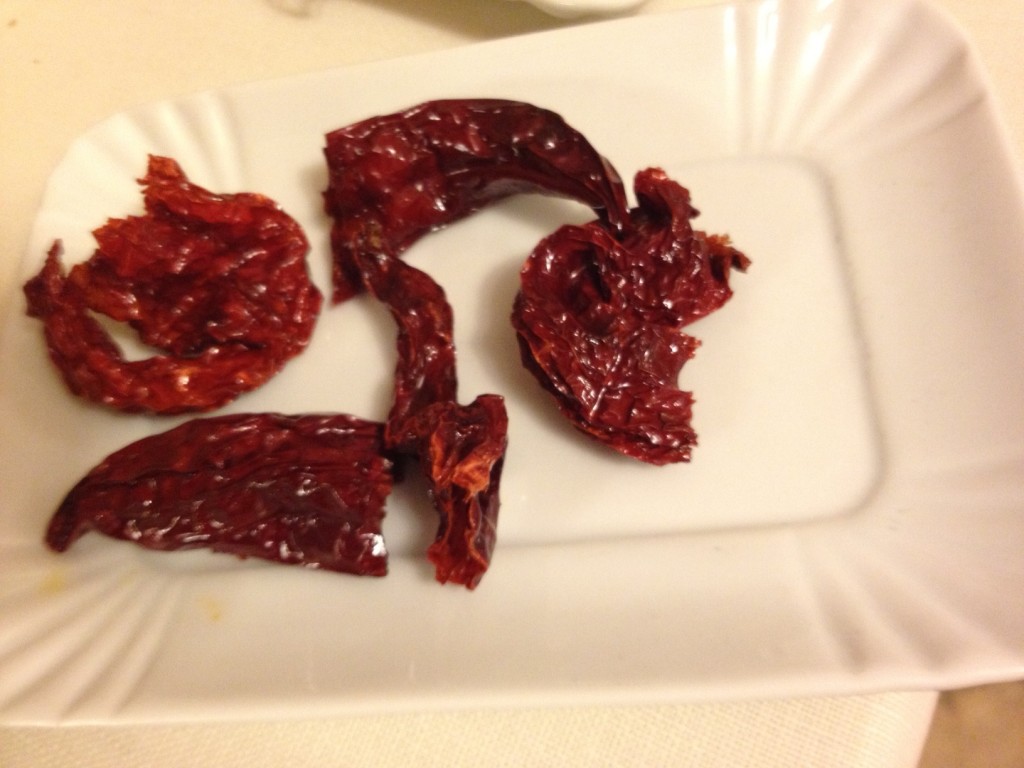 And desserts? We passed on dessert as they had cheesecake, torta caprese and nothing impressive.  Another reason was we were full but that has never stopped me from ordering dessert if it is stupendous.
Though tired, visiting Matera was a wondrous experience, filled with a hodgepodge of memorable sights and scenes.  Matera is simply unique and if you get the chance, add this town to your itinernary.
Sassolino B &B (Owners don't speak English)
Address: Via Bruno Buozzi, 180, 75100 – Matera (MT)
Tel./Fax 0835 259369
Tel./Fax 0835 314169
cell. 329 4383503
cell. 338 5999655
Website
Email info@sassolino.eu
Le Grotte della Civita
Via Civita 28 (Sasso Barisano)
75100 Matera, Italy
Telefono +39 0835 332744
Telefax +39 0835 337331
E-mail matera@sextantio.it
Website
Ristorante Francesca
Via Bruno Buozzi,9 – 75100 Matera
(+39)0835.310443