Lately, I've had the opportunity to explore more of the Lazio region and while Rome has plenty of amazing gems, the region has stunning places that are absolutely worth a visit. Off the beaten path, you often have these places to yourself.
One pleasant Saturday in November, we visited Palazzo Farnese in Caprarola and Villa Lante in Bagnaia, two fascinating places in Lazio.  If you plan on visiting these two sites on a day trip from Rome, leave early, preferably by 8am.  We left late morning and unfortunately, we didn't have sufficient time to fully explore the sites as opening hours during winter are shorter.
Palazzo Farnese (Villa Farnese) in Caprarola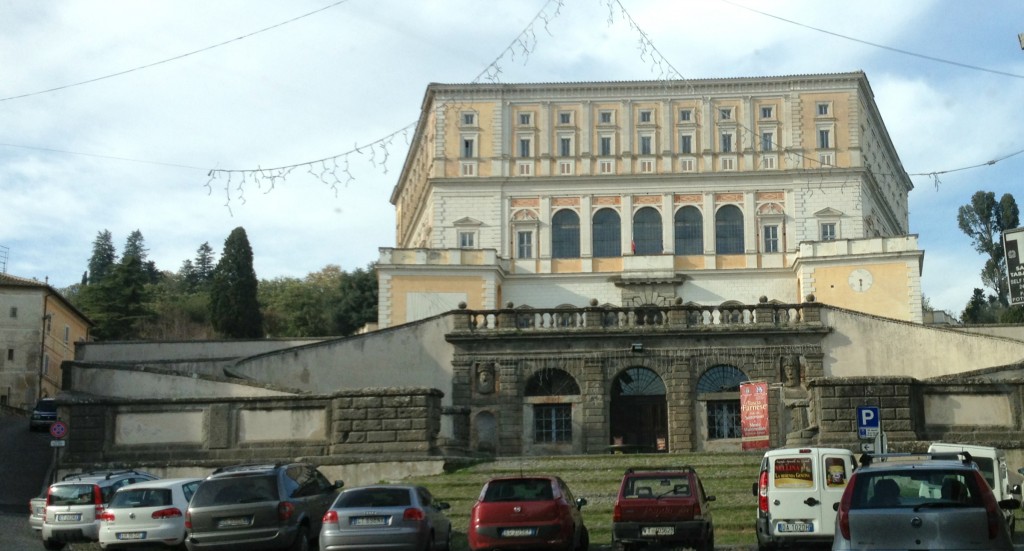 Palazzo Farnese, about an hour's drive north of Rome, is a spectacular pentagonal building situated above the town of Caprarola. It was the brainchild of Cardinal Alessandro (future Pope Paul III) who built the foundations between 1515 to 1530 after which it was stopped. It was not until 1559 that the work got started again by his grandson, another Alessandro Farnese who turned it into a country house for the family.
I had heard about Palazzo Farnese thanks to this post by Lazio Explorer and it was high on my list of places to visit. However, the information regarding the type and timing of visit on the  website for Palazzo Farnese was vague and at the end we just made our way there.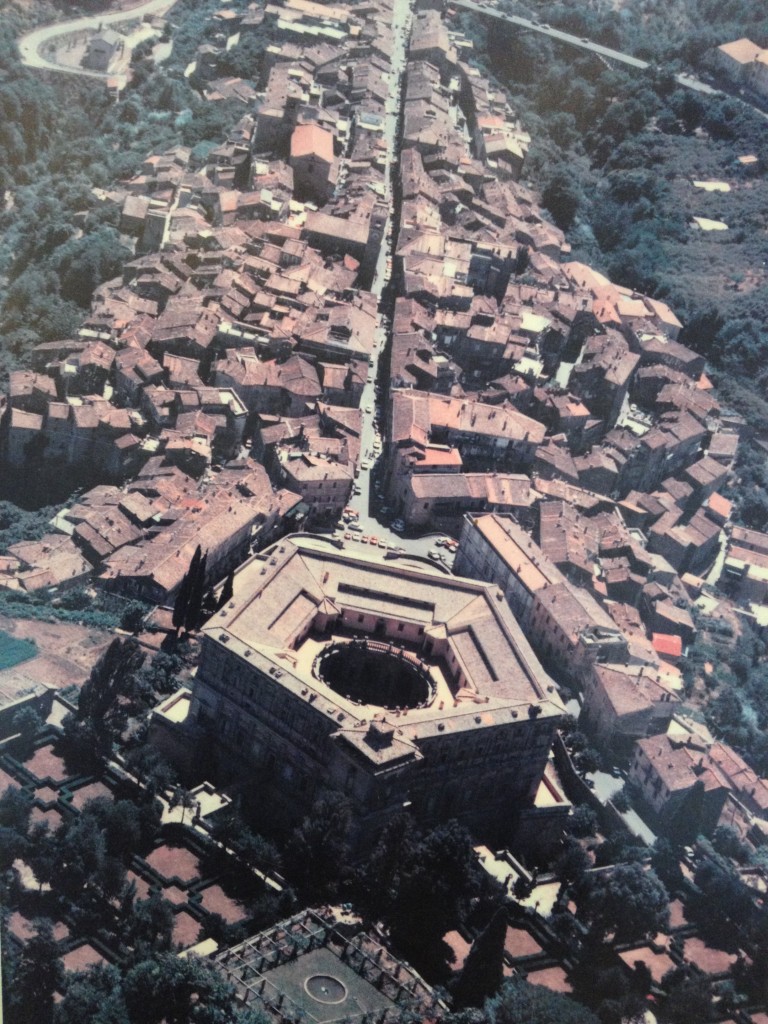 Our original plan, based on what we had gathered from the website, was to get there by 12pm to visit the Palace, Garden and Park.  Sadly, that was not to be as we were told at the ticket counter that to visit all three, it would start at 15.30 and not 12.00.
As we weren't keen on waiting around until 3.30pm, we joined the group at 12pm to see the Palace and the Garden only.  A pity really to miss the Park as I have read that it is amazing and plan on coming back as the attendant had mentioned that more rooms will open early 2013.
Tickets cost €5 and you will be accompanied by an attendant as Palazzo Farnese is a huge complex.  On top of that, with some rooms still closed off to the public due to renovation work, the attendant was there to guide us around and to ensure we didn't wander to areas that were off limits.
At the ticket counter, we had enquired about a guided tour as we read that for an additional €2.50 on top of the ticket price, this was possible.  However, we were told none was available. Fortunately, our attendant happily shared details of this incredible place.
There were only 8 of us in the group and the visit lasted a little under an hour. The attendant first guided us through a door which led to an impressive Scala Regia, a spiral staircase which is very similar to the one at the Vatican and clearly drew its inspiration from Bramante.
Moving from one room to the next, we were awed by the frescoes and one of the most notable rooms, Sala del Mappamondo (Room of the World Map) had paintings of different continents that were pretty accurate considering it was completed in the 16th century.
Though Palazzo Farnese is no doubt impressive, it is evident that this place is in need of funds for necessary repairs and maintenance. The attendant also brought up the fact that the fee of €5 (entrance free for under 18 and over 65) is insufficient to upkeep the place and hopefully with some publicity, it can attract more visitors. With the economic challenges in Italy, it's unfortunate that many of the country's cultural sites are struggling for funds and it would be heartbreaking if this gem and others were left to deteriorate.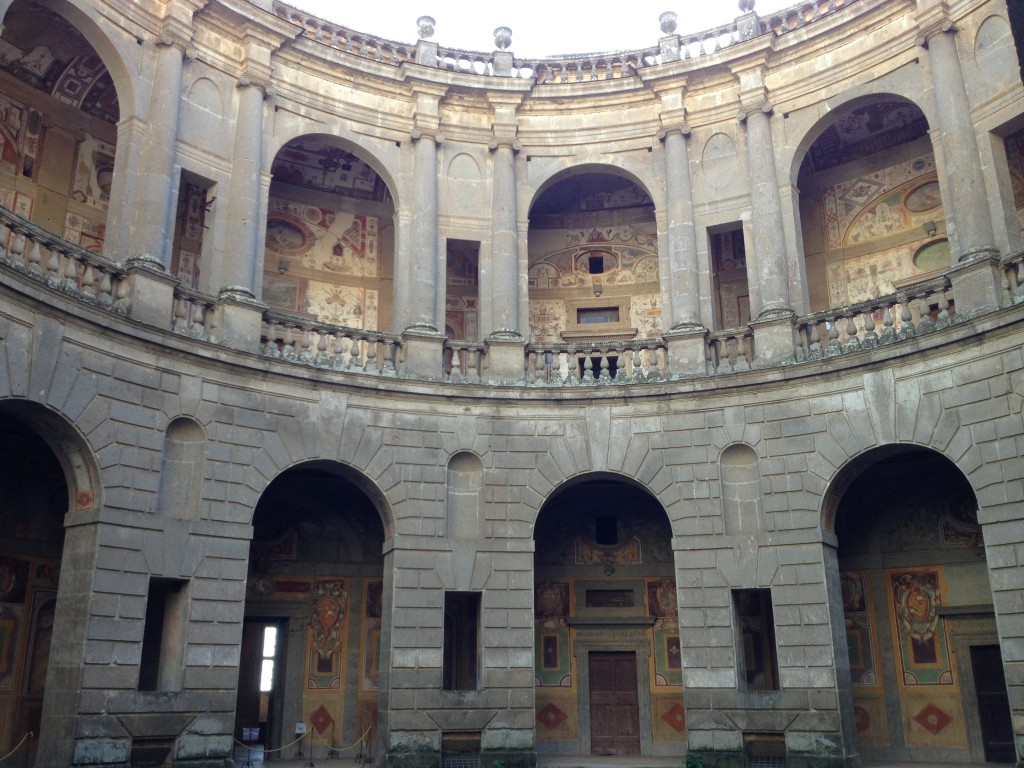 After spending more than 45 minutes indoors, we stepped into the gardens which were pretty but as it was the end of the tour, we only had a glimpse of it. For this reason, I kind of wish we had waited for the 3.30pm tour!
For more details, here is another post with elaborate descriptions of Palazzo Farnese.  If you plan on visiting and want to ensure you will get to visit the Upper Gardens (or Park), call ahead to check on the schedule.  This website (in Italian) provides general information on the price of tickets, opening hours and contact details.
Villa Lante, Bagnaia
As our visit to Palazzo Farnese was shorter than expected, we made the last minute decision to visit Villa Lante in Bagnaia, 20km (12 miles) north of Caprarola.
Getting into Bagnaia, we weren't sure where to park and thanks to a friendly local resident, he told us about the huge free parking space just behind the Church.  If you can't find the parking area, just ask. Since this was an impromptu visit, I hadn't read much about Villa Lante and was hoping there would be an audio guide to give us insights into the place.  That would be hoping for too much!
Walking along the unpretentious street towards Villa Lante, you would not imagine there would be such a stunning garden located here especially with such an unappealing entrance.As you enter the park area, which is free, you could not miss the spectacular oval-shaped Pegasus Fountain, with the winged horse in the centre surrounded by nine Muses.  Once you are inside you will marvel at this place.
I would, however, recommend you buy the ticket (costs €5) that gets you entry into the gardens which are breathtakingly beautiful as well as the two almost identical casini (houses) located on each side of the lower terraces (Note: At the time of our visit, we were only allowed access to the loggia of these two houses).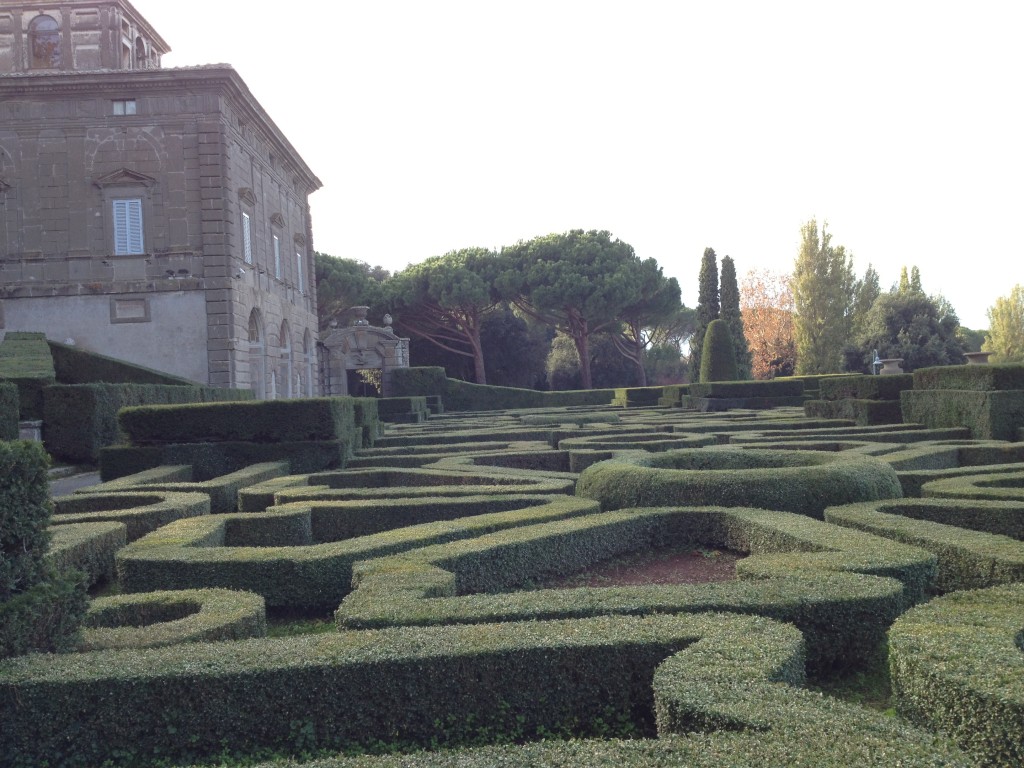 Due to time constraints, we didn't get the opportunity to visit the upper terraces which have fascinating water features and I am sure I will be back here again soon. Its well-manicured garden, fountains and serene setting all make for a lovely place to spend the day. On top of that, there was no one but us and that's reward of visiting hidden gems.
This website (Italian) has information on opening hours and contact details for Villa Lante. To make the most of your visit, here is a useful resource I came across and wish I had with me during my visit.
I hope that this post has whet your appetite to check out some of the amazing places in the Lazio region – they are worth it!