As striking as photos are of Civita di Bagnoregio, they don't do this place justice. Catching a glimpse of this jaw-dropping town in person is an overwhelming and awe-inspiring moment that is difficult to describe in words.
Founded by the Etruscans and dating back 2,500 years ago, Civita di Bagnoregio is today desperately clinging to its dear life. Perched precariously on top of a tufa hill and surrounded by a desolate canyon, the town resembles an isolated island at the mercy of a tenacious ocean.
With its sides slowly crumbling away, Italians have dubbed it the "dying town" (il paese che muore) as its demise, due to natural elements, seems inevitable.  While there are only a handful of residents in this town, the term "dying"  is a misnomer. I had assumed, and thankfully wrongly, that it was a  "gloom and doom" sort of town with an eerie and somber ambiance. It couldn't be further from the truth.
Connected to outside world by a stretch of pedestrian bridge, this town situated in the Lazio region should be on everyone's bucket list. Many are stunned when they hear it's in Lazio but as I have said many times over, Lazio has its share of amazing gems.
Despite nature's enigmatic death sentence on Civita di Bagnoregio, the soul of this town is alive and well! When we were here last weekend, this beautifully well-kept medieval town was vibrant, full of life and thriving.
The town itself, even with its imminent fate and having already survived two earthquakes, seems keen to show its visitors just how much life it still has left. And with the idea of charging a small fee to help with urgent structural maintenance, it is a fair price to pay in extending the life of this intriguing and unique town.
Though the majority of the people in the town were clearly visitors, it still had a good vibe and didn't feel overly crowded. I'd read that Civita di Bagnoregio has got quite a bit of media attention outside of Italy and had expected a large number of foreign visitors. That wasn't the case last week and there were no signs of those large tour buses…at least not yet.
Since many articles have been written up about the town and its history, I won't cover that but will include these links at the end of the post.  Instead I'll share the logistics of getting to Civita di Bagnoregio by car, the parking situation, the walk to the bridge and a few tips which I hope you'll find useful.
If you are planning to get there by public transportation from Rome, here is a pretty good post on taking the train from Rome to Orvieto and then a bus to Bagnoregio.  Just be aware that bus schedules here tend be loose (to put it mildly) and while I wouldn't say it's impossible, it can be challenging.
Getting to Civita di Bagnoregio by Car
The easiest way of getting to Civita di Bagnoregio is obviously by car and it takes about 90 minutes.  From Rome take the A1 highway (autostrada) northbound and exit at Orvieto.  If you don't have a GPS (which we didn't), follow the signs to Bagnoregio.
Some signs are a bit faded and even on the lookout for them, we missed the turn after getting off the autostrada.You will need to turn right at one point and if you happen to find yourself crossing a bridge, you have gone way too far (yes, that happened to us!).
When you get to the town of Bagnoregio (not Civita di Bagnoregio), there are signs directing you to Civita.  It's about 1-2km drive through the town and if you feel lost, stop a resident and even before you ask your question, they will tell you to just go straight ahead and you can't miss it (yes, this happened to us too!)
Parking
And you sure couldn't miss it!  There was a parking attendant in the middle of the road waving you into the parking lot as they had blocked the road that gets you right to the foot of the pedestrian bridge.  I went on a weekend and I am not sure if this would be the same arrangement on a weekday.
The parking area is basically the site of an abandoned building which is utterly appalling. Parking costs €2 per hour and then €1 for every hour after that or €6 per day.  Using the parking meter machine, you have to determine ahead of time how long you plan on staying and pay in advance. There is only one in the area and you can't miss it.
Once you have paid, it will give you a ticket indicating the time you need to leave by. Put this ticket inside the car and in a position that is visible in the event they check (top of the dashboard usually works well).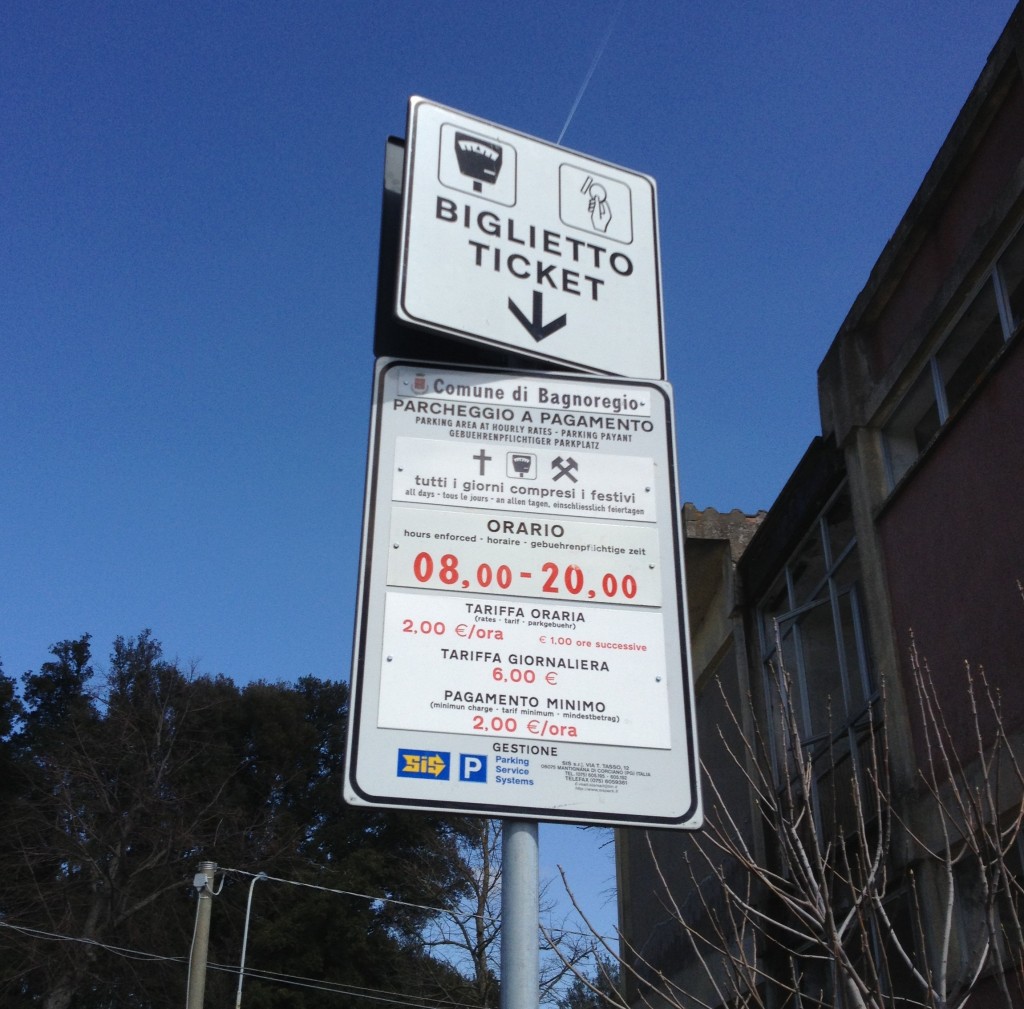 Tip: To be on the safe side, make sure you allocate plenty of time  so you won't have to rush through the town. On top of that, you wouldn't want to find yourself short on time and realize that you have to take the long walk back to the parking area to get another ticket.
We spent about 3 hours including lunch but it felt a bit rushed. I would say give yourself 4-5 hours for an enjoyable stroll and lunch. Also it is always handy to have loose change (especially €1 or €2 coins) to pay for parking.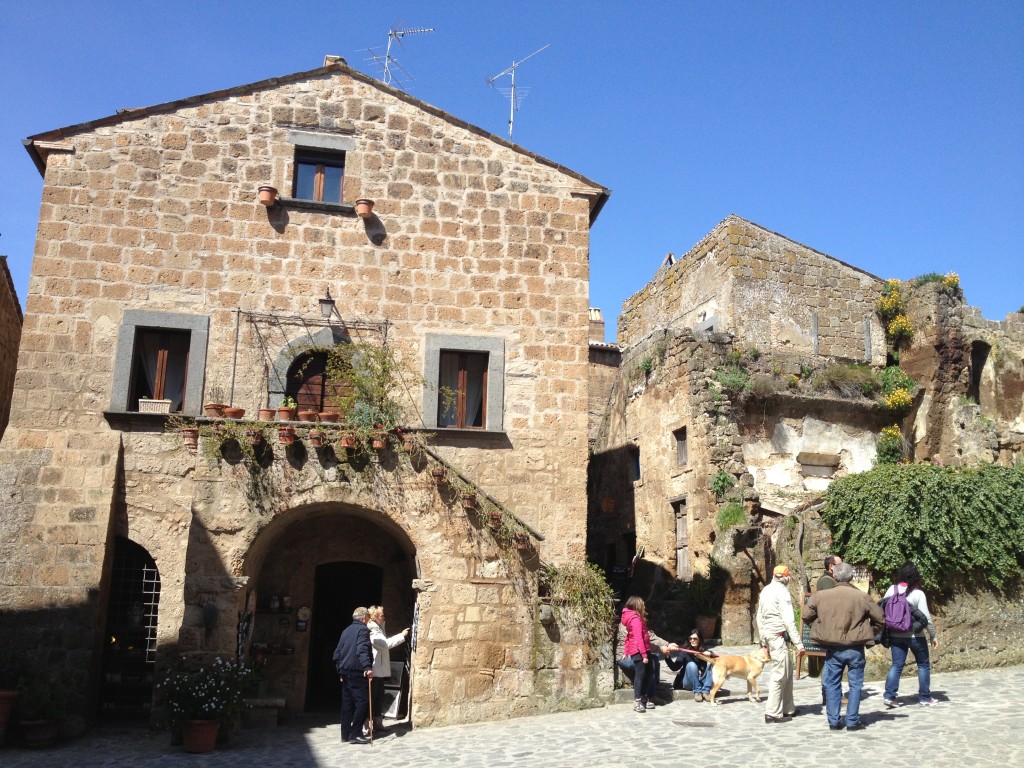 Entrance and Walk to the Bridge
From the parking area, you would walk to an  entrance that offers you a breathtaking view of Civita di Bagnoregio. It's here that you will get some fabulous photos of this striking town (the first photo in the post) and shortly after the excitement, it will then dawn upon you as to how on earth will you get to that bridge.
Now for the slightly more difficult part. Walk further in, past the bar and the path turns slightly left where you will see that at the end there is another wonderful vantage point of Civita di Bagnoregio.  Before getting to the vantage point, there are some stairs on your right (no signs or indications) where you would make your way down.
It's not a long flight of stairs (nothing like the ones in Positano) but I did see some elderly people struggle especially on the way back.  The stairs will take you to the road which I'd mentioned earlier that was closed off and it is about a 5-minute walk before you get right to the foot of the bridge.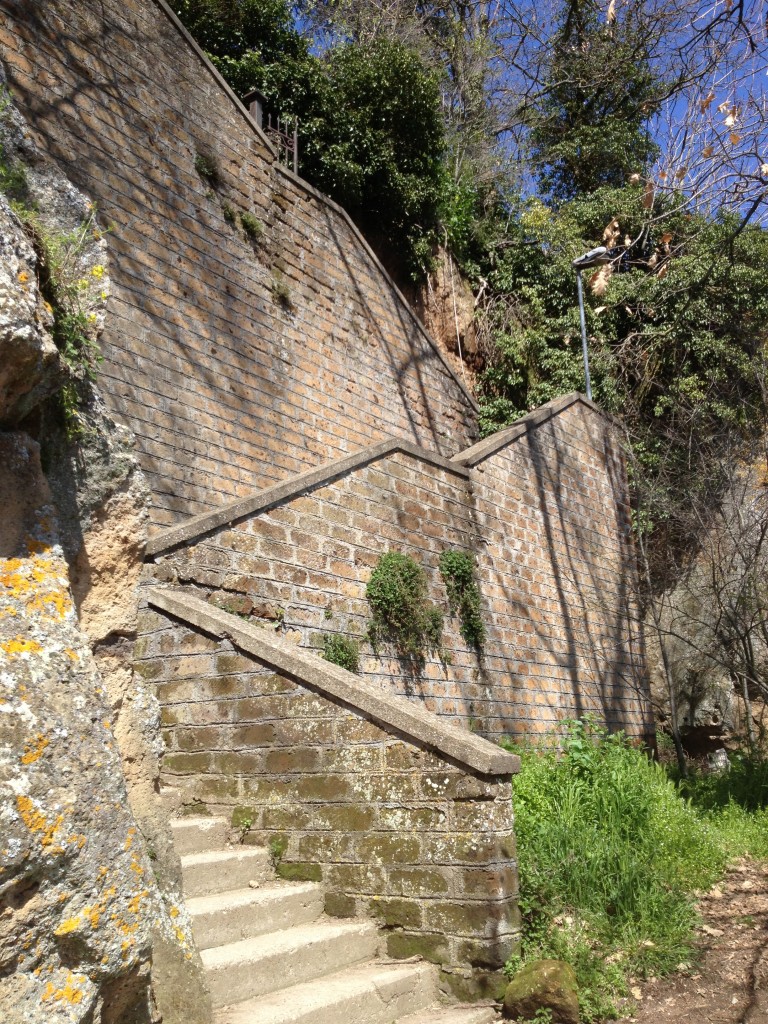 If you have problems with stairs, there is a shuttle bus from the parking lot that will get you meters from the foot of the bridge but I believe there is a small fee involved.
The walk on the bridge itself is not difficult though the last stretch is steep. Having good walking shoes will definitely help.  At one point, the wind picked up and the bridge swayed ever so slightly.
It freaked me out a little as having a fear of heights didn't help but overall, it really wasn't an issue. Here's a 6-second vine video of our walk up to Civita di Bagnoregio.
Once off the bridge and in Civita di Bagnoregio it never crossed my mind I was on an island of tufa rock with a crumbling foundation. The place instantly charmed me and the views looking out into the valley was spectacular.
Tip: When visiting Civita di Bagnoregio allow your curiosity to lead the way.  There were some corners which looked like they might just lead to a dead-end and some did but others were filled with surprises.  This town is full of hidden gems!
Lunch
You'd be happy to know there are some good options for lunch and prices were not exorbitant. There are places that serve a simple meal like bruschette and salsicce but we opted instead to have a regular lunch: appetizers, primi and dessert.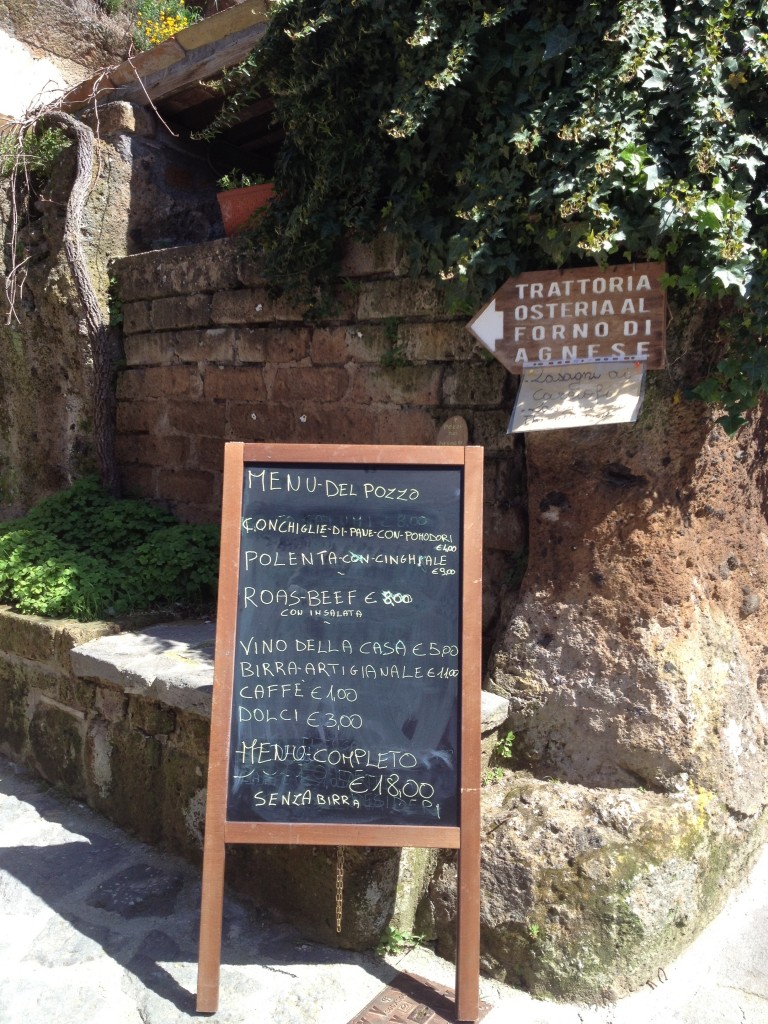 We had lunch at Osteria al Forno di Agnese which is in front of  the Church of S. Donato.  It would be difficult to miss it as there were clear signs.  We didn't make reservations and fortunately still got a table as we arrived before 1pm.  They have an indoor and outdoor dining area and as you can imagine, all tables outside were reserved.
We ordered appetizers and for primo, I got pappardelle al cinghiale and Luca had zuppa di farro which was full of flavors and the clear winner! Servings were generous and that's why we skipped the secondo and went straight to dessert.
Tip: If you plan on having lunch at any of the restaurants here on the weekends, especially when it is a gorgeous day, I would recommend making reservations or going a bit earlier than the usual lunch hour. When we left the restaurant at about 2pm, there were a few people outside waiting to be seated. Many restaurants also offer set lunch menus and I normally steer clear of these places. This time around, I am not sure why I thought the menu they had looked decent.  At the end, I ordered ala carte.
Resources
Here some handy resources that I used when planning the day trip to Civita di Bagnoregio.
Civita di Bagnoregio: An Italian Hilltown by Rick Steves
Bagnoregio by RomeArtLover.it
This link by a B&B in Civita di Bagnoregio has a simple map of the town
Website of I Borghi piu Belli d'Italia
Restaurants – used TripAdvisor as well as the notes from Rick Steves above
Have you been to Civita di Bagnoregio?  What was your impression and what advice would you give visitors?