Waking up at an ungodly hour to catch the train to Florence or anything for that matter is not my cup of tea. On top of that, Luca had a fever and all these were signs that maybe we shouldn't be going on a walking tour of Florence.
Nonetheless, we were troopers and went forward with this plan, which in hindsight was well worth the inconveniences.  Hands down this was one of the best walking tours we have had. Recently, we have been fortunate to have remarkable local guides and Fadi, our guide from Walks of Italy sure made the list.
This was our second visit to Florence, the last was a day-trip when we were still living abroad and saw the city on our own. With a guide, Florence takes on another dimension, one that can only be possible through a local expert.
With so much to cover in just 3.5 hours, this was more than a casual city stroll.  The description of this tour on the Walks of Italy website may sound like the tour is only an overview of Florence and it probably is considering the wealth of Florence's artistic, cultural and historical background.
However, it wasn't one where you walked away feeling that you got only a glimpse. Well let me take that back – yes it's a glimpse when you put things in perspective but it was an in-depth one where we learnt a great deal.
The walking tour covers the major attractions mainly from the outside with Fadi brilliantly sharing the details of its history that kept us glued to his words. Not entering some of the attractions in no way detracted from the experience in learning more about Florence and personally, we were happy we didn't as waiting in lines for hours is just not our thing.
If you are like us and would rather skip the lines, check out Walks of Italy as they have some tours which allow you to do so. A huge plus, in my opinion, especially in peak summer months and sweltering heat.
With over 15,000 visitors a day to Florence, it comes as no surprise that the city is always packed and there were lines just about everywhere. Towards the end of the walk, after seeing lines after lines, I commented to Luca while shaking my head that "This is like Disneyland!".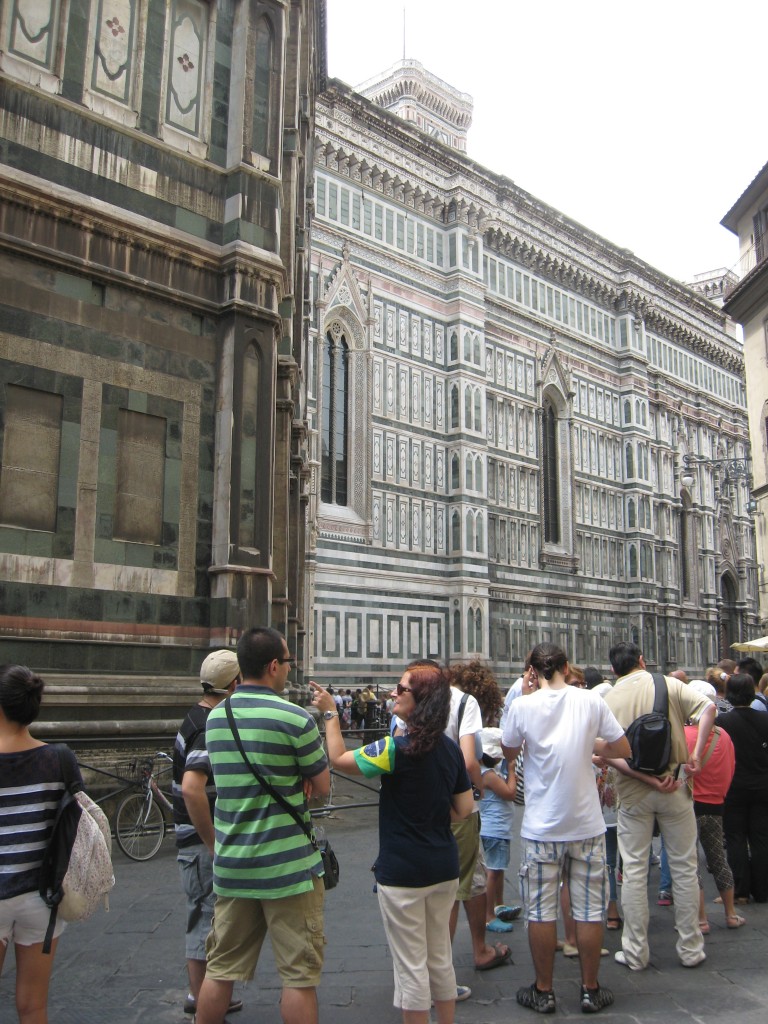 Fadi, our guide, was the star of the day! He was an excellent story teller who brought history to live and his friendly, easygoing personality made you comfortable in asking him anything. The fact that there were five of us in the group also meant that he could give us more personalized attention.
He also isn't the type of guide who threw dates at you to show he knows his stuff but gave us sufficient details to ensure we didn't suffer from an information overload.  Fadi fed us with the information we needed until we were full and not to the point where we are stuffed and hurting. Instead of describing every detail, he would point out the most relevant, not only in terms of its importance but also based on the interest of the group.
He even took us to his home! You read that right. Thanks to Jodi from Legal Nomads, I had mentioned to Fadi that I have seen a photo of Ponte Vecchio that she had taken from Fadi's apartment and with those words, he led us to his house. And what a treat it was.
Disclosure: We were guests of Walks of Italy and are grateful for the invitation. Naturally, all comments and opinions here are my own.  
Photo Gallery – Highlights of the Florence Walking Tour
There are so many incredible sights in Florence that a photo gallery with a short description would be best way to show you the highlights of the attractions we saw in Florence . If you have never been to Florence or would like to learn more about this city, I would highly recommend this tour of Florence with Walks of Italy.
[imagebrowser id=8]