Taking the train from Rome to Florence is simply so convenient that we had not doubt this was how we will get there for our tour of Florence.
Now that there are two train operators that get you from Rome to the center of Florence, it really doesn't make sense to drive there unless you really have a good reason too. Even then, I would think twice. And if you are planning a day-trip, then taking the train is the only logical choice.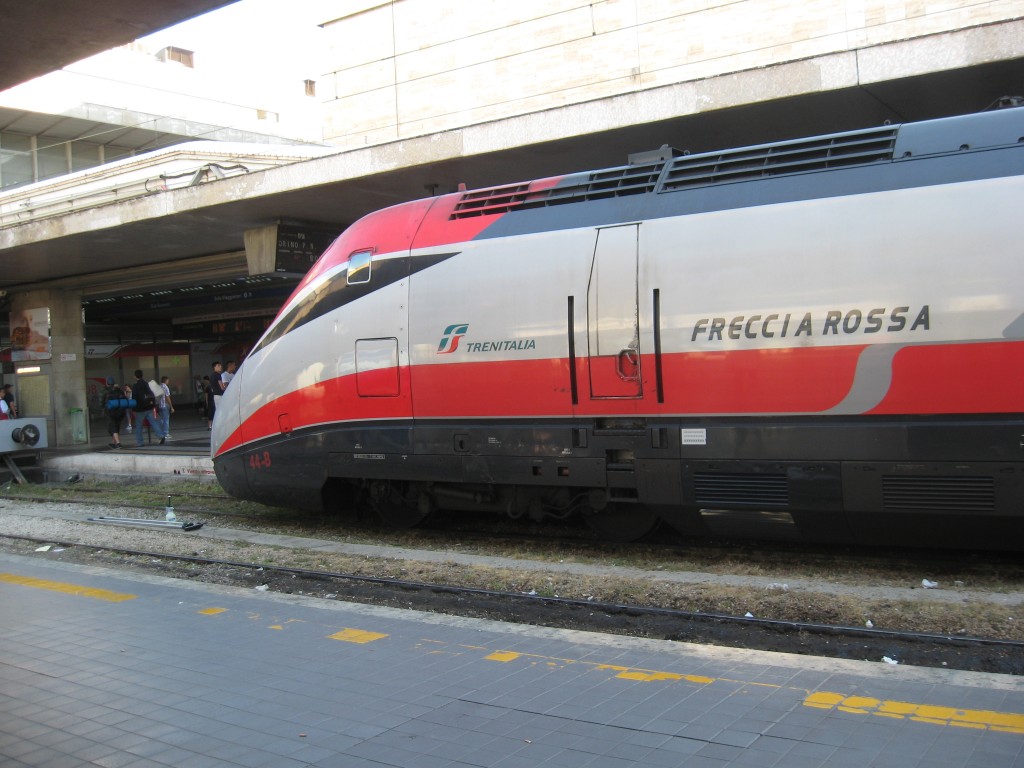 Similar to Rome, there are some areas in Florence called ZTL (Zona a Traffico Limitato) which means that traffic is limited to those with a permit. Driving into these areas without one means you will most likely get a fine. Not something you want to deal with.
While this post mainly shares our experience on taking Trenitalia from Termini, the main train station in Rome, to Florence (Santa Maria Novella station), I will also briefly mention Italo, a service launched a few months back.
Booking train tickets online – Trenitalia

[imagebrowser id=10]
At Termini Station
At Termini, check the information board for the platform number and while you may think that's a no-brainer, we saw many travelers who were confused and puzzled.
The information board doesn't list the train number but just the final destination. Looking at the photo below, you see there is no train to Florence but instead it lists Milan, its final destination.
The best way is to check the time of departure and that the final destination is likely in the north. However, once you head to the designated platform, you can double check it there again as they will have the train number listed.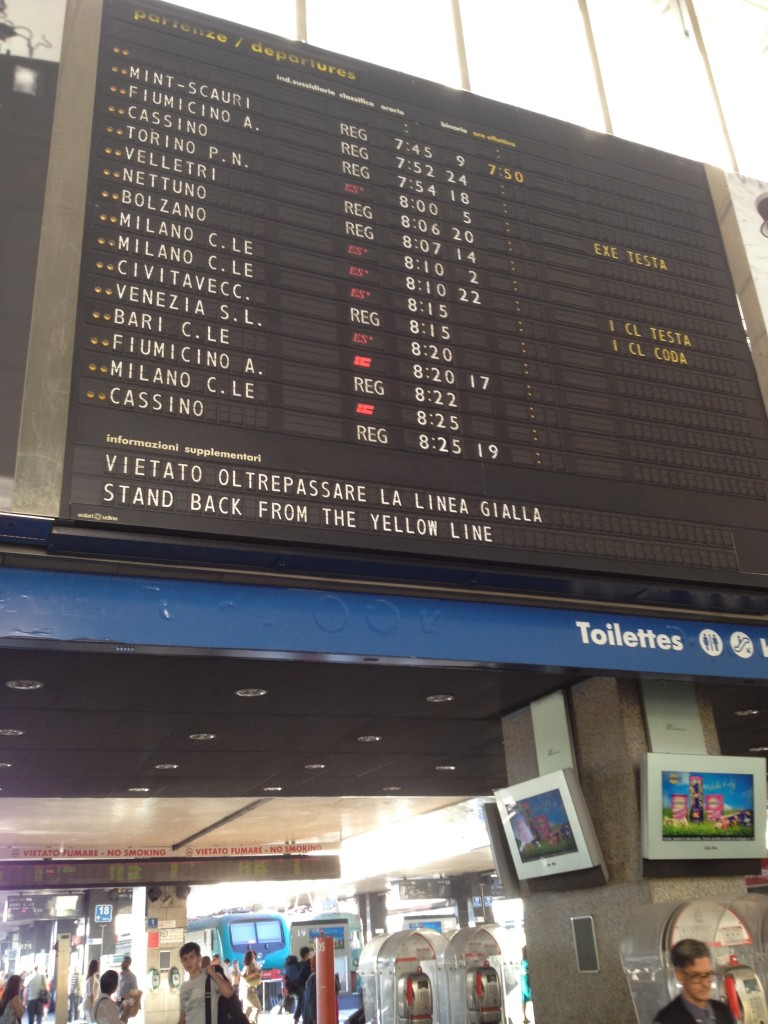 As we got to Termini 30 minutes before our departure, the platform number still was not listed.  So wait around the boards as no announcement is made. It was only 15-20 minutes before the departure time that the platform number was assigned. Once you know the platform, head there and you will see the screen below with the train details. Check to make sure it matches with yours.
On your train ticket, there is also an indication of the carriage number and along the platform, there are numbered signs as to where to wait for your carriage.
From Florence to Rome with Italo
A competitor to Trenitalia, it was launched earlier this year which gives travelers more options. However, as they are new, destinations they presently serve are to main cities. They have already introduced a few more destinations since they launched and more are likely to come.
Their website was easier to use than Trenitalia as I went through the process before payment.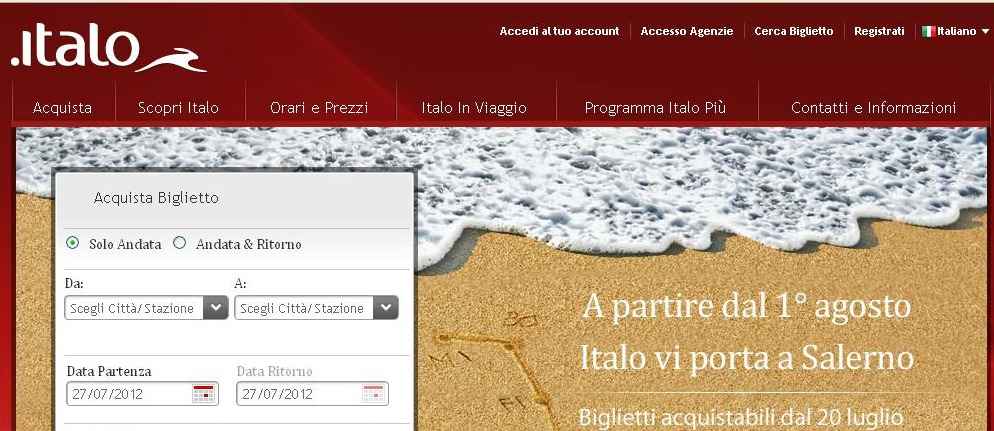 At Italo, the "classes" are called ambiances anddepending on which ambiance you have selected, they have nifty services such as movies, live tv and for an extra cost and on board "cuisine" by Eataly.
Price-wise, they are reasonable but at the end we opted for Trenitalia as they had more time options and the departure was from Termini. Instead, Italo has trains running from Tiburtina and Ostiense, which are still easily accessible by the Metro (underground), to Florence's main station, Santa Maria Novella (SMN). Just that for us, Termini is more convenient.
Italo sounds like they are a step ahead of their competitor and I hope to take them soon to see if they live up to what their claims.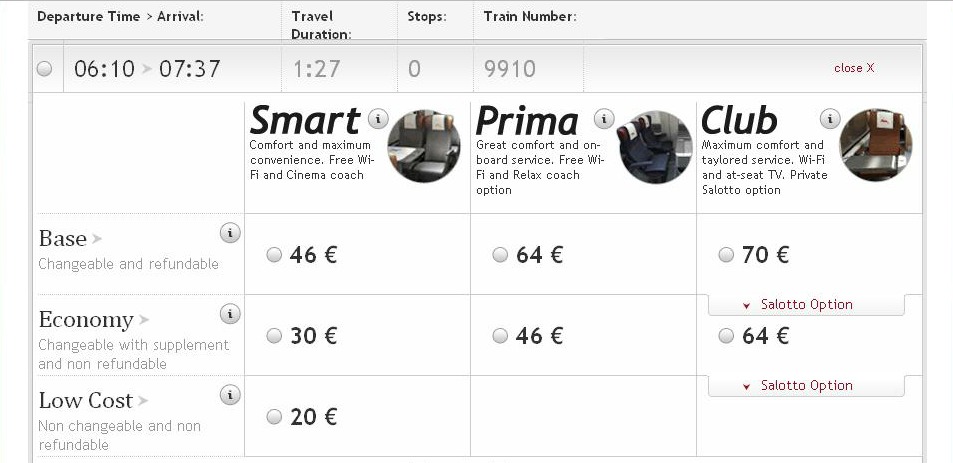 Comforts on Board Trenitalia
As mentioned earlier, we traveled in 2nd class and if you know me, then you would know that 2nd class is decent. I am not a luxury traveler but clean and basic comforts are my main concerns. To show you what I mean, here are some visual proof.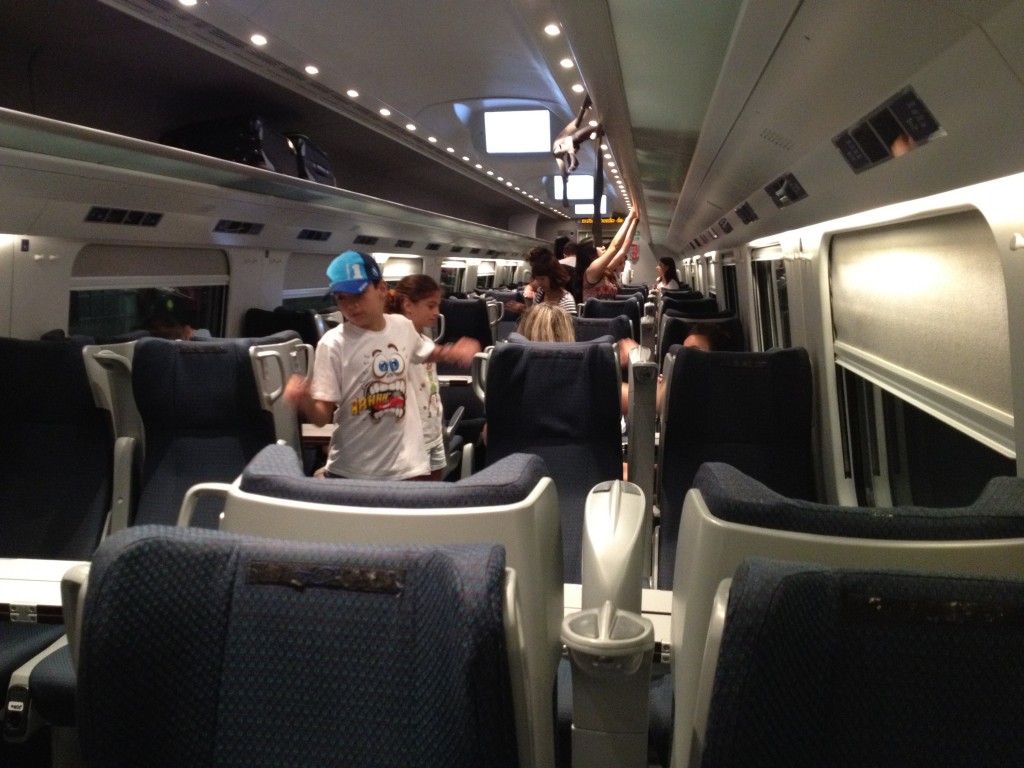 Each seating area has an outlet with small "table" which makes it convenient if you need to plug in your laptop or device to work. But they don't have wireless which is available if you are traveling first class.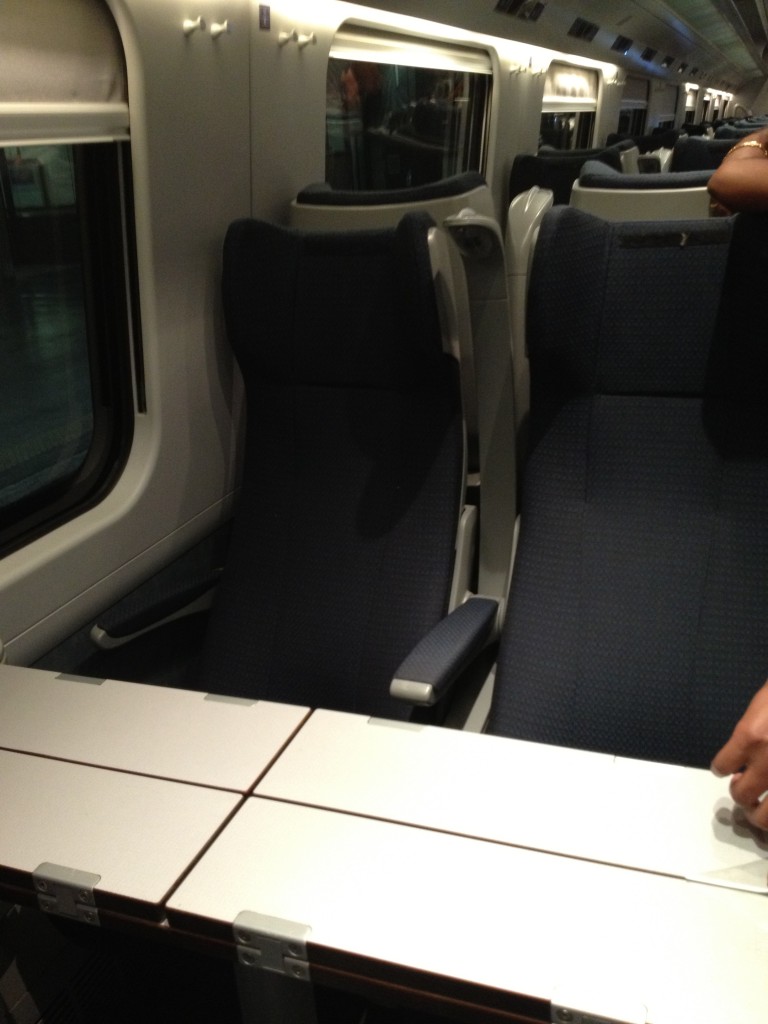 I've heard the bathrooms in 1st class are decent but the ones in 2nd class are barely acceptable. No refreshements are served in 2nd class either but there is a cart that goes around where you can buy the usual drinks and snacks.
Day trip from Rome to Florence
We've only done days trip from Rome to Florence – twice to be exact. My sister did it too and so did my cousin. While it probably isn't the best way to see Florence, it is a compromise that has to be taken when you are short on time.
As it is only a 90-minute train ride and the train gets you to the center of Florence, it is an easy day trip to do. To make the most of the day, you would set off early, taking a train at 8.00am which gets you into Florence by 9.30am and the train back around 7.00pm. This will get you back in Rome before 9pm.
Tiring? Definitely but Florence is worth the visit. It's a glimpse but enough to give you an idea of how amazing the place is and to plan another real visit there in the future.
Tip: As you have limited time in Florence, have an itinerary of what you will see and do. Be aware that lines to Duomo, Uffizi and Accademia can be long. If you prefer, tickets can be booked online and make sure it is from the official website.
Ready to head to Florence for the day?
Then start booking the train from Rome to Florence – the sooner the better as that's when you can get some great deals!