That's the name of this restaurant as well as their address.  If you are a visitor in Rome and you are not residing in the Monti area, the easiest way to get here is to take Metro B and get off Cavour stop.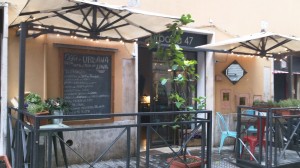 My sister has been saying she wants to stop by this cafe and when we tried the day before at 3pm they were already closed.  They are open for lunch from 11am to 2.45pm.  To be on the safe side, give them a call ahead of time.
Their concept is really neat.  Inside, they have a table which is setup like a buffet. However, it's not.  You choose what dish you want and the server gets a portion for you.
It's placed on a color plate and you pay according to the color of the plate.  It's a nice quiet restaurant, a place where you can actually have a conversation without having to shout to be heard.   We were there on a Friday and there were about 5-6 tables occupied. I am not sure what it's like on the weekend.
What did we have?
To start, we ordered the crepes with cabbage and pumpkin, and then polenta with radicchio and pecorino fondue.  I love polenta and this version was absolutely delicious.   The crepes were also good but the part I bit into was somehow spicy and kind of turned me off.
The prices of each dish was between €6-€9 which I think is very reasonable as the portions were decent.
We were full but everything looked good and at the end we gave into trying the alice (sardines).  They were floured and fried and topped with red onions.  Super good!!!  I could easily have had another serving of that.  However, I am a dessert person so I wanted to have room for that.
The dessert wasn't anything extra-ordinary.  It was ciambellone allo yogurt with creme anglaise.  Having said that, it was really good and a perfect way to finish the meal.
Together with a bottle of water, we paid €15 per person.  Very decent for such good food, service and environment.  This place is definitely worth the visit when you are in Rome.  Here's their website for more information: http://www.urbana47.it/