After all the eating we did on Easter, I would have been happy to walk the first 16km of the Appian Way and back.
Easter for us is usually synonymous with a feast but this year, the weekend happened to also coincide with three birthdays in the family. If that wasn't enough, we had friends in town and met for a hearty dinner Friday night.
As the day after Easter, better known as Pasquetta (Little Easter),  is a holiday here in Italy, I seriously needed to go for a walk. Unfortunately, the weather was not cooperating and we decided to tackle only one section of the Appian Way.
The stretch, from the intersection between Via Erode Attico and Via Tor Carbone to Via di Casale Rotondo, is often busy on weekends and on a beautiful clear day, you will usually find a long line of cars parked along the main road. Surprisingly, even despite the gray skies that day, there were a good number of people out on a walk or on bicycles.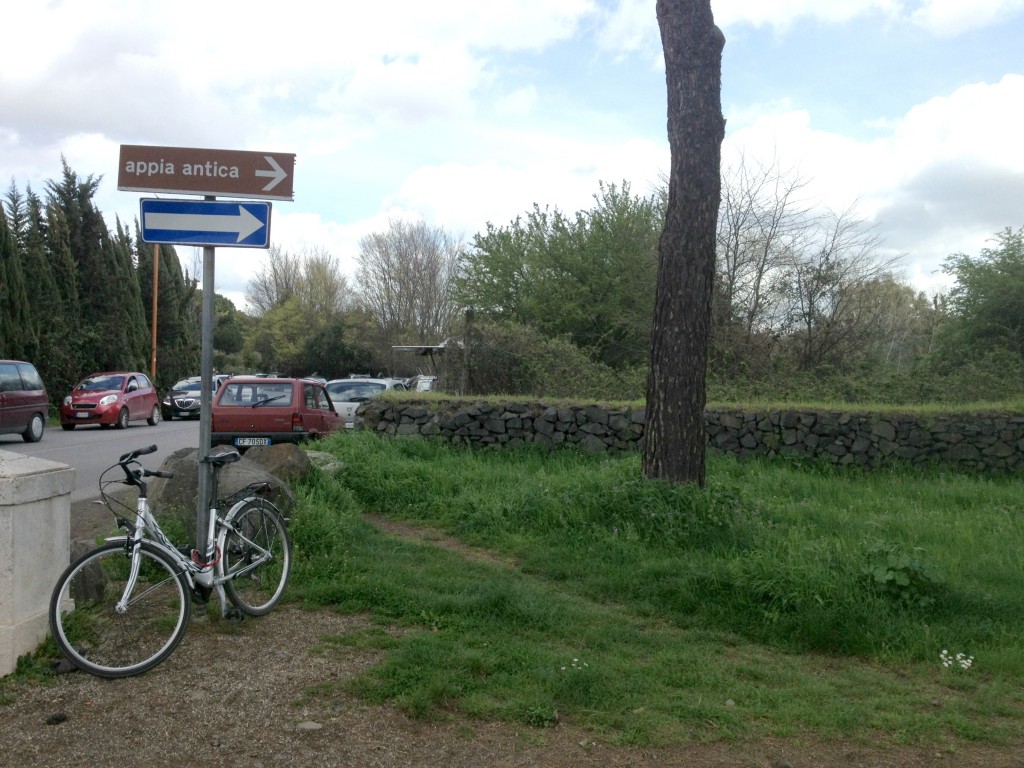 It is understandable that visitors to Rome, especially first-timers and those on a tight schedule, seek out the attractions such as the Colosseum, the Vatican and the must-see sights but if you can, I would recommend a walk or bike along the Appian Way (Via Appia Antica).
It's a great way to step outside the city walls for a day to get a break from the hustle of the city and yet still be immersed in the history of  Rome.
The Appian Way
The Appian Way dates back to 312 B.C is part of the Appia Antica Park which covers an area of 3,500 hectares. Known as "Regina Viarum", the queen of roads, it was intended for military purpose with the first stretch connecting Rome to Capua, near Naples and then extended all the way to Brindisi, in Southern Italy in 191 B.C. An incredible feat and not surprisingly, it was the considered the most advanced road system of its time.
As you walk along the Appian Way, you will see that this road is heavily-lined with tombs, catacombs and funerary monuments as the Roman law during the period forbade burials within the walls of the city.
Among the many fascinating stories, the most well-known legend has to be that of St. Peter who saw the vision of Jesus on this road while he was fleeing the persecutions of the Christians by Nero. St. Peter asked Jesus "Domine, quo vadis?"  (Lord, where are you going?) and Jesus replied "Eo Romam iterum crucifigi" (I am going to Rome to be crucified again).
Realizing what the vision meant, St. Peter ashamed, turned around and faced his fate and martyrdom in Rome. Today, the Church of Domine Quo Vadis stands on this spot where the meeting took place and is also known as Church of St Mary in Palmis.
Pretty fascinating, isn't it?
How to Get There and Tips
The Appia Antica Park website is very thorough and provides details in English on how to get there by public transport as well as various itineraries on foot and by bike depending on time and difficulty level. They also have information on bike rentals which are very affordable and will allow you to easily explore this historic road.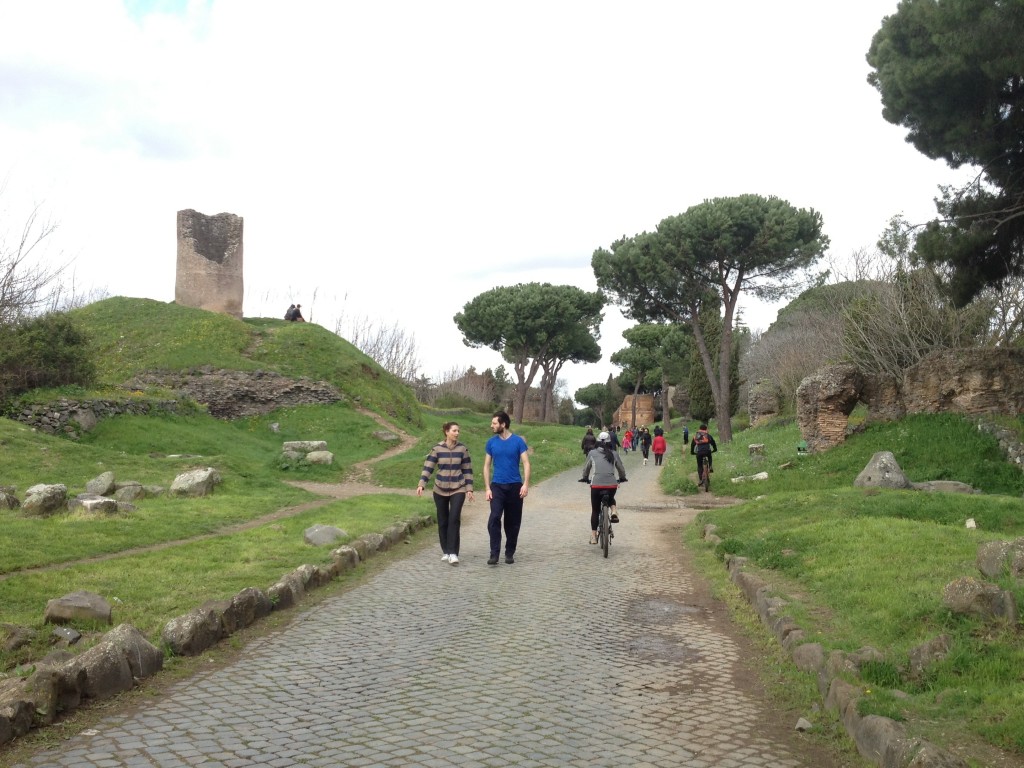 Another option is to take the ArcheoBus which is a hop on and off bus that stops at Sede Parco Regionale Appia Antica. The ticket is valid for 48 hours and costs €12. (There's contradictory information here as the website of the Appia Antica Park lists the price as €15.  But this at least gives you an indication as to the price range.)  I have never used this service before and therefore, can't vouch as to how good they are.
Also, ensure you allocate sufficient time when you walk along the Appian Way as there are impressive sights to visit along the stretch. While there is no fee to walk along the Appian Way, there is a small fee for visits to these sights.  Here is a link to their opening times and fees.
I hope I have given you enough resources to help you plan a visit to the Appian Way and as always, there is always something special about a place that's off the beaten path for visitors to Rome.
Have you walked along the Appian Way? What advice and tips would you share?