I was not kidding when I said my next few posts will be about food.  Next up for us was Settembrini in the Prati area of Rome.  We have read many reviews about this place and since it's my sister's last week in Rome, we decided that it was worth a visit.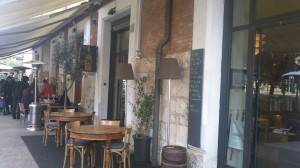 It was already crowded when I met my sister there at 12.45pm and we managed to get a table at the Cafe.  It seems like a trend giving the restaurant the same name as the street. Settembrini on via Settembrini like Urbana 47 is located on via Urbana  It's a smart move as you wouldn't need to remember which street the place is located!  By the way, Settembrini also has a restaurant side but since we wanted a quick lunch the Cafe was the best option.
I started with an arancino with taleggio and as you can see, the servings are not big.  They have a wide selection of dishes for lunch and I opted for the cream of chick peas with swordfish.  I love chick peas and this version was full of flavors and the addition of the swordfish with some potato chips was an excellent combination.  The fish was cooked just right, very tender and juicy. Absolutely delicious.
My sister got the sardines in a pie crust with zucchine sauce.  I mentioned that maybe it would be better with a pesto sauce but my sister was right to say that it would over power the rest of the ingredients.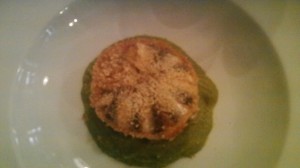 As we enjoy desserts, I got a lemon tart which was refreshing.  It tingled my palates and I could easily have gotten another one.  I have to admit that when I was there, I was complaining that the portion sizes were small but when we walked out, I was full.  So after hind-sight, the serving sizes are just right for lunch.
My sister got her cappuccino fix with what is supposedly a pecan pie.  She knows that Italians don't get a cappuccino after 10am but she's a tourist here in Rome and so she can do what tourists do – get a cappuccino at any time of the day.  I personally didn't think the pecan pie wasn't that good.  It tasted more like a brownie.
Settembrini also offers a wide range of pastries which you can order at the counter as well as sandwiches.  It has a nice setting, very chic I would say.
Overall, it was a nice lunch we had and so good that my sister went back to Settembrini again the next day. I am sure her next visit to Rome, she will be headed there again as the menu at Settembrini changes regularly.