As you know, I love walking tours. Whether we are in Rome or another destination, we always look for walking tours to join mainly for one reason. While you can explore a city, town or place on your own, the insights you get by taking a guided tour is far beyond what you would get from a guidebook.
So when I was invited to join a Rome food tour with Walks of Italy, I was thrilled as I knew it was an opportunity for me gain more insights on a topic which I am interested in. I have been on two other food tours in Rome, each very different and both very informative. I wondered this time around how this food tour would differentiate itself.
Differentiate itself, it did! There was a pizza making session. Ok, I am getting carried away here and before going any further about the pizza, let me start at the beginning.
We had a wonderful local guide, Simona, who from the second I met her was already sharing some background information about the market which was our meeting place. As she gave us an overview of what our food tour will cover, I knew that it was going to be packed with information and delicious tastings, both things I revere.
We started the tour with a stop at a bakery to pick up some bread and pizza bianca. Some of the guests were excited as they adore the bread here in Italy. Can't blame them, can you?
We had a glimpse of the baking area and Simona mentioned how kilometres of pizza bianca is sold each day. I believe her when she says it's like street food and a snack good for anytime for the day. My Italian nieces who are 3 years old absolutely love their pizza bianca which makes it the perfect bribe.
With the bread we bought, we went off to sample some balsamic vinegar. Here we were given a brief description of the two different processes of making balsamic vinegar and sampled several balsamic vinegar from each process. Something new I had learnt.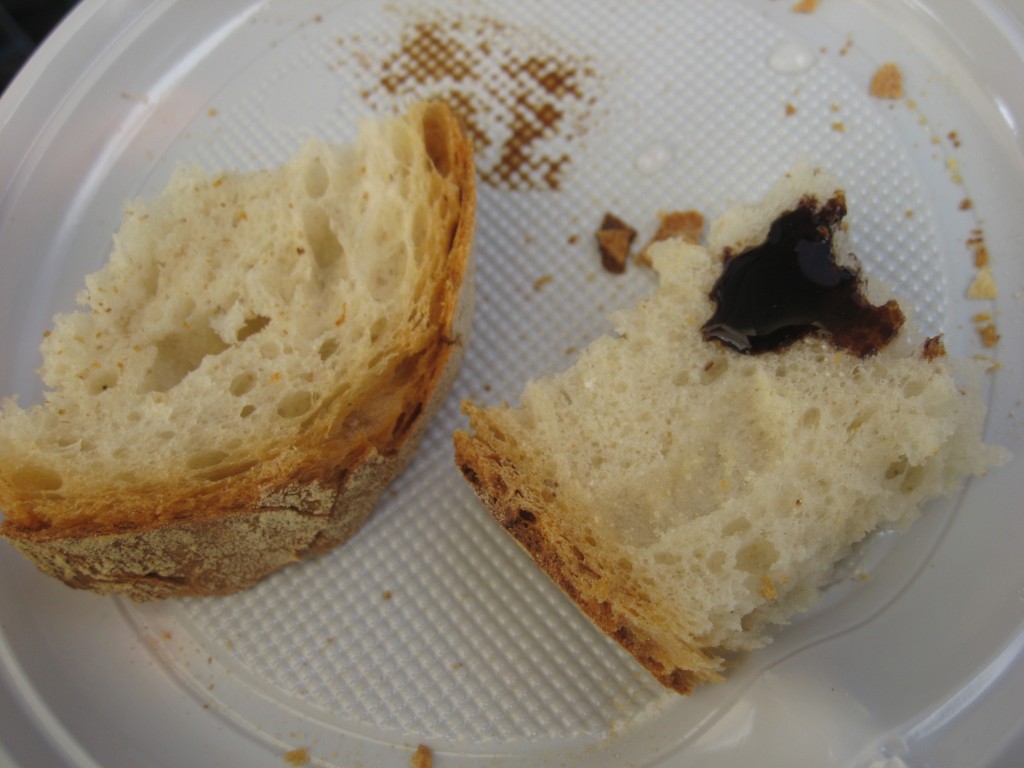 From there, things took a life of its own and we went on to sample olive oils ranging from delicate to strong and from different regions of Italy. Regarding the extra virgin olive oil, I discovered what factors lead to the extra virgin olive oil being strong versus delicate. Interesting!
This was then followed by tasting one spread after the next. We sampled olive spreads, spicy ones, and several with truffles.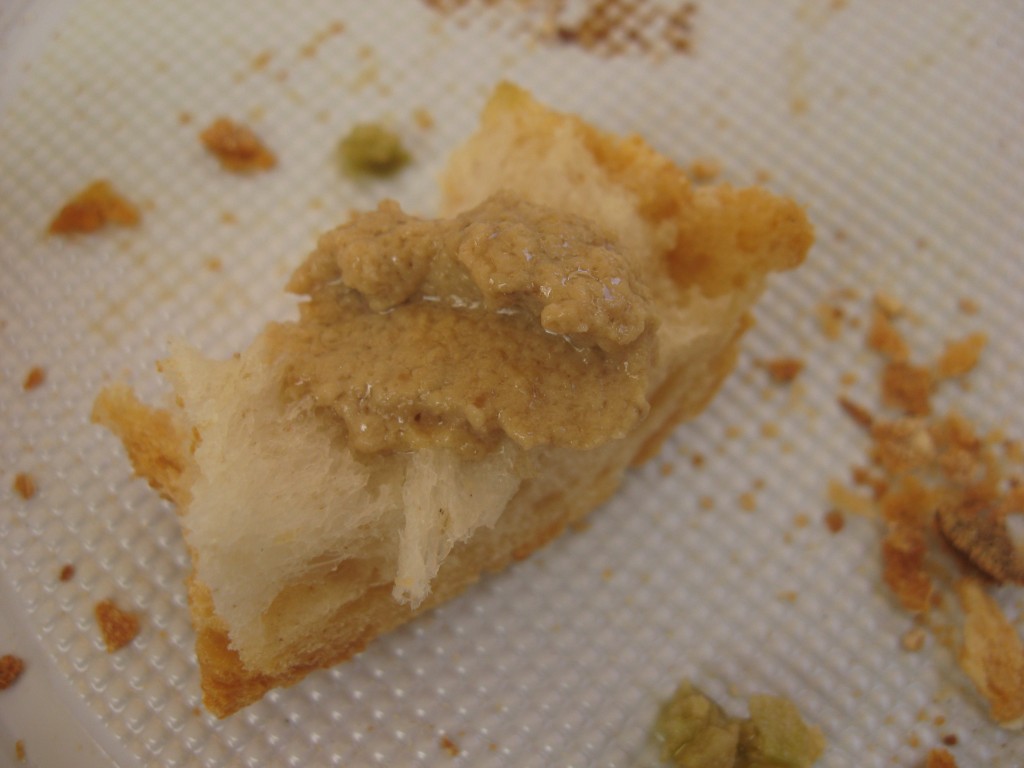 By the time we were done, I think all of us realized that we had to take it easy if we were to make it to the end of the tour. After all, this was just the first hour!
Next stop: tasting cured meats. My weakness and the idea of "taking it easy" was going to be a challenge. The place was crowded and obviously this was a popular place but our tasting was ready for us.
With this array of cured meats, seriously, how can you take it easy? They had lard, prosciutto, spicy salame, classic salame, salame with fennels, salame with barolo and another with truffles!
What was also most welcomed was water. It was a hot day out and a nice relief to be inside with plenty of refreshments including a bottle of wine. The spread was abundant and while we each had a slice of everything, we weren't able to finish them all.
I swear I could stay at a place like this forever. For those who loved cured meat, this is your heaven. With the rays streaming in, it felt that way.
From here, we had one more stop before the pizza making lesson. As you can tell, I was definitely looking forward to that.
Next up – cheese! I have had my share of mozzarella di bufala since living here and though this was not new to me, the other guests were gushing over how luscious these were and nothing like the mozzarella they get in the US. A reminder of how lucky I am to be living in Italy. In addition to mozzarella di bufala we also sampled some pecorino romano.
While we were munching on the pecorino Simona, shared some intriguing facts. One of them is that it takes 17 litres of milk to make 1kg of parmigiano – which is why Italian parents often give it to children as it's packed with calcium.
After this tasting, it was time for our pizza making lesson. When we got there, it was all setup with the pizza dough and toppings ready for us to create our own pizza. Obviously, due to time constraints, we didn't make the dough but were given the recipe and instructions. To add to the fun, we even got an apron and a chef hat with the hope that these accessories can somehow inspire us to make edible pizzas.
I was pleased with how mine came out but for me, an indication of a good pizza is if my stomach can digest it. Often, pizza dough doesn't get the chance to leaven long enough and if that is the case, I will have stomach problems. This pizza passed the test.
Taste-wise it could have used a bit more salt and you will probably be shocked I said this as I often have been told I don't use enough salt when I cook.
If you think we are done, you are wrong!
To wrap up the tour, we had two more stops. One was to get some gelato and the other coffee. The gelato was good here but that's because I have been spoilt.
Presently, I have an obsession with Il Gelato and the unique flavors that they offer are now my thing. However, I seldom refuse good gelato and got a combination of chocolate and pistacchio.
The final stop in this food tour was coffee or to be more precise, espresso. I am not a coffee drinker but I am sure it's good as the place where Simona took us is well-known among locals and visitors alike.
Final Thoughts
This was a fastastic tour not only because we sampled great food but the itinerary didn't require us to have long walks from one tasting to another. With the hot weather we experienced that day, we were thankful for this and the stops often had a shaded area.
Simona, having been a guide for over 12 years and a Roman, has a wealth of information not only about the food we tasted, but also offered restaurant recommendations to a guest who was here on a culinary visit.
I usually like to offer constructive feedback and have a hard time coming up with one. I wasn't going to come up with one just for the sake of doing so and this tells you how complete this food tour is. With that said, I highly recommend Walks of Italy.
I speak for myself but what I found interesting was that the other guests on this food tour had already taken several tours with Walks of Italy and had only great things to say.
For more information about this food tour in Rome, visit Walks of Italy website.
Walks of Italy extended the invitation to me to join this food tour. However, the views and opinions expressed are entirely my own.