Considered one of top luxury hotels in Rome, the mention of Rome Cavalieri brings about an air of elegance, exclusivity and prestige, making it the perfect venue to celebrate a special occasion. A short drive from the historic centre of Rome, the hotel is immersed in a 15-hectare lush oasis with sweeping views of Rome that few can boast about.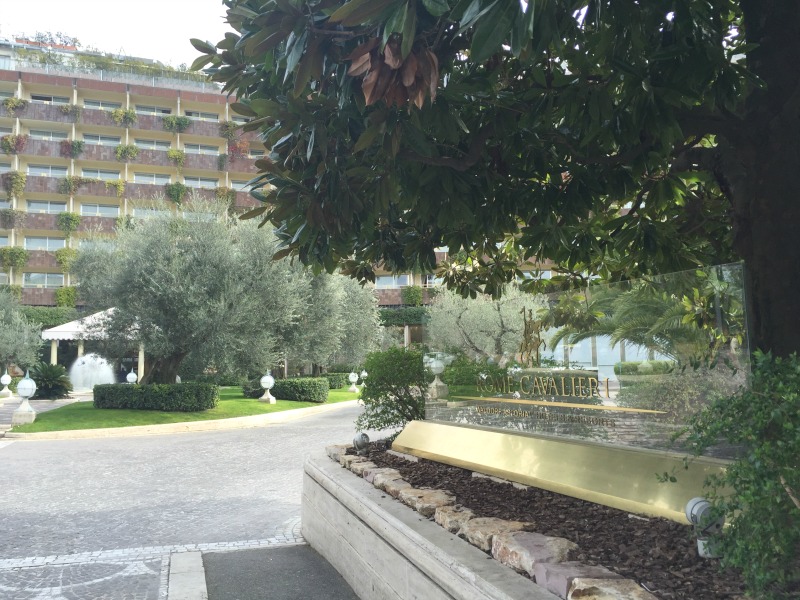 Art Gallery
A few weeks ago, I was invited to tour the hotel and was pleasantly surprised to learn that this hotel has an incredible private art collection from paintings to French clocks to commode that the owner has acquired the past 50 years. With over 1000 pieces housed in the hotel: in the lobbies, suites and banquet halls, the masterpieces in the collections, such as "Ulysses Discovers Achilles Among the Daughters of Lycomedes" by Tiepolo, are displayed in public areas and free for all visitors to view.
While a tour with an art historian can be arranged for a fee, Rome Cavalieri offers a free ipod audio guide that you can request from the Concierge with in-depth description of 28 pieces of art.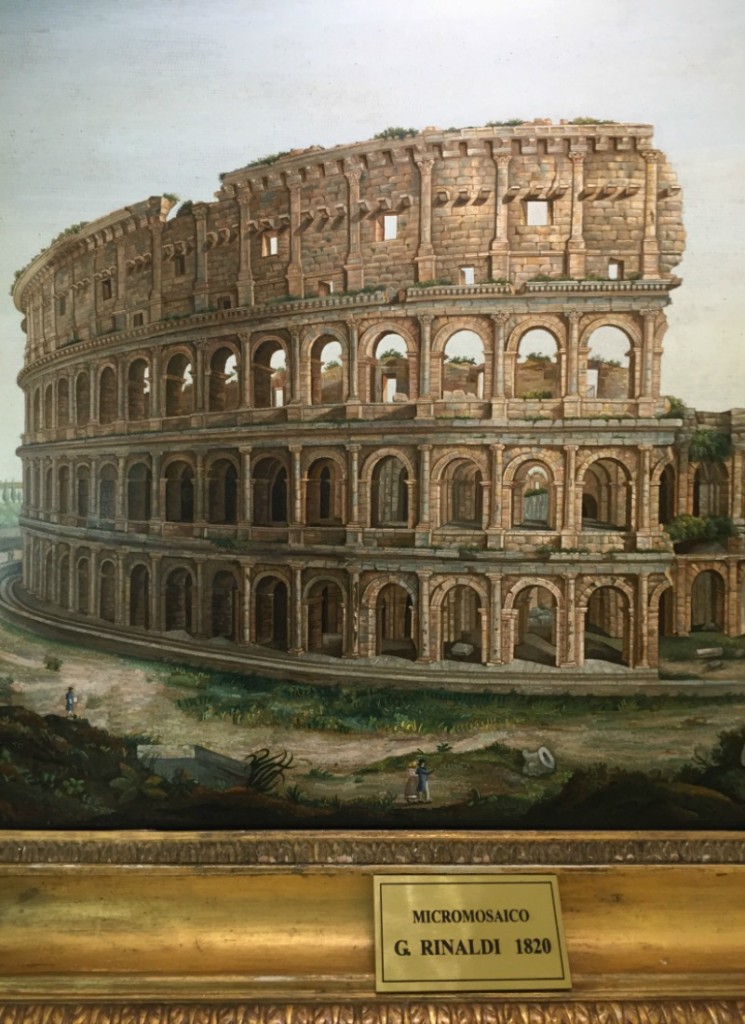 Grand Spa
Not only do you get to lap in luxury at Rome Cavalieri but with the facilities at the Grand Spa Club, which include four swimming pools, one of which is an airy and bright indoor pool, the splendid amethyst Turkish bath, pilates and yoga rooms, hydro massage and whirlpools, just to name a few, you'll be soothe into a state of bliss.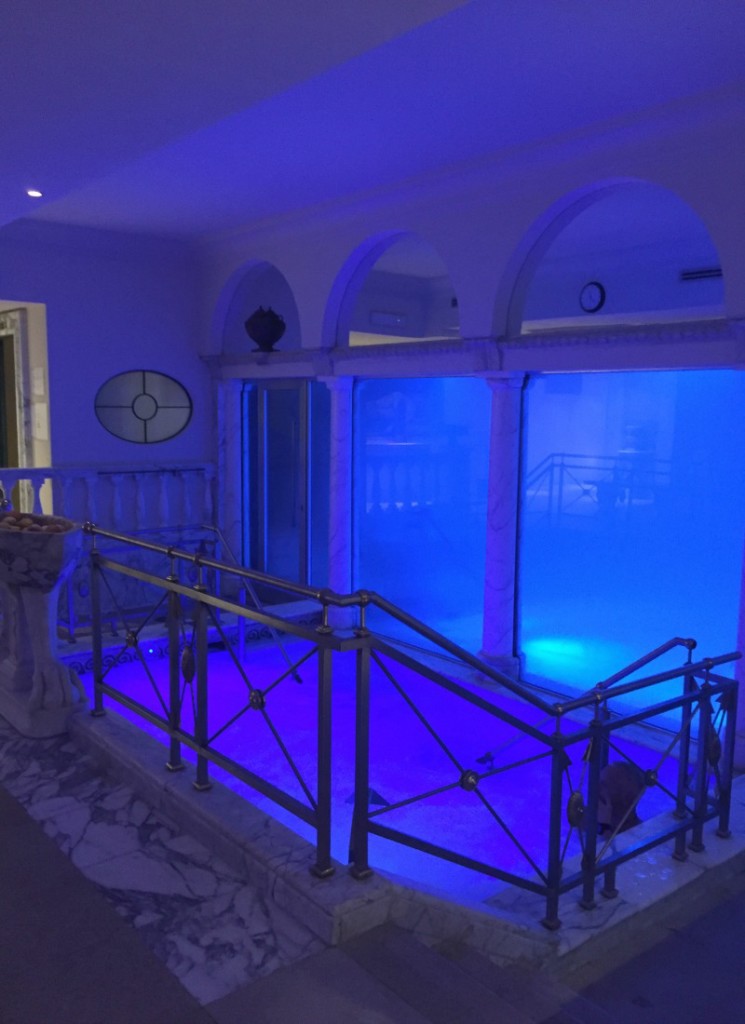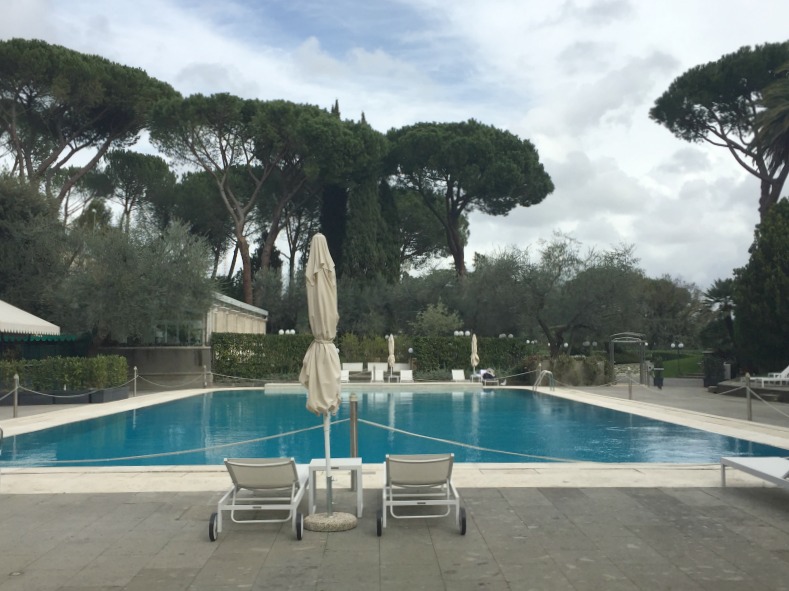 Their outdoor heated pools are open from May to November but their on winter days, their indoor pool with a fireplace is an excellent alternative. I was impressed with their spa facilities and reasonably priced massage treatments using La Prairie products that I'll be treating myself to soon.
If you are looking to keep in shape during your stay here, you'll be spoilt for choice. They have two clay tennis courts, a fitness circuit, and their fitness centre is equipped with the state-of-the-art machines that few gyms in Rome can compete with.
L'Uliveto Restaurant
An invitation was also extended to taste the new menu at the L'Uliveto Restaurant headed by the recently appointed Executive Chef, Fabio Boschero. The truffle menu, which was the featured menu for February, has been a huge success and by popular demand, L'Uliveto has extended this menu to the end of March.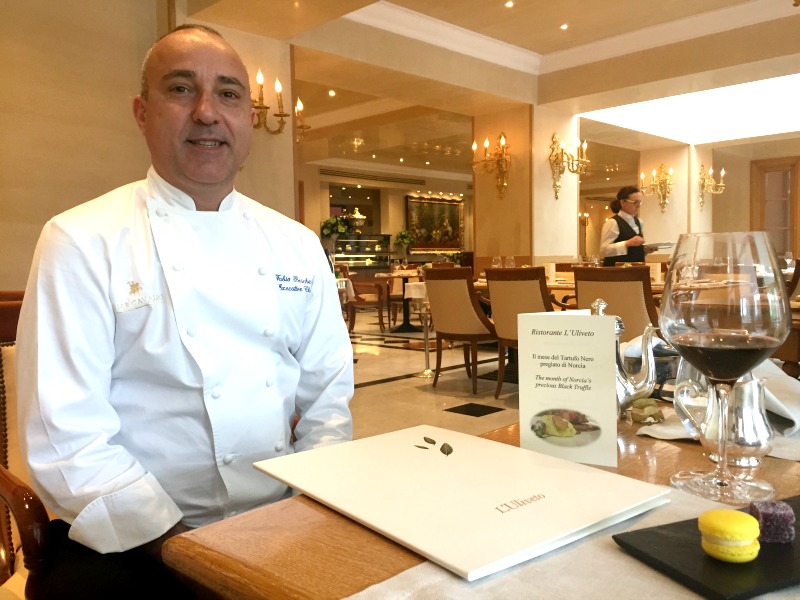 As Chef Boschero is all about highlighting seasonal produce in his menu, in April, artichokes will likely play the protagonist. Having returned to Italy after many years abroad, Chef Fabio has a plethora of ideas in the works such as growing their own vegetable garden and with experience working in Brazil, he has some exciting menus up his sleeve to celebrate the World Cup in Brazil this summer.
Stay tuned for that, but for now back to the truffle tasting menu.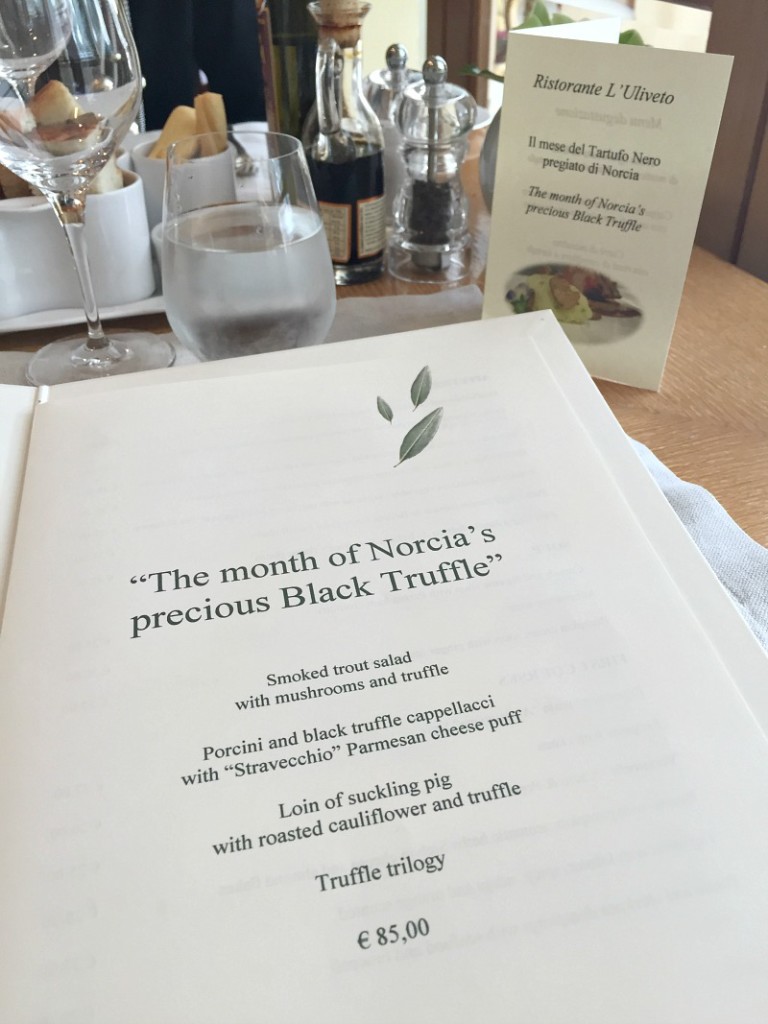 The smoked trout salad with a light drizzle of honey truffle and a tinge of citrus was a winning combination. An elegant presentation, refreshing taste and perfectly balanced with the smokiness of the trout, it's a fine appetizer.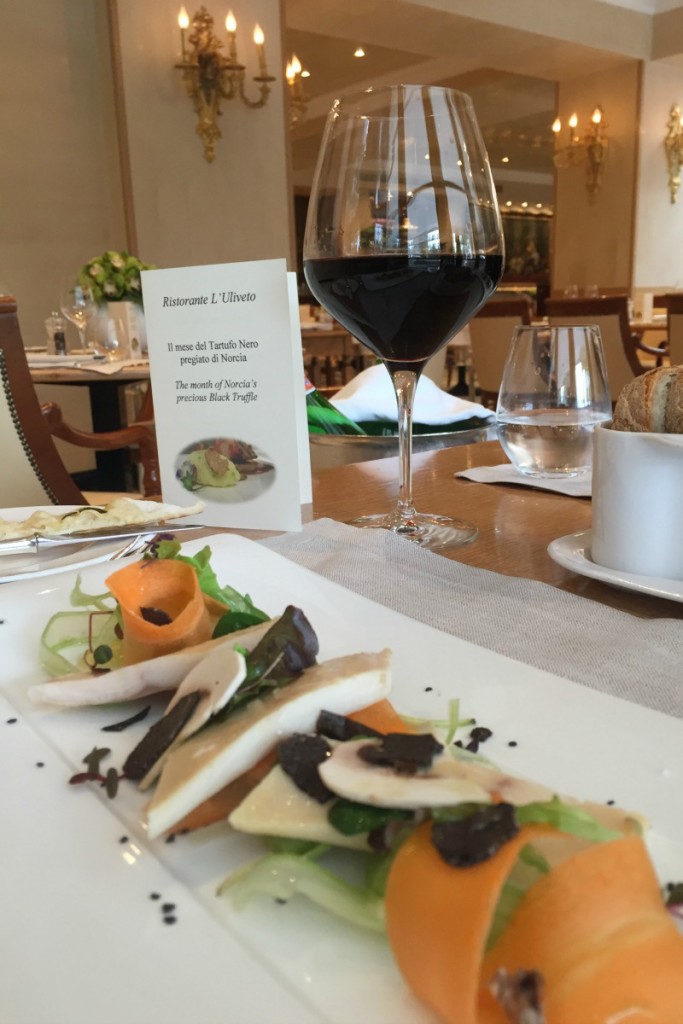 If you don't already know, I love pasta, especially filled pasta, and was looking forward to cappellacci. The delicateness of the pasta and the burst of flavors once you bit into the cappellacci filled with truffles and porcini were exquisite. I could easily have had another few more of those delicious morsels.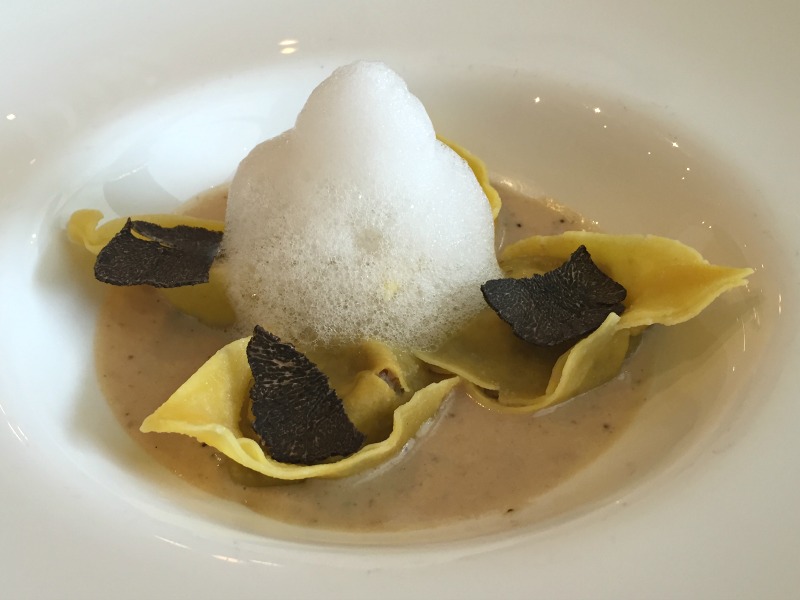 My favorite dish from the tasting menu came next: the loin of suckling pig, which had been sous vide at 60C for 8-10 hours. Beautifully presented, moist and tender, and with the crunchiness of the rind, this dish still lingers in my mind.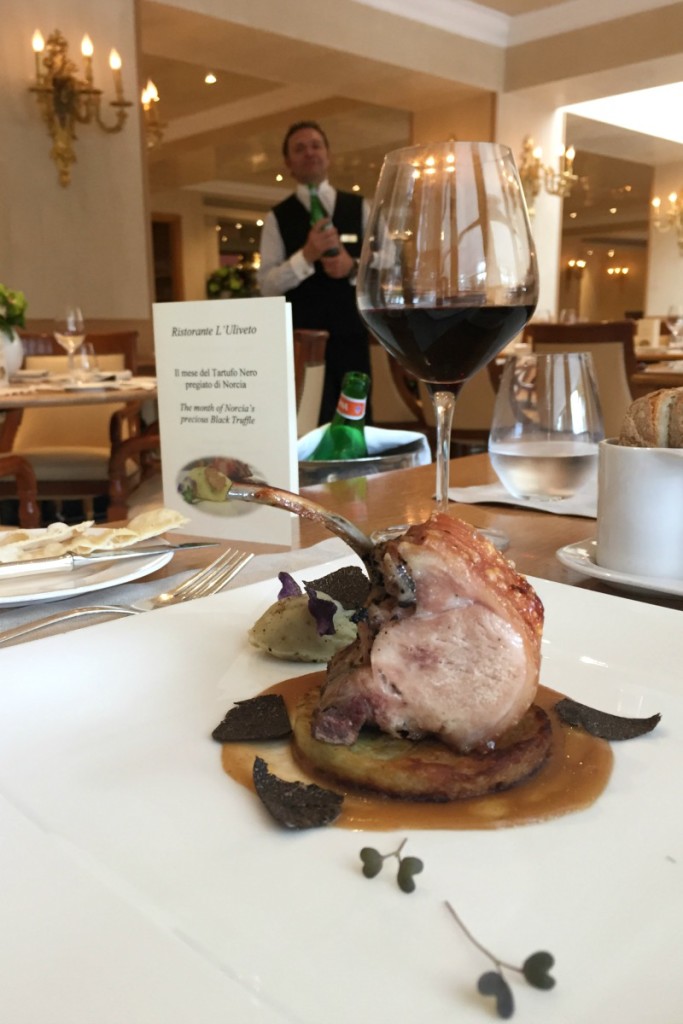 The lovely and decadent truffle trilogy of chocolates and a tray of sweet treats, especially for a person with a sweet tooth, were the perfect ending to a phenomenal meal.
Not only was the food outstanding but the service was impeccable. Attentive, friendly, and efficient staff that made the dining experience even more pleasurable. Kudos to the exceptional team at L'Uliveto who went above and beyond expectations.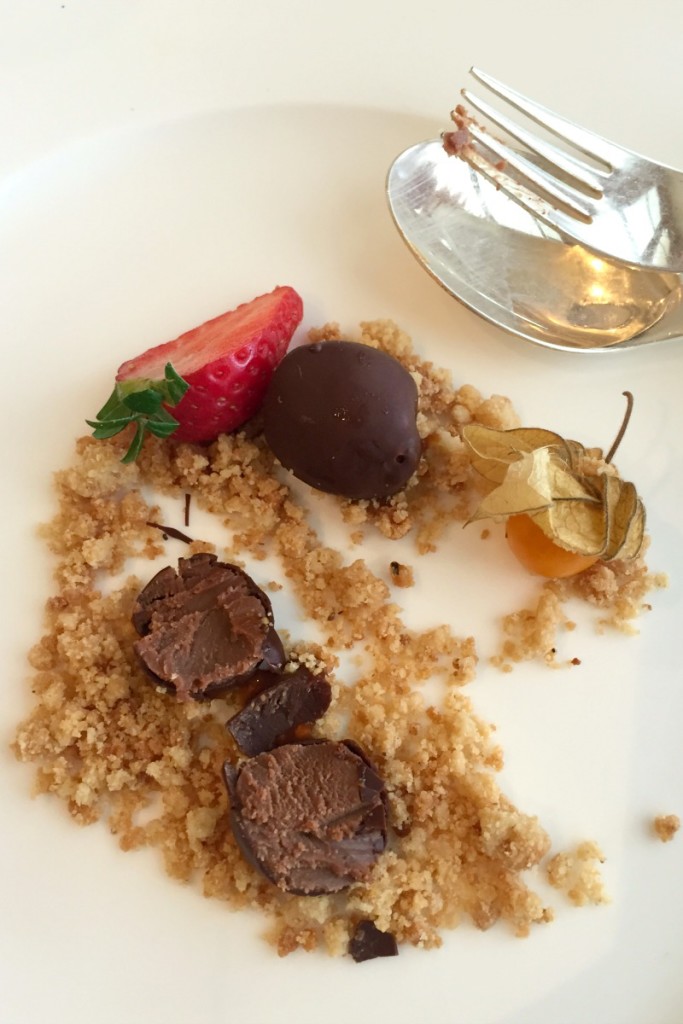 Easter events at Rome Cavalieri
With Easter fast approaching and the weather getting warmer, Rome Cavelieri has a string of events lined up to celebrate spring and the Easter holidays. Their 25-meter heated outdoor pool, with water temperature at 30C, is the first in Rome to open up for their guests and for Easter brunch there will be live cooking stations, music and plenty of activities to keep children entertained.
Thank you Rome Cavalieri for the invitation and taking the time to show us around the property.