This post on Open Colonna and Open Baladin was written by my sister who was here earlier this year.  She was able to check out a good number of places during her two-week visit and while these aren't necessary her favorite places, here's her take on these two places to eat in Rome.
Open Colonna: $16 Lunch – Elegant & Casual
The $16 all you can eat buffet in an "open" elegant space setting which maintains a casual feel and yet not overly pretentious makes this a winning combination.
The food on its own would not draw me to this place, but the variety, though average, is a nice change.
Another plus is the setting and atmosphere.  With all the windows, it was a bright, lovely and spacious place to have lunch especially when catching up with friends.

As I'm no longer a big eater, the decently priced buffet doesn't make me feel guilty if I don't pile up my plate with food to get my money's worth.
Yes, buffet means you can go up as many times as you want. However, for $16 I wasn't sure as some places I've been to would only let you go up once to fill up a plate.
The buffet is mainly cold foods but I am not sure if this is because it was spring when I was there. It would be interesting to see if more hot dishes are available during autumn and winter.
If you prefer hot foods, there's also the option of the $16 prefix menu that still allows you to indulge in the dessert from the buffet spread.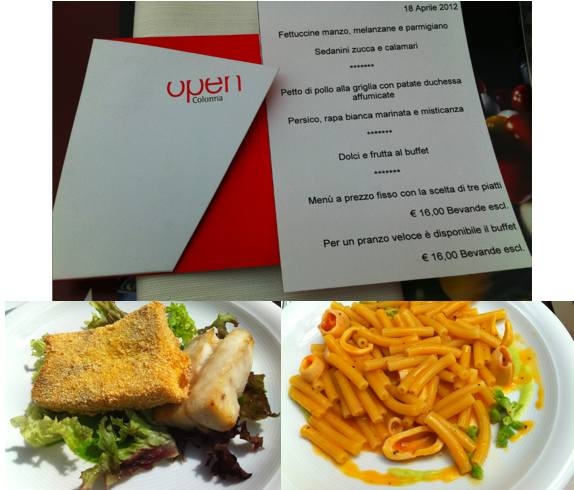 Overall the L'Asino D Oro's $12 lunch prefix, which is just down the street from Open Colonna, is still my all time favorite though. However, if you live in Rome or are visiting for a couple weeks it would be good to add Open Colonna to the list.
Open Colonna
Palazzo delle Esposizioni
Scalinata di via Milano 9A
Tel. +39 06 47822641
Website
Open Baldin: Beers, Chips & Veggie Burgers?
Yea a lot of people have written about Open Baladin and its cool selection of beers.
Then there is the awesome chips!
Veggie burgers, yea not a lot of people have written about this and I was surprised to see it on the menu. I've had my share of good veggie burgers ranging from seitan, to oats/grains to portobella mushroom patties.
The best thing about the Veggie Burger at Open Baladin was probably the mozzarella (being in Italy, you can't go to wrong with mozzarella).  However, I felt the patty was a bit too wet and sloppy.  It was good attempt though and overall, I still enjoyed it.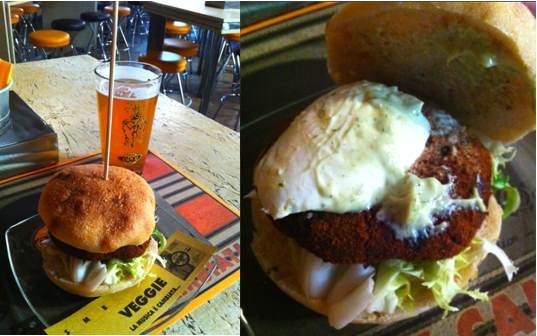 Open Baladin
Via degli Specchi, 6
Tel: 06 683 8989
Website