It's impossible for me to resist an invite to explore markets, even ones I've been too before as it's fascinating to explore them with a different set of eyes. So when I received an invitation by Trionfale Tours to spend a morning with them at the market, I happily accepted.
Recently launched, Trionfale Tours started up by Nicole and Alessandro, a husband and wife team, invited me and a few other guests to spend a morning with them that included a visit to their neighborhood market, a cooking demonstration and a Roman lunch.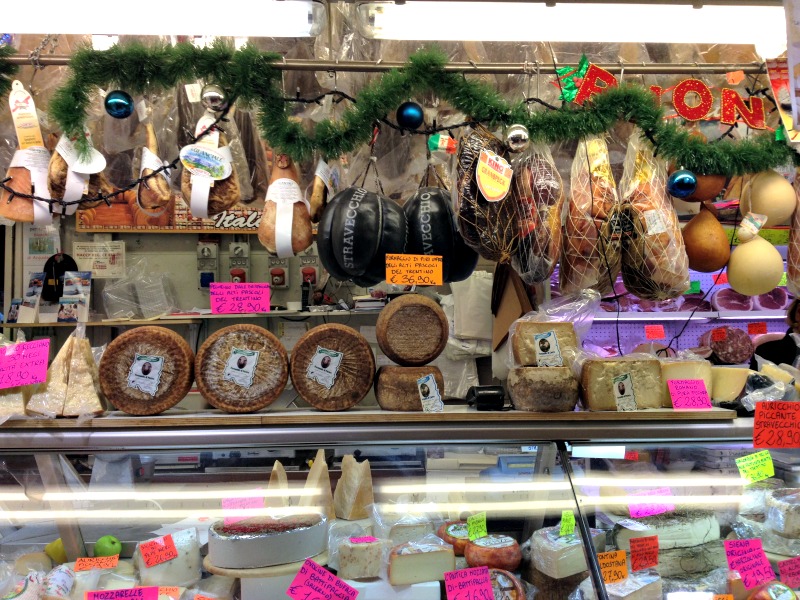 The tour is led by Chef Alessandro who will guide you through the Trionfale market, in the vicinity of the Vatican, offering insights into local ingredients and tastings that include pizza bianca, cheeses and cured meat. After a lively hour in the market, you'd make your way to the beautiful private home to observe a cooking demonstration by Alessandro, and indulge in the delicious lunch he prepares.
Our morning started with a stop at a stall that sold cheese and cured meats – my kind of heaven! While explaining and describing each product, Alessandro mentioned an interesting fact – that guanciale (pork jowl), which is used in carbonara and amatriciana, has to be at least 75% fat. While it is obvious that guanciale has a higher fat percentage, it never occurred to me that there was an exact number.
From there we made our way passed stalls selling meat, fish, fresh pasta, another cheese stall where we enjoyed a variety of tastings, an olive stand with all types of olives you can imagine, a wine stall and finally one that sold eggs.
Eggs may not quite conjure up anything exciting but you'll be amazed to know the variety they had, from eggs so fresh that you can drink them to the varying sizes. We were even shown how to check how fresh an egg is with the use of a light bulb. Intriguing!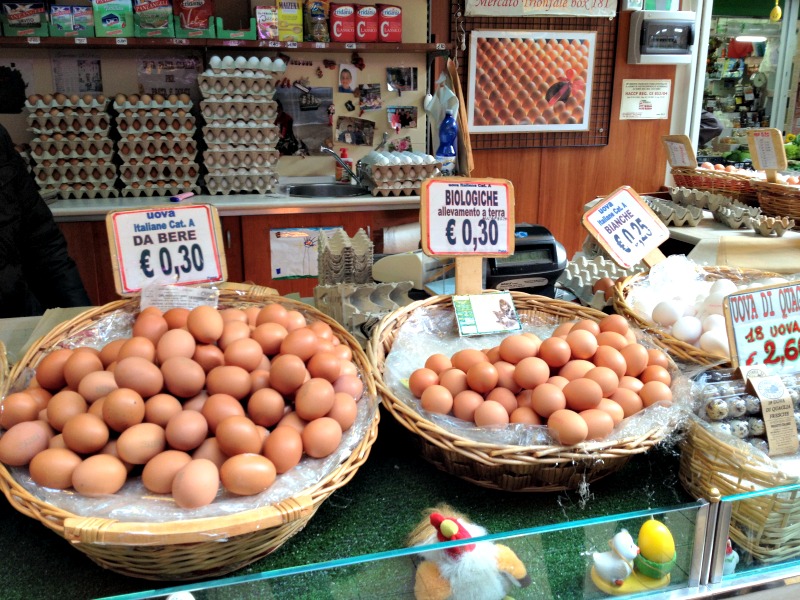 Usually after the market, you will then head to a lovely private home in an elegant palazzo. However, due to a last-minute unexpected situation beyond their control, the program changed slightly.
We still made our way to the private home to get a peek of the place and were greeted by the charming host who even had the dining table all set with fine china. Unfortunately, we were not able to dine in this lovely setting. However, Nicole and Alessandro, quick on their feet, already had a Plan B.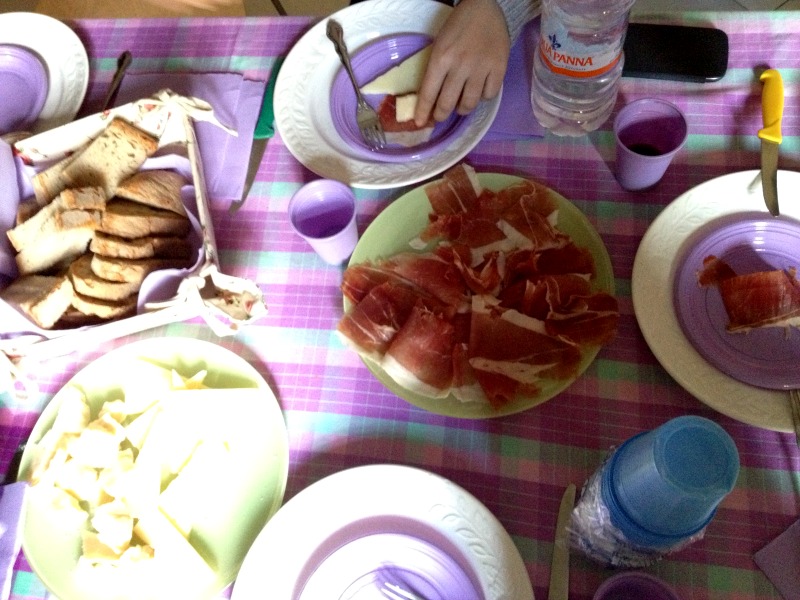 They had, instead, setup their cozy place for us to have lunch and in spite of a smaller kitchen, Alessandro was able to still prepare a phenomenal lunch. Although we didn't have the chance to observe the cooking demonstration, we all had a fantastic time chatting about food, Italy and all things good while enjoying some wine.
Lunch started with an appetizer of soprassata with slices of oranges and olives. That combination was heavenly. Then came the serious pasta dishes – generous servings of perfectly cooked carbonara and a hearty amatriciana.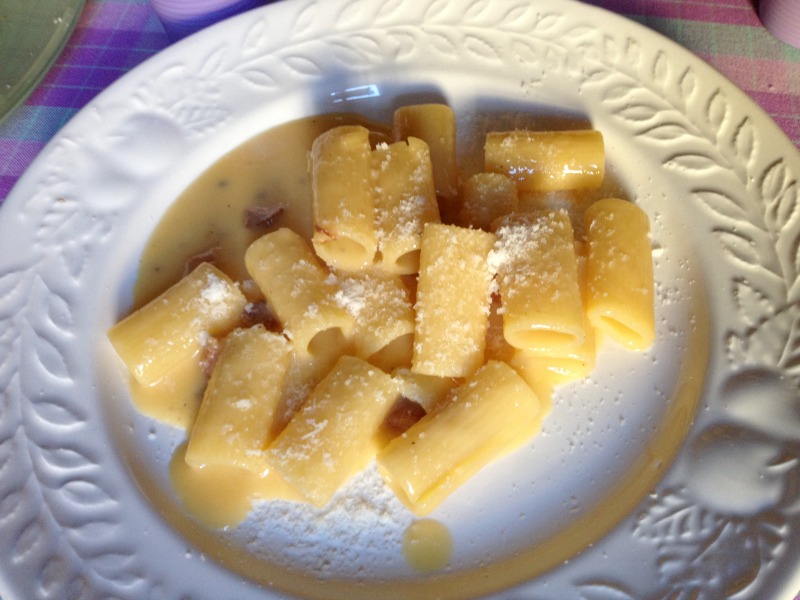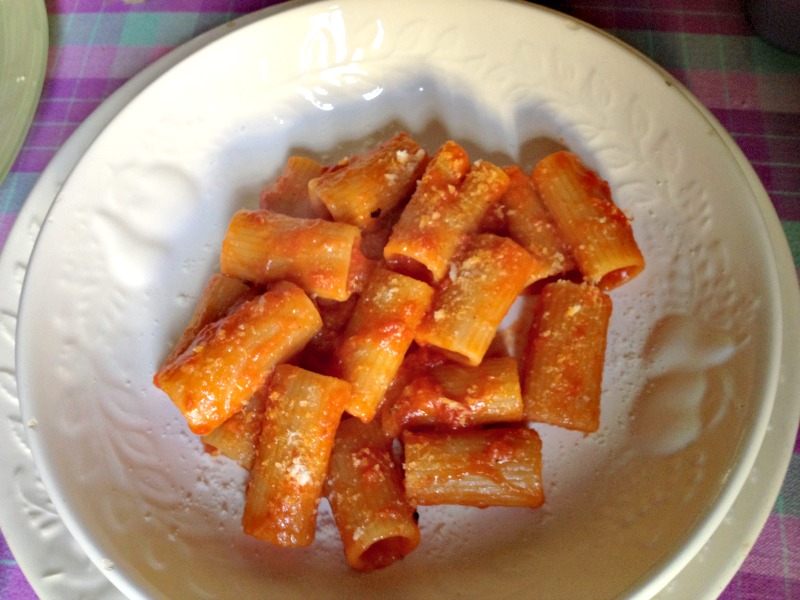 And if that wasn't enough, there were pastries and homemade coffee too.  I was in a food coma by the time we came to pastries, the proof or lack of it, was that I didn't even take a photo of the sweet spread.  You'll just have to join this tour to find out for yourself.
Nicole and Alessandro are delightful hosts and will keep you entertained the entire time. Though trips to the market are not new for me, the entire experience, along with great company and the lively conversations, was certainly an enjoyable one. Here's a one-minute video of our morning exploring the market followed by lunch.