This is not the usual kind of tour most visitors to Rome would join. After all, our meeting point was the non-Catholic cemetery in Rome.
I've briefly been to this cemetery before and while it is one of the prettiest cemeteries I have ever seen, cemeteries are not usually a place I tend to wander into.
However, they are exceptions. When Context Travel invited me to their Timeless Inspiration Walk, it got my attention as the tour included a visit to the Keats-Shelley House. I  sure know about the Keats-Shelley House, and have frequently walked by as it's situated next to the Spanish Steps.
However, for reasons beyond me, I've never step foot inside. Interested to learn more about the life of Romantic poets who spent time in Rome as part of the Grand Tour, I was excited to join this walk.
While my previous visit to the cemetery was brief, this time, Hilary Bockham, our docent for this tour, led us to significant graves where fascinating stories, some even scandalous, were told.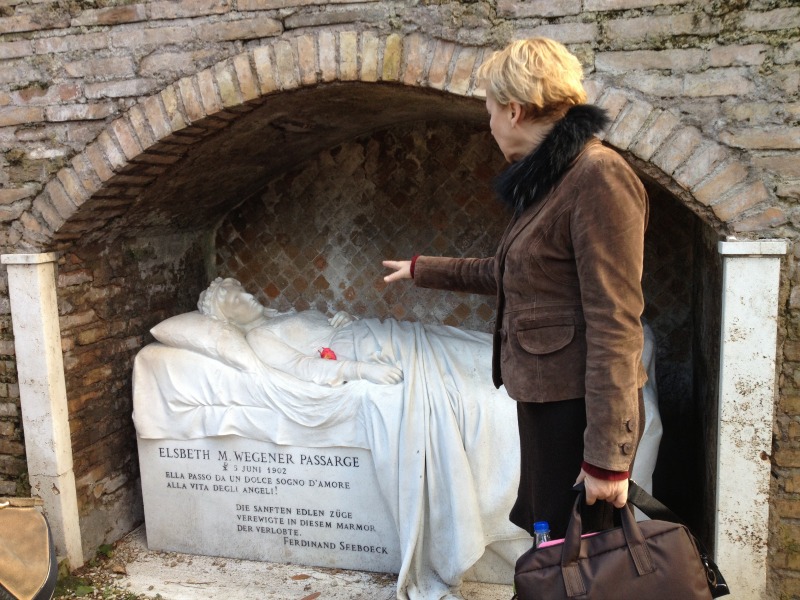 From the cemetery, we took a taxi to the Pincio Terrace, above Piazza del Popolo, and during the ride Hilary had us all hooked onto the shocking stories she shared of racy parties, incestuous relationships, and obscene behavior. Things sure were wild in that circle! Upon arriving at our destination, we were still dazed by what we had just learnt and were even more blown away by the stunning sunset that evening from the terrace.
Those on the Grand Tour would stop here at Pincio Terrace, which boasts a breathtaking view of Rome, and to this day, this view continues to be an awe-inspiring spot for visitors. In a giddy state of mind, I managed to follow the group as we made our way down the renowned Spanish Steps to the Keats-Shelley House.
Once inside, it immediately felt like I had stepped into another realm. The reverent and solemn ambience moved me, and it certainly felt like a sacred place. When we entered the room where Keats had spent his last days and with Hilary reading his poems, I dare say that all of us were almost moved to tears.
As if we hadn't enough of an emotional day, the tour ended on the terrace of the Keats-Shelley house overlooking the Spanish Steps. With the warm evening glow and champagne in hand, I couldn't have asked for a more inspiring tour – one that has aroused my curiosity about these literary poets, and my eagerness to learn more about them. And I'd say cheers to that!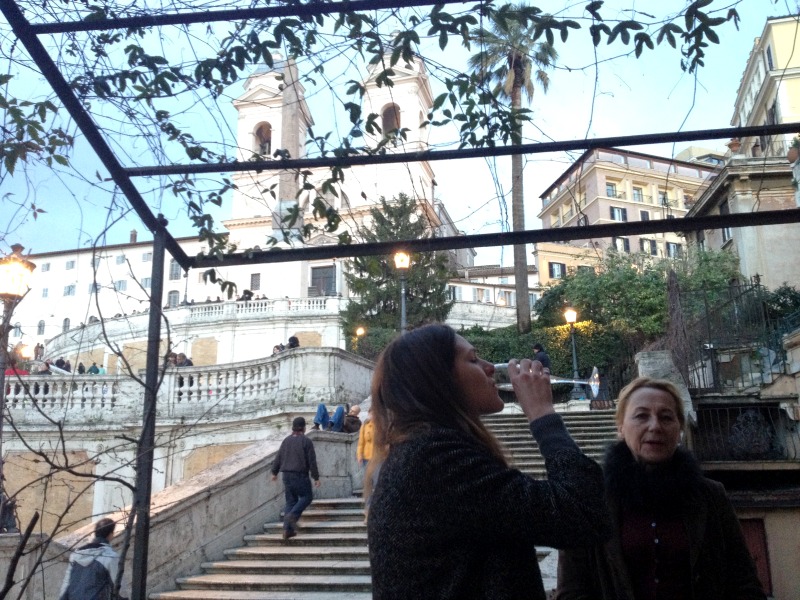 A special thanks to the Context Travel team and Hilary for an unforgettable afternoon. Below is a short video of our afternoon on the Timeless Inspiration Walk.