It's summer and it should come as no surprise that I am writing a post on yet another gelato shop. Just as I was headed to Piazza della Spagna a few days ago, I got a message on Twitter from Frances Mayes suggesting Venchi. This was in reply to a post I had shared on Gelateria del Teatro and mentioned that a visit was long overdue.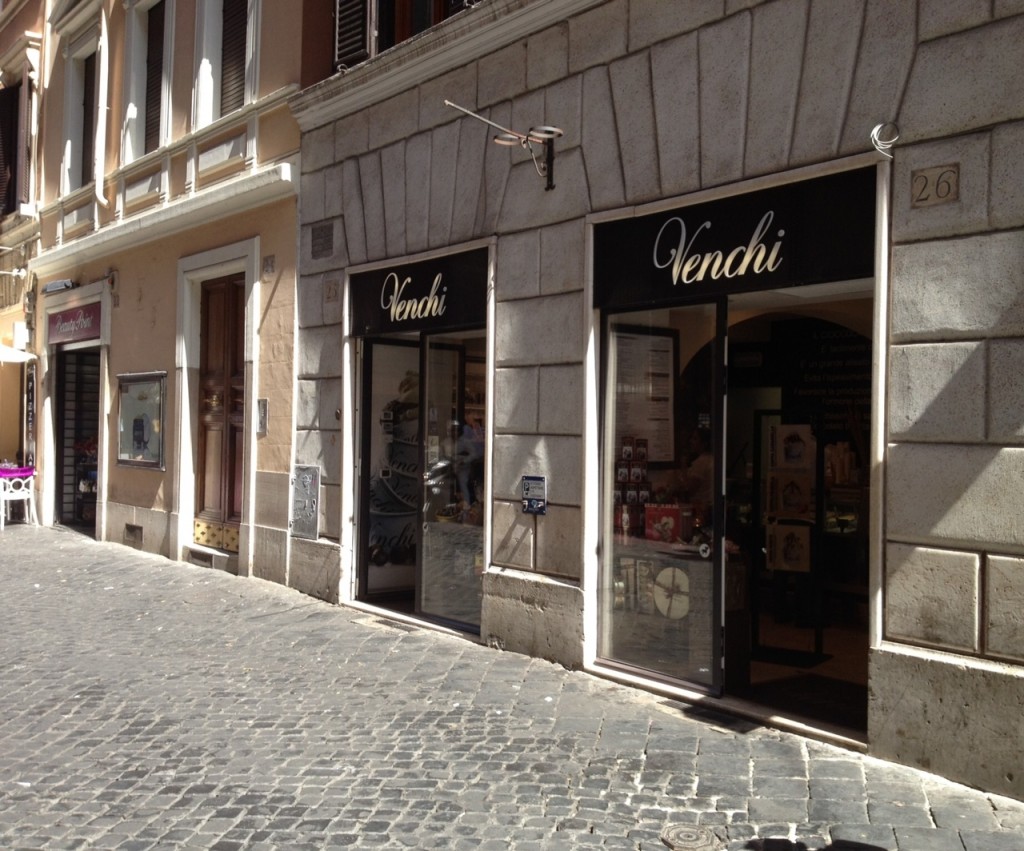 The timing couldn't have been more perfect and I was eager to try the gelato from Venchi.  They are well-known for their excellent chocolate and with that in mind, the chocolate gelato here must be outstanding.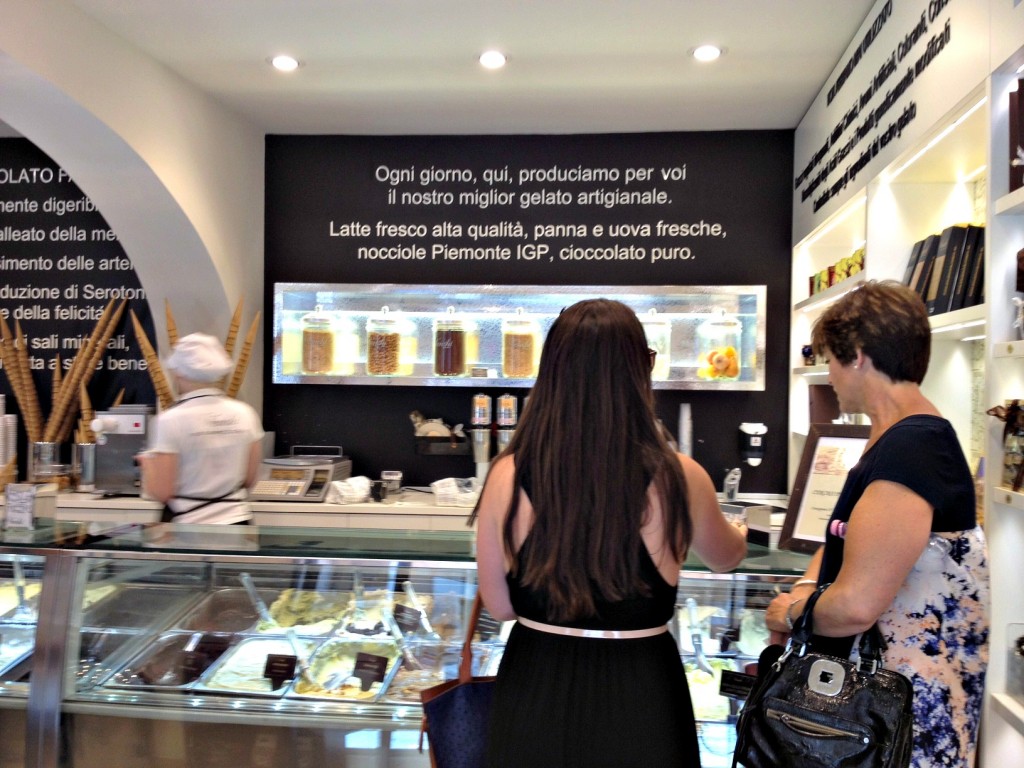 A confession.  On my way there, I was really tempted to take a detour and head to Il Gelato at Piazza Monte D'Oro for their sorbet. Torn as I was, I continued towards Via della Croce.

Visualizzazione ingrandita della mappa
Located in the middle between Via del Corso and Piazza di Spagna, this chic outlet is very welcoming.  There was a good crowd but nothing like the ones you would see at
Fassi
.  They don't offer a wide variety of flavors to the extent of Il Gelato or Fassi but I was here spefically to try their various chocolate flavors.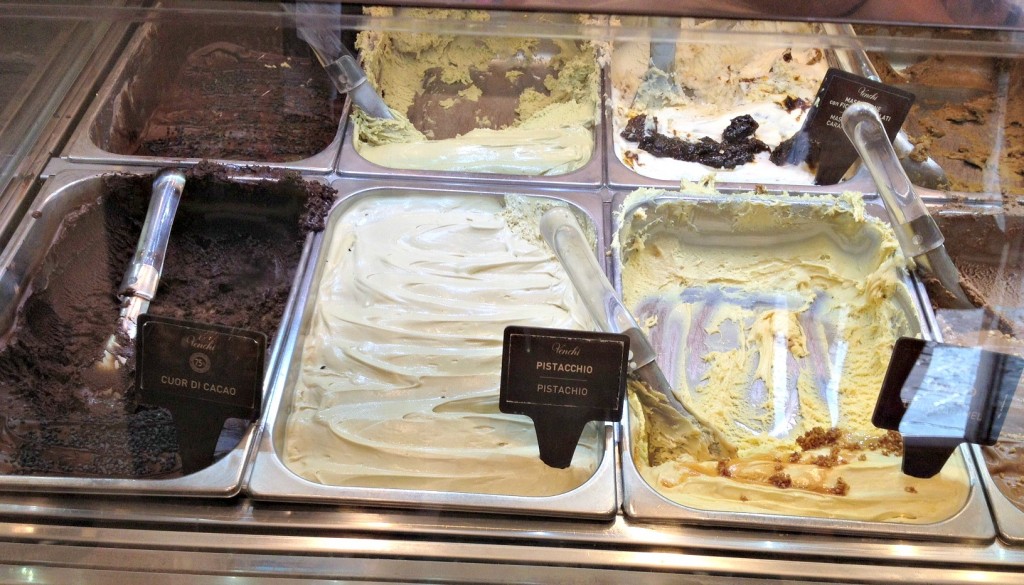 Prices here are what you will find in the center, and not exorbitantly high.  I opted for cuore di cacao and for some reason, I was craving caramel and that was the other flavor that I got. No regrets at all!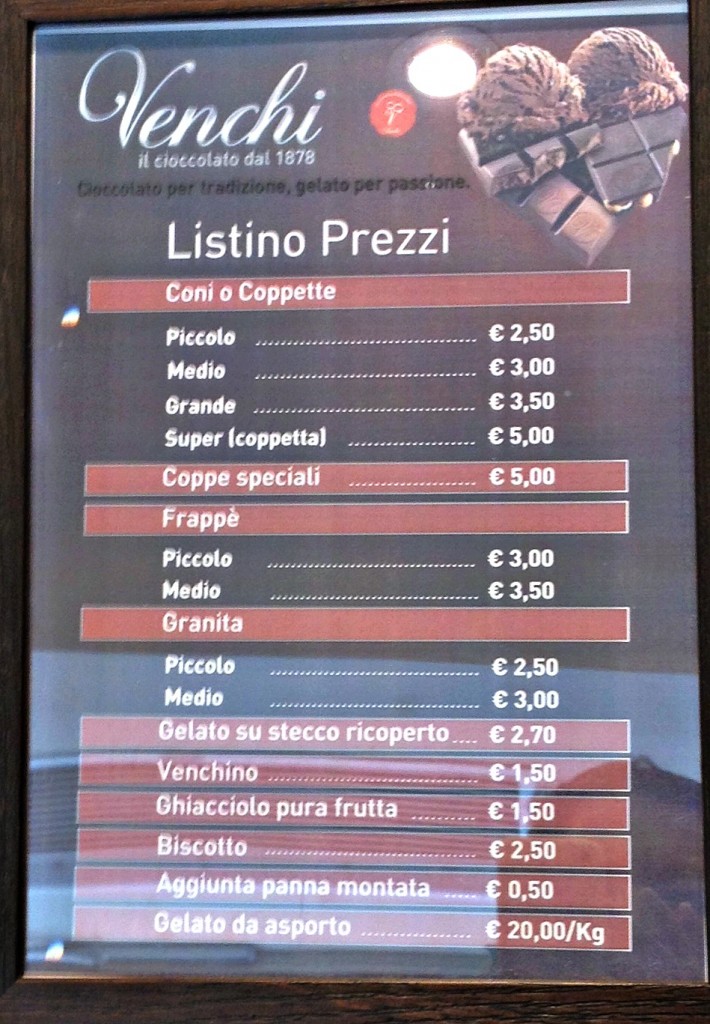 Aside from gelato, they also have a good selection of chocolate.  Needless to say, this is a chocolate lover's haven!
Updated  – This afternoon, together with Gillian, we got the lemon sorbet which in my opinion, was not as impressive as the ones from Il Gelato.  I guess, it comes down to the fact their specialty is chocolate.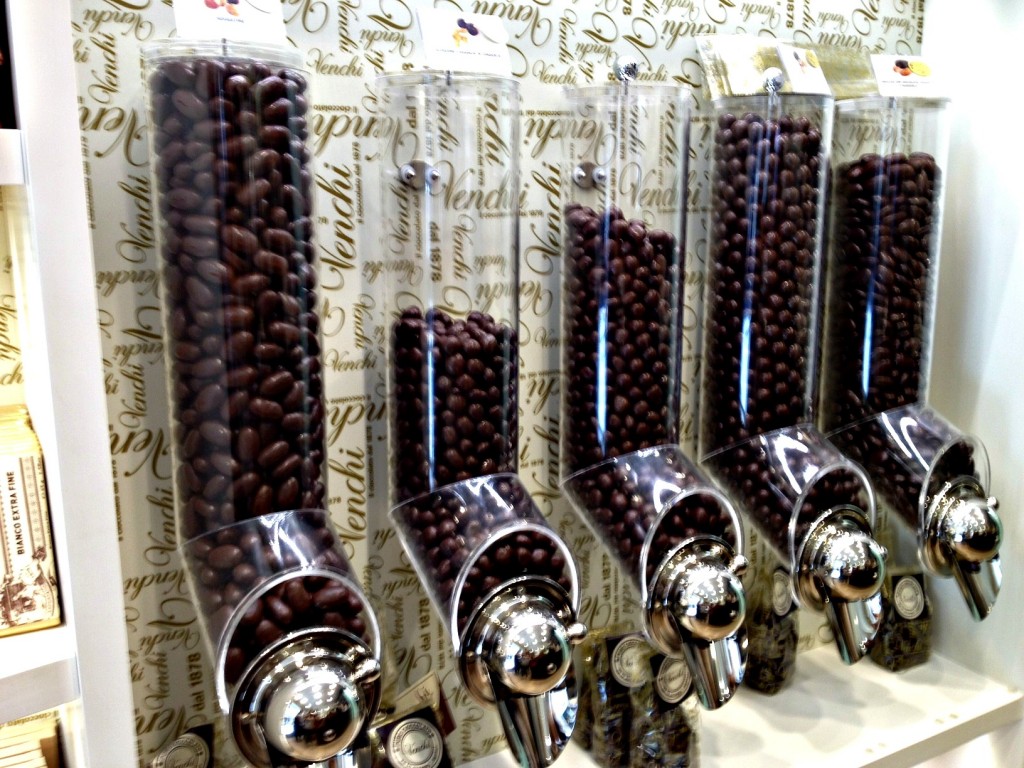 As I was walking towards, Piazza di Spagna, I came across Pompi.  If you are not familiar with Pompi, they are known as "The King of Tiramisu".  That's how good their tiramisu is!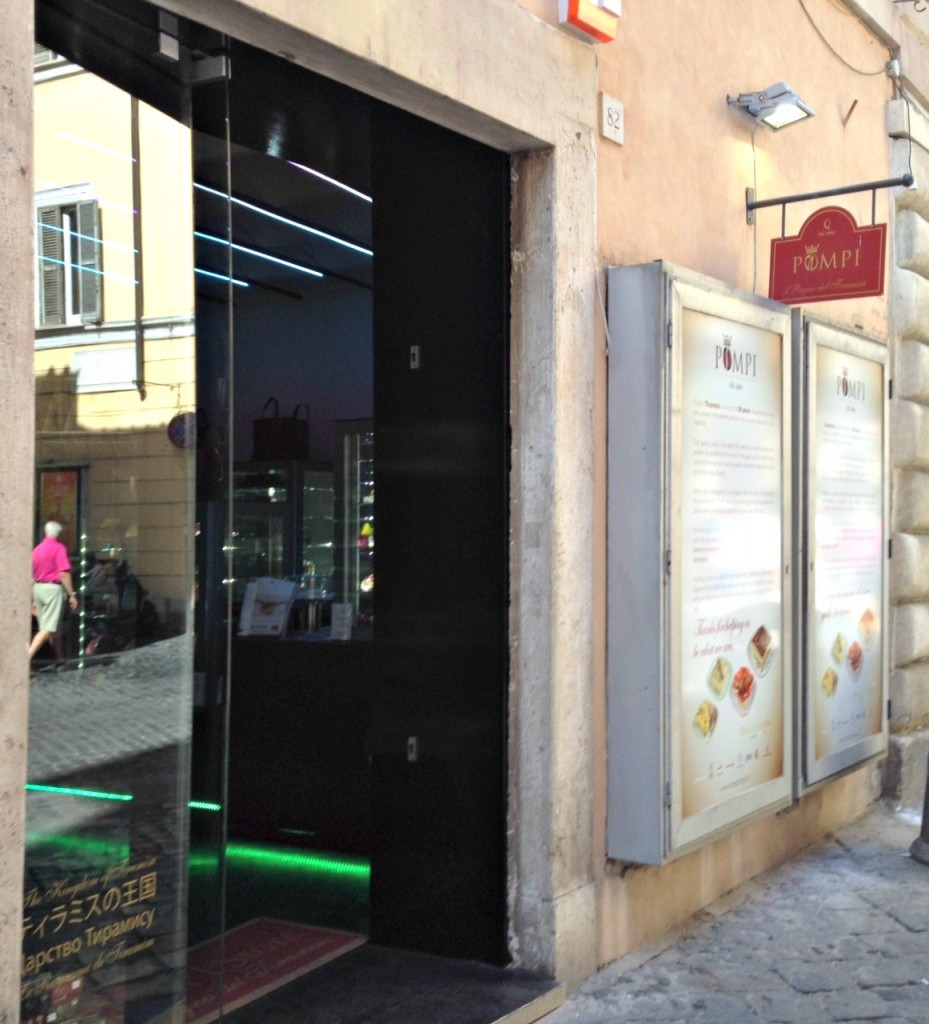 There is a Pompi near where I live which is unfortunately always calling out to me. Personally, I think it's a great idea that they have opened one in the historic center – it just makes it that much easier for visitors to Rome to get a taste of this well-known Italian dessert.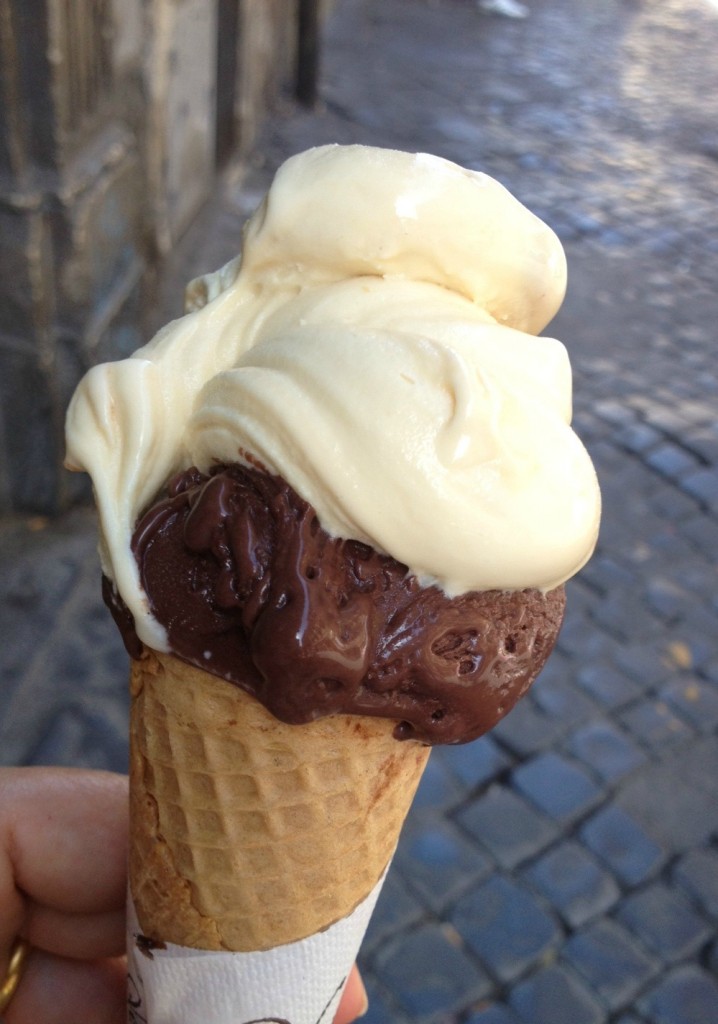 With the gelato in my hand, I stood at the entrance, undecided as to whether I should enter. Not so much as to get a single portion but to check on the prices here. I was curious to know if prices would be higher due to its location. (Ok, you got me – it had crossed my mind to get a single portion but that would have been excessive, wouldn't it?)
I love this street – seriously, how can you not when there is also Pastificio that serves great pasta for only €4. Just a few minutes walk from the Spagna Metro stop, you could get easily away with spending less than €10 on lunch – pasta followed by a choice of either gelato or tiramisu (or both) and to top that off,  a beautiful stroll around Piazza di Spagna. That's as close of a perfect day in Rome!
What other hidden gems do you know around this area that's worth exploring?