Recently mentioned as one of the Top 10 Most Romantic Gardens by Telegraph, the Garden of Ninfa was high on my list of day trips from Rome.  With its fascinating history and described as a place that has inspired artists, I was longing to see this secluded, picturesque garden set in fairy-tale like surroundings.  And while the media has accurately portrayed this stunning place, you'll have to visit it in person to fully appreciate its magical atmosphere.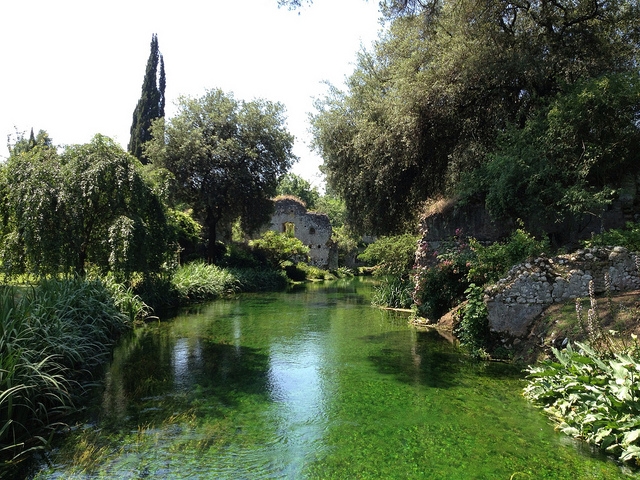 Here are some interesting facts that will give you a glimpse of this captivating garden and tips on visiting the Garden of Ninfa.
Set in the ruins of a towns
The garden is beautifully set in the ruins of what was once the town of Ninfa.  Rich in history, Ninfa dates back to Roman times where, thanks to its strategic location enroute to Rome, it was bustling town that flourished from the installation of tolls.
Owned by several Papal families, Ninfa became the property of the Caetani's in 1298. In the following years the town prospered, and at the peak of its glory, Ninfa boasted seven churches, over a hundred houses, fourteen towers and a castle.  The castle and 32-metre high tower, still evident today, was built by Pietro Caetani, the nephew of Pope Boniface VII, as a sign of the wealth and power of the Caetani family.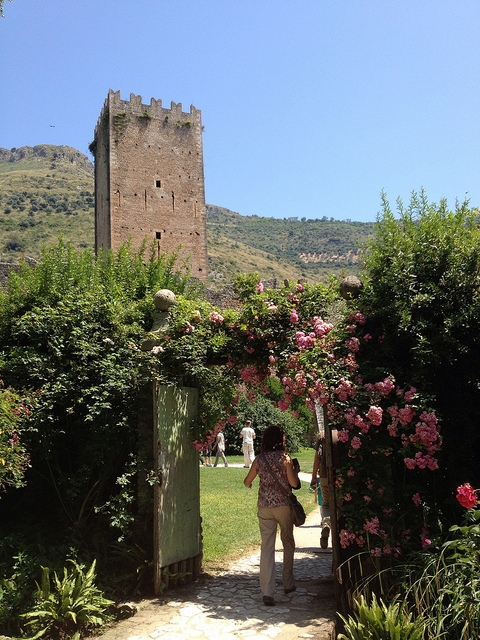 It wasn't always rosy…
In such a serene and tranquil setting, you'd never imagine that this was the site of devastating papal wars and inter-family rivalries. In 1382, a family dispute burnt the town to the ground and left it in ruins. Though there were attempts to rebuild Ninfa, the marshy area caused yet another problem – malaria. It remained abandoned for hundreds of years, and it wasn't until the early 20th century that Ninfa saw life again.
The masterpiece of three women and a man
In 1920, Roffredo Caetani, together with his English mother, Ada Wilbraham, planted the "seeds" for the garden by bringing in trees from all over the world. Later, flowers were added by Marguerite Chapin, Caetani's American wife, but the garden today is mainly credited to Lelia Caetani, daughter of Marguerite and Roffredo.  As an accomplish and talented painter she had an eye for details, and chose plant and flower varieties to enhance this "living" masterpiece.
Naturally perfect
Situated at the foot of the Lepini mountains and only a few kilometers from the sea, its ideal position creates a unique microclimate that allows plants of all variety to thrive in this natural greenhouse. While the garden looks as if it has organically grown, much thought has been given to the layout.  As one guide puts it best "It's organized chaos".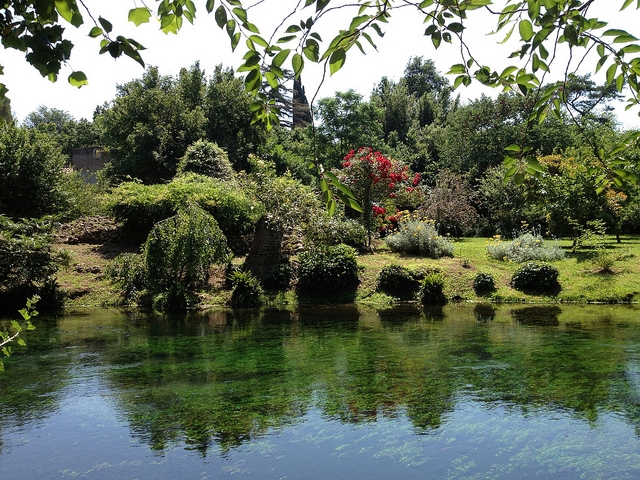 You see evidence of this as you walk through the garden: varieties of roses, maple trees, lavenders lining paths, a spectacular bamboo pavilion and even tropical plants such as banana trees.  Add the ruins with creeping vegetation, the hypnotizing crystal clear river, 12th century frescoed church, and undoubtedly, you have the makings of one of the world's most romantic gardens.
Limited visiting days
To protect the delicate eco-system, the Garden of Ninfa is opened to the public only on selected weekends from April to November.  To avoid disappointment, check for the opening days and times on the official website.
Also, a visit to the garden is conducted in a group of 30-50 people (depending on the number of visitors that day) accompanied by a guide.  Tours last for about an hour following a specific route and before starting, you will be informed about the ground rules: no smoking, no veering off course, no stepping into ruins….just to name a few.
Keep in mind that the garden is closed for several hours during lunch and tours are in Italian. For tours in English, contact them for more information.
So when is the best time to visit?
The Garden of Ninfa is like a grand theatrical stage with changing sceneries every month. While some say May is the best time to visit as flowers are blooming, the plethora of colors in autumn are as equally exhilarating.  So going back to the question – the answer is: regardless of when you visit the Garden of Ninfa will find ways to surprise you.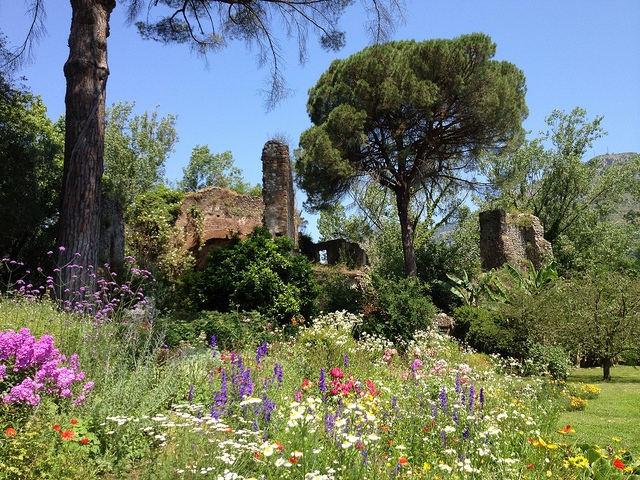 Easy to reach from Rome
Getting there by car is the fastest and easiest option as it is about a 90-minute drive from Rome.  Alternatively, you can also get there easily by train from Rome Termini to Cisterna di Latina (costs €3 per way for a 2nd class ticket).  Then from Cisterna di Latina, take the shuttle service to the Garden of Ninfa (€1 per person per way).  However, you'll need to do some planning as the shuttle service is limited to the following times:
Cisterna di Latina to Garden of Ninfa: 10.30am, 11.30am, 3.30pm and 4.30pm
Garden of Ninfa to Cisterna di Latina: 1.15pm and 6pm.
Below is an itinerary that could be ideal as it gets you there, hopefully, before the crowds. And yes, it can get crowded and there is likely to be a wait as a tour departs every 10-15 minutes.
Proposed itinerary traveling by train
The itinerary also gives you time to also visit the Hortus Conclusus, an enclosed garden, after the end of the guided tour. The Hortus Conclusus, once a formal Italian garden, today features an orchard, a bigger bamboo pavilion and the proud residents swans. Note: There is an small entrance fee of €2 (at the time of writing) and you're free to roam on your own.
Itinerary:
Train from Roma Termini at 9.49am getting to Cisterna di Latina at 10.18am (if it isn't running late)
Then the 10.30am shuttle to Garden of Ninfa.
From Garden of Ninfa, take the shuttle at 1.15pm and the train back to Termini at 1.36pm
And now you have a plan, there's no reason to visit the Garden of Ninfa!
Have you been to the Garden of Ninfa? Share your experience in the comments below.