We finally had the carbonara at Da Danilo!  I have been patiently waiting for my sister to get to Rome to finally taste the well-written about Carbonara from Da Danilo which I included in the list of 10 places we would check out while she is here in town.
So how did it fair?  Here is the post from my sister and a side note from me.
There's actually a top ten list for restaurants serving the best Carbonara on the wall at Da Danilo, which itself was ranked number 10.  I was excited to be seated at Da Danilo and to check off one of the restaurants on Browsing Rome's 10 places for me to eat. Plus I was seated next to this photo, which made me even more ready to eat!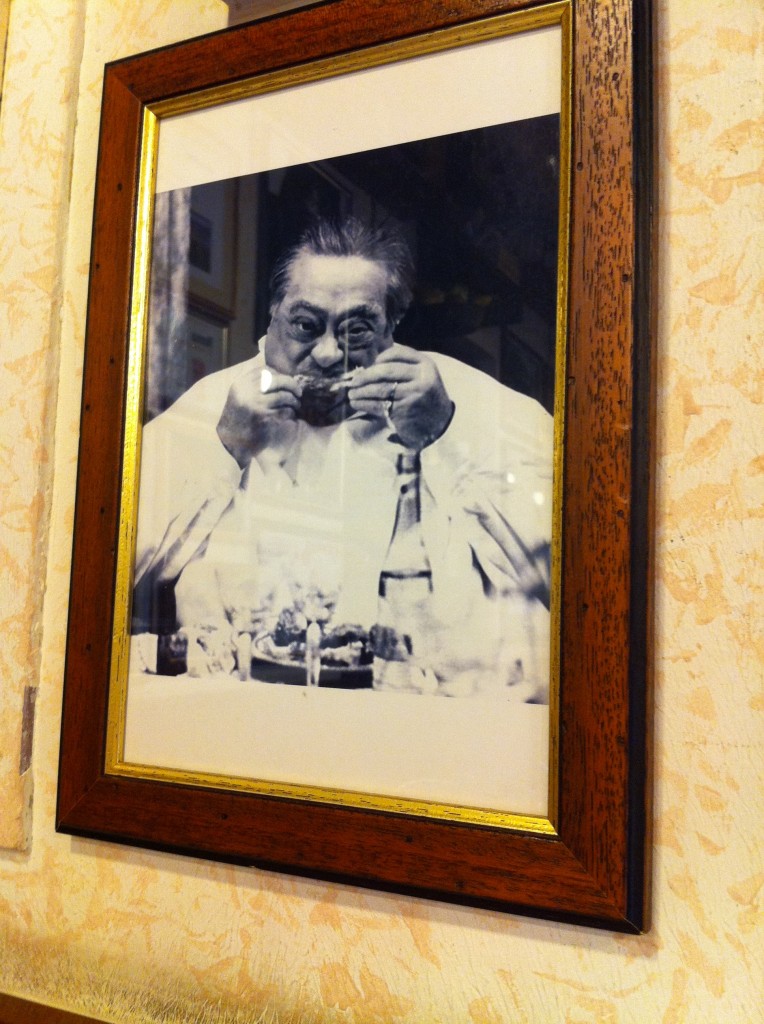 The Verdict
The Carbonara is as good as everyone says it is! The thing is now that I've tasted it once, I'm not sure if I'll go back again. Not because it wasn't good but carbonara is not really my thing.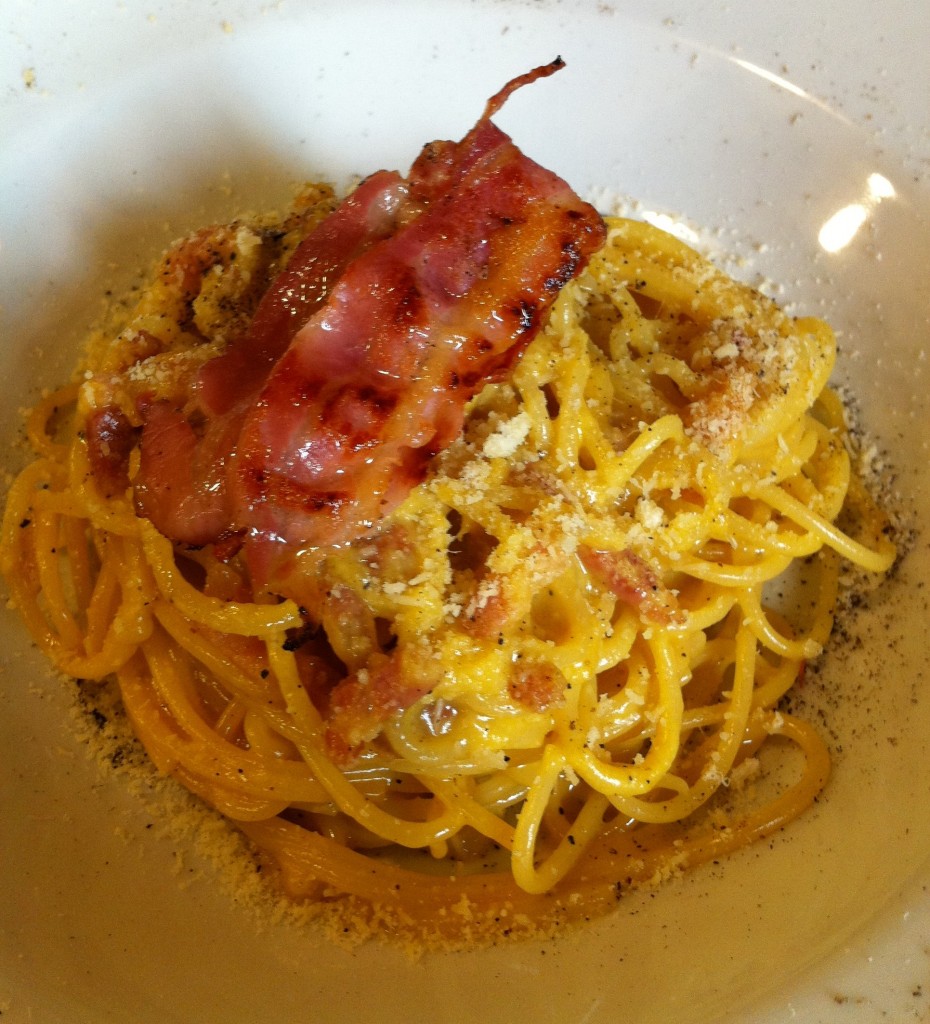 The Experience
The first mouthful of Carbonara gave me a salt attack! Then again 330 days of the year my salt intake is extremely minimal. I was ready to pronounce my verdict that it's not for me as it's too salty.
Then I had a second bite and a third. Slowly, I began to thoroughly enjoy the oddly salty feeling that completed and balanced the dish. Just as in the scene of the movie Jerry McGuire where he say's "You complete me", I can imagine the Carbonara saying to the Salt you complete me.
Note from BrowsingRome: I thought this was a fabulous looking carbonara and was ready to dig into it.  The first bite, however, slightly surprised me as it was salty. But the creaminess and the bits of guanciale were just a perfect balance that I was eager to have the next bite.  I savored this dish!
Food-wise, Da Danilo is outstanding but the service needs to be improved.  Danilo himself took our order and was friendly enough but the other staff had a "couldn't careless" attitude which turned me off from the moment I stepped in.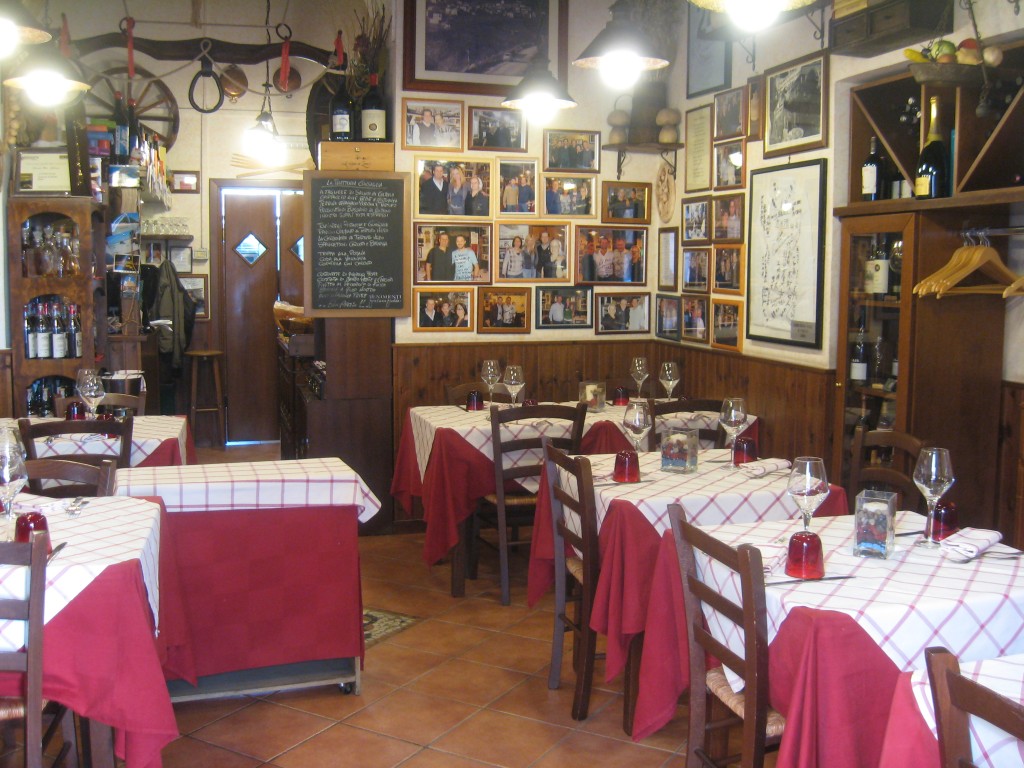 We weren't the only table that got that treatment as the person in the next was trying to get the attention of the staff to order and it took him a while before he was able to do so. If you are thinking that they may have been busy, there were only 3 tables being waited upon.  
So would I go back?
I probably would but not in the very near future.  Maybe once the memory of the bad service has faded and the craving for a carbonara kicks in, I would consider going there again.

The Surprise
We also ordered a filetto al pecorino di fossa. Being used to the gigantic portions in Los Angeles and earlier that morning I just spoke with a friend who was going to Mastros (Steakhouse in LA), I was relieved that the steak portion was a decent size.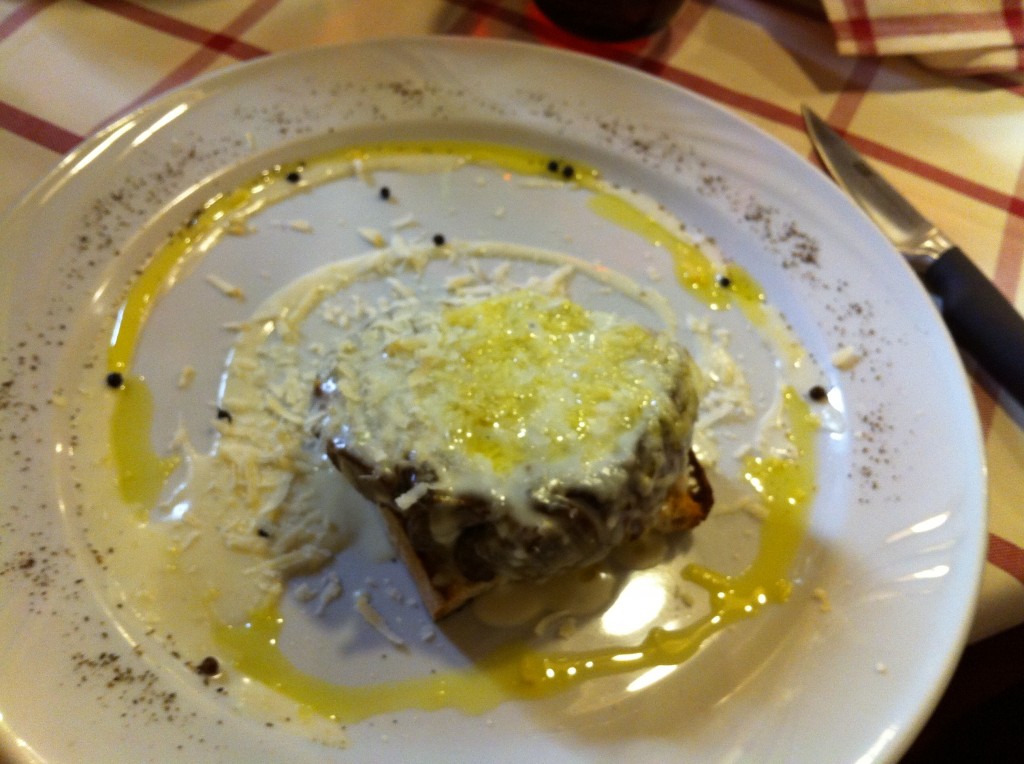 I enjoyed the steak probably as there were no expectations for it to live up to.
It got quite rare in the middle, and yes there's a spot of rareness evident in the pic. Sorry if it grosses anyone out including myself if I think too much about it. However, I know one of my friends who prefers her meat Blue would relish it.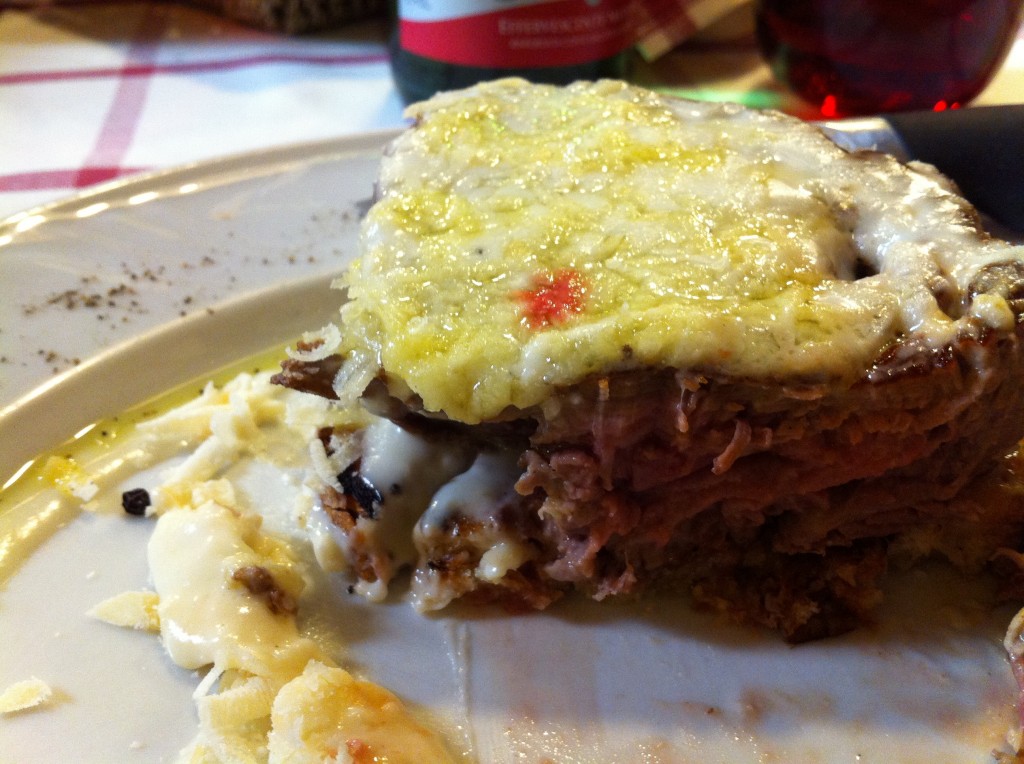 The Battle
Now I'm intrigued to taste the Carbonara at the other 9 restaurants. However, as I have said earlier,  I'm not that crazy about Carbonara although I do enjoy it. So with this in mind, I'll have to slowly go through the other restaurants probably over two or three trips. For this trip, I hope to go to Roscioli, which is ranked No. 1.
I have the infamous line form Iron Chef in my head, "Who's cuisine will reign supreme? Let the battle begin! Allez cuisine!"
Have you had the carbonara at either Roscioli or Da Danilo or both? Which reigns supreme?