When I was in Rome on vacation, I loved the fact that shops and businesses closed during lunch. It was my excuse to take a nap after lunch and then head out again at 4pm. We may call it siesta but Italians don't use this term as it's more associated with Spain.
Nowadays, I wish there were open lunch time so that I could run a few errands. Also, there are times when I have to rush to a shop before it closes at 1pm only to find that is had closed a few minutes earlier.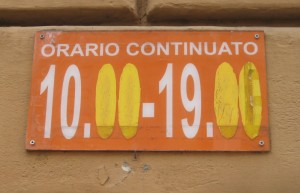 Shops, churches and family-owned businesses are usually open from 8am to 1pm, and again from 4-8pm from Tuesday to Saturday. To be fair, many shops are now open throughout the day so Rome is not entirely dead at this time. Shops which open throughout the day usually have a sign that says 'Orario Continuato' which literally means 'continued hours'.
Most shops are closed Sundays with the exception of shops which are located in the center that cater to tourists. On Mondays shops are also open only for a half day, from 4-8pm. Some food shops are open on Monday mornings, but closed on Thursday afternoons, but there really isn't a problem as there are many grocery stores that are open every day of the week.
Banks open from 8.30 – 1.30pm Monday to Friday and some main branches reopen in the afternoon briefly from 3-4pm.
Post Offices serve customers from 8.15-2pm Monday to Friday, and 8.15 to noon on Saturdays.
If museums and restaurants are likely to be closed on any day, it will probably be on Sunday evenings and Monday mornings. Make sure you call ahead to check as business operating hours and opening times vary depending on the season.