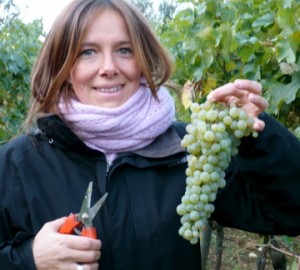 Eleonora Baldwin is an Italian-American who lives in Rome with her 4 year old son, where she is currently editing her Italian cookbook/lifestyle manuscript.  She enjoys good food, wine, travels, traditions, glorious meals, recipes, Italian lifestyle and more.
In addition, she takes on multiple roles from being a home cook to translator to mother.  At the same time, she manages several blogs which cover topics ranging from Italian food to a Rome guide for kids.
Even with her extremely busy schedule, she has taken time to answer the questions we have asked.  Thanks Eleonora!
1. How long have you lived in Rome?
I moved here from California at age 3. My mother is Italian, and she came back homesick, despite her marriage to an American.
2. One sentence to describe Rome.
Rome is a city that can't be described in a single sentence. It's Eternal. Rome's seen it all, barbarians, popes, kings, emperors, invaders, fashions, wars. Just turned 2763 and she's still drop-dead gorgeous.
3. One picture/photo which you feel represents Rome and why did you choose this picture?
Trastevere is a summary of Rome and its colors, contradictions, ageless youth and ancient wisdom. The photo speaks a thousand words without portraying the cliché images of Colosseum, Navona, Pantheon, etc.
4. What are the positive things about living in Rome?
It will inevitably make you feel welcome. Rome wants to be home. The food is home-cooked, the people are humorous and smiling to newcomers. The shopkeepers recognize you. Your barista makes your usual cappuccino without you even having to ask…
5. What is the most difficult thing to get used to in Rome?
The laziness. Rome's attitude can be sciatto, an adjective roughly translatable to 'slovenly.' So the hardest thing to get used to are the modern-day Romans, essentially.
6. What's your favorite Italian dish? Why? Would you share the recipe?
My favorite? There are too many to mention here. Let's say my signature dish is a simple pasta preparation: aglio, olio e peperoncino. The Italian cook's ode to simplicity. I love it so that I have named my cooking blog after it. "Aio e oio," like we say in the Eternal City–one of Rome's quintessential dishes–is the one pasta recipe that all Italian men know how to make. Involving very few basic ingredients, this is also a dish to conjure up when the pantry's empty and the cooking inspiration level is low.
Recipe for aglio, olio e peperoncino
Ingredients
1-2 garlic cloves (or more to taste), minced
1/2 dried peperoncino red chili pepper, crumbled, or more to taste
(don't overdo it)
1/3 cup extra virgin olive oil
500 gr (1.1 lb) spaghetti

Directions
1. Bring a gallon of salted water to a rolling boil and cook the spaghetti.
2. If the box says 11 minutes, you calculate 9.
3. Meanwhile, mince the garlic, crumble the red chili pepper, and sauté it all in the olive oil until the garlic begins to tan.
4. Turn off the heat (the garlic will continue to brown so watch out, you don't want it to blacken and become bitter).
5. When the spaghetti are just shy of being al dente, drain them well, transfer them to the oil skillet, toss and stir them for a few minutes to enhance flavor blending over a vivacious heat and serve immediately.
6. Please omit the grated Parmigiano or Pecorino Romano on the side.  Some people like it, including some Romans, whereas others, especially traditionalist Romans like me, shudder at the mere idea.
7. Three ingredients you always have in your kitchen.
Extra virgin olive oil, fresh tomatoes, garlic. And wine. And bread. Oh, and pesto sauce… Only 3? Really?
8. Your favorite restaurant(s) in Rome and why.
There are many, Rome is certainly not lacking in places to eat and the quality of dining is always quite good, but Rome's unique characteristic is the richness and variety of its culinary offer.
Among my unwavering favorites is Trattoria Monti, a small family run restaurant on Via San Vito 13/a (behind Santa Maria Maggiore) Tel/Fax +39 06 4466573 (reserving a table is wise) Closed Sunday evening and Monday; and Cavour 313 on Via Cavour, number 313; Tel. +39 06 6785469 – http:// www.cavour313.it/ Closed Sun. evenings in summer only – otherwise always open.
This exquisite wine merchant is a steadfast Roman vino and cucina icon. You can buy wine or Italian distilled products over the counter, drop in for an on-tap glass of wine, or sit at one of the restaurant's tables for an informal meal based on local gastronomic specialties.
9. Favorite gelataria and ice cream flavors.
Gelateria del Teatro, hands down – Piazza S. Simeone 22, off Via dei Coronari. The Langhe hazelnut, organic fig or Bronte pistachio flavors never cease to astound me.

10. Off the beaten path, what would you recommend visitors see or do in Rome?
Grab a slice of pizza bianca and hike up to the Aventine. Peek through the keyhole at the Knights of Malta and then relax on a park bench, munching away in the secluded orange tree-studded Giardino degli Aranci, overlooking the breathtaking view of Rome. Giardino degli Aranci (Parco Savello) Via di Santa Sabina; Open Mon to Sat 9 am-6 pm (sunset).
Blogs by Eleonora