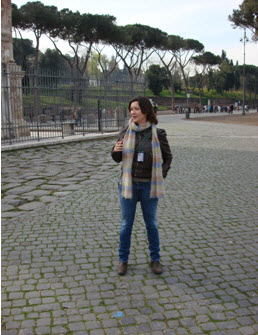 My name's Agnes Crawford, I'm originally from London. I graduated with an M.A. in Architectural History from Edinburgh University in 1999, and didn't know what to do next so came to Rome to do a CELTA (English Language teaching course) and have a think.
Nearly 12 years later I'm still here. I'm licenced as a tour guide by the Provincia di Roma and I've been a guide in the city for 10 years. I love exploring all angles of the city and environs on made-to-measure itineraries from the Etruscans to EUR and everything in between.
1.How long have you lived in Rome?
I'm married to a Roman, and have lived in Pigneto (the best neighbourhood ever!) for 8 years. I've written for various guide books including Time Out Rome, Where to Wear Shopping guides, and Frommer's Italian Islands. I offer private tours for groups of any size, and of anything you'd like! More information and suggested itineraries are on understandingrome.com.
2. What are the positive aspects of living in Rome?
Rome is layers and layers of life, scrape away the modern to find the Renaissance, medieval, Imperial, and Republican cities. It's one big glorious stage set, filled with intriguing courtyards and churches to dive into. Freud said that human memory was like Rome, with all the different existences and periods coexisting in a vast collage. And the food's good!
3. What are the 3 top attractions that a first-time visitor must see in Rome?
The really famous ones are famous because they're great:
The Colosseum, but don't miss the Palatine Hill and Forum included on the same ticket.
The Vatican Museums can be a scrum but can't be missed, try the afternoon midweek if you want it as bearable as possible. In February if you want it to yourself.
And probably my absolute top is the Pantheon. And it's free!
4. Your favorite Rome attraction and why?
Possibly the Palazzo Massimo alle Terme (part of the Museo Nazionale Romano) for the EXTRAORDINARY Roman frescoes on the top floor, but then again the Villa Farnesina, or Santa Prassede, or Palazzo Barberini, or the Borghese… I could go on forever and it's impossible to choose.
5. Best-kept secret in Rome that you can share with us.
Palazzo Colonna is only open from 9-1 on Saturday mornings and it's fabulous; the catacombs and church of Sant'Agnese on the via Nomentana; the Cavallini frescoes at Santa Cecilia in Trastevere; the apse mosaics at S. Cosma and Damian; the Chapel of Saint Sylvester, Ss Quattro Coronati. I lovely anything that involves giving a nun a couple of euros in unlikely surroundings…
6. Favorite place for coffee
I think I'll go for my local, Necci. They do a yummy ham croissant too. And have a garden. In town Cafè et Caffè on Piazza Sant' Eustachio is a lot less famous than the bar across the square but is an off-shoot of a favoured bar in Salerno, and the coffee's short, dark, and delicious.
7. Nightlife in Rome – any recommendations?
Rome isn't New York, and I'd usually rather linger over a long dinner. Though Fanfulla on via Fanfulla di Lodi and Circolo degli Artisti, via Casilina Vecchia, both have live music most evenings and are round the corner from my apartment.
8. Off the beaten path, what would you recommend visitors see or do in Rome?
Maybe a morning wander around the market in Testaccio while it's still open, then down to the Pyramid of Caius Cestius, the Protestant Cemetery, before lunch in Testaccio, and a (1 euro, 40 minute) train ride to prowl around the (usually deserted) ruins of Ostia Antica.
9. Favorite restaurant(s) and why?
Our local fave is 41, via del Pigneto 41 (Website http://www.pignetoquarantuno.it). Also Da Marcello, Piazza dei Campani (San Lorenzo),  (tel) 06 446 3311, is great value and noisily authentic. In town I like old-fashioned places like La Campana, vicolo della Campana or lunch at Enoteca Corsi, via del Gesù. For something special Roscioli, via dei Giubbonari is delicious.
10.Travel Tips for Rome
Book the Vatican Museums online and go in the afternoon.
Buy Colosseum tickets at the Forum entrance on via dei Fori Imperiali at Largo Corrado Ricci and go as early as possible, they open at 8.30am.
No need to tip as you might elsewhere, just round your bill up if service was good, if it wasn't, don't.
Bring a bottle, fill up at the drinking fountains across town and save small fortune. Yes, it's fine to drink.
Better still, book a good guide!
—————————-
Talking about guides, check out Agnes' website at UnderstandingRome.com if you are looking for a private guide in Rome.