Although I would love to have the luxury of sitting down in a restaurant in Rome to enjoy a nice lunch during the weekdays, more often than not, I find myself rushing from one place to another at lunch time.  Usually, I am eating a home-packed sandwich while taking public transport to my destination and if I am lucky, I will have the chance to can grab a quick bite from a bar.
Alternative to a restaurant in Rome
Last week, I had time but not enough to head to a restaurant so I found myself making my way through the Jewish Ghetto, where there is a concentration of outstanding choices.  I passed by the ever famous Beppe e i Suoi Formaggi where we had a 7-course all pasta dinner a few weeks ago.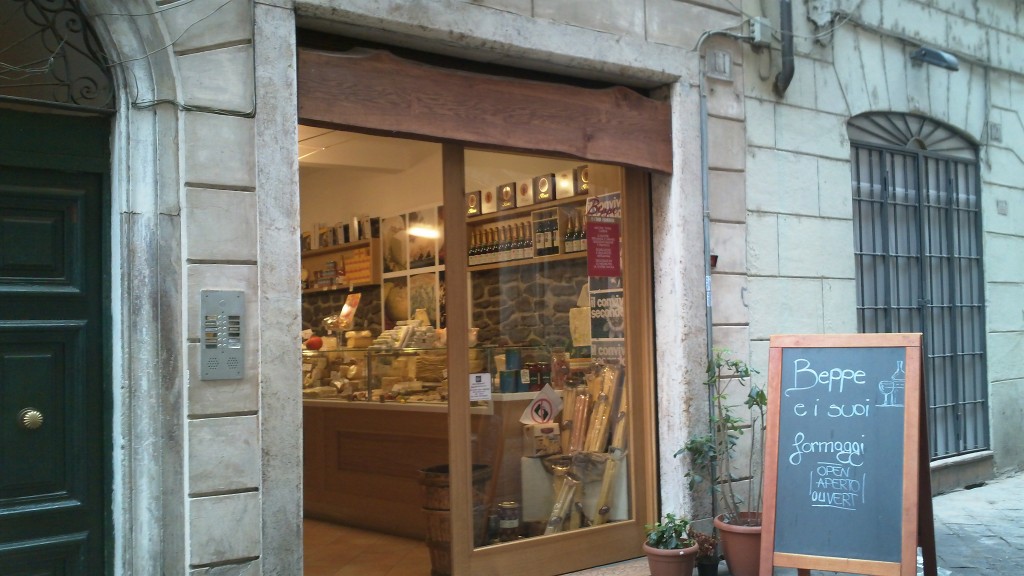 That evening, while my nose told me that I had without a doubt stepped into a cheese store (the smell of cheese hits you the second you are in), I didn't have the chance to see the variety of cheeses they offered. This time around, I took the opportunity to step inside to get a closer look at their selection.
Beppe e i Suoi Formaggi has an astounding display of cheeses and in all shapes.  While my intention was just to browse around the shop, I was surprised to find they also offered a light lunch in the adjacent room where tables were setup.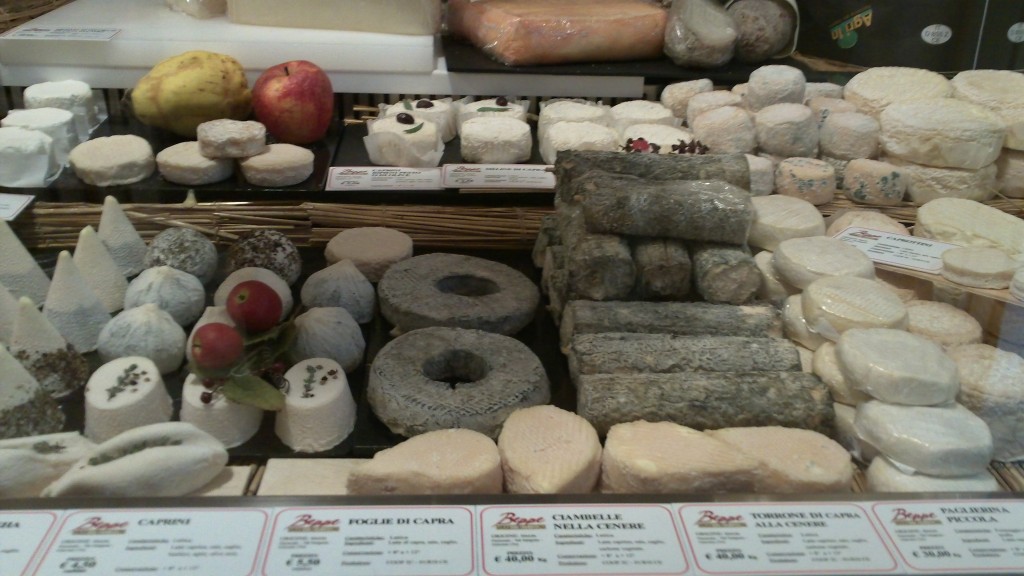 As I had mentioned earlier, I didn't really have time for a sit down meal but as there had also a selection of bread and prosciutto, I took a stab and asked if it was possible for them to make a sandwich.  "Yes" was the answer and I could choose the type of bread, and I decide on what I want in it. Fantastic! 35QQFEA9CJEQ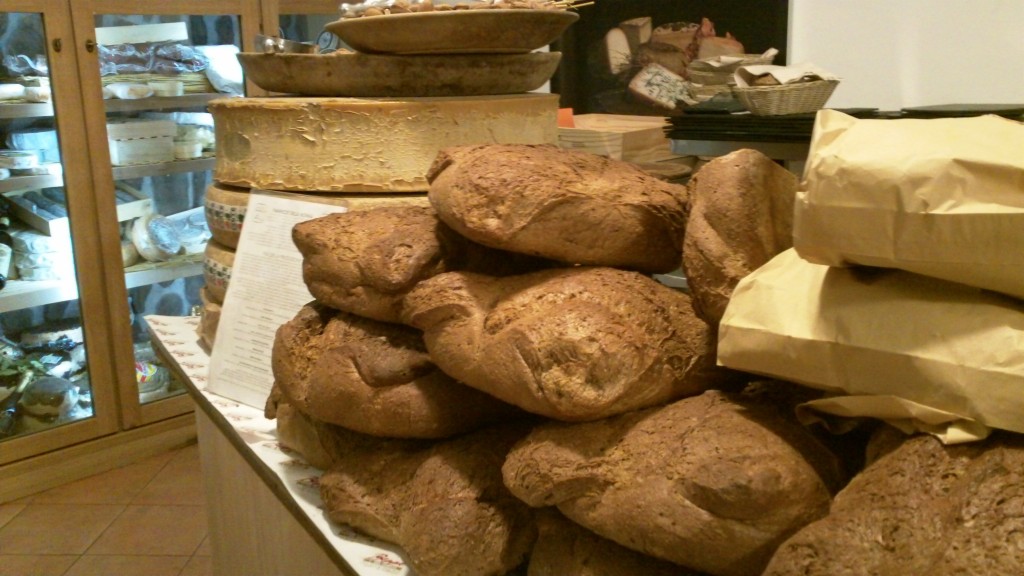 I chose prosciutto and as for the cheese, I asked for their recommendation. In turn, the lady asked "Do you prefer cow, goat or sheep cheese?" and I replied saying I wanted a mild cow cheese.
She generously cut a slice for me to try and it was luscious.  I can't recall the name of the cheese but remembered it sounded French because I had asked it if was French and she said no. I will go back and ask the next time I pass by the store.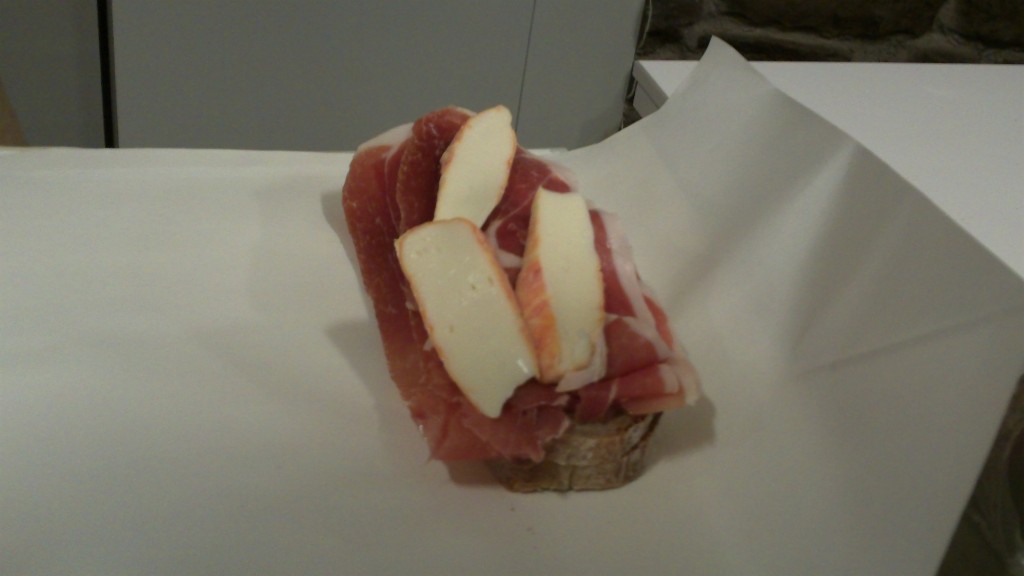 Before I forget, the lady who assisted me spoke English and was very helpful.  When requesting a sandwich to be made this way, you pay by weight for the bread, and whatever you decide to have in it.
My sandwich came out to €7.50 which is a lot but it was worth every bite.  Apart from cheeses, they also sell pasta such as the ones we tasted by Tajarin.  Just expect to be paying premium for the products in this store.  It is, after all, a specialty shop.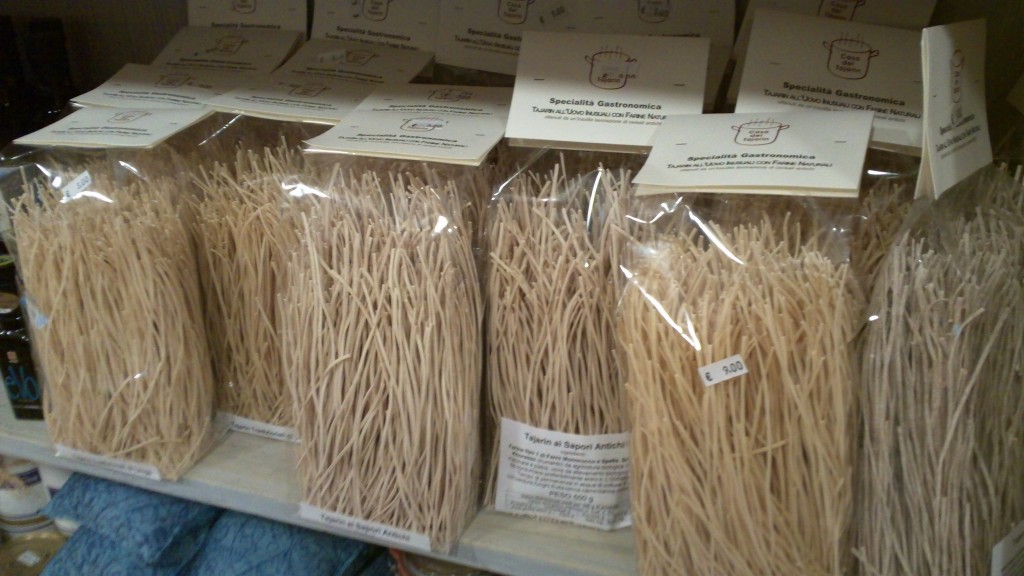 Beppe e I Suoi Formaggi
Via Santa Maria del Pianto, 9/a – 00186 Roma
+39.06.68192210
info@beppeeisuoiformaggi.it
A big thanks to Katie Parla who had brought my attention to Beppe e I Suoi Formaggi.  If you want an alternative to having lunch at a restaurant in Rome, Beppe e I Suoi Formaggi is an excellent choice for you to grab something on the go.