Sure, Rome wasn't built in a day, but you can no doubt make a day, or days, out of it. The Eternal City remains unrivaled when it comes to the sheer aesthetic supremacy of its antique structures and its impressive, widely-venerated history. It doesn't come as a surprise that Rome claimed the #2 spot on the Condé Nast Traveler's 2009 Reader's Choice Awards Top 10 European Cities; bested only by its northern cousin, Florence.
Rome has a population of about 2.7 million people. Climate is mild to rainy in winter while hot and dry in the summer. Except for a specific list of European countries, everyone must have a passport to enter Italy. However, you do not need a Visa if you're only staying for 90 days or less. Experts recommend visiting Rome in the off-peak months between October and March to so you won't lose your wits in the summer mob. In choosing accommodations, try to book a hotel near—if not within—the centro storico or historic district as the best way to take in the city's artistic treasure trove is on foot, allowing you to take quick side trips and at your own pace.
Still, it's best to list down the Rome attractions you intend on visiting beforehand to make sure you get to cover all of them during your stay.  Time flies when you are having fun.  Private guided tours are a convenient way to get around and are easily available from your hotel's concierge. A great way to economize is by taking the public transportation system, which goes around the city and provides a fascinating tour of Rome's neighborhoods.  No matter what your tourist inclinations may be, there are certain places that should not be missed when sightseeing in Rome.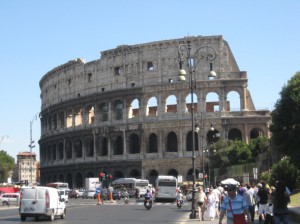 The Colosseum is probably, next to the Vatican, the most popular—at the very least, most recognizable—structure in this city. In peak season, lines can be long so head there first thing in the morning (early that is), to beat the crowd. Operating hours vary throughout the year so be sure to call ahead for admission details. For your convenience, you may consider purchasing a combo-pass which also includes admission to the Palatine Hill and the Roman Forum. This allows you to skip the queues.
After an awe-inspiring tour of The Colosseum, head to Foro Romano or The Roman Forum. This was the civic center of Ancient Rome where political, religious, and economic activities took place. Many of its columns remain standing among the ruins even after 2000 years, displaying the intricacies of Roman architecture. Keep in mind there are matching fees for guided and audio tours.
From the Colosseum continue down Via Fori Imperiali until you get to Piaza Venezia.  About 10 minutes walk from here, you will find the Pantheon. It would be hard to believe that The Pantheon is over 1,800 years old where it stands today, virtually unchanged. This structure can be perceived as how the Foro Romano ruins would have looked had its buildings held. The Pantheon means "temple to all gods" and was built around 125 A.D. by Emperor Hadrian.
Its concrete dome features a 9-meter opening that provides the only source of illumination within. Many prominent individuals, including two Kings of Italy, VittorioEmmanuel II and Umberto I, and Renaissance painter Raphael, are buried here. As the building has endured countless civilizations, retaining much of its form, imagine strolling inside it during Hadrian's time and picture yourself among the Romans.  It's truly amazing how this structure has withstood the test of time. The Pantheon is open every day of the week including holidays except Christmas and admission is free.
If you followed the way these places are listed here and visited them all in one day, at this point, you're probably up for just one more stop before heading back to the hotel.
You can easily spend three hours visiting The Vatican City and its collection of sculptures, paintings, books, and many other artifacts that chronicle the Catholic Church's history.
Of course, this amount of time doesn't provide for detailed examination of the various pieces as much as one would want. Besides, if that were the case, one day is not enough to barely scratch the surface of the Vatican collection.
In St. Peter's Basilica, marvel at Michelangelo's Pieta, its detailed masonry, or the papal catacombs. Move on to the Vatican Museum where even more magnificent antiquities are housed, not the least of which are Egyptian mummies from B.C. era.
If pressed for time, skip everything else and proceed to the Sistine Chapel. Michelangelo, primarily, was known as an excellent sculptor so when Pope Julius II commissioned him to paint the Bible on the ceiling of the Sistine Chapel, he thought it was a ploy by his rivals who thought Michelangelo, not being a full-on painter, would yield mediocrity and embarrass himself. Of course, we all know it didn't quite turn out that way. In fact, the Sistine Chapel is probably the most recognized piece of work from the Renaissance period. To avoid any disappointment, remember to call one day ahead of your trip to find out about any changes.
Many restaurants and cafes are situated around major Rome attractions so there is no problem finding replenishment. Wear comfortable shoes and keep the things you carry around to a minimum; a bulky backpack, for example, will make it hard for you to maneuver through crowds. Should you need help in getting around, ask the local residents as they are often willing to assist.  Living in Rome, they would have gotten used to sharing the city with their guests.
Keep in mind that this quick glimpse of Rome barely scratches the surface of all that this city has to offer!  So to make the most of your holiday here in the Eternal City, plan to stay for 5-7 days.