It has been a week filled with excitement in Rome as the Papal Conclave got underway this past Tuesday. All eyes were on Vatican eagerly waiting to see the white smoke signaling that a pope has been elected. And unless you have been living under a rock, you know there is a new Pope!
With the flurry of activity and over 5,000 reporters in town covering this historic event, it was difficult not get caught up in the excitement. Regardless of religion, the conclave was the talk of town and living in Rome, I felt compelled to make my way to St. Peter's Square to see the smoke in person, whether black or white.
I dread crowds and with the weather not cooperating, I debated back and forth about going to St. Peter's. While I know some faithfuls would be present daily at noon and 7pm (scheduled times to see the smoke) until a pope is elected, I planned on being there once and hope that maybe, just maybe, I would see a puff of white smoke.
I decided it would be Wednesday morning and as throngs of people got onto the metro in Termini, I had no doubt we were all headed to the same place. Obviously, the rain and gloomy weather didn't dampen the hope of witnessing history in the making.
When I got there, I weaved through the crowds to find a spot and the moment I looked up, there was a wisp of smoke coming out from the chimney and it wasn't even noon yet. I would be lying to say I wasn't excited and when those wisps evidently became puffs of black smoke, you could sense the disappointment.
Almost immediately, the crowd dispersed out of St. Peter's Square and unfortunately for me, it was only that evening that the white smoke would be seen.
And what an evening it turned out to be. After work, I tuned in to a local TV network covering the conclave and while it was already past 7pm, there were no signs from the chimney. Not long after, the plume of white smoke along with the cheers of excitement from the crowd in piazza clearly signaled that a new pope has been elected.
Bells were also ringing throughout Rome as further confirmation and the city seemed like it was in a state of frenzy as a sea of people rushed over to St. Peters to be part of this once-in-a-lifetime event. I, instead, stayed home but like everyone else was eagerly anticipating the announcement which came after more than an hour (talk about keeping us in suspense!). And as you know, the rest was history – literally!
It has been wild but the excitement is not over yet.
Tomorrow, Pope Francis will be delivering his first Angelus from the balcony of his papal apartment at 12pm and on Tuesday 19 March, the inaugural mass at St. Peter's at 9.30am which coincides with Father's Day in Italy (Festa di San Giuseppe). Yes, there's still plenty of excitement left!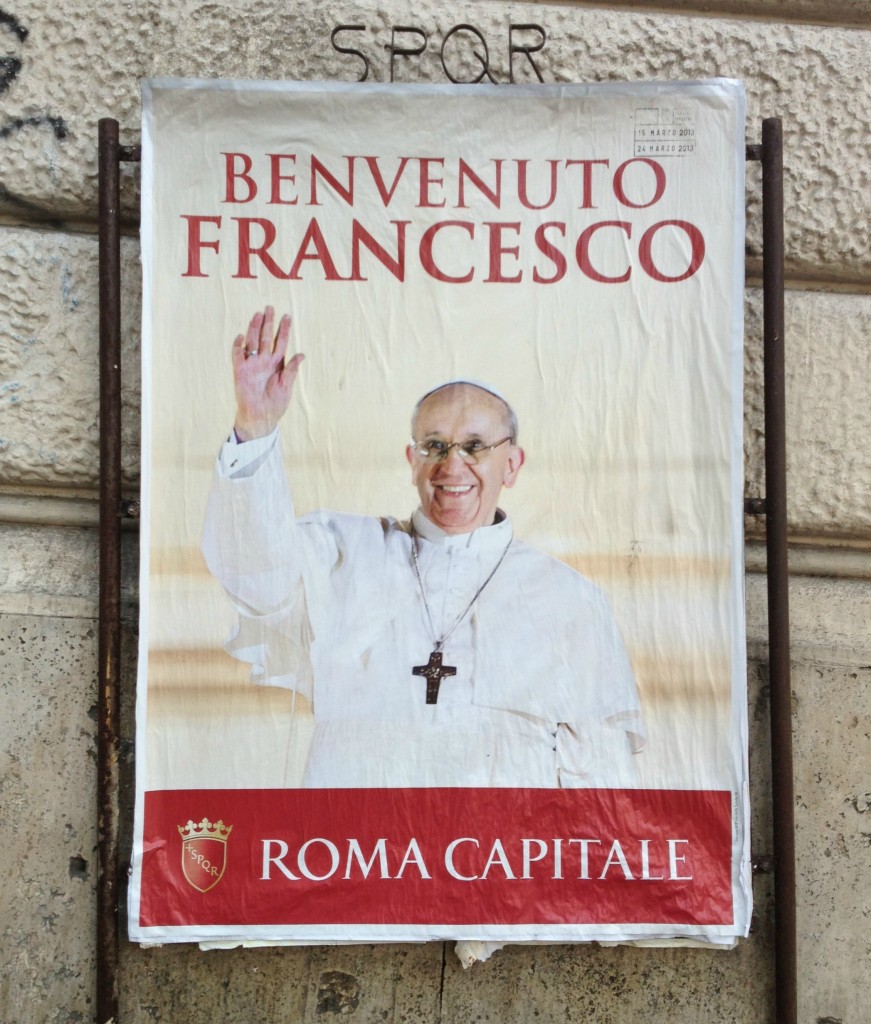 If you are still up to it and haven't read enough about the conclave and Pope Francis, here are some interesting articles:
Habemus Papam! Francis, the Argentinean Bergoglio – Insights from a local journalist in Rome on BuzzinRome.com
Pope Francis' Election: Not a 'Dry Eye in the House' at Conclave, Cardinal Says – ABC News
Inside the conclave: The story behind the election of Pope Francis – SILive.com
Pope Francis' Mass Appeal – Foreign Affairs
Lowly yet chosen – Repubblica.it
Blog Who Is Pope Francis? – Forbes