It's olive harvesting time in Italy!  Thank goodness as we are down to our last bottle of olive oil.  While some may have already completed their harvest, our friends, whom we buy oil from, while be olive harvesting this Friday.
It has been a while since we bought olive oil from the store and find that for the quality of oil we get, it's worth the price we pay.  Last year we bought 15 litres and yes, we have used it all!
So what do we use olive oil on?  Just about everything but you can the taste it best in salads (one of my favorites is caprese salad),  bruschetta and a drizzle over cooked pasta (a crudo).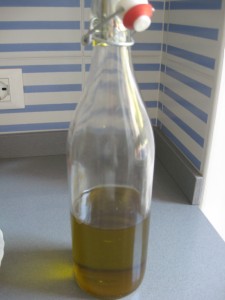 Last weekend, their neighbors were olive harvesting using modern devices such as the one shown a bit later in the video link shared below.  I was fascinated and mesmerized by how it was done.

Like this video, I felt they were stripping the tree but that is the way to get the olives to drop. It was no surprise then that I enjoyed the video below. It takes a lot of work and makes me appreciate olive oil even more.
If you are curious to know what 'extra virgin' means, you will find this article interesting.
When you buy olive oil are you selective and what do you use olive oil with?