In general, Chinese New Year celebrations in Rome are very low key.  This year, it was nice to hear that the Chinese Embassy organized some events at Piazza del Popolo.  So we headed there to mainly see the lion dance performances.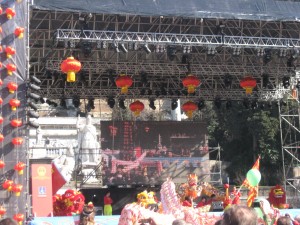 Thanks to the nice warm and sunny day, there was quite a nice crowd.  The event was officially opened by the Mayor of Rome as you can see in the video below with greetings in Chinese and Italian.

Surprisingly, the performances were really impressive and I have included a few YouTube links here for you to check them out. Very talented performers!
Obviously, there were a lot of Chinese people present for this event and I have to admit that it was nice to see a different cultural celebration here in Rome.