Having lived here for the past 5 years, I would like to share what I love about living in Rome Italy.  There are in no particular order.
What I Love About Living in Rome Italy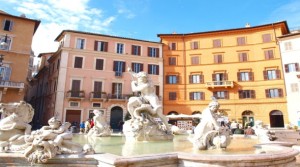 1.  Rome is definitely the Eternal City and what I find magical about this city is the history. The attractions are a testament to the glory and grandeur that represents this amazing place.
I live relatively close to the historic center and on weekends when I go for my runs, it feels like running through an open-air museum!
2. Piazzas. I love having my lunch in one of the many spectacular Piazzas and spending time just people watching!  In Spring, the piazzas are filled with tourists and it's fun to see how they are fascinated by the splendor.  It reminds me how lucky I am to be living in Rome Italy!
3.  Location. In Rome, you are close to beaches, mountains, and lakes.  Tuscany and Umbria are less than 2 hours way by car.  It is so well-connected that many residents leave Rome to get away for the weekend.  We have taken day trips to as far as Positano which is more than 200km (135 miles) South of Rome.
4. Italian food. Well that's a no-brainer.  All over Italy, you get great food but each region and city has its own speciality – Rome included.
One thing I have learned living in Rome Italy is that Italian food is simple and uses fresh ingredients.  I enjoy cooking and learning new recipes has been fun.
5. Shopping. I am not really into shopping but I am attracted to the displays in the window.  Fashion here is big and some can really be over the top.
However, there is a wide range and some of the clothes here are really nice!  Oh, shoes and especially boots are what I love.
6. Family. Living in Rome Italy means I get the chance to spend time with my nieces.  They range between the ages of 2-6 and are just adorable.  It's great to be an aunt because you enjoy them for a couple of hours before heading home to recover!
7. Weather. There's the odd day where it gets very cold but it seldom snows here.  Winters are mild, Spring and Autumn are perfect and when it gets hot and humid in summer, people head to the beaches!
I know people living in Rome Italy who have turned down jobs in Milan or have left Milan precisely because they wanted to be in better weather.  Can't blame them.
A Reality Check about Living in Rome Italy
While I love living here, there are some challenges.  It's not always nice and rosy so to give you a balanced perspective, here is a resource that keep things in check.
Video on Things I Love About Living in Rome Italy
Relevant to this post, I thought it would be fun to share a short video I did last year.  I invite you to watch this video on why I love living in Rome Italy.
Over To You
What about Rome do you find most enticing?
If you are living in Rome Italy, please share your experience.