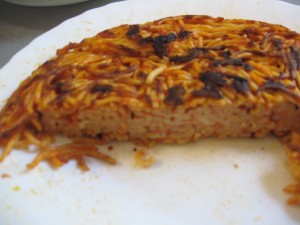 I didn't even know that you could make a frittata with leftover pasta!
However, this past weekend when we were on the beach in Senigallia, my sister-in-law brought her lunch, frittata di spaghetti al pomodoro, and my husband was transported back in time to when they were teenagers.
Their mother would make this as lunch for them to bring to the beach and my sister-in-law commented saying it was made by his brother (yes he's a very good cook!).
I found it a strange combination and when we got back to Rome, we decided to make it for my husband's lunch. Since we didn't have any leftovers, we made the spaghetti al pomodoro a few hours earlier. The verdict – he said it was good just needs more salt (I tend to be cautious with the use of salt).
Ingredients:
* 150g of spaghetti with tomato sauce
* 2 eggs
* salt and pepper as needed
* 12-15 grams olive oil or enough to coat the pan
* 1 tablespoon of grated parmesan
Instructions:
1. If you don't have left over spaghetti with tomato sauce, make it earlier so that it cools completely.  When it has cooled down, it looks dry and sticky.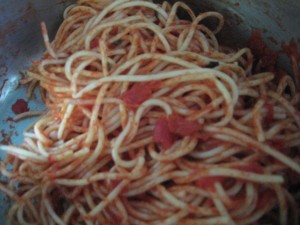 2. In a bowl, beat the eggs, add salt, pepper and the parmesan. Mix them well.
3. Add the pasta to the eggs and mix them all together.
4. In a pan (preferably non-stick), add the oil and then pour the pasta that has been mixed with eggs. Level it out like if you are cooking an omelette.
5. Cook on low to medium fire with a cover. Check that the bottom part forms a crust and is browned before flipping it over.
6. Flip it over with a large plate and cook the other side until it is browned.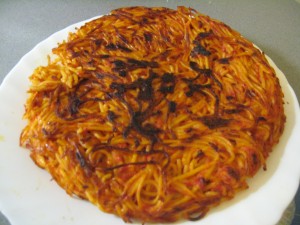 It's really that simple and while it's not easy to bring pasta to the beach, this dish fits the bill.  It makes for a great lunch that you bring from home!