This apple dumpling recipe is not an Italian recipe at all, and the only connection that comes to mind is that the Trentino area is renown for their apples. Even though I post mainly Italian recipes, I felt a strong pull to try this recipe and I explain why further in this post.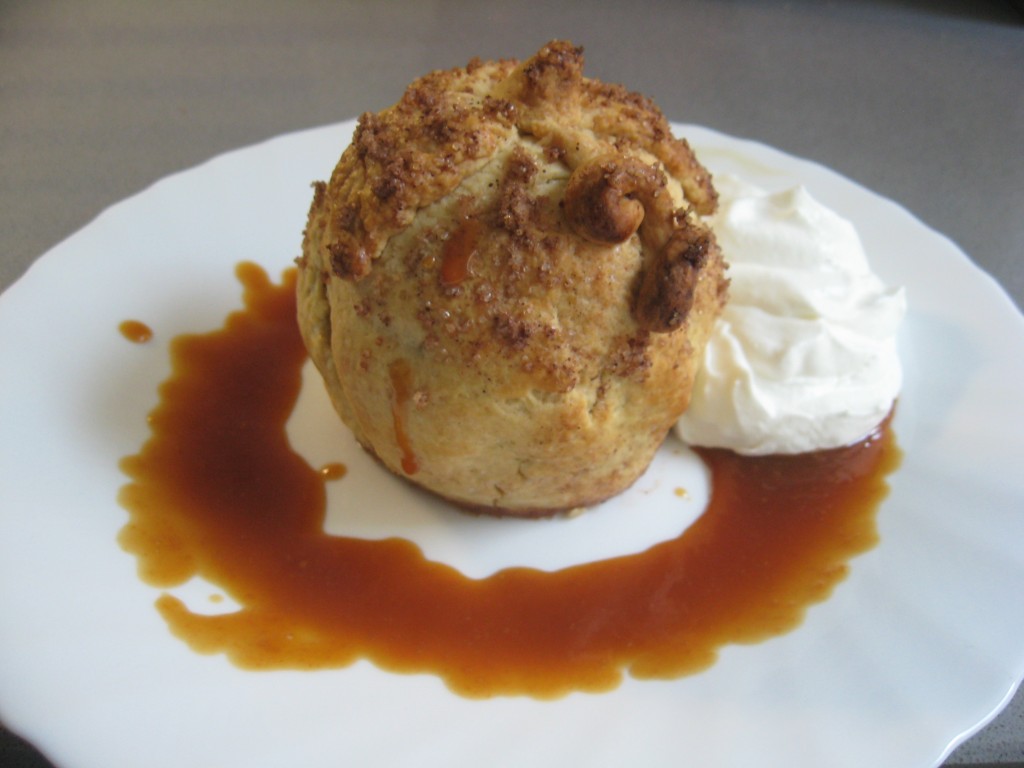 Initially, I wasn't sure about calling this an apple dumpling recipe because a "dumpling" for me seems more savory than sweet.  I was tempted to call it a "whole apple" pie because it's an entire apple wrapped in pastry dough.  However, after doing some research on apple dumplings, I figured I have to call this an apple dumpling recipe based on the definition given by Wikipedia. And so it is!
I first saw this beautiful and artistic recipe from the blog Life's A Feast and wanted to try it out because it was just so pretty  This reason alone made me eager to recreate this apple dumpling recipe as I just wanted to see if I can actually pull it off. I am not a professional pastry chef nor do I have any credentials in cooking so the challenge was enticing.
I did make a few changes and for my first attempt, I was thrilled with the outcome of this apple dumpling.  Served with the butter caramel sauce also from Life's A Feast and a dollop of whipped cream, it was a warm and comforting treat.
Personal note: I had wanted to skip making the butter caramel sauce because I tend to be accident prone when it comes to making caramel. My poor sister unfortunately has a few scars because of my clumsiness!  I am glad to have made the sauce and without any incident.
Apple Dumpling Recipe adapted from Life's A Feast
Ingredients for Apple Dumpling
One apple per person
1-2 tablespoon brown sugar
1 teaspoon cinnamon (or as you like)
Milk
Instructions
1. Peel and core the apple. Note: I just used whatever apple was in my kitchen.  I also made sure the bottom was level so that it stands upright in the baking pan.
2. In a bowl add brown sugar and cinnamon.
3. Roll the peeled and cored apple in the brown sugar and cinnamon.
4. Add a knob of butter in the core.
5. Use half of the pastry crust recipe below for two apples.  Roll out the pastry dough.

6. Place the apple on top of the dough and gently pull and press the dough up to wrap the apple.
7. Slightly overlap the dough at the top and press to seal.
8. Decorate by making leaves and stems. To ensure they stay on, you can use milk as "glue".
9. Place in a baking tray and refrigerate for at least 30 minutes before baking.
10. Preheat oven to 180C (350F).

11. Before baking the apple dumpling, brush with milk and  sprinkle some brown sugar and cinnamon.
12. Bake for 45 minutes to an hour until golden brown.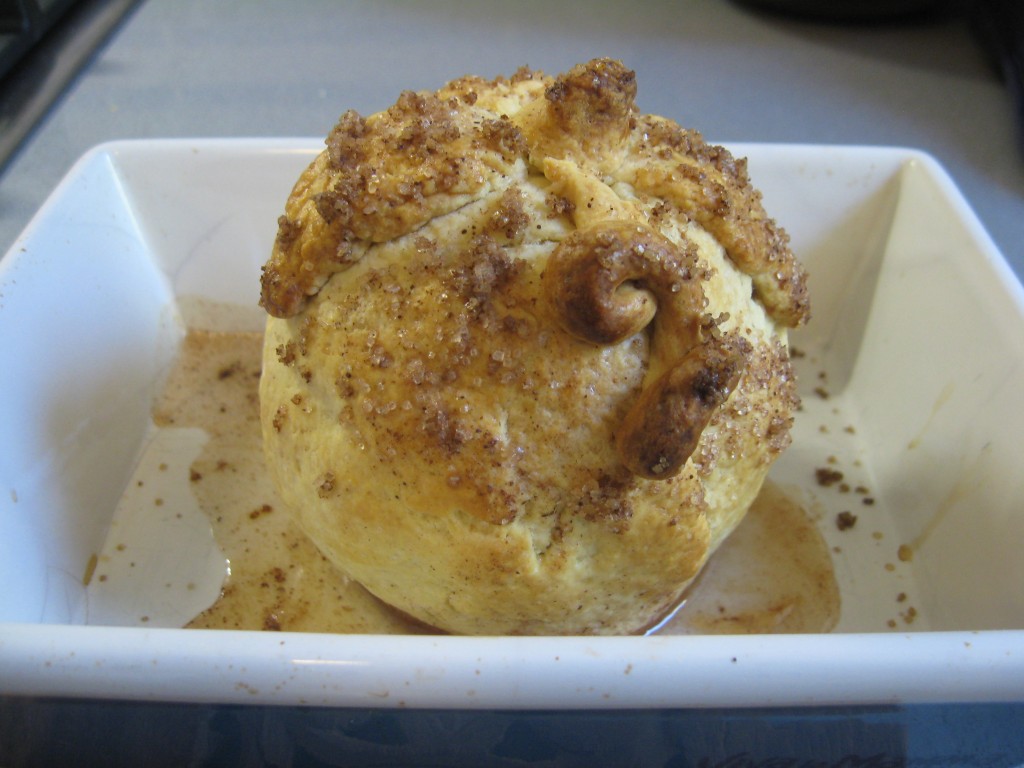 Ingredients for Butter Caramel Sauce
200 grams granulated white sugar
50 grams butter
250 ml heavy cream
Instructions
1. Melt the sugar in a medium-sized saucepan over medium-low heat until completely melted and caramel in color.
2. Lower the heat to low and whisk in the butter in 4 to 5  additions (10-12 grams each time).
3. Continue whisking, add the heavy cream in a slow stream; the caramel may foam up, but keep whisking, as it will calm down once all the cream is added and will turn to a smooth caramel.
4. Once it is smooth and creamy, remove from the heat and allow to cool at least to tepid before serving.

Ingredients for Pastry Crust
175 gram flour
50 grams sugar
100 gram butter
1 large egg lightly beaten
Instructions
1. Add flour and sugar in a bowl.  Cut the butter into chunks and add them to the flour and sugar.  With your finger tips, mix all together until your get a crumbly mixture.
2. Slowly pour the beaten egg and using your hands or mix until you get a smooth dough that you can form into a ball.
3. Wrap up the dough and keep it in the fridge for about 30 minutes before using.

Serving the Apple Dumpling

Place the apple dumpling in the middle of the plate surrounded by the butter caramel sauce.  You don't have to add whip cream but it just felt right to have it.
A simpler version is just the apple dumpling with some vanilla ice cream.  No need to fuss about making the butter caramel if you are short on time but you'll be missing out.
Personal Thoughts about this Apple Dumpling Recipe
I was surprised it turned out and I was excited as I have never made anything this lovely!  So much so that I was hesitant to even break into it. But I did and initially felt remorseful until I had the first bite.
The taste of apple with cinnamon with buttery caramel and a spoon of whip cream to reduce the sweetness of the caramel sauce is the ultimate dessert for a cold winter's day!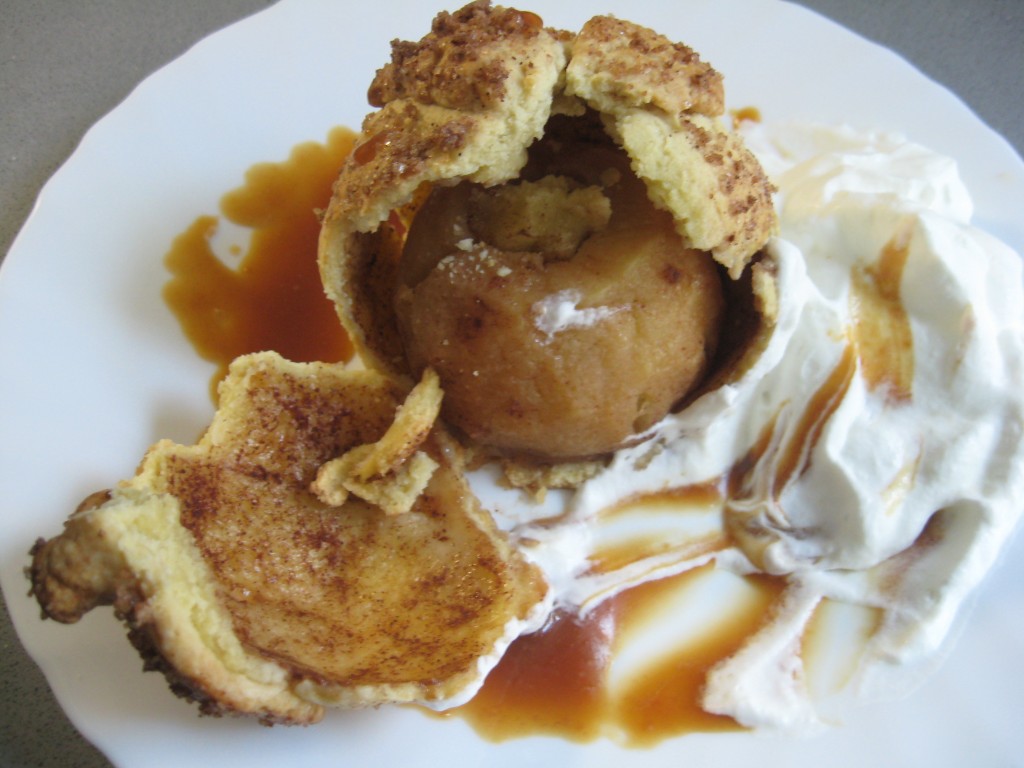 I absolutely love this recipe as it didn't require you to cut up the apples into chunks as you would for an apple pie. Also keeping the apple as a whole then "decorating" it to maintain the look of an apple makes it appealing and presentable to dinner guests.
You are sure to get loads of compliments for this classy dessert and the time spent making this apple dumpling recipe will be well worth it!