My fascination with the vintage Fiat 500 started in April when I saw that, despite its size, there were three men sitting inside one at a gas station.
That sight for me was like looking at a  scene from an Italian movie in the 50's.  I stood there for a few seconds, taking in scene, smiling to myself and continued walking.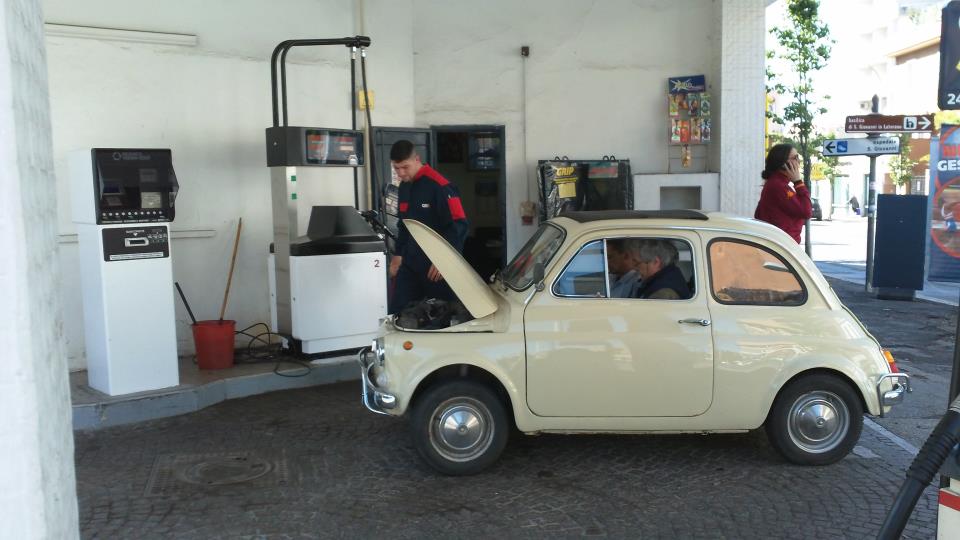 After a few steps, I stopped in my tracks and realized I was making a big mistake. I hesitated for a second and then quickly ran back to get this shot because I HAD to know I saw it  for real!  As they say, from then on, it was history and I have since been on the look out for vintage Fiat 500s.
From my observation, many of these vintage Fiat 500 are exceptionally well-kept considering that the production of these vehicles started in the late 50's with the last production in the 70's. I also believe that my fascination is likely the consequence result of having worked in the car industry in my past life.
Though they are not a regular feature on the roads,  I can still spot 2-3 vintage Fiat 500s on a good day. However, we are in Italy and the nagging question in my head is if there are any of these vintage Fiat 500 still in use outside Italy.
That's why I am asking you for a favor. If you spot a vintage Fiat 500 outside Italy, please feel free to share them with me on Twitter using the hashtag #vintageFiat500 or via email browsingrome [at] gmail [dot] com. I will add them to the photos here (or create another post if it gets too long) and credit you for them.
Here are some of my favorite vintage Fiat 500 all taken in Italy with a short blurb.
1. Black Vintage Fiat 500 in Puglia – This belongs to the owners of a bed and breakfast in Puglia where we stayed.  When Katrine told us she would come meet us at the nearby town to bring us to the bed and breakfast, she said to look out for a old Fiat 500.
When she showed up in the black Fiat 500, I thought "She is definitely living up to the image that most visitors have of Italy".  I mean, seriously, if you are coming to Puglia from the US and the owners of your B&B meet you in town with a vintage Fiat 500, wouldn't you think "How cute, How Italian"?
2.  This white vintage Fiat 500 has a baby seat inside. Not sure how safe it is but it's the first I have seen with a baby seat!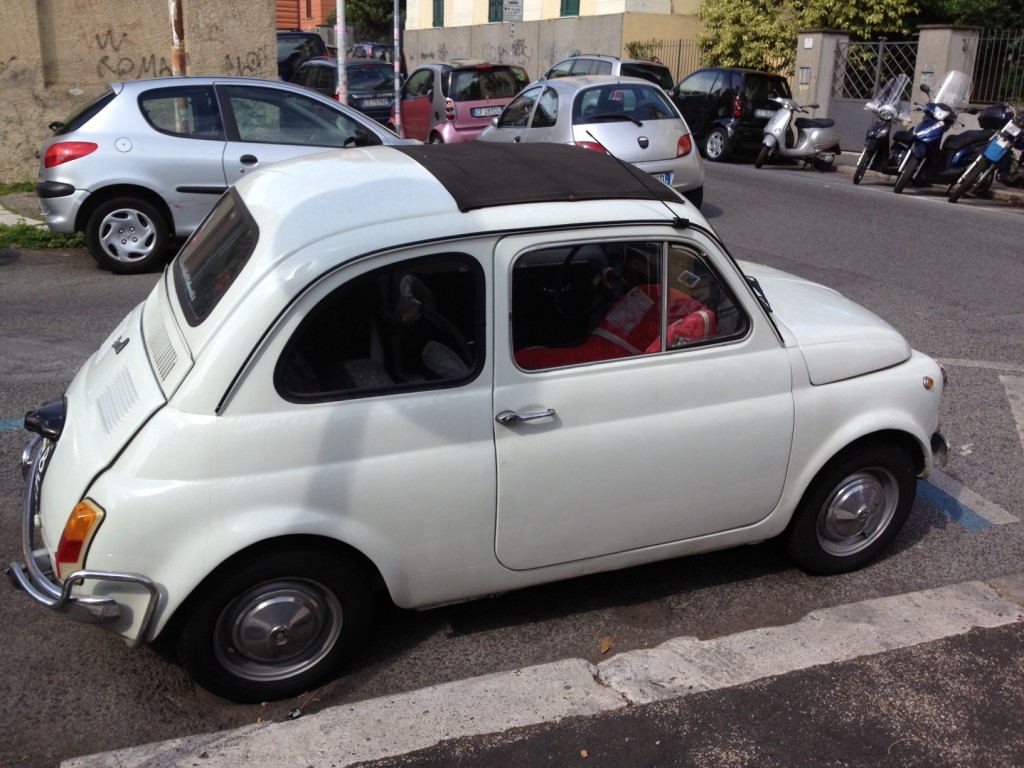 3. Yellow vintage Fiat 500 that I saw around the corner from the white one above. Two in less than a minute – that was a record!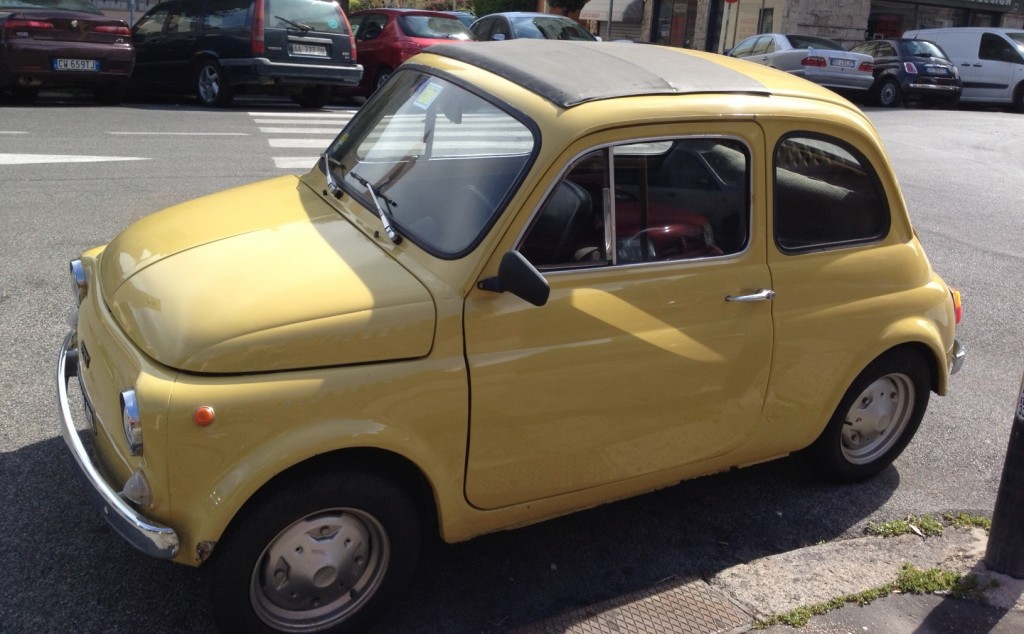 4.  Love this orange color. I have seen a few orange vintage Fiat 500s but was always too slow to take a photo of them. Finally got one that was parked.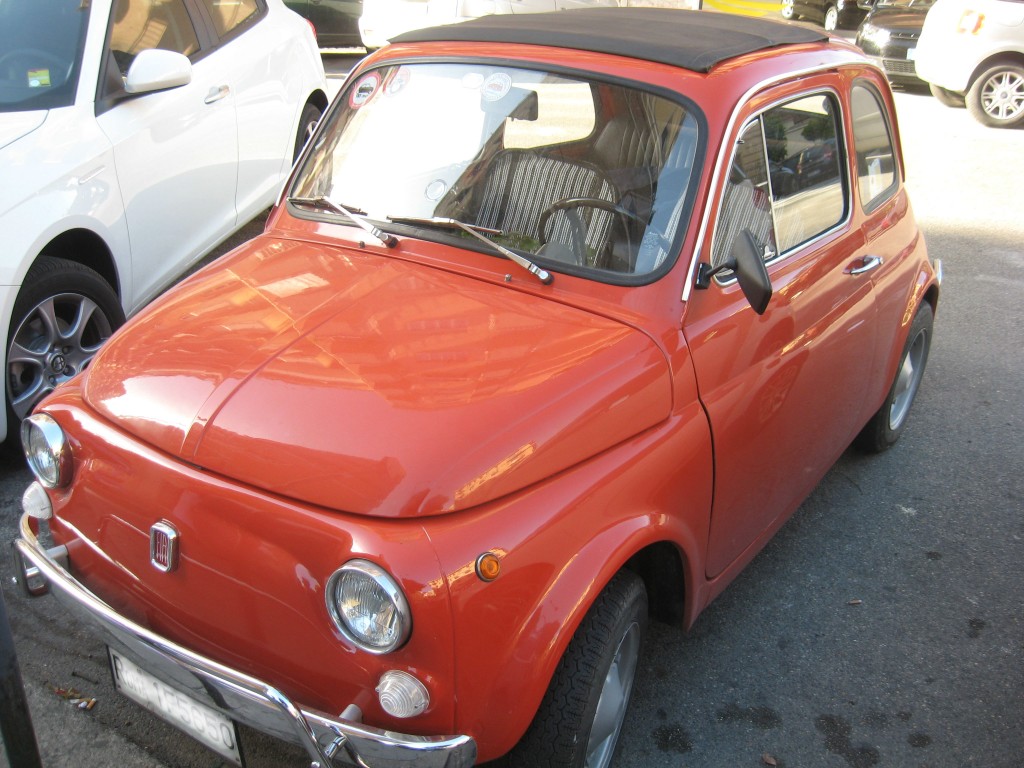 5. On the way to the VIP Tour of the Vatican Museums with Walks of Italy, this yellow vintage Fiat 500 almost ran me over. That was the least of my concern!  I wanted to get a shot of it and was frantically grabbing my phone. Who would have ever guessed that this could be hazardous hobby.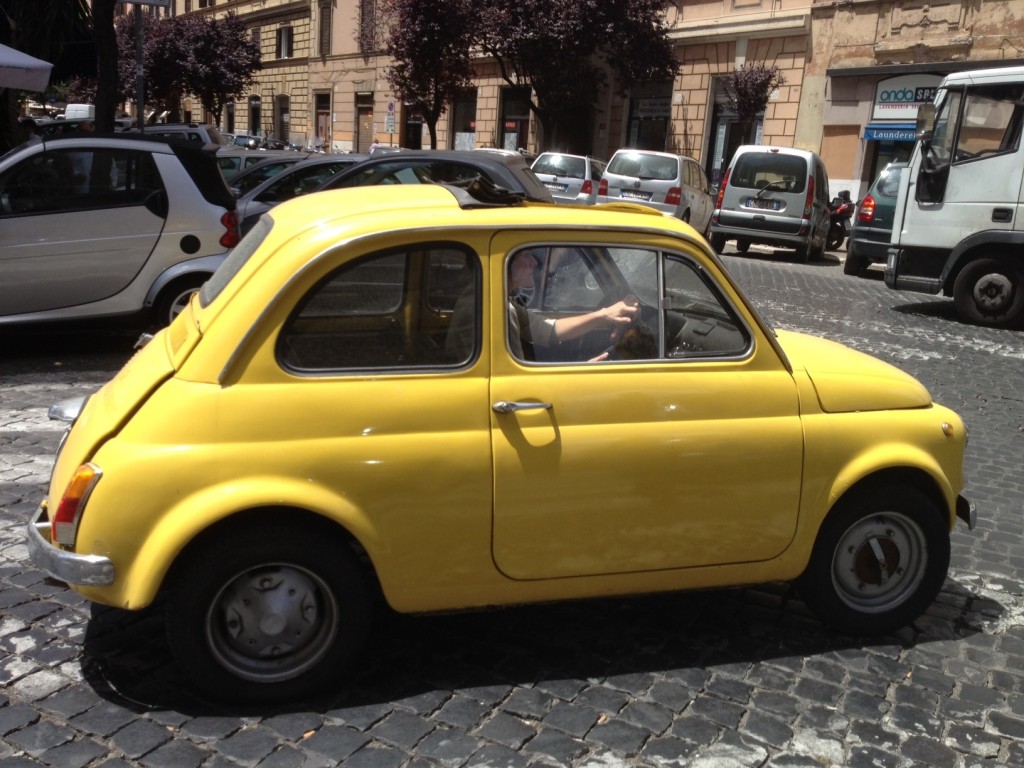 P.S. I have been meaning to write this post for a while and only when I read Erica's post did I eventually get around to doing this. So a special thank you goes out to Erica for that "kick-in-the butt" (in a good way!)
I hope to add more varied colors of the vintage Fiat 500 and if you already have a collection, share your link in the comments below.
Updated 22 June, 2012
A sweet little vintage Fiat 500 spotted all the way in Washington D.C.  Thanks to Leigh Ann who emailed it in. Her boyfriend came across this beauty and sent it to her!
Yesterday in Rome, I saw this vintage Fiat 500 stripped "naked". I wanted to take a close up to show how bare it was inside but the driver of the trailer was staring me down.
If you come across or have a photo of  a vintage Fiat 500, I welcome you to send it in and I will share them here with credits to you.  Watch this space for more  vintage Fiat 500s!