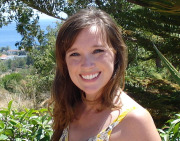 Cherrye Moore is a Texas-born freelance writer who moved to southern Italy and opened a bed and breakfast and travel consulting business with her Calabrese husband.  Cherrye shares with us valuable tips for traveling to this part of Italy and I sincerely thank Cherrye for the in-depth details she has provided.  As I have never been to Calabria myself, I hope to use these tips to plan my visit to the region really soon.
1. How long have you lived in Calabria?
I moved to Calabria in April 2006 to put an end to my six year long-distance relationship … to end the long-distance part, that is, not the relationship.
Like many non-Italian Americans, I'd never even heard of Calabria until I met my husband, so it was interesting to learn about a truly undiscovered region in southern Italy.
In 2007, my husband and I got married and opened our bed and breakfast in Catanzaro, the capital of Calabria and last year we expanded into travel consulting with custom itineraries and group tours.
2. One picture/photo which you feel best represents Calabria and why did you choose it?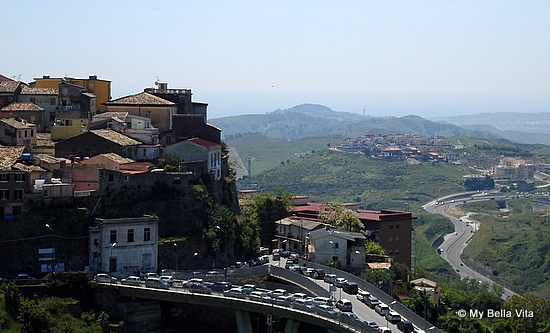 Normally I would have chosen a photo of the people in Calabria, because they play such an important role in maintaining the authenticity of this region. However, I never photograph them. Many of them are relentlessly shy and I'm not comfortable snapping a photo without their permission.
So … instead I chose this picture of Catanzaro. I love this picture because it reflects the diversity of the region. I was standing near the historical center when I took the picture, you can see the mountains and the sea in the distance and the stacked houses on the left. You can also see the cars parked on every side of the major road, which is at the same time both comical and stressful.
3. Describe Calabria in a few sentences.
Calabria is what Americans think of when we envision Old Italy … clothes are still put out to dry, shops close in the middle of the afternoon and people end their day with an evening passeggiata. It is quite quaint.
4. The positive and negative aspects of living in Calabria.
The best thing about living in Calabria is that we are surrounded by massive blue seas, rugged mountains, ancient buildings and uncovered ruins … and it isn't overrun with tourists. It's like we have our own paradise we don't have to share with the world.
The hardest thing about living in Calabria is dealing with the slow-moving bureaucracy and the inefficiency of public institutions and transportation. Living in Calabria has taught me patience, though, so at least there's that!
5. When is the best time to visit Calabria?
I used to tell friends to visit in September because you get in just after high season but can still enjoy the beaches and nice weather. Last year, though, it rained most of September and we were swimming in October.
Mah!
6. What is most convenient way to get to Calabria from Rome?
I usually take a low-cost flight like blu-express from Lamezia Terme to Rome. It is faster and less expensive than the train, which is also an option if you want to pack heavy bags or bring all your liquids.
7. Top 3 places to visit in Calabria
I've actually written a lot about places to go in Calabria. In this post, I list one must-see thing for each of Calabria's five provinces , I've written about the medieval villages (twice) and about Calabria's castles.
I also send a monthly snippet to newsletter subscribers called Calabria Close-Up, with highlights from destinations in Calabria.
Still, I'd have to say three of my favorite places in Calabria are
–          Scalea
8. Five travel tips for visitors to Calabria
– Don't expect Calabria to be like other regions you have visited in Italy
– Renting a car is the best way to see the region
– Have patience and plan for delays
– Don't expect to find an open restaurant after 2:00 PM or before 8:00 PM
– Allow yourself more time in Calabria than you think you will want. People often complain of not having enough time to see everything, but I've never heard them complain of being here too long.
If you are traveling to Calabria, you might want to check out my ebook, "Don't Get Caught With Dirty Drawers … and 64 other tips for traveling in Calabria."
9. Your favorite dish from Calabria and would you share the recipe?
Oh no … I can only choose one?
Uhm. Ok. I guess I'd have to say my favorite dish is Calabrian lasagna. It is unlike any lasagna I'd ever had in the US and is stuffed with ham, loads of cheese and boiled eggs. Yea, the eggs almost did it for me, but you have to try it before you judge.
It is out of this world fabulous.
You can grab the recipe for Calabrian lasagna right here.
10. What best-kept secret about Calabria can you share with us?
Funny you should ask. Just this week my Calabria travel secrets were published in a series of FREE ebooks that were compiled by Tripbase in an effort to raise money for Charity: Water.
You can download all of the free ebooks here, but you'll find my secrets in the Italy Travel and Worldwide Beaches guides.
Just to share something new with your readers, though, I'm going to tell you about the Chiesetta di Piedigrotta in Pizzo.
I'd lived in Calabria a few years and been to Pizzo several times before I found this place and in fact, many people who are well-traveled in Calabria haven't heard of it.
It is located on the Tyrrhenian Sea just outside of Pizzo, with a small, cracking sign and virtually no parking. You actually have to go the bar across the street to buy a ticket and then walk down to the ocean to find the cave.
According to legend, in the 17th Century a group of sailors found themselves in danger off the coast of Calabria. Seeing that the end was near, they pulled together and prayed to the Madonna , promising to build a church in her honor in return for their safe landing.
They washed ashore in Pizzo and built the Chiesetta di Piedigrotta in a nearby cave, completely in tufa rock. Over the years, local artists have added to the scene and although the salt water is taking its toll on some of the statues, it remains an eerily solemn place to visit in Calabria and is one of the first places I show my friends when they visit.