We are fortunate to have awesome friends who often extend an invitation for us to stay at their lovely country house in Amelia. Prior to this, I had never heard of Amelia though I am very familiar with Umbria.
However, Amelia had never crossed my mind and I assume that many others would probably not know of this town either, therefore making it well off the beaten path.  And as you know, I just love exploring places that are hidden gems. Since then, we have experienced almost every season in Amelia and this well-preserved medieval town together with the serene countryside have never failed to impress.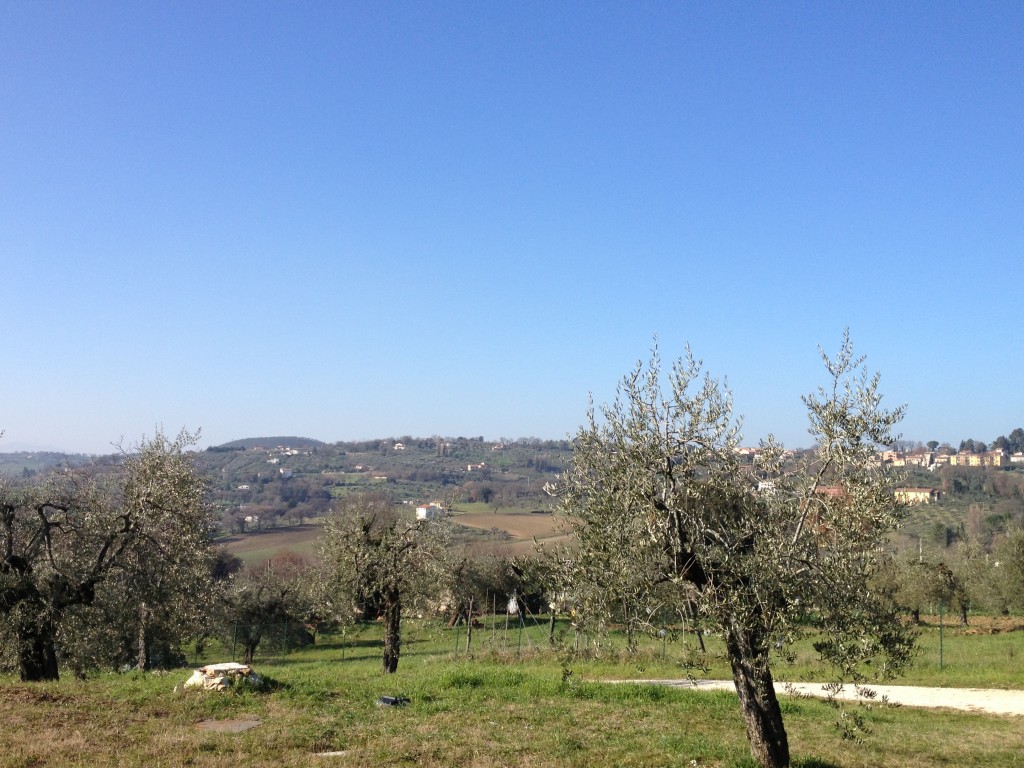 So where is Amelia exactly? 
Amelia is situated in the Province of Terni, close to the border between Umbria and Lazio making it an ideal destination for a weekend away from Rome.  By car it takes less than an hour and a half from Rome and if you plan on taking the train, the nearest station would be Orte or Narni-Amelia and then by bus to Amelia.
The difficulty of getting to towns which are not well-connected by train or public transportation is one of the reasons why they are off the radar for most tourists. However, don't let that stop you because going off the beaten path often gives you an incredible authentic experience.
Looking at Amelia's history, it is considered the oldest town in Umbria dating back 3,000 years with the legend that it was given the name Ameria by its legendary founder, King Ameroe.  Today, it has a population of over 12,000 inhabitants and the laid back atmosphere of this town is a nice break from daily life in Rome .
Stroll through Amelia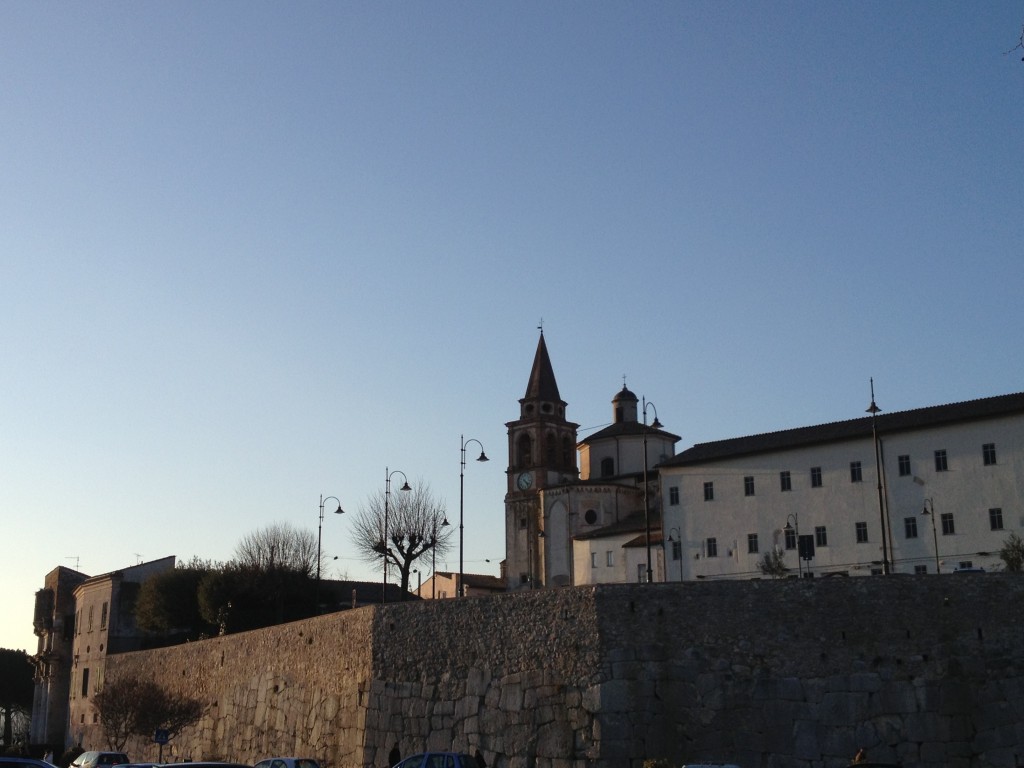 When you get to Amelia, you will notice its polygonal walls built in the 6th-4th centuries B.C that have protected the town from raids by the Etruscans. I'd be safe to say that every walk through the historic either ends or starts at the main gate Porta Romana.
The weekend we were there we chose to take a walk through town after lunch as it was a first visit for a few other friends.  As temperatures drop significantly when the sun goes down, we knew we didn't have much time to step inside the main sights.  Nevertheless, a stroll in this charming and sleepy town is always a pleasant experience.
The walk to the top of the town, Piazza del Duomo is an uphill one and can prove challenging for kids below 5 years old. The older kids in the group had fun making their way up this well-kept town and except for the occasional car, they freely roamed the streets.

You will know when you have reached Piazza del Duomo when you find yourself staring at the Civic Tower and right next to it is the Cathedral.  To get a spectacular bird's-eye view of the countryside, make your way pass the Tower and you will realize it was worth the walk up! Note:  For a small fee, there is also a bus service that takes you to the top.
To learn more about Amelia, this excellent video in Italian provides in-depth information and gives you a feel of this town.
Outside the walls – Parco Fluviale Urbano del Rio Grande
The next morning as the weather continued to cooperate, all except three of us (who stayed back to prepare Chinese dumplings for lunch) took full advantage by heading out for another walk, this time in a park where you will find a functioning dam.  Just outside the walls of Amelia, you find people exercising at this park or just enjoying a morning out with their family.  A very easy and pleasant walk, it offers a great view of the town of Amelia from another perspective.
Specialty of Amelia
I had seen the sign several times before and our friends had mentioned it's the specialty from Amelia.  On this visit I finally had a taste of fichi girotti which are dried figs filled with either candied fruits, almonds or both.  It was unfortunately not for me – I found it too sweet and the combination of flavors as well as the chewy texture somehow didn't appeal to me.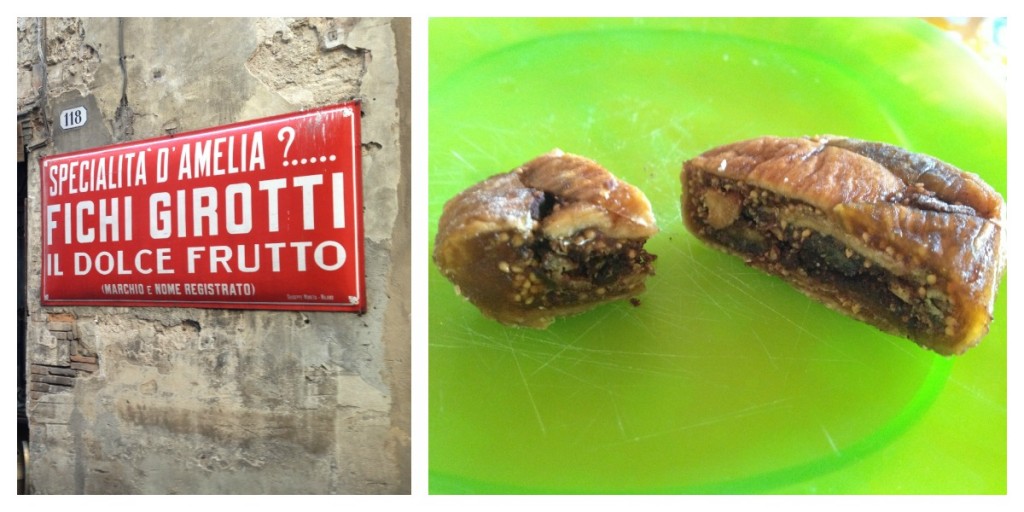 Nearby town – Narni
Our friends had suggested we visit Narni which is less than 30 minutes by car and we had mentioned that we would keep that in mind the next time we are in Amelia.  After reading this intriguing and fascinating post by Discovering Umbria on the Narni Underground (Narni Sotterranea), this is yet another reason why we will be visiting Narni on our next trip to Amelia.
Have you heard or been to Amelia?